Sky Italy working on an app for Windows Phone; UK branch to follow?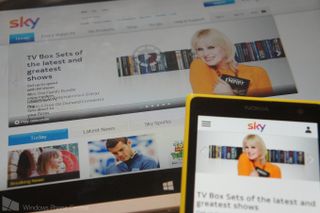 You may recall our #getskyonwindows campaign, targeting BSkyB to get the company to release solid apps for consumers to enjoy. Sky is still yet to support Windows Phone as the broadcaster does with other platforms, but it appears as though the Italian branch (Sky Italia) is working on an app for its Sky Go service.
Italy as a market for Microsoft is a strong one. As highlighted in a recent report, Windows Phone is performing well in the country. This (alongside demand from consumers - and some help from a certain manufacturer and tech giant) has triggered a development in the story - Italians will be able to enjoy Sky Go on their Windows Phones by as early as next month, according to a report over on Italian website Plaffo.
We've been able to confirm ourselves that this is indeed the case and a Sky Go app for Windows Phone is well on the way for Italian consumers. Remember, folks: keeping the pressure on these companies can eventually lead to them recognising demand, especially if the likes of Nokia and Microsoft get involved.
via: Plaffo
Rich Edmonds is Senior Editor of PC hardware at Windows Central, covering everything related to PC components and NAS. He's been involved in technology for more than a decade and knows a thing or two about the magic inside a PC chassis. You can follow him over on Twitter at @RichEdmonds.
Surely wont be hard for them to convert it for the uk service?

Never underestimate the fuktardedness of UK corporate management. I'm sure politics, the tw*t in IT who cannot work out how to modify a language file and change some URLs, budgets and all other useless not really barriers things get in the way. I despair of going to work everyday :)

Companies are starting to wake up to windows phone.

I wonder how we ask for certain apps to be put on windows phones

You don't ask. It will just appear!

Good stuff !! Hopefully we see sky Ireland and UPC follow suit!

I'm not a Sky customer so I have no real interest in this topic. However, I believe that having an official application from Sky is essential the platform as a whole and the large number of Sky customer who would find an application useful (or indeed essential). Here's hoping for an official application for U.K. Sky customers

I think we should resurrect the get sky on windows campaign once a week or month until we get some kind of traction. I know it got a message across last time, we should persist!

And BBC and ITV and all the rest of the media that is still ios obsessed.

And I don't know some we don't have like sovereign bank app for Windows

Whatever happened to Sky suing Microsoft for the SkyDrive name?

You never know. This maybe MS taking a hit. Stipulation could be that they concede the use of SkyDrive name and Sky will allow sky apps on windows.

No, Microsoft lost the case and have to change the name. I believe they were allowed a grace period to still use the name while they pick another and change it all over.

I'm confused, isn't this MS' own backup service? Trolol

Wow this is great news for WP users. There is great momentum on Europe and if this lands in the store its gonna get even better. Hopefully us UK users can get an app by Summer at the latest.

Would be nice to see sky go on WP but i think it will be a while as they still don't fully support android yet.

Still no mention of the fact that the new 'sreaming technology' that Alun Webber mentioned was used in the latest tablet version of Android Sky Go is built on OneMainstream technology (look them up, same tech as used on SkyNow) OneMainstream will support Windows 8 and Windows Phone apps natively in the first quarter of 2014 at which point Sky's excuses will run out. It realy is ridiculous that Sky have held out on this so long, it's almost like it's deliberate.

Also need a Sky/Fox app for Australia. Owned by th same guy, so hopefully.. And a windows 8 store app.

Well there is a Fox app for the Americans....Sky go would really seal it for lots of UK users of SKY. YEAH!!!! about time.

There's an interesting story behind this, and it involves the 520 being used as a Trojan horse. In the last few weeks Nokia has been busy building relationships with big names. If you are a Sky customer and you add channels to your subscription, you get a Lumia 520 for free. Of course the official apps will follow, that's what customers expect once they receive a phone from the company. The same goes for the popular retail banking branch of Mediobanca, CheBanca!, who's giving away 520s to those who open a bank account and whose official app is in fact finally coming. Great strategy.
Windows Central Newsletter
Thank you for signing up to Windows Central. You will receive a verification email shortly.
There was a problem. Please refresh the page and try again.