SkyDrive for Windows 8 and Windows RT gets updated with live tiles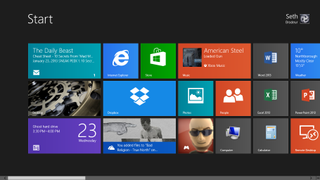 SkyDrive for Windows 8 and Windows RT got an update today that adds live tile support. Now when you upload a file to SkyDrive, your start screen icon will display the latest information on your most recent uploads. The new live tile will display titles and upload times of new documents and thumbnail previews of newly-added photos. In my case, an album I uploaded showed the cover art on the live tile.
There's nothing ground-breaking here, but it's a really nice touch. It makes SkyDrive look more dynamic and gives you a snapshot of your cloud storage life. Heck, if you're going to have a tile, why not make it more useful than just launching an app?
The update started rolling out today and will continue to make its way out into the ether.
Source: Microsoft; Thanks for the tip, Laura!
What I want to have is the ability to pin folders(both local and on Skydrive) or albums to my start screen and get notifications for these folders when they are updated. I'd also like to see updates on folders shared between users as well. That would make this a killer for me when my coworkers update files and when my family adds new pictures to our shared albums.

Cool windows 8 is getting more innovative than boring apple OSX lion

Moving away from apple, just wish windows would release the full version of cloud music matching. Trying to match album by album is just not going to work.

I agree. I love the live tiles.

But I like the Cloud Icon. :P

You can turn the live tile off

Have to giggle... Seth's SkyDrive tile looks like Dropbox. ;)

It's under that one...lol :0)

C'mon, now. I can't be the only one who uses both. I will admit that it is rather unfortunate placement being right above my SkyDrive tile though.

My Dropbox is inside my SkyDrive, very handy for complete syncing. DropBox still has some features that SkyDrive misses, plus a lot of apps only have DropBox hooks, but I still want everything in my SkyDrive.


Does the Metro app still access everything through the 'net, or does it let you browse your local SkyDrive folder? I think that when your PC is synced with SkyDrive, it's just redundant to use the 'net to access a local file.

That is a DropBox tile. Skydrive is right below it

Interesting. I see no updates in the store. (USA)

give them some time until they roll it out

Can,someone confirm if the metro,skydrive is similar to the desktop library SkyDrive in windows 7?? And can we have the desktop version as well??
just bought windows 8 couple of weeks back..haven't really got to explore it yet..
Thanks for the help..!
Windows Central Newsletter
Thank you for signing up to Windows Central. You will receive a verification email shortly.
There was a problem. Please refresh the page and try again.