Skylanders: Imaginators review: At last, create your own Skylanders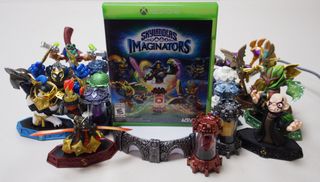 Activision and developer Toys for Bob's Skylanders originated the toy-to-life genre, in which physical toys double as playable characters in-game. Six yearly releases later, it seemed there was nowhere new to go for the series. And yet Skylanders: Imaginators has found new ground, allowing players to customize their very own Skylanders.
Packages of Power
Although Activision offered last year's Skylanders SuperChargers in both physical and toy-free digital bundles, Imaginators only comes bundled with disc and toys. The Xbox One and 360 versions include the game, a Portal of Power USB accessory, two Skylanders Sensei figures (Master King Pen and Golden Queen), and one Creation Crystal. A GameStop-exclusive Dark Edition Starter Pack (opens in new tab) includes three dark-colored Senseis and three Creation Crystals.
PlayStation owners have the choice of the same bundles or a $100 Crash Bandicoot Edition (opens in new tab) that throws in two extra toys: Crash and his nemesis Dr. Neo Cortex. Crash and Cortex have their own exclusive level that helps justify the increased price. Both characters work on Xbox versions of the game (unlike past Nintendo exclusives), but they can't be bought separately, sadly.
From portal to game
Skylanders: Imaginators is a 3D action-platformer. To play, you place a Skylander figure on the Portal of Power. After a brief load, the character will announce its name and appear in the game itself. Two local players can team up by placing a second figure on the Portal. Should either character die, it will become unavailable for the remaining duration of the level. You can swap in another figure to keep on playing, one of many incentives to build a Skylanders collection.
One of the great things about Skylanders is they're always forwards-compatible; all figures from the past five games are fully playable in Imaginators. This year's lineup consists solely of Sensei figures and Creation Crystals, so collectors needn't worry about buying new versions of standard Skylanders figures like Spyro.
Senseis are a new type of giant-sized Skylanders, retailing for $14.99 each. Senseis each have an element, like traditional Skylanders, but they also have a class. Imaginators introduces ten classes (plus an eleventh for playable villain Kaos (opens in new tab)), including ninjas, brawlers, sorcerers, and more. This determines the character's weapon of choice and the types of moves he or she uses.
You can get by just fine with just the two Senseis included in the Imaginators Starter Pack, but of course there are bonuses for collecting more. Imaginators' main hub has 10 Sensei Elemental Realms that can only be unlocked by a Sensei of the corresponding element. These are full-sized levels that offer unique unlocks for custom characters. Should you buy the eight remaining Sensei Classes needed to open all the Sensei Elemental Realms, you'll almost double the size of the game.
Imaginators
Creation Crystals (opens in new tab) are the other new toy type of this year's game, used to create characters called Imaginators. Each crystal sells for $9.99 and comes in one of the ten elements. They light up when placed on the Portal, a very cool effect. When you first activate a crystal, you'll be prompted to select its class. This decision is permanent, though everything else can be changed later. Crystals come with stickers for all the classes, so you can label your crystals to keep up with them.
After you've committed your crystal to a class, you'll customize nearly every facet of the custom character it represents: name, weapon, gear, appearance, size, color, personality, catch phrase, and more. The degree of customization is impressive, and will surely please longtime fans of the series. Senseis are great and all, but your Imaginator will look, sound, and play just the way you want it.
Players can even have their Imaginators 3D printed as playable figures via the Skylanders Creator app for Android and iOS. The service costs $49.99 for a figure or $14.99 for a playable Imaginator Card.
Imaginite Chests
The many, many parts used to customize Imaginators can be won as randomized prizes for Imaginator Chests. Practically everything you do gets you chests as rewards: earning stars in levels, winning Arena battles and Creation Clash matches, defeating bosses, completing any of the 40 Bonus Goals, and more. The constant reward of chests and customization parts is very satisfying.
The potential dark side of the Imaginite Chest system is the introduction of microtransactions. Skylanders has always nudged players into spending more money on figurines and accessories. But to my knowledge, Imaginators is the first game with genuine microtransactions built right in. Players can buy chests in $2, $5, and $10 packs.
This only affects the impatient. Unlike Gears of War 4's overly grindy bounty system, you never need to save up chests in this game. Just complete levels and activities and you'll get chests, any of which could contain rewards of varying rarity. But the temptation of buying chests with real money is something that parents might need to address with their children.
Map, minigames, and selfies
Imaginators' hub world is annoyingly named M.A.P., which reflects on the overall intelligence level of the game's writing. This is a kid's game, after all, but the cinematics are nearly always skippable. Some of the game's dialog is subtitled and some is not, which could affect some players' ability to understand the game.
Like past Skylanders, the hub is a vast and grows as you complete levels. It offers plenty of side diversions like Arena battles, Sneak Attacks (short skirmishes), Creation Clash (the classic Skystones puzzle game, renamed here for no reason), hidden areas, and more.
During actual levels, the lock-picking minigame is enhanced by the new side goal of matching three gems to win a free Imaginite Chest. A troll radio hidden throughout every level introduces a minigame in which you stop a moving clock hand in the right position.
For some reason, Imaginators also adds a selfie feature. At any time throughout the game, players can hold the Left Trigger to activate selfie mode. Here you can zoom and adjust the angle a bit and then save your picture. Taking selfies in designated spots throughout each level grants a bonus of some sort. Selfies can also be displayed in a gallery inside of the Skylanders Academy building.
The only bad thing about the selfie system is how few pictures we can save. Players get a scant 20 images of storage, which seems rather anemic when playing on Xbox One or PlayStation 4.
Finally, Imaginators includes the 4-player online racing mode introduced in Skylanders SuperChargers. You need SuperChargers vehicles (otherwise useless in this game) to race. Even then, the racing mode is a complete ghost town. I had no luck finding random players to race.
Achievements
Skylanders: Imaginators has 42 Achievements worth a total of 1,000 Gamerscore. On the whole, they're quite easy. You don't need to beat the game on higher difficulties (though adults might prefer the challenge and accompanying XP bonuses) or reach high waves of Arena battles, as in past entries. Nor do you even need to 3-star every level, as the Achievements is for getting 20 stars in total.
Each of the 10 main levels has a fun optional Achievement, which will add a little replay value if you miss them the first time through. The one downside to the Achievements is that (as usual) only the primary player can earn them.
Overall Impression
Skylanders: Imaginators is easily the best Skylanders yet, and just the shot of adrenaline the series needed. The gameplay and level design is superbly polished, with an impressive variety of activities and environments. The new Sensei figures look great, and the ability to customize your own Imaginators is even better.
Whether you're a returning Skylanders fan or a new player, Imaginators is one of the best family-friendly games available this holiday season. Grab it to play with your kids or for solo adventures. All you need is a love of toys and a little imagination.
Pros:
Create your own Skylanders!
Chests are easy to come by and contain plenty of customization loot.
Great level design and lots of gameplay variety
Cons:
The story won't hold an adult's attention.
Microtransactions aimed towards kids are not what Skylanders needed.
Two Crash characters are only available in the PlayStation Crash Bandicoot Editions.
See on Amazon (opens in new tab)
Xbox One review copy and a sampling of Skylanders Imaginators toys provided by Activision.
Windows Central Newsletter
Get the best of Windows Central in in your inbox, every day!
Paul Acevedo is the Games Editor at Windows Central. A lifelong gamer, he has written about videogames for over 15 years and reviewed over 350 games for our site. Follow him on Twitter @PaulRAcevedo. Don't hate. Appreciate!
As a business, Skylanders is arguably the greatest idea ever conceived. For the consumer, however, it is arguably the worst.

Never trust anybody who argues against toys. :D

why? You can buy toys and use them in your games...

Simple, would you spend 15 bucks on a single character as DLC in any other game? Like I said it's a genius idea for the company, but it sucks for parents.

Fair enough. But this is a toy that you can keep though

and if such toy gets misplaced or damage IRL goodbye digital copy

You can even trade and resell the toy. And again, the point of the game is the toys. Take them away and it'd still be a fun game, but less special.

I'm worried this model translates to games like madden, nba, etc. Must by little helmets of each division/ team etc for example

And now I want that game! Imagine physically setting out your roster and having real trade period with your friends to cover injuries!!!

Buying toys is a thing most parents regularly do anyway.

More Crash characters would be great

I hate the trend that started last year of system exclusive characters. Used to be fun that no matter what system or edition you bought kids could take them to their friends' house and still play them.

You can do that with Crash and Cortex. They are playable and will unlock their special level on any system. Not only that, but they will soon be released separately for anyone to buy!

Never had a chance to play this, more company should make games that uses something like this, dragon ball/pokemon/digimon/one piece/disney games? They would be great.

Buy used characters at GameStop and they come with everything previous owner earned for them!!

Wait, you can't reset them? Weird.

You can reset a character's progress, yes.

Actually, that's not the case. GameStop makes it a point to wipe characters before they sell them as used.

I like these types of character statue games but I'm not sure I could get into another after Disney Infinity and Lego Dimensions.

Have now watched the Series and i feel the nostaliga after getting this game when i was a child xD :)

Paul, you are mistaken on Crash and Cortex only being available in the special PS4 starter. That was the only way to get them at launch, but a duo pack (also unlocking the special level) will be released any day now for $30.

That sounds cool, but I can't find any information to substantiate it.
Windows Central Newsletter
Thank you for signing up to Windows Central. You will receive a verification email shortly.
There was a problem. Please refresh the page and try again.