Skype app for Windows 10 sheds its Preview tag for some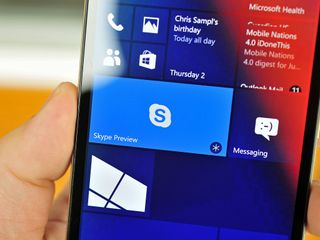 The universal Skype app for Windows 10 is ready to drop its Preview status. After a lengthy period of testing, the latest update to hit the app, version 11.13.115.0, has shed the Preview tag for at least some users. This comes as Microsoft is putting the finishing touches on the upcoming Windows 10 Creators Update.
Here's a look at the release notes for this update:
We've simplified the way your contacts on Skype connect with the People app on your device.
Messaging - searchable chats, keyboard shortcuts at your fingertips and send SMS with a little Skype Credit.
Group video calling - the new redesigned view brings everyone even closer together.
Calling - switch microphone, camera or to a new device during a call.
In dropping the Preview tag, the app is simply now known as Skype. Curiously, MSPU notes that the update only appears to be available for those on the Release Preview ring at the moment. However, it shouldn't be too long before it's available to everyone. If you want to check it out, you can grab the app now from the Windows Store.
Thanks for the tip, Per!
Download Skype from the Windows Store (opens in new tab)
Windows Central Newsletter
Get the best of Windows Central in your inbox, every day!
Dan Thorp-Lancaster is the former Editor-in-Chief of Windows Central. He began working with Windows Central, Android Central, and iMore as a news writer in 2014 and is obsessed with tech of all sorts. You can follow Dan on Twitter @DthorpL and Instagram @heyitsdtl.
Is anybody else still having issues with it crashing all the time, or answering a video call and not being able to connect until your phone is unlocked, the app loads, and you've clicked on the contact that is calling you?
Based on my experience this app is still months away from reliable.

Use the desktop version. Is by far, better than the app. Skype app is really really awful, crash every time, no notifications at all, the sync between Tablet/Pc with the phone never works. Incoming calls never been showed, it's a bad experience. Shame.

The same here. I don't know if it is because 3 Devices are active. But de Desktop-Client isn't more an alternative for me in the time of UWP Apps.

I agree, I want the UWP to work perfect, but isn't. I use Skype very much, but the app on Windows 10 is really bad. Many times I make a video call and the person that is suppose to receive it never get the incoming video call notification and otherwise. Even the Web Version works better than UWP.

Yeah, but I can't run the desktop version on my Lumia 950.

I'd agree. Frequent crashes and unreliability. Anyone else unable to get it to download/sync message backups?

Yes Skype app doesnt work but my roof hasn't collapsed because of that ! Relax 🙂

I'm not on two Windows Phones (wife's and mine) and 4 Windows PCs we use plus XBox One. Works flawlessly on all of them. My desktop computer has multiple mics and cameras connected (in process of migrating from old webcam to new Logitech Brio) and Skype Preview happily switches between them without issue. My biggest issues with Skype until recently was the * instead of an actual number for new messages, but even that's working properly for me now.

I cannot agree. I have not had the Skype Preview UWP app crash on me in quite a long time, on either Phone (Lumia 950) or PC (SP3). I use it for Voice and Video. I also use it on my Xbox One. I do wish it would support the make phone call into Video call feature the older Skype app had on Windows mobile though.

Mine works kind of well. The Preview tag is gone on my phone :D

Does the SMS sync to other devices actually work for anybody else? It did for about two weeks after I got my HP Elite x3, but hasn't since. I really miss that. I used BlackBerry Blend pretty heavily before that and thought Skype would be an adequate replacement for that functionality, but not for long.

You may need to reauthorize your PC, that happened after an update recently.

I was wondering why I had to reauthorize my PC last week. That makes sense.

It does yes. I used to have a different issue with Skype where SMS on the Phone would send but not display once sent. I thought they'd all disappear, but the receiver would get them and they'd appear in the original messaging app too. I ahd to do a hard reset on the phone to fix it unfrtunately.

Blackberry blend was really nice!

@ryanlrobinson, as @Xsled said, you probably need to re-authorize. It seems to lose the authorization, maybe based on updates. It's been working consistently for me without losing connection for the past 2-3 weeks. I have 2 Windows 10 computers connected to 1 Windows 10 Phone.

It works well for me on phone, home PC, and work PC. But sometimes there's a lag - usually after a picture message (either sent or received). Sometimes all you need is restart the app.

In general my app has worked fine over the last couple months or so. I have had to reinstall after an update on occasion. But I have been using it as my SMS app and on PC for some time with very limited issues.

Removing preview tag even before making a proper and reliable app seriously Microsoft......meanwhile rest of the Microsoft developers are busy making android and iOS app which are far better than Window's own apps !

Now its stable on latest FR build they have fixed some bugs related to contacts syncing and a new ui in group video call

Works great. Doesn't need the "Preview" moniker any longer.

"send SMS with a little Skype Credit" Wait, so we have to pay to send SMS texts via Skype? I thought a big feature of upgrading your PC and phone to Windows 10 and Windows 10 Mobile was the ability to send and receive text messages from your phone, via your PC. I want to type text messages using a real keyboard, and I want to be able to view and receive text messages there too.

Via the Skype Service, not SMS Sync. SMS Sync is of course free as that is using your carrier's sms plan.

@coip, by joining your PC to Skype running on a phone, it's free to send SMS from phone or computer. It's really an amazing feature. I can keep my phone in my pocket (or even in another room) and send and receive texts to anyone from my PC as easily as I can send them a regular Skype text message. I think, as @Xsled said, you may have heard about sending directly from Skype w/o using the SMS capability of a phone. That's been a Skype feature for a long time, but no need for that any longer now that you can sync phone and PC.

Still on Preview for me. Sounds promising, BUT, I really hope they truly fixed the Contacts situation. I was getting duplicate contacts, the syncing with my People App was finicky at best. I hope MS cleaned all this up.

Yea, my Windows Lumia 1520 running Fast Ring is still on Skype Preview. Anyone else? Is this just PC?

The article says it's only on the release preview ring

Is it stable enough to replace stock sms app?

I personally think so. But... others may disagree with me. Have been using it for quite some time with very limited issues.

I agree with Xsled; I use Skype ("previously preview") for SMS. But you cannot delete Messaging anyway, so it's still there if needed.

IMO, no. But of course, YMMV.

I rarely use the Skype service, but I've been using it as my primary SMS app for several months on my Windows phone to get the message sync to work between my phone and computer. There are a few couple issues that I've run into. I haven't figured out if there is possibly a setting to make this work as I want it to. Can't attach a picture and send it at the same time as a typed message. When attaching an image, it send immediately, then I have to go type and send the text as a separate message. The Skype displays any picture with a text message as two separate messages, whether it is something I have sent through the built-in messaging app or an MMS received from another sender. For linked contacts with both a Skype username and phone number, the app sometimes automatically switches the message type from SMS to Skype. I think it might have something to do with the message length (more than 160 characters), but I was unable to replicate the behavior when I just tested typing out a long message. For issue #2, this wouldn't be a big deal if everyone was using Skype as the default messaging app and it was seemless on both ends. For the few times where I didn't catch the switch before the message was sent, the other party has replied wondering why I was sending a message via Skype instead of texting them.

I just remembered another issue I experienced recently with the Skype app. A few days ago, several of my sent messages from the Skype app failed to appear in the conversation thread. The messages did appear in the phone's built-in messaging app even though they were sent from the Skype app. The issue began while I was riding in a bus back home from vacation, traveling from Colorado to Oklahoma. I first though the issue was with spotty cellular data coverage on the road, but the problem continued after I arrived home until I power cycled my phone. I'm not really sure what caused the sent messages during that time to vanish from the conversation in the Skype app.

I second all of this. I don't think the switching from SMS to Skype has to do with character length, though. It might be part of it, but I've had it happen to me while typing (very annoying) long before reaching 160 chars.

Every site is reporting this but it still says preview in the store for me...Must be US Only™.

How about duplicated contacts in the Skype preview app? I have not see an update for it in a long time.

For me, it duplicates them after an update. If you close the app and re-open it seems to combine them as they should be. At least it does for me, on both PC and Mobile.

Mine still proudly presents "Preview' on it! It has been very reliable though! Anyone know how much bandwidth just a phone call takes? I have been using it for online courses - it's on for about 8 hours a day - just audio....two days, I have 1 GB of data used....that sounds like too much... Mr. V


Does SMS Sync/SMS Relay on Skype follow Cortana's Quiet Hours breakthrough list? Otherwise, I think I'll stick with using the regular SMS app.

Every single notification ever follows quiet hours regardless of the app because notifications go through the action center.

Unhappy to say the Skype/SMS relay on my 650 was so unreliable as to be unusable, seriously undermining the promised desktop/phone integration. Don't know if it's got any better in later releases - judging by some of the comments above it seems not. I've moved to Android since and Pushbullet handles that function perfectly. I see there's an unofficial Pushbullet client in the Windows store (Instabullet) which promises to solve the problem that MSFT couldn't which might be worth trying. I can't really see any user value in having to use Skype for SMS anyway...

Recent update made this app stable and reliable. I tried group call it was great.
Now it is promising and feature complete. Notification and calls works well as expected. Now its out of the preview tag so please give it a try.

Yeah, I don't think Skype Preview's SMS sync works on Android. :-p

If the new skype messes up the integration by creating duplicate unlinked contacts in my phone, i am gonna be pretty mad! :@

You know it will. This project came close to perfection when it was moved into SMS, then it was pulled back out and made a complete mess.

On a differnet note.... how bout a link to that wallpaper though?

I also have no real technical issues with Skype Preview, aside from the UI which still needs improvement, but I find it hard to believe that an app which has no live tile on Windows can be out of preview. Why the heck hasn't that been fixed already months ago?

Because no one at Microsoft is held accountable anymore. Half that company should have been fired.

how could they shed the preview tag and they can't even get live tiles working YET!!!! i'm so sick of skype now working for Microsoft.

I've switched to Skype for SMS for about 2-3 months now, I still think it's a little bit on the slower (slightly freezing) side compared to the normal Messaging app.

No gifs, slow, locks up, ugh, ugh, ugh

So I assume they will also stop with the idiotic notion of not making Skype available as the default for video calls? I doubt it...

Lost trust in the Store Skype app months ago, led to a bunch of contact issues I'm still trying to fix. SMS relay was the worst and added to the headache. Just all around bad.

Still shows multiple conversations with the same contact. Not up to snuff yet even after nixing the Preview tag...

Another change with this update is that alerts on both PC and Mobile state if the message is an SMS/text: it prefixes the message with "Via SMS:" I suppose that's helpful, since the colors (blue for Skype, green for SMS) don't show in action center.

Unfortunatelly, UWP Skype is far far from reliability and quality of desktop version. I really dont understand it, but thats reality. Skype on mobile device is just bad. Also dont understand, why windows central app for 8.1 is far far better then new Windows central UWP on mobile device. You are platform maker, promoting this platform and your own app is piece of ... Same like Skype on windows mobile device. I just dont understand.