Skype for Fast Ring gets reordered settings, fewer connection attempts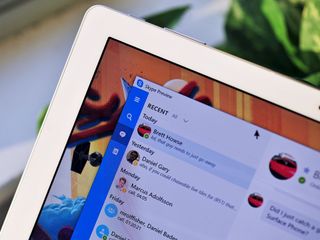 A few days ago, Microsoft pushed a rather significant update to the Skype Preview app for Fast Ring Insiders. That release saw the addition of web and microphone setup, preview a webpage before you click it, quotes, and unread message marker.
Now, version 1.9.249 is available up from the previous 11.9.239 and with it come a few minor revisions.
The biggest change is found under Settings where the web and microphone setup are now at the top of the settings with video preview off by default. To solve for the camera not being on there is now a Test Video toggle that lets you turn it on or off. Also, at least on one of our devices Setup is also now removed from the ellipsis menu.
Another change we're noticing less frequent 'connecting' screens that cause the app to drop down. On at least one phone, the previous .239 release would see the app reconnect more frequently when compared to the updated version, which seems to hold onto the connection longer. Of course, that could be just our experience so your mileage may vary.
One thing is clear, Microsoft is improving the connectivity of the app to make that dropping down less frequent, especially compared to the Production version (11.8.197). Another, smaller recent change that came last week to the 11.9 series is the back button now takes you back to the app from Settings instead of exiting the app.
If you notice any other fixes or improvements shout out in comments. We should also mention that 11.9.239 is now also on Release Preview, although those users will not get today's 11.9.249 update for Fast Ring.
Download Skype Preview from the Windows Store (opens in new tab)
Windows Central Newsletter
Get the best of Windows Central in in your inbox, every day!
Daniel Rubino is the Editor-in-chief of Windows Central, head reviewer, podcast co-host, and analyst. He has been covering Microsoft since 2007 when this site was called WMExperts (and later Windows Phone Central). His interests include Windows, laptops, next-gen computing, and for some reason, watches. Before all this tech stuff, he worked on a Ph.D. in linguistics, watched people sleep (for medical purposes!), and ran the projectors at movie theaters because it was fun.
If I install the Skype UWP app and don't update it, will it eventually stop working? Or will it to continue to work, even after new versions of the Skype UWP app are released?

I don't get why you got downvoted, but anyway: if you install the preview, you WILL want to update it every time a new version is out. It's not stable enough to be used as a daily driver... But it should keep "working" (sort of) if not updated.

I prefer it to the old Skype for regular use now. I also still have the old desktop Skype installed just in case, but I find I no longer use it. The main missing feature for me in the UWP version had been the ability to set a different mic and speaker from the Communication default in Windows. With those additions, this should now be complete for me.

Thanks! I had been wondering because sometimes Microsoft retires older versions of the Skype app, and I was wondering if it would happen to the UWP app because of the new Skype platform.

11.9.249 here on Release Preview, 640 XL.

I'm on Release Preview on tablet (HP Omni10) & also got 11.9.249

How is that tablet workin for u? Is there a keyboard for it

Same here on release preview L950XL

Here also, on a Lumia 950, 950XL, 640 and 1520. All on RP. Daniel doesn't know what he's talking about on this one.

Can't get it on L950XL in Fast Ring. No problems on PC

Would love to see an auto-save/download option for incoming files/pictures.

Delete messages and conversations, don't just hide them

You can now, except its only sms

No, you cant't. Only 'Hide Conversation'


Ive had it since the big update a couple of days ago and its still very much there. Only for fast ring though

You might not have gotten it yet, my skype build is 11.9.249.0

I have the option to delete, but nothing happens. The conversations and messages don't get deleted.

It only hides on PC; deletes on phone. It needs to delete on PC. Also, how about just keeping them one week. I get lots of sensitive texts from banks, et al. that I want to read and delete. I don't want them on Skype's server forever.

Trust me we will never get that feature. I've been requesting this since the stone ages.

I've the option on this release as well. For sms only though...

They need to fix the UI...

What's wrong with the UI?

Design rules that apply to other apps don't apply here. There is no reason why your entire interface should slide down just to show a connecting message. They want to use Skype over Messaging anywhere but the UI doesn't work the same.

I agree with the connection drop down, its awful but the rest of it is nice. could use some small fixes but I'm fine with it. only issue I have and its driving me mad is the time next to every message. first of all I don't want it, and second it doesn't fit properly on my screen (640xl btw) and the last digit gets separated

Timestamps are essential. But hopefully they allow people to turn them off or touch the message to see it.

I agree with the second option l, but don't show them all the time.

People app got updated, too

They need to actually fix the integration between Skype Preview and the People app, I really wanted to use the SMS feature, but it ended up with a mess of contacts in both app's they wouldn't stay linked in the people app, and the mess of contacts in the Preview was far worst. I spent the whole weekend tidying up both my wife's and my PC's and phones and although I like the Skype preview, it is staying as a Skype only program until they sort out the mess. Cortana is now my SMS on PC program of choice.

Anyone else not seeing this or the previous update in the store? I just uninstalled and reinstalled and it gave the me version from two builds ago -- 11.8.X versus the 11.9.X listed here.

I've got the same problem, let me know if you can figure out how to fix it!

i had the same issue, and it wouldnt find the current version. i dont know if it was related, but i realized i wasnt on the most current fast ring build... As soon as i updated to the latest build, skype found the latest version as well.

Yeah. I have a feeling that would work, I was just hoping to stay on the release ring.

I am in fast ring build 14955 and still got skype preview v. 1.8.x... Not sure what to do. Maybe next build will fix it

I'd love to use it but it just keeps crashing on start. L950, release preview. Left feedback and submitted monitoring data. Hope they get this fixed soon. Lots of work left to do, I'd say.

Actually why the need to drop down? Can't this be done in the background?

Meh, thoroughly unimpressed by Skype as an SMS app. Here are the issues I've seen:
* Crashes frequently and won't re-open until phone reboot.
* Needs a live tile for previews of text messages.
* Conversations with contacts that have multiple numbers is a mess. Cannot clearly switch numbers.
* Conversations randomly disappear.
* Message sync across devices is unreliable.
* Sending messages from PC is unreliable.
* Incomplete integration with People app - doesn't link to contact record from People app.
* App opens to last used section, which is not really useful; it should always open to Recent Conversations.

Good list of pretty prominent problems that keep me from using this as default messaging app at the moment... Also incoming MMS doesn't download properly I can't view my picture messages anymore

Yeah this is prettty basic stuff, 'preview' or not, this sort of thing isn't good enough. But then y'know....the Skype team :/

I see it on Lumia 950XL on release preview... It seems to default to the back speaker for video calls now, too, which is a major improvement. Still needs to fix the People hub integration, tho - my contacts keep duplicating!

Till delete conversation/message is not an option, this app is useless.

Read the comments it most certainly has sms delete

It's a start. But I need delete conversation for Skype chats too. Thanks for pointing this out. Cheers.

Completely agree with you on that, also actionable notifications for skype messages is a must

And show emojis and other media, like Viber wisely has done

Daniel, do you know if there is a way to disconnect the Skype Preview within the new Outlook Mail app? I do not wish to have Skype connected to my email, let alone it automatically signing me in to Skype every time I sign into my Outlook Mail as it has created a Skype account FOR me using my MSA which I do not want. Something is fundementally wrong when users have no control over their own devices. If people want ALL their services connected fine. I like some of mine integrated with my MSA as well but not all. Why can't Microsoft allow an "opt in" feature for the apps and services we wish to utilize? Automatic sign ins and creating accounts based off the assumption that Micosoft knows what I need for my productivity needs is just not only presumptous, it is arrogant, and just plain wrong imo. Give users a choice as to the services and apps they need for their own productivity. Choice used to be a hallmark of this company.

I got in release preview. Lumia 950

They definitely fixed the load time for long conversations. I have a 1000+ messages conversation that took forever to open with 11.8.x branch. It's now very fast. Finally.

I use Skype as my main social messenger

In the 2nd paragraph "Now, version 1.9.249" should be 11.9.249

They should also mention that it's 11.9.249 on the release preview not 11.9.239

Love this app. Trying hard to make this my most used chatapp. Never use videocalling ....

Since it basically has the same Hamburger menu as Groove, i'm hoping they implement the handy swipe in from the left menu reveal that has. Not so far sadly.

Today there's been another update to 11.9.251 but settings don't work now because you can't change most settings before the camera and microphone test and that doesn't seem to work anymore.

Actually, it turns out settings do work when I've got my Surface docked, but not when it's undocked.
Windows Central Newsletter
Thank you for signing up to Windows Central. You will receive a verification email shortly.
There was a problem. Please refresh the page and try again.