Skype, Groove, Music & TV, and Maps each receive new features on the Fast Ring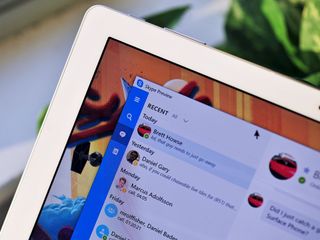 Microsoft has released updates for three of its Windows 10 applications on Fast Ring builds. The updates introduce a range of new features to Skype, Groove Music, Movies & TV, and Maps on both PC and Mobile.
All four applications have seen significant updates, with sizeable changelogs to go alongside them. Each of the following updates is now rolling out to the Fast Ring via the Windows Store.
Groove Music
Groove Music has also undergone some minor changes, with improvements to offline usage, accessibility, and the user interface. The update also adds support for search auto-suggestions from the Groove Music universal application for Xbox One.
Here are all the changes now available for Groove Music:
Groove Music app: version 10.16092.1025
When you're offline, it's easier to see what's playable. When you're connected again, online pages automatically refresh.
Search auto-suggestions on Xbox can easily be seen and accessed directly above the on screen keyboard.
We added additional accessibility context in UI components allowing narrator to be more descriptive when reading user context.
Notifications will remain on screen as long as they have focus, otherwise they will automatically dismiss.
We improved the persistent header in collection pages to remove graphical glitches and increase the smoothness of scrolling.
See Groove on the Windows Store (opens in new tab)
Skype
Skype has received a number of new features, adding to the functionally of the universal application. Notable changes include support for dragging and dropping files to share, improved profiles for contacts and improvements to the calling experience.
Here's a full list of today's changes for the Skype app:
Skype app: version 11.9.239.0
Improved messaging – drag and drop files (up to 300MB) and images up to 300MB in chat to quickly share them, right click on the message and select "Quote Message" so you will know who said what in instant message chats, see an image preview of a shared URL rather than a long link, and stay on top of unread messages with an unread message indicator in chat.
Enhanced profiles – start a call or conversation from a contact's profile page, add/remove/block contacts, view initials of a contact if they don't have a profile picture, and unblock blocked contacts.
Easier calling – manage audio/video devices from Skype settings to select a preferred camera, microphone or speaker and test audio before a call.
Additional Windows Mobile updates – video calls will default to loud speaker for video calls and improved back button navigation.
See Skype Preview on the Windows Store (opens in new tab)
Maps
Finally, a range of new functions have been added to maps, improving the creating and management of saved places. Among these features is the ability to sort saved places into Collections, and tweaks to how places can be saved from within the app.
The following tweaks are available in the latest version of Maps:
Maps app: version 5.1610.2953.0
One of our most requested features has been to be able to organize your favorites, and save places into collections. With the latest Maps update, you can do that! So go ahead and organize your favorites or start adding all the places you want to keep as a reference in separate lists—without overloading your favorites list.
We also made it easier to save places, as favorites or to a collection. You can now open the favorites or collections list and start adding places from there, or as before, add them from the details pane for any place. And now you can tap on your current location and save it to your favorites or a collection too.
Finally, we also updated how you view and save your most important favorites: home, work, and where you parked your car. They're up at the top of your favorites list, but they take up less space and are easier to add.
See Maps on the Windows Store (opens in new tab)
Movies & TV
Along with Groove Music the Movies & TV app is also picking up an update across platforms.
Movies & TV: version 10.16101.1025 for Xbox, PC, Mobile, and HoloLens
When you multiselect videos in File Explorer, you can now use the Previous and Next controls to skip between them while you watch
If you only own an episode or two of a TV show, you now get a link to complete your season in the Store.
You can now use "Y" on your Xbox controller to search your collection and our catalog.
You can now quickly purchase the next season of your TV show straight from post-roll
You can now re-rent an expired movie straight from the Movies & TV app (no need to go through the Store anymore).
On Windows devices, you can more quickly resume or restart movies currently in progress.
See Movies & TV in the Windows Store (opens in new tab)
What do you think of today's updates? Make sure to let us know in the comments!
Windows Central Newsletter
Get the best of Windows Central in in your inbox, every day!
Matt Brown was formerly a Windows Central's Senior Editor, Xbox & PC, at Future. Following over seven years of professional consumer technology and gaming coverage, he's focused on the world of Microsoft's gaming efforts. You can follow him on Twitter @mattjbrown.
Nice! But for groove It shows many of my songs twice one offline and one streaming only.
The problem here is if I added the streamable only to a playlist it will be shown as not available while in offline....

Ms has until next spring to correct and add to the OS and if reports are correct the RS2 update will be crazy good. So many features being added that I don't know but I'm betting that any high end W10M, IOS and Android device will be capable of doing the same thing when it comes to apps and default feature sets found on all three when we receive RS2. Think about it from what MS plans to do with this "creator" direction how can our W10M devices not be fun to use and at same time "productive" as they target the Enterprise. With all this 3D talk can you imagine putting all that feature sets and more into Office Mobile and then utilising Continuum. If MS can really play this right those who thought W10M is a lost cause may very well change their minds or have them forcibly changed come next year spring when Creator Update is released for both PC and Mobile devices.

Yeah, that OneDrive integration is pretty terrible. I deleted all my stuff from OneDrive, and even deleted the Music Folder from it, but it still shows I have stuff there in the Groove App. Honestly, Google kills Microsoft in this area...50K song uploads, instant mixes, radio, YouTube integration(sorta..links to YouTube for playing song), and their Music Manager, which adds songs to the cloud as they're added to you music folder. If the song was matched incorrectly, you can tell it to upload your copy instead. Oh, and it's completely GRATIS! Well, besides signing all your data over, which you do with Microsoft anyways.

Your Groove Cloud Collection is not the same as your music on OneDrive. Music in your Cloud Collection does not have to be in OneDrive for you to stream it. If you don't own a Groove Music Pass, you may still have music in your Cloud Collection that you have purchased from the Windows Store, or music may have been "matched" back in the Windows 8 / Xbox Music days, when auto matching was a feature. If you want to delete this, you can manage that separately using the Groove app.

When I filter to show "On OneDrive"...it says I have 496 songs, but I have none in there. I would delete these, but I'm sure they'd be deleted from my local collection since that's theoretically where they're at. So, I just #dealwithit. Everything under my Groove App settings is off. I rarely use the app as I have an Android TV box and just stream my collection through there, so it's no biggie really.

Man i;'ve been leaving feedback and asking for drag & drop for a year now....It''s still missing from Groove.

When I purchase a song on my pc it doesn't show up on onedrive. I have to manually move it to onedrive. Drives me insane!!!

That's now how it is supposed to work. Purchased music is added automatically to your Groove Cloud Collection, so you can stream it anywhere *without* needing it to be on OneDrive. If you want things added to OneDrive automatically, simply sync your OneDrive Music folder to your PC, then make it the default save location for your local Windows Music Library. In the future when you purchase and download music from the Store, it will download directly to your OneDrive Music folder (since it is now the default save location), rather then to your local Music folder. Easy peasy.

I would like to see faster playback and resuming after a call without user help. (or is it just me)

Mine does fail to resume playing after a call sometimes. The longer the call, the less likely it is that the music will continue automatically afterwards. I mostly notice it in the car when on Bluetooth

I notice when I get Cortana to read a message (through audio cable) and then I do or don't respond to it (can't quite remember which), that the music doesn't resume. If I ignore it, it plays automatically.

How many apps are bring updated?

Quality of life improvements on Skype for sure.

Maps still needs higher contrast

They have the dark setting

They also show streets. Completely unrelated post, like yours.

I must have miss understood what he meant by high contrast. I thought he was talking about color scheme. So I was suggesting Dark Theme. So...not completely unrelated in my eyes. Thanks for being rude though....

I have map version 2954, groove version 1025

Skype, still no end to end encryption?

Did they fix the sms integration on PC? Still mystifying that they ditched that functionality on the messenger app.

Me too... I didn't even know that they gave it up. I was trying for weeks after the AU to get the damned thing to synch. Why did it pull stuff up to a random date and stop? And why the hell if you click the message in the notification bar, does it take to the store to download the messenger app if they gave it up?

I have to reinstall the app to get it working every few days or so. It's annoying, but I really like being able to sms from my laptop, so I deal with it. I just got this update on release preview tonight, I sure hope it helps.

I hope they will add multi uploaded photos one day for skype or is that being added now ?

Aaand skype is still in need of the ability to delete messages among other things. Here's hoping this round of updates has at least made the app launch faster. It's really not smooth to use it for the primary messaging app when you have to wait several seconds every time you go to the app for the message list to refresh before you can read anything. The messages need to be instantly available as soon as the app opens just like the native Messaging app

You can hide messages, no need to delete.

Totally different things. Hiding doesn't clear conversation, delete does. If you write a new message, all the old ones pops up. Try exchanging a few hundreds messages with a person every day and open that conversation in a month. It totally hangs the app.

Skype preview shows the delete option, but it does not seem to do anything.

where? In the newest branch 11.9.x?

It seems that you can delete sms conversations from the update, but not skype conversions.

I just updated on pc with release preview (phone not yet) but i don't see that option. I see they finally have fixed that annoying thing with contacts pictures though.

Ok nevemind. Got it on phone and the delete SMS conversation option is there. You can't delete it from the pc.

Does Waze/Google have a patent on live traffic rerouting? I've seen LOTS of feedback asking for Windows Maps to add that, but Microsoft doesn't even respond to that feedback. I want to ditch the ignored and neglected Waze app, but this Los Angeles driver has become accustomed to this LIVE traffic rerouting.

Unable to update Skype. Keep getting Error Downloading. Error 0x80049874.

I can't download it too.
Any fix?

I am getting this too, any idea around it?

Hell yeah to the folders in Maps! Now, Give me an Android app and I'm sold!!!

Collections in Maps! YES FINALLY


Now what I want is color code each collections' place on map

All I'm hoping for is an (extreme) graphics performance boost on Maps because the lag when zooming and scrolling can be unbearable sometimes.

Why is my 950 with Fast Ring not getting these updates? Tried soft reset... My 930 on FR got them all this morning....

I'm not getting them either on my Fierce XL.

Very happy with this maps update. Hopefully they will add the possibility to share collections, as well as not collected favorites, so my wife don't need to build the collection herself on her phone.

it was nice before on here maps I just logged with a separate account :(

Unfortunately error is store getting these updates. 0x80246016

When sub and mkv support? And font, timing and position of subs?

I was able to play mkv videos and subs are working fine in my L730

I still can't believe they haven't implemented the functionality in Groove to reset the local library.

I'm hoping to see a Fast Ring Camera update with than 3D scan capability!

In the last change for Movies&TV, what does 'on Windows devices' mean? Aren't all devices with Movies&TV Windows devices?

Not entirely sure, but they might not be classing Xbox as a true Windows device?

Am I the only one who thinks the new colored fade on Groove Mobile is ugly AF? Change it back!!!

Are those version numbers right? I seem to be on 10.16092.1031 for Groove which is ahead of what's listed in the article!

Ya...I haven't even got the updates at all. The store has been wonky the last two builds.

I'm in the same situation, and my Groove, Skype, and Maps haven't been updated in a week or two, so I'm not sure what's going on.

Ya. I got a round of app updates just moments after the is update. But that's it for the core apps.

I just noticed, that in Groove the bottom panel (the one with Play button, etc.) got blurry transparent. It looks like apps in macOS (like for example Safari's top bar, whitch is also blurry transparent). It gives a nice effect when your scroll through albums collection - although it could be a bit more colorful.

How much longer will it take them to implement intelligent playlists based on filters!
This such a basic standard.

Been available for release ring too. Gotitupdated
Windows Central Newsletter
Thank you for signing up to Windows Central. You will receive a verification email shortly.
There was a problem. Please refresh the page and try again.