Skype team details upcoming voicemail and group calling improvements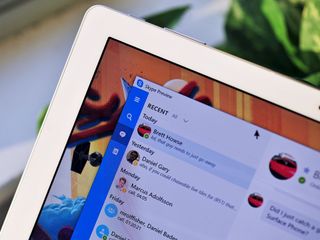 Following up on plans to modernize Skype detailed earlier this year, the Skype team has announced some upcoming changes that should improve both group calling and the voicemail experience.
The first of the upcoming changes includes a tweak to the way group calls work, ensuring that the conversation can continue even if the person that started the call hangs up. From the Skype blog (opens in new tab):
Secondly, the Skype team has some plans to modernize the voicemail experience, allowing users to forego a traditional voicemail in favor of a video or chat message instead. Traditional voicemail will stick around, but the blog post notes that custom voicemail greetings, email notifications and SMS transcription are all going away.
As noted earlier this year, an unfortunate side effect of this modernization process has been the dropping of support for Skype on Windows Phone 8 as of this month. However, it's good to see that some progress is being made to bring some convenient new tweaks and features to those on supported platforms.
While a concrete timeline for when the new features will land isn't available, the blog post mentions that the rollout should begin "over the course of the next several weeks."
Windows Central Newsletter
Get the best of Windows Central in in your inbox, every day!
Dan Thorp-Lancaster is the former Editor-in-Chief of Windows Central. He began working with Windows Central, Android Central, and iMore as a news writer in 2014 and is obsessed with tech of all sorts. You can follow Dan on Twitter @DthorpL and Instagram @heyitsdtl.
Skype is not available for Windows phone. How sad

I'm pretty sure skype still works but just not supported on WP8. Even so, don't you think people should have already upgraded to W10?

Many don't even know that Windows 10 Mobile exists since Microsoft makes it a very manual and tedious procedure to even get it.
.
However, Windows 10 on PC and Xbox One should have high usage numbers as almost everyone knows about it.

People who had Skype installed still have it working. L82x and up owners had W10M TH2 and they can hack current RS1 branch. No big deal.

Still have it working for now. It'll cease functioning in a few months. I'm not sure why srimannarayana is getting downvoted. His complaint is totally justified: it's ludicrous that Microsoft would kill off support for a Microsoft service on Microsoft devices that can't be upgraded because of Microsoft. Most people on Windows 8.1 and all people on Windows RT cannot upgrade, and those operating systems are only a few years old. It's completely unacceptable for Microsoft to screw over their customers like that.

Those that bought 49$ Lumia phones really shouldn't complain. Go get yourself a new phone. You can get a brand new Lumia 950 for like 299$, including a continuum dock.......its the deal of the century.

lumia 950 is not available in every country...it wasn't even released in my country....

Nasellok: I bought a 925 and it is not a 49$ phone, still got screwed. This is the second time, first was WP7. I cannot say that this platform is so promising this way.

Nope, I am still using 4 year old Lumia 720. Patiently waiting for surface phone. Not buying androids.

Skype will now only be working on Windows 10 devices so anyone on Windows 7 or Windows 8 will be out of luck.

To be clear, you mean Windows Phone 7 & 8. Windows 7 & 8 still have the desktop app. Support for Skype on WP7 was removed a while back already so this will only affect WP8 users.

It affects Windows RT owners too. Also, it's worth reiterating that 86% of Windows phone users are stranded on Windows Phone 8.1.

Is anything being done to get consumer Skype and Skype for Business together? The WP client for the latter is atrocious.

At ignite they said there's a UWP client coming for Skype for Business

Thanks. Did not know that

I knew this was coming. My only question is when? The very large company I work for uses Skype for Business and I really want it updated.

Did they indicate when we might see it?

I've posted this here before, but I would love if I could use one consumer and multiple Business Skype accounts in the same app the same way we can with OneDrive now.

Me too, it would be ideal

Is there a way to forward your normal voicemail to a Skype number somehow? So voicemail could be handled by Skype rather than your network? In the UK no providers support Visual Voicemail for Windows devices. I used to forward my voicemails to HulloMail back in the day when I had Blackberry

In cases where you know you'll only have internet access, you can set your phones call forwarding ahead of time to your Skype number and/or change your default voicemail number but that would require mobile service and over complicating things.

it would be nice if we could answer/decline calls like the desktop app does

And yet they cant add simple stuff like notification counter instead of the annoying star.

Heh, the start is pretty annoying considering how it's a fairly simple change. I'm sure it's coming. For a while they didn't have a badge icon for the lock screen and that was an even simpler thing to add - It's coming along nicely though, a fantastic example of a UWP app

Seriously tho. I am no programmer but I bet its not a rocket science to implement notification counter. How is it even possible that is not there yet after numerous updates? This would be acceptable for alpha release.

Really? The Skype preview app is terrible. Usually crashes on mobile. SMS from a linked PC app has been failing every single time for weeks. On top of that, the UI is bad. I have caught myself thinking otherwise, but then I open the GroupMe app and remember that MS can make decent apps.

It works well for me mostly (see my other comment below about issues this past week). I send SMS daily from 2 different PCs and the sending works great via my phone. Only the past week I've seen some issues where the messages don't sync to all devices (send SMS from PC is still working perfectly but it isn't displaying the full conversation history reliably for about a week now)

What ring do you need to be on to send texts from your PC?

@MBY, works great for me. I don't think I've ever seen it crash. Huge improvement aesthetically and functionally over the prior mobile version and mostly even over the Desktop app (except for some missing minor features, like setting separate mic/speakers from Windows default communication device, separate video positioning, etc.)

Literally the only update that has me excited right now is Skype UWP with SMS.
Damnit Skype, hurry up on SMS! :)

has anybody noticed that recently the Skype Preview app hasn't been working as well for SMS sync? Even just on the mobile side, I will send an SMS and it will go to the person, but fail to show in the conversation (The Messaging app shows the message fine, so it's definitely sent) I've had that and just general sync issues where messages are missing on certain devices the last week-ish, up until then things were running really smoothly for me All involved devices are on Release Preview right now

The syncing is almost random. Sometimes it doesn't even show the outgoing message from the device that just sent it. And I haven't been able to send SMS from PC for weeks - fails every time.

I am getting so near to itching my Samsung ATIV SE stuck on Win 8.1 (thanks Sammy and MSFT) for a Blkberry or??? where I can use all of Office 365. No Surface phone in sight and HP Elite out of my range.
What a bummer!

Just pick up a Lumia 650 on the cheap and wait it out a little while longer until spring 2017. This ecosystem will get a lot better. Also check out Alcatel's new W10M offering. It's a very nice phone.

http://www.t-mobile.com/cell-phones/alcatel-idol-4s-with-windows-10-vr.html

more than 80% windows phone users will leave skype and move to other services in 2-3 months....

With the intro of the Pixel phone and Yoga book with Android, I'm ready to switch. I'll keep using my WM 7, WM 8, and RT tablet devices until either they die or I need an app they don't have (probably home security). I don't have money to upgrade continuously, especially in light of my history of being left behind MS. I've already started reading Android Central! I need Widows for work but that's about it.
Windows Central Newsletter
Thank you for signing up to Windows Central. You will receive a verification email shortly.
There was a problem. Please refresh the page and try again.