Skype on the web adds support for calling mobile phones and landlines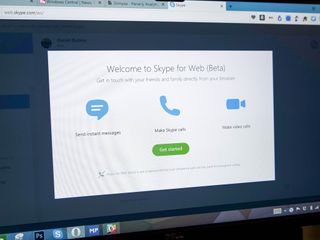 It's been a little while since Microsoft launched a web-based version of its popular Skype VoIP service. Now the company is adding some new features to its Skype web client, including the ability for users to call mobile phones and landlines.
Microsoft says (opens in new tab):
Microsoft has also added notification support to the Skype web client, which allows users to be alerted when a new message is coming in, even if they are using another app or in another browser tab. There's also support for watching YouTube videos directly from the web version if someone sends a user a direct link to that video. Finally, the web version now allows users to add new people in chat, even if they don't have a Skype account.
Check out Skype on the web (opens in new tab)
Windows Central Newsletter
Get the best of Windows Central in in your inbox, every day!
When will we can call on Microsoft Edge? Or I was the only person that it prompt to install a plug-in?

I was prompted to install a Plug In with Edge, and it got stuck while installing. I assume it's the kind of extension Edge cannot have ATM? So, another failure in strategic coordination between MS departments or what?

Adding mobile support is great news for those with family in the UK.

I'm hoping this is one of the next features we get in the UWP Skype app (on insider builds) - As well as a fix for sending images from PC (If anybody can send images without getting an error please comment below, as I get an error on all my PC devices, works fine from mobile)

Please stop overthinking idiot

What are you going on about random internet person?

You are the most ridiculous and fool person I have ever seen....ha ha ha...Dany boy !

Learn to English please, and don't harass someone for having hopes.

I think your cerebellum is ill developed

Please don't mind...I was just joking man....#Dan Harris

That was insanely cool. Really needed that!

Skype-web is so ugly. And why, on Windows 10, Skype needs three apps?

Ehm, that's because they have a very refined and long-term oriented strategy. That's also the reason they were in time with the W10 touch app for the Windows 10 OS launch, and why this app has fantastically improved up to now. And why all Skype applications look exactly the same, and can be used exactly the same, ultra-intuitive way. Except...not.

Can Skype forwards calls to my cell?

I believe this is one of the necessary steps on the road to the Redstone update.

How about they add this feature tobWindows 10 Mobile also? Geez, it's soooo convoluted making Skype calls to actual phones at the moment. Posted from Windows Central for Windows 10

Seems to have yet another way to set your Status, different from other versions, which also differ from each other. This seems like the sub-par WP version, where you're either Available, or Invisible. No 'Away' or 'DND' like the Desktop client. Incredible. Where's the consistency?

Consistency? That word isn't part of the vocabulary at Skype. That's as hit and miss as it gets.
Windows Central Newsletter
Thank you for signing up to Windows Central. You will receive a verification email shortly.
There was a problem. Please refresh the page and try again.