Slack beta update for Windows Phone adds Do Not Disturb feature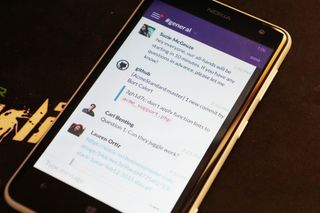 Slack has pushed out a update for its beta Windows Phone app that offers users of the popular business-themed messaging app a new Do Not Disturb feature. There's also a long list of bug fixes in the app, which has the version number of 2016.112.0.0.
Here's the breakdown of the new Do Not Disturb function:
Here's the long list of bug fixes in this update for Slack:
Fixed: The super-annoying bug that signed users out when all they wanted was to switch apps (which is not too much to ask) has been given short shrift and told to take a hike, because frankly, that made the app look very needy indeed, which is not a good look for software.
Fixed: An issue where the + button in the channel list was hidden for some users based on team prefs, hey presto reappearo, it is now where it should be.
Fixed: The alignment of the + button in channel list, as well as that pesky invisibility issue.
Fixed: An issue where the image detail view header was not correctly decoding the html (so you'd have > instead of >), which made for disappointing attempts at ascii art.
Fixed: Profile fields had incorrect default text if the profile didn't have a value for that field (if your real name was not set it would display the design team's placeholder text, which would have been a terrible name for those concerned).
Fixed: When adding a new team the header hint text might have been considered incorrect. Because it was. Now it isn't.
Fixed an issue where the user could get stuck while signing in to additional teams. Let nothing hold you back. Even us.
Fixed: Presence indicators in header should be easier to see now. They were previously the same color as in the side bar which understandably made it hard — occasionally impossible — to see when a person was offline.
Fixed: an issue where newly created DMs did not automatically navigate to the conversation view has been course-corrected and now knows exactly where to go.
Fixed: an issue on newly created MPDMs where an infinite loading spinner appearing after suspending and resuming the app. Or possibly infinite. While that would be an intriguing proposition, we'll never know now, because we fixed it — making it, by definition, finite.
Download Slack beta for Windows Phone
Source: Slack
Windows Central Newsletter
Get the best of Windows Central in in your inbox, every day!
It seems app updates is broken for WP on 10586.63. Can't get updates anymore on my 950. Anyone else with this problem?

I'm on .36 in my Lumia 735 and can't see any app updates :(

I had the problem on my 950xl, but it has resolved itself today... .63.

It's very nice to see such a great support coming from a relatively young productivity company. Keep the updates coming guys!

Indeed, I love their passion :)

Always smile at their change log comments.

Now that is how you do a change log! :)

Delighted the auto log out bug fixed. Great changelog.

That is a bad-ass changelog!

These guys really "get it". And their product just plain rocks! I introduced it to a couple of the suits and it was rolled out to the senior leadership team within days. The impact was immediate and I predict it being pushed down to mid-management soon. It's a game changer for corporate collaboration. Good stuff.
Windows Central Newsletter
Thank you for signing up to Windows Central. You will receive a verification email shortly.
There was a problem. Please refresh the page and try again.