Slacker Radio app is no longer free to use on Windows Phone and Windows 10 Mobile [Update]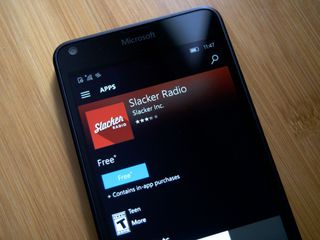 People who download the Slacker Radio app for Windows Phone and Windows 10 Mobile are now being greeted by a voice message that lets them know that the app can no longer be used for free. Users must upgrade to the paid Slacker Plus or Premium subscriptions to continue to use the app.
Slacker has been slowly trying to get people to sign up for the paid subscriptions tiers for some time. Reviews of Slacker Radio app stated that it stopped playing after one or two songs. Now it looks like there's no free songs support at all without a Slacker Plus account, which costs $3.99 a month, or Slacker Premium, which costs $9.99 a month. The new in-app voice message also says that people who still want free songs can go to the official Slacker web page.
We will note that the Slacker Radio Windows 10 PC app that launched earlier this summer is not affected by this change.
Thanks to Greg for the tip!
Download Slacker Radio from the Windows Store (opens in new tab)
Get the Windows Central Newsletter
All the latest news, reviews, and guides for Windows and Xbox diehards.
A wet pfffft, in their shoe.

Can't sign in from edge on W10mobile. Looks like free streaming from the phone is totally dead.

pandora app requires a paid account?

Guess I'll be uninstalling. I already have Groove.

Yup already removed that ish.

It is better than no support for Windows 10 Mobile, like others are doing

Yeah but they are forcing you pay in order to continue app support for Windows. Unless I'm wrong they are not doing this to Android and IOS users. Posted via the Windows Central App for Android

I don't know about the iOS app, but the Android app still works without a paid subscription. Posted via my Moto X Pure Edition using the Windows Central App for Android

Actually, it's not better. When you've got so many free streaming alternatives out there, this will drive any users they had away. Which just clutters the market until they stop supporting it because literally nobody is using it.

If you look up the actual meaning of a 'slacker' ... Then you know that they won't pay for it

The whole reason I stopped using Pandora was because they tried to do tier pricing and Slacker gain alot of popularity because they said they never would do that. Now they doing the same thing. And that's ****** to force all Windows user to pay. I have used them for quite some because I enjoy paid Spotify x10 to them. Posted via the Windows Central App for Android

The iHeartRADIO app is pretty great for anyone looking to listen for free.

Time to uninstall! Still got Groove, Spotify and 8Tracks!

Good that Nadella got rid of MixRadio.

MixRadio was owned by Nokia

Yes before Nokia sold it to MS.

And then MS sold it to Line Corporation in 2015. Line expanded it to iOS and Android, but a year later discontinued it after they decided it wasn't a worthwhile investment (on all platforms, not just Windows).

Yes. MS kinda did OneDrive on that though, MixRadio was sold as feature of the phone and then it was no more.

I see what you did there. Posted via the Windows Central App for Android

I guess I'm done using Slacker.

Why so much hate? I mean if this is so good for the ppl to keep, they could just pay for it and if not, they can certainly uninstall it. As simple as that, either you support the dev. by paying for the app or you keep your mouth shut.
I don't know if the developer announced this to users beforehand or Windows Central did not got that covered, of course a gradual reduction in free service don't suffice. The dev.could have just given it a week or so after a formal announcement. I'm sure that's the right order.

There's a difference between paying to support the dev & a subscription service. I'd pay $3.99 for a slacker app that let me listen to free music. This is bs.

The issue is not supporting a paid app/subscription. The problem is this is ONLY on W10M and not forced into with Android and IOS or website. They are basically stating we are only supporting Window Mobile app by you paying for it. How is that fair to W10M users? And yes Pandora did this across the board on all platforms and lost a vast share of customers to Slacker that forced them to rethink their strategy. This however will not effect Slacker because the market share for W10M users are small. I assure you this wouldn't go well on other platform as there are many other options that offer free with commercial subscriptions.

@raytiger Didn't you hear, everything should be FREE according to the entitled generation. "I have to PAY to for my entertainment? F that! Am I right"? /s The free edition of Slacker was great while it lasted. I'll try the paid version for a while. If I don't dig it then I'll move one to a different service...simple as that.

I'll pay for exactly ONE premium music app and right now that is Groove until someone does it better. Uninstalling Slacker.

Companies need to turn a profit. I like free stuff also but shell out once in awhile. I never liked Slacker however so Groove gets my money.

Interestingly, they only need this profit on Windows. This strategy isn't being implemented on iDroid. Besides, other streaming services survive on advertising, as does regular radio.

Nah!
Groove music is all I need to pay for.

It may be a sort of sneaky way to pull their w10m app. They don't really wanna support it anymore due to the small user base on the platform but they don't want to hear the crap for pulling their app so they turn their app into a paid model only on the platform so everyone abandons it and they can just remove the app.

Bye bye Slacker, hello Groove!

This was my first streaming music app and I loved it. It seems to be facing some serious competition and I really hope it can survive it, but not sure anymore.

Shame. I used to play them all the time but now I'll just use Groove and Pandora.