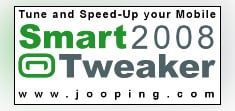 One of the reasons I love WM so much is the ability to tweak and optimize the phone to my liking by editing the registry. If you don't know about editing the registry (or want to learn about it) then take a look at our WM Registry Editing Tutorial or if you want to do some of the most common registry edits then you can browse through the Registry Edits That We Love. But if you are too scared or too lazy to do any registry edits yourself, then you will probably be very interested knowing that there are programs out there that will add a safety net between you and the registry by doing all of the registry edits for you.
One of those programs is called Smart Tweaker 2008. It is a program that has a collection of registry edits making it fast and easy. The downside to some of these types of programs is that you are limited to only the registry edits that they include. If it is comprehensive, it is not an issue. But if it is limited, then you end up going to the registry to do the edits not included. Is Smart Tweaker 2008 worth the money? Read on to find out...
OVERVIEW
Smart Tweaker 2008 is very easy to use. You first select one of 5 categories that includes Internet, System, Telephony, Sound, and Essential Utilities.
Once you select the category then you just select which registry tweak you want it to do and click done. Then Smart Tweaker 2008 will do the registry edits for you. You do not have to touch the registry. Smart Tweaker 2008 does a pretty good job at explaining what each registry edit, or tweak, does. If a tweak is not supported by your phone, it will gray out that tweak and not let you use it. If a tweak is offered that is not supported by your phone you will get an error message after you press done telling you it was not able to apply that specific tweak.
The list of registry tweaks is lengthy but not comprehensive. But there are several tweaks that are not very common in other programs of this kind. For example, if your phone is able to support Wifi while making a voice call, it will enable it. What's more, in this example it will even add a shortcut to your Programs menu to enable this tweak whenever you want to.
Smart Tweaker 2008 does also have a restore option as well, which will set everything back to factory defaults. But whenever you make changes to your registry always make sure you have a current backup of your phone just in case you need to do a hard reset and restore your backup to correct a registry edit that may have stalled your phone. See our WM Registry Editing Tutorial for complete details on this.
SUMMARY
Smart Tweaker 2008 is not flashy but very easy to use and can be especially valuable to a person new to the WM world and is scared of editing the registry. Even though there is room to add more tweaks, there is a long list of tweaks to choose from that will meet the most common needs. If you want to use these type of programs to edit your registry, I doubt there is just one that will do it all, so Smart Tweaker 2008 is a decent candidate to add to your collection of registry editors.
JUST THE FACTS
Here is a complete listing of all the Registry tweaks that Smart Tweaker 2008 has to offer:
Internet
Google Mobile Search Box Change Windows Mobile 6 integrated web search functionality, 'Windows Live' Search Box from Windows to Google mobile optimized search.
Google Welcome Page Change Windows Mobile 6 integrated web search 'Welcome Page' to Google mobile optimized web search page.
Enable 4-way navigation By default, the navigation button is bi-directional. You can only go up or down. This tweak will enable fast scrolling 4-way navigation which comes in handy when you access sites not optimized for mobile access.
Force Internet Pass through If you have trouble using your PC internet connection as Pass through, this tweak will force your device will to automatically suspend all active connections on device (GPRS, 3G, ...) and use the connection on the PC instead.
Allow Download of EXE Files This will enable .EXE files to be downloaded in Pocket Internet Explorer.
Allow Download of ZIP Files This will enable .ZIP files to be downloaded in Pocket Internet
Store IE Cache to SD When browsing the web, pages and images are saved in the 'Temporary Internet Files' location.The tweak will change this location to your 'Storage Card\cacheie' folder. NOTE: You will need to make a 'cacheie' folder on your Storage Card.
Speed-Up WiFi Surfing This increases the number of files that will be loaded at any one time from a web page. It makes a big difference when viewing picture-intensive pages and speeds-up both GPRS and WiFi browsing.
System
Speed-Boost This will Speed Up the system by increasing the size of the display cache.
Speed-Up Menus This tweak removes menu-animation and speeds up the appearance of the menu on-screen.
Bluetooth OBEX File Transfer This enables the sending and receiving of files on your phone via the Bluetooth connection.
Sort StartMenu Alphabetically Finally have your Start Menu sorted Alphabetically.
Hide Start Menu labels This tweak will hide Start Menu labels under the icons. Name of highlighted icon will appear on Title Bar.
Start Menu Scroll bar This tweak will enable or disable (old style Start Menu) Scroll Bar support.
GridView Toggle Switches between standard WM5/WM6 GridView and classic WM2003 List-style presentation.
Enable 320x240 video recording Enable 320x240 video recording on the Motorola Q9H and and other models that do not have menu option for changing the video recording resolution.
Disable USB Charging (Every time you plug in your Windows mobile device in to the laptop via USB cable it starts charging the device causing a double power consumption on your laptop. Allow your windows mobile phone to connect via USB without consuming power from your laptop.
Prevent CAB-File Deletion This will prevent the automatic deletion of CAB-files after activating them, allowing you to re-use them if necessary.
Gridview Toggle - Cingular Switches between standard WM5/WM6 Gridview and classic WM2003 List-style presentation. CINGULAR phones only.
Set MMS-Size to MAX The default MMS maximum send-size is 256Kb. This will increase the limit to 1Mb, so that you can send much larger MMS's. NOTE: You need to alter the MMS account settings in your phone to maximum, after activating this tweak.
Camera Date Folder Fix This saves each picture and video that you take, into a dated folder, which is created in your default picture/video save section.
Show Reminders Once Only By default, Reminders will keep alerting you for 2 minutes. This will change it to a one-time event. N.B. This tweak may not work correctly on all models.
Force Ask Install Location This allows you to specify whether to install a program in Main Storage or your Storage Card, regardless of the installer settings. NOTE: Many applications do not support being installed on the Storage Card and may therefore behave unpredictably.
Ask Before Over-Writing This will cause the phone to always ask permission to do so, before over-writing an already-existing installation.
Realtime Memory De-Frag. This tweak has the effect of freeing-up some memory in realtime.
BIG SMS - Email Fonts Finally you can see clearly what you type! This will increase SMS and email editor font size.
MMS/Video in 176x144 When sending MMS and capturing video, the phone always uses 3gp at 128x96 resolution. The tweak will change this to always using MP4 in 176x144 resolution.
MMS/Video in 176x144 New When sending MMS and capturing video, the phone always uses 3gp at 128x96 resolution. The tweak will change this to always using MP4 in 176x144 resolution.
Security Warning OFF This will disable the security warning when installing a non-certified application. NOTE: This makes it easier for any malware to install itself.
Improve Mem.Management This increases from 18 to 96, the number of programs to stay resident in memory without the OS shutting them down. N.B. This value is may already be set to 96 depending of model.
Disable 3gp size limit SMP This will Disable 3gp video size limit (HTC devices only).
Disable 3gp size limit PPC This will Disable 3gp video size limit (HTC devices only).
Disable menu animations This will disable menu animations (sliding in/out) and speed up performance of the UI.
Alarm and Clock direct link This will make a Start menu shortcut with direct link to Alarm and
Alarm direct link This will make a Start menu shortcut with direct link to Alarm.
Bluetooth Beam direct link Direct link to enable or disable your phone to receive data beamed from other devices.
Check Battery direct link Direct link to check detailed battery status.
Telephony
Set CallHistory to MAX The default CallHistory storage is limited to 100 records, this will increase the limit to 500.
SMS-Sent Notification This switches OFF the SMS-sent notification, normally displayed on-screen after sending each message.
Disable Call-Initiate Sound This silences the Call initiation beep sound heard on pressing the Green call-button.
True SMS Delete SMS Messages are not really deleted , phone makes a copy to Delete folder. This tweak will make it possible a true SMS delete, delete folder will remain empty. Great to keep your privacy if someone looks at your phone folders!
Speed-Up Text/SMS Typing When texting, this enables you to type repeat-character keys with a shorter delay needed between key-presses. It applies for SMS, Contacts, Calendar, Tasks and all other software that have text editing.
EDGE Icon Fix This will allow the display of the Edge icon [E], instead of the screen always showing the GPRS icon [G].
Hide SIM contacts This will prevent the display in the Contact List, of all contacts which are stored on the SIM card.
SMS Delivery Notification This will enable permanent SMS-delivery notification... Dependent upon your operator network support.
Unlimited MMS Recording The default MMS Video Recording time is limited. This tweak will remove the limit. NOTE: Tested and working on Cingular and C500. It may or may not work on other models.
Enable Roaming Indicator This enables the Roaming Indicator Triangle that displays on the status bar when roaming. NOTE: This is an MPX220 specific tweak.
Enable Twin SIM Switch Some SIM cards allow for two phone numbers to be used on one card. This tweak will activate the line toggle. Press and Hold # to switch between Line 1 and Line 2.
WiFi and Phone On You will now be able to have wifi on while the phone is on. Some operators disabled this feature on purpose.
Sound
Menu-Select Sound This will Silence the Menu-Select sound.
Pop-Up Menu Sound This will Silence the Pop-Up Menu sound.
Store Ringtones on SD This changes the location where the Smartphone will look for ringtones, to the Storage Card. Place the ringtones in 'Storage Card\My Documents' or in 'Storage Card'.
Looping Alarm This will force the alarm to play continuously, until you cancel it.
Looping Ringtone This will disable the 3 second delay interval whilst playing a ringtone.
Kill Boot-Up Melody This will remove the boot-up melody on Mpx220 and similar older phones that have this feature.
Kill Keypress Sound This tweak will mute the keypress sounds.
Silence Camera Shutter old This will silence the sound of the Camera Shutter. NOTE: Applies for older models.
Change Ringtones direct link Direct link to ringtones settings.
Essential Utilities
Bluetooth Toggle Bluetooth Toggle, we suggest that you make shortcut and then assign to Speed-Dial button for fast access.
Quick SoftRestart Quick soft restart.
Bluetooth Audio This will route all sounds from your system from the internal speaker to your BlueTooth headset enabling you to listen your music stored on your device without corded headset!.
Turn Off Quick Turn Off device.
Enhancements form former version of top-selling SmartTweaker
The following enhancements from the old version of SmartTweaker:
language independent system and storage card path locations (no hard coded system/card paths anymore!)
all Tweaks are fully reversible, the settings can be easily restored to their default state if needed
Added Restore option witch function is to restore all tweaks to a state before software installation
Create shortcut, this will make toggle shortcut in start menu where user can toggle by clicking icon or can add it to speed dial buttons for quick toggle
some of tweaks are actually not registry but software implementation
if tweak require soft-reset of the phone, software will propose to do it automatically for the user
if there is no device Owner name present, software will prompt user to enter one directly from software!
all Tweaks are fully reversible, the settings can be easily restored to their default state if needed
small in size, fast performance, minimal memory consumption (0.15Mb!)
native Windows Mobile application no need for additional MS Frameworks to be installed
easy to use with a simple user interface
every tweak has an on-screen info box
tweaks are categorized for easier handling
safe tweaking feature, software has a system/platform auto-detect feature, it will block tweaks that are not for your Mobile operating system!
universal tool, supports Windows Mobile for Smartphones with WM2003/WM2003SE/WM5/WM6 OS Smartphone and PocketPCs with 220x176, 320x240 QVGA, 640x420 VGA resolutions Portrait or Landscape
now you can fine tune tweaks that have settings that can be changed! added a special fine tuning tweaks dialog screens for changing various tweak parameters!
Swipe to scroll horizontally
| | |
| --- | --- |
| Ratings (3 out of 5)Overall: 3 stars out of 5 | ProsEasy to useGood explanations of what each tweak doesOrganized in a logical mannerConsNot a comprehensive list of tweaksDoes not include the latest tweaks like with the Gsensor |
Get the Windows Central Newsletter
All the latest news, reviews, and guides for Windows and Xbox diehards.
George is the Reviews Editor at Windows Central, concentrating on Windows 10 PC and Mobile apps. He's been a supporter of the platform since the days of Windows CE and uses his current Windows 10 Mobile phone daily to keep up with life and enjoy a game during down time.