Snapdragon 835 debuts with DirectX 12 support, Bluetooth 5, gigabit LTE, and much more
Qualcomm raises the bar with the Snapdragon 835.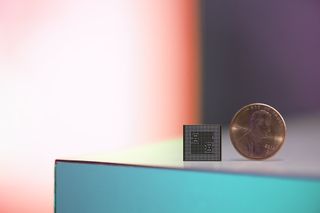 Qualcomm offered up a quick look at the Snapdragon 835 back in November, announcing that it would be the company's first SoC to be built on a 10nm node. At CES, we're getting a detailed look at what's on offer with this year's high-end SoC. The 835 is slated to be the first ARM processor to run Windows 10, and as such it merits a detailed look.
The shift to 10nm means that the overall size of the Snapdragon 835 is 30% smaller than that of the Snapdragon 820, and the node shift brings improvements in energy efficiency to the tune of 40%. Qualcomm is also touting a performance increase of 27% over the previous generation.
We'll go into detail on each aspect of the SoC, but in broad strokes, here's what's new with the Snapdragon 835: eight Kryo 280 CPU cores, Adreno 540 GPU, DirectX 12 support, gigabit LTE modem, multi-gigabit Wi-Fi, Bluetooth 5, Hexagon 682 DSP, Spectra 180 ISP, support for HDR10 video, Quick Charge 4.0, and Qualcomm's Aqstic codec with 32-bit/384kHz support and aptX/aptX HD Bluetooth audio.
The Snapdragon 835 features an octa-core semi-custom CPU design, with four brand-new Kryo 280 performance cores clocked at 2.45GHz and four energy-efficient cores at 1.9GHz. The SoC will rely on the energy-efficient cluster for over 80% of the time, with the 2.45GHz cores activated for intensive use cases like VR gaming. The SoC is also compatible with LPDDR4X memory. On the GPU side, the Snapdragon 835 comes with the Adreno 540 with support for OpenGL ES 3.2, OpenCL 2.0, Vulkan, and DirectX 12.
Battery life is one of the tentpole features of the Snapdragon 835, with Qualcomm claiming at least a day's worth of talk time, over 5 days of music playback, more than seven hours of 4K video streaming, and over three hours of 4K video capture. To put things into context, the Snapdragon 835 consumes half as much power as the Snapdragon 801.
The Snapdragon 835 is also the first SoC to offer Quick Charge 4.0. QC 4.0 supports USB-C and USB-PD (Power Delivery), and boasts 20% faster charging and up to 30% higher efficiency when compared to QC 3.0.
In the imaging department, the Spectra 180 is a 14-bit dual ISP that supports up to 32MP cameras or dual 16MP cameras. It offers hybrid autofocus, HDR video recording, optical zoom, hardware-accelerated face detection, better video stabilization, and Qualcomm's Clear Sight tech for devices with dual cameras. The ISP supports H.264 (AVC) and H.265 (HEVC), as well as 4K video capture at 30fps, and 4K playback at 60fps.
With virtual reality gaining momentum, the Snapdragon 835 offers low-latency (15ms motion-to-photon latency) and six-degrees-of-freedom for precise motion tracking. The Adreno 540 GPU displays 60X more colors and is 25% faster at 3D rendering than last year's Adreno 530, leading to more immersive visuals. There's also support for scene-based and object-based audio, HDR10 video, and 10-bit color.
On the connectivity side of things, there's the Snapdragon X16 LTE modem, which enables Category 16 LTE download speeds that go up to one gigabit per second. For uploads, there's a Category 13 modem that lets you upload at 150MB/sec. For Wi-Fi, Qualcomm is offering an integrated 2x2 802.11ac Wave-2 solution along with an 802.11ad multi-gigabit Wi-Fi module that tops out at 4.6Gb/sec. The 835 will consume up to 60% less power while on Wi-Fi.
The Bluetooth 5 spec was finalized last month, with the standard set to offer double the bandwidth, four times the range, and eight times the message capacity of Bluetooth 4.2. The Snapdragon 835 will offer Bluetooth 5, with the SoC being the first commercial product to be certified for the new standard.
The Snapdragon 835 also runs Qualcomm's hardware-based Haven security platform, which has a secure execution environment for user authentication and device attestation.
Overall, the Snapdragon 835 marks a significant upgrade for Qualcomm. The SoC is slated to make its way into devices in the first half of 2017. It will certainly be interesting to see the first batch of devices that will be powered by the processor.
Windows Central Newsletter
Get the best of Windows Central in in your inbox, every day!
Harish Jonnalagadda is a Senior Editor overseeing Asia for Android Central, Windows Central's sister site. When not reviewing phones, he's testing PC hardware, including video cards, motherboards, gaming accessories, and keyboards.
Snapchat is gonna be awesome on my Windows Phone!!!!

Where do you see mention of Snapchat ?

Sorry, I meant Facebook Live!!!

Speaking of FB do you find the text to be smaller then other apps? It's much smaller then the Microsoft FB version on my phones.

... And here I thought you were making a funny joke.

An open question.
.
We've seen in the past that all Qualcomm chips in phones from various OEM's don't have ALL the features it's got. For example, Snap 810 in the 950/950XL doesn't use Quick Charge but MSFT enabled their own kind of quick charge.
.
This article mentions some really cool new features like better imaging, security, faster charging, crazy fast wireless, battery efficiency. Are these there by DEFAULT or will OEM's have the freedom to chose what they want? If this is the case, then what's the point of such a nice SoC anyway? And won't it be a lot of work for Qualcomm to customise chips for various OEM's ?
.
Would MSFT go with the stock chip that they offer for the legendary Surface Phone for the best experience? I guess, licensing costs are at play here.

They do offer several packages, and it's down to the handset manufacturer to enable them. That's just the way their licensing model works.

And still won't be faster than the chip in a two-generation-old iPhone 6. How is it that Apple is so far ahead of everyone else?

No the chip is faster but the OS (android and Windows Mobile) is not. The A-chips are incredible fast and the new chip will probably top the SD835. But the big difference is the OS. And Apple stays with 1080p screens.

Intel need to be scared. Very very scared!

It's not like It's an X64 chip, ARM is still weaker overall when compared to X64. If anything it threatens their atom chips

It left atom chips thr dust a long time ago. There have been benchmarks showing older Snapdragons competing with Core i3 processors.

Sure about that? Here's a Snapdragon 800 being compared to a Haswell i3 http://cpuboss.com/cpus/Qualcomm-Snapdragon-800-vs-Intel-Core-i3-4005U

ARM cores are still way behind x86(-64) in term of IPS. https://en.wikipedia.org/wiki/Instructions_per_second A Snapdragon Kryo (so 820 and others) has 6.3 DMIPS/MHz. (source : https://en.wikipedia.org/wiki/List_of_ARM_microarchitectures#Designed_by_third_parties) An Intel i7 2600K (from 2011) has 34.46 DMIPS/MHz. (you can see it in the first link). If you just look the datasheet, they seem close to each other. But performance wise, they are still far away.

Oh dear, Dhrystone is like 30 years old. Never use Dhrystone as reference when comparing architectures. On top of this Dhrystone is very dependent on compiler settings and runs completely in L1 cache on todays CPUs.

Hold your Horses, that is definitely not true. IPhone 7 SoC on the other hand have been touted to deliver 2013 low end i5 performance, but blow for blow, definitely not remotely close to 2014 i5, 2015 i3 and or i5, definitely not in the same planet with 2016 i3 and or i5 SoCs

The problem with that is Intel hasn't been making huge strides in processor performance in the past several iterations, though, whereas ARM has.

Atom chips are pretty much abandoned by Intel. There's no way to compare the two chips as in order to do that, you need to be able to install the same OS and run the same versions of benchmark software.

U never know what intel could be working on behind closed doors.

That is an impressive SOC.

Crazy how much they can fit in to that little square. It is impressive...

I got lots of socks for Christmas, but they weren't so impressive :(

Is it weird that I'm more interested in an Android or Windows 'tv' box with this SoC than a phone? I'm looking into building a dedicated Kodi system and the 4K/HDR capabilities caught my eye.

Yes! I can't tell you how many times I could've used a Windows Mobile/Xbox streaming stick! Instead I have to use an older Intel NUC hooked up to my TV with a mouse and keyboard to watch movies and shows. Wish they had something simpler like the Fire Stick.

My needs for a device like that are 1080p, 4K with HDR and HDCP 2.2, HD audio pass through of all the newest formats such as DTS-HD MA and Atmos and expandable storage .

You should look into the Intel Compute Stick. It might serve your needs.

I don't think any Compute Sticks come with a 4K/HDR capable Kaby Lake processor.

They don't but I'm pretty sure the Atom x5 or Core m3/m5 compute sticks are capable of outputting 4K and HDR over HDMI 2.0. I'd have to double check the specs again though.

The first gen of Intels' compute sticks certainly don't handle 4k. I have one at home. Think lightweight multimedia/social uses out of it, not much juice for anything else.

It's easy to install Kodi on a Firestick. It works great.

No expandable storage, though.

Nope, you are not alone.
Really curious about dirt cheap boxes with this, 4GB of ram, and 64GB eMMC/SSD for student machines in my school district. Should start seeing products coming out next year some time. hopefully such units would come in under $400 each... well, the Windows tax might put them a little over that.

LOL... you can buy such PCs for 150USD, search for them on Aliexpress. Its nothing new on the market. They are not manufactured by a well known company and the warranty is problematic but who cares at such a low price?!

I'd care when it breaks and customer service is non existent

You can cheap small boxes like that from Intel with their Intel NUC's and compute sticks. Zotac also makes a lot of cheap mini box PC's too.

This beast will be quite expensive. You might find yourself better off with an AMD or Intel solution.

There are no solution from either Intel nor AMD, consisting of a fully integrated SoC (including connectivity + cellular) in the sub 5W TDP range. Intels first Gbit/s LTE modem will be released in 2018 earliest.

Shield TV should fit your needs (no HDR IIRC though).

Time to start saving my pennies.

That's an impressive chip, and I can't wait to see it in a Windows phone, although I expect to see it in a tablet / netbook first. Be aware that Bluetooth 5.0's claims of "double the bandwidth, four times the range, and eight times the message capacity of Bluetooth 4.2" are fairly true, but not simultaneously, in that there are trade-offs that still have to be made between bandwidth and range, because physics.

And especially they're claims for the LE part of the protocol, not the "normal" full strength signal.

Hope the QC4.0 won't exlode balls in ones pocket...

Now if only computers and attain independent thought

This thing is a monster..an iddy bitty little monster. I look forward to seeing the first range of devices.

Hmm I wonder how long hp will take to update the x3 with this chipset.

They should definitely do an upgrade and also consider customer complaints for Elite X3 2.0 (if any!!!)

Surface Phone here it comes!!

That would mean no Surface phone until at least the last half of 2017..

Rather wait and have this CPU than some soon to be sub par CPU in comparison.

Wait till 2018 ... don't expect too much in 2017 if your really want to buy a gadget (regardsless of the OS).

How do you figure? "The SoC is slated to make its way into devices in the first half of 2017."

It will be available in the first half and Qualcomm already mentioned the 835 during the W10 on ARM demo. So they're probably working on the Surface Phone already. Not just now after the announcement.

That is what they have been reporting for sometime now, so it fits in ...but surely they will demo or unveil it before

You'd be lucky if the surface phone comes out in 2017

@floppyedonkey; Agree. This is what Microsoft wanted from Intel. This really opens the door for IOT for Windows 10/WM on the low power threshold and Intel on the high power threshold and can seriously climb to new heights.

I'm very curious about the GPU benchmarks. How far have mobile GPU's come? Specifically, how well does the Adreno GPU in the 835 measure up against say Intel HD Graphics? Cause I've seen some benchmarks for the Tegra X1 (soon to be in the Nintendo Switch) and even Haswell era Intel HD Graphics (eg HD 5000) still out performs the Tegra X1. Could the 835 possibly surpass desktop level Intel HD Graphics?

Adreno 540 will be faster than the Intel HD 515 found in Core M6y30.

Hmm so still not that powerful than since the Haswell HD Graphics 5200 is more powerful in benchmarks not to mention all the subsequent HD Graphics in Broadwell and later.

If i take GFXbench Manhatten 3.1 as reference: Adreno 540: 41 fps HD 515 (M6y30 Skylake): 26 fps HD 5200 (i5 5200U Broadwell): 25 fps HD 5500 (i7 5600U Broadwell): 30 fps HD 4600 (i7 4770K Haswell): 35 fps Note, that the last one (Haswell) is already a desktop class 95 watt TDP CPU.

Hmmm that's interesting, I was going by passmark benchmarks and while it didn't have Adreno benchmarks, the Broadwell HD Graphics had much higher scores.

It's even more embarrassing for Intel if you take the direct competitor SoC, the Atom X5 Z8500 as found in the Surface 3 into consideration. Its "running" GFXbench Manhattan 3.1 at 12fps. The Broadwell CPU mentioned above are typically found in actively cooled devices due its 15W TDP power envelope. I mean Snapdragon 835 is designed to drive phones and low power tablets in the first place.

While this new chipset should make things pretty interesting next year and I'm not an iPhone and part-time Android user, but I am interested to see how the latter will use such a chipset. The thing I'm most curious about is, whether or not MS will create a Surface Mini or Surface branded Mobile device this year or early next year. Maybe, a Surface branded wearable. Well, one can dream, right?

What about the Wharton Brooks saga

Windows Mobile is dead with the release of WOA. They found no reason to create a phone at this time. That is my guess.

@bleached; That wouldn't stop other OEMs from doing so. Nokia on it's comeback can definitely make this work...

Nokia? Ha! No way they make another Windows device!

Unless MS swallows ~80% of the costs. So yeah, not going to happen.

They're testing one now as we speak with this chip. So wrong.

How do you know this? Links and evidence please. I would like to read this

They are in dire straits. Qualcomm will not commit any meaningful quantity of 835s if any to WB, they are too small.
Even the big fat cats will not get enough 835s, and they will not get them for the price they need/want either. Either 835-equipped products will be more expensive than iPhones
or they will be hard to get as they will be loss-leaders (for at least 2017). I will remain sceptical till real facts are available. -

Guess they are adjusting their business plans after learning about Microsoft's (new) plans (under NDA). Their current plans might as well be obsolete.

I am excited about a laptop/convertable with this chip in it. I will wait to buy anything until this fall because having like 12-16 hours on a laptop would be very nice :).

its about compromises. Such SOC wont be as fast as a regular i3/5/7. If you dont need speed you can have ultrabooks with 10h. work time

Those SOCs are usable compromises. Intel (AMD) always will be better/faster.

This looks like a great chip, but please don't start claiming this is as fast as Intel's Core series chips. It's not and no ARM chip is even close. PCWorld did a series of benchmarks comparing Apple's A9X to the Core i5 and i7 in the Surface Pro 3, Surface Pro 4, and Surface Book, and Apple's chip was crushed. They also showed why Geekbench is completely useless, especially in comparing ARM to Intel.

No ones claiming these are better than intel.
These are purely for the mobile market, and revolutionize that market they will.

I would like to see both a 10" & 12" entry level Surface and an upgraded Hololens with this SOC


So is it safe to say that the snapdragon is the best soc? Cuz I really prefer exynos, but I don't really know anything about it, other than its Samsung's and I haven't heard of it having heat issues.

The jury is still out on that. Till now, there are only promises. Once the chip is in production and you can buy real products with this chip
you can start to build an opinion. Samsung is not in full control of the new production process yet
and there will be bugs with this new chip - as always.
Samsung (and TSMC) is starting early with the 10nm production node. I am expecting technical problems of various kinds and bad availability (can't make enough chips).
Samsung might even loose money in the first 12 (or more month) of making those chips.
Samsung might feel temped to commit existing production capacity to other chips
that do make money rather than losing money with SnapDragon 835s. So the available quantity of SnapDragons might not fulfill the demand.
The first products that employ SnapDragon 835s might be expensive
and potentially even be buggy. 2018 might be more interesting in terms of buying a 835-equipped gadget.
In 2017 will probably see a lot of announcements and "show cars" but little volume.

Oh, ok. So there's alot on the table. It's just I see alot of flagship phones using snapdragons instead. Were the Exynos's of last year and before not powerful enough, or were they too expensive?

You seem to know where the yield results are being reported, could you direct me to this information.

The yield of any chip is considered a secret for any semiconductor manufacturer.
You have to sign a high level NDA to get hold of that data. On the other side, there is a lot of industry discussion about moving to ever lower process nodes and how various fabs are faring. Google will give you some quite telling information. http://wccftech.com/tsmc-samsung-10nm-yield/ As a rule of thumb, a new process node always starts with lower yield and it gets better over time while engineers tweak various parameters and customers / design engineers tweak their SoC designs. I would not say that Samsung has only a 40% yield or even less.
But if this were the case, it would have lasting implications. Well, you gotta start somewhere, and Samsung / TSMC decided to be early in the market.
And this is what you get when you enter the market early.
Known fact. But they have their reasons why the go this way, even if it hurts the bottom line for several quarters. Current semiconductor industry is testing the limits of physics.
The smaller you make circuits, the more quantum effects (leakage currents) one will experience. The smaller you get, the more difficult it becomes to arrive at an acceptable yield and keep it there. The smaller you get, the more expensive the fabs become.
The more expensive the fabs become (USD 20 billion for example) the more volume of a given chip design you need to fill the fabs and make a living. That's a high-risk business. At some point it will make more sense to try and utilize Quantum effects for computing
but this will take many many many years till we see some usable results.

This is the world the Lumia 1020 should've been born in. All this tech on a sensor that great with better algorithms...if only.

The obvious question: Will a phone reviewed by this site ever run on this SoC?

How about an HP phone? The X3 is just for tire kicking and providing devices for various corporate evaluation projects. The real volume might be fulfilled by the X3 successor.

This would assume any level of success with the X3 at a corporate level. Given how W10M still hasn't really gotten to a lwevel of satisfaction for many (I don't jsut mean for apps), I don't expect the X3 is doing well enough to convince HP of a successor, ESPECIALLY if this rumor where W10M is totally killed off for W10ARM comes to pass (because we know Microsoft can't let a mobile OS run for more than 2 years without throwing it in the dumpster and rebooting). With Rubino's whole "Surface Phone ARM in 2018" junk, I honestly don't know if 2017 will have a single device launcch with W10M on it. I keep hoping we'll get at least a starting point for a Surface Phone, but I'm done giving Microsoft the benefit of any doubt anymore. They've done nothing to advance this platform meaningfully in about 3 years.

Corporate does not give a sneeze about SnapChat et al.
They care about their very corporate apps, SharePoint, cloud integration and security.
Corporate apps are easier to create than ever with all the tools Microsoft now provides.
That matters. We will see. Windows on ARM practically is still far away. I do not expect the SnapDragon 835 to be available in meaningful quantities in 2017.
What we will see is a lot of "show cars" and announcements but little products yoou can to buy. Only once Samsung manages to get a good yield out of the 10nm production node
and only once Qualcomm debugged the 835 to an acceptable level
real-world products will become available for a price that does not shy off customers. Enter Q2/Q3 2018 and look forward to the X-MAS business of 2018.
This is when you can expect good deals for 835-products (with WIndows or Android). -

The 835 will be old news Q4 2018.

Yes, old news in fact. Let's see what volume Samsung's fabs are able to churn out.
What counts is products in the markets.

old news but 835 should still be king of the hill in Q4 2018 (if the SoC is good). Qualcom 820 was in the news for years before we saw device in high volume...

The 845 or whatever will be reaching its end at that time and we will be hearing of the coming 855. The 835 will not be used just like new phones are not released today with the 810. Unless Qualcomm changes the frequency of updates for its flagship, that is what we would expect.

Of course. They are already working on those. ​But, hey, they have to acutally MAKE those chips. ​And this is all about Samsung having their 10 nm process node running at high yield
​in order to make those chips economically viable. Once Samsung has its 10 nm process node where they want it to be
​you can produce all kinds of Qualcomm SoCs and other devices, whatever their name will be.
​You also can design less featured chips and produce them on 10 nm if you want/need to. The 10 nm process node is a big challenge for Samsung (and everyone else).
​So it all depends on how well Samsung fares with it.

Nice chip, horrendous yields as of now. Which means:
Those chips will be very expensive because a given wafer only has a (much) low(er) number of functioning chips.
And they will be scarce (not enough volume available). It'll take Samsung at least 12 month to sort out things, if not 24 month. I personally also will not buy any device that uses the first generation of that SnapDragon 835 chip
- and that is regardless of the OS that is being used. Samsung and Qualcomm will have to go through various loops to find and correct all the hidden bugs.
The errata will be fairly long. It takes up to 3 month for a wafer to go though production and testing.
I would guess that it will take Qualcomm 4-6 design iteration to cut the errata list down to an acceptable level.
And this is whilst Samsung is tweaking their production process. Changing several things at the time plus new IP blocks ... is typically a source of huge trouble in the semiconductor industry.
I'll watch and wait till things have settled and yield is up to make the chip more affordable. .

question... would it still be worth buying the Hp X3 now or waiting a little longer to see what comes out this year if anything?

Hard to say. I assume that 835s will be expensive and they will be in short supply
as they most likely will be loss-leaders for both Samsung and Qualcomm. I would expect that the X3 will drop in price
2-3 month after a new model has been announced. So maybe wait till prices have dropped for the current SnapDragons, get an X3 (or other product)
and replace this device in 12-18 month with an 835 (or successor product).
In 2017 I guess we will see more announcements rather than real and available products that use the 835. .

That makes sense. thanks for the suggestions.

I have never been aroused by a CPU before.

Looking forward to seeing these in laptops and tablets.

Qualcomm will eat Intel's lunch.

Note 8 is gonna kill it this year :) that and whatever windows surface phone finally comes out.

Daniel, what are the odds of Qualcomm powering the next gen Holo lens from Microsoft.

What's the missing "kitchen sink"?

I can smell the Surface Mobile very close now.

jeebus christ with crutches! Can't wait surface phone with this inside :)

It seems almost certain a new Surface 4 (5 if they want to be consistent) will be released with this , replacing the intel atom chip that was in the Surface 3.

Agreed, the next Surface device will most likely showcase this SoC. Surface 3/4 will also be the first Windows device with Window 10 on ARM.

That would be great. I'm waiting for Surface 3 succesor so long.. (I have Surface Pro 3, buts its too big, and heavy) Also with ARM SOC it could be much lighter and thinner than Surface 3

The only thing I want from this deal is to have a thin Surface 4 non which doesn't take forever to charge and has a good battery life. I'm a simple man :)

I bet the chip needs all his eight cores for Windows10 emulation and therefore won't be that efficient in a Windows device (not talking about mobile) after all.

W10 will have a native implentation for ARM, as far as I understand.
Only x86.exe apps will be emulated.

Unh? It runs Windows 10. It just emulates the X86 software. It will run fine. Hell the 835 cpu has more punch than a PC running Windows XP had when I built one to play Medal Of Honour Allied Assault.

Surface 4 (non-pro) commming ? :P with Windows 10 for ARM

Actually the SD 820 was $70 and if Microsoft just skips a few things like OnePlus did with the 3 they could fit some really powerful specs into it. There should be some tiers of it if they ever continue with mobile devices and the cheaper one should have some downgraded things like speaker, camera, or leave it at a 1080p screen but it would be unique or just make it have some cheaper materials built with or reuse the 950 model

Like i think they should take the apple and google route just make the other one bigger and a smaller battery and plz make the battery replaceable that irritates me so much when you can't

All I want is a phone with Snapdragon 835 which emulates x86 programs like compilers, python, scala, R, java, C, C++. My 8 year old netbook with Windows XP with 1st generation Atom CPU, 1GB of RAM supports this and gets job done when I connect it to large monitor and desktop keyboard, but I hate to carry my netbook and a phone, I need a 2 in 1 that can do this. Come on Microsoft, lets give full Windows 10 on ARM a try on phones!

This thing sounds incredible! Sounds like the birth of an entirely new era in computing. But that I feel that way is probably less about the advancements in the chip itself, and more about what we know MS intends to do with it. Revolutionary! Can't wait to see what the phones, be them Windows or Android are like with this thing, or the set top boxes!

I wouldn't expect MS to be going down the traditional cell phone route. This SOC would be a perfect consumer Hololens SOC. DirectX 12.x, less wattage, more features and cost less than the dev Atom version. Have no doubts this will be case.
Windows Central Newsletter
Thank you for signing up to Windows Central. You will receive a verification email shortly.
There was a problem. Please refresh the page and try again.