Snapmaker 2 A350 3D printer review: A fantastic upgrade but an expensive one
Be the maker you've dreamed of being with the Snapmaker 2 3-in-1 manufacturing system.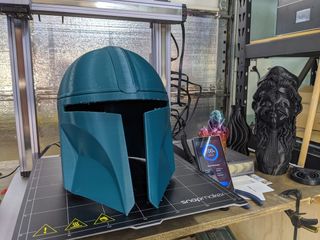 (Image credit: Windows Central)
3D printing at home is just one of many avenues for making cool stuff on your own. Laser cutters and CNC mills are also available for the hobbyist and help you make your projects come to life. Buying a 3D printer, laser cutter, and CNC mill isn't cheap, though, so you normally only get to choose one.
Snapmaker sought to change that with one of the most backed technology Kickstarters of all time, the Snapmaker 3-in-1 with great success. It was small, and many parts weren't optimized, but it was a good start. Since then, Snapmaker has created three new machines of various sizes that have improved on the original machine in every way.
(opens in new tab)
Bottom line: If you are looking for a dedicated 3D printer, then the Snapmaker 2 A350 might not be for you. If you want something to make lots of different projects with different materials, it's pretty great.
For
Great 3D printing module
A lot of manufacturing choice
Solid construction
Expandable and adaptable
Against
It's pretty expensive
The laser is not very powerful
Snapmaker 2 A350: Price and availability
The Snapmaker 2 was originally only available to Kickstarter backers but has since gone live for everyone. It comes in three sizes — the A150, A250, and A350 — and costs around $1,250, $1,550, and $1,850 respectively. We were given the largest of the three and have spent months using it ahead of a review. The Snapmaker 2 is regularly on Amazon and the Snapmaker store.
Snapmaker 2 A350: What's good
From a purely 3D printing perspective, the Snapmaker 2 is much better than I expected. When you make a multipurpose manufacturing machine, you run the risk of all the different parts being mediocre, but the Snapmaker surprised me with its quality. Because the Snapmaker comes in three sizes, it's easy to pick the right size for your 3D printing needs. I have the A350, which has a build volume of 320mm x 350mm x 330m, but the mid-range A250 has a bed size more in keeping with the best 3D printers while offering the same three modules for making.
Swipe to scroll horizontally
| Category | Snapmaker 2 A150/A250/A350 |
| --- | --- |
| 3D printer materials | PLA, ABS, PETG, TPU |
| 3D printer nozzle temperature | 275 degrees Celsius |
| 3D printer bed temperature | 110 degrees Celsius / 100 degrees Celsius / 80 degrees Celsius |
| 3D printer layer resolution | 0.05mm - 0.3mm |
| Laser power | 1600mW |
| Laser type | Diode |
| Laser wavelength | 450nm |
| Laser materials | Wood, leather, plastic, fabric, paper, non-transparent acrylic, and more |
| CNC spindle speed | 6,000 - 12,000 RPM |
| CNC shank Diameter | 0.5mm - 6.35mm |
| CNC materials | Wood, acrylic, PCB, carbon fiber sheet, jade, and more |
| Connectivity | Wi-Fi, USB-A, USB flash drive |
| Software | Snapmaker Luban (other 3D printing slicers work too) |
| Frame | Aluminum alloy extrusion |
The 3D printed models the Snapmaker 2 was able to produce have been amazing. Each model I printed came out excellent after a little fine-tuning, from a small Wonder Woman statue to a full-sized Mandolorian helmet. Luban, the software the Snapmaker comes with, isn't the most powerful 3D printing slicer, but it is easy enough to use your preferred slicer for better results. The Mandolorian helmet took a massive 125 hours to print and worked flawlessly. As a standalone 3D printer, the Snapmaker 2 does a fine job.
Happily, however, the Snapmaker isn't just a 3D printer. It's also a laser engraver and a CNC mill. The laser module allows you to burn designs onto various materials like wood, leather, or plastic and can create incredibly detailed designs on the right material. I made this "imagination station" for my wife, where I laser cut one of her sketches in the top, adding a title underneath it. It was straightforward with the Luban software, by importing the image, tweaking brightness, and hitting go. The Snapmaker deals with everything else you need. Just make sure to open the window to allow the burning smell to dissipate.
Image 1 of 5
The CNC mill is the most complicated part of the entire machine, and I didn't spend as much time on it as I would like. A CNC requires a lot of space and a lot of ventilation and cleaning to keep it running in tip-top shape. I have neither of those in my small workshop, but I managed to cut several small engravings. I've been impressed with what I have seen from the Facebook groups I am in, though. People are making amazing things that I just can't reproduce right now.
Altogether, the three modules are an impressive upgrade to the original Snapmaker. Each of them gets huge improvements; the 3D printing module, for example, has a new fan, new removable parts to make replacement easier, and a better hot end for materials other than PLA. The laser module is now the 1600mW instead of the tiny 200mW module the original Snapmaker came with, but to be honest, even that isn't enough.
Snapmaker 2 A350: What needs work
One of the things I love about the Snapmaker is the chance to use different types of maker tools all in one package, but that doesn't mean there aren't issues. While a fun little distraction, the laser module isn't really capable of much in the way of cutting power. Sure, it can burn wood, plastic, and leather, but when you want it to cut something, you are going to struggle. The laser is only 1600mW, which sounds like a lot until you realize a full-powered laser cutter like the Flux Beamo is a whopping 30,000mW (30 Watts) and can slice through 5mm wood with ease. I struggled to get the Snapmaker 2 to cut through any thickness of wood, regardless of how many passes I made.
Having a more powerful Laser module would elevate the Snapmaker 2 from a good machine to an amazing one, and while we are told that Snapmaker is working on a laser system, we don't know when that is likely to happen. They have recently released an excellent rotary tool; however — it turns your Snapmaker 2 into a kind of lathe/4-axis CNC — so maybe a new laser tool isn't far off.
Snapmaker 2 A350: Competition
It isn't easy to really give a good comparison with a product so versatile. The closest match in one machine is the Zmorph Fab, a fabrication device that also uses laser cutting, CNC milling, and 3D printing. While it is more powerful in almost every way than the Snapmaker 2, it has a smaller build area and is over twice the price. The Zmorph is designed more for small business fabrication rather than hobbyists.
If you were to buy three separate machines, the cost would be considerably more though. Only the 3D printer would be cheaper than the entire Snapmaker 2.
Snapmaker 2 A350: Should you buy it?
You should buy this if ...
You want a large 3D printer
You want to try different manufacturing ideas
You want a lot of different accessories
You shouldn't buy this if...
You only want a 3D printer
You want to be able to tinker with your 3D printer
You should buy the Snapmaker 2 if you are a person who loves to make different things and wants to experiment with different materials. There is so much you can do if you have the imagination to do it.
While I lament the power, or lack thereof, of the laser module, I can't deny the overall usefulness of the Snapmaker 2 A350. The 3D printing module is excellent and, with a little fine-tuning, helped me produce some excellent results, including my Mandolorian helmet, one of my favorite ever prints. Both the Laser and CNC over a hobbyist a chance to grow and change into different mediums, and I can honestly say I look forward to learning more about the CNC side of the Snapmaker 2 as time goes on.
As it is right now, I can certainly recommend getting one of these excellent machines. That's especially the case if you're happy waiting for more modules and accessories, as time goes on.
Windows Central Newsletter
Get the best of Windows Central in in your inbox, every day!
James built his first PC when he was 13 and has never looked back. He can be found on Windows Central, usually in the corner where all the 3D printers are, or huddled around the Xbox playing the latest games.
Windows Central Newsletter
Thank you for signing up to Windows Central. You will receive a verification email shortly.
There was a problem. Please refresh the page and try again.