Best 3D Printers for Under $1,000 in 2022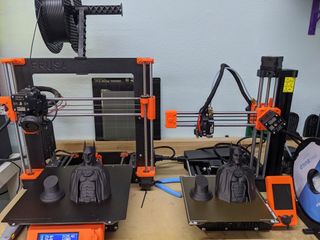 (Image credit: Windows Central)
For years now, we've invested in the 3D printing world, using as many printers as we can to see what's good and what' bad. We all know that printing can be expensive — there are machines on the market that start at $3,000 and shoot up fom there. With that in mind, we wanted to give you a trustworthy and budget-friendly list chockful of our top recommendations for 3D printers. When it comes to quality, you can't beat the Prusa i3 MK3s+. While it isn't the cheapest machine on the list, it's easily the best in terms of build and print. But there are plenty of other prime choices here for you to choose from. So let's find you the best 3D printer!
Best Overall: Prusa i3 Mk3s+
Why you can trust Windows Central Our expert reviewers spend hours testing and comparing products and services so you can choose the best for you. Find out more about how we test.
Prusa i3 MK3s+
Fantastic quality
Reasons to buy
+
Auto bed leveling
+
Excellent print quality
+
Open-source
+
Active community
+
Save functionality
In the world of hobbyist 3D printing, there are few names as well known as Josef Prusa. His work in open source 3D printing has revolutionized what can be done at home and on a budget for those who want to create amazing prints. The Prusa i3 MK3s+ is the latest machine based on his open-source design and is easily the most advanced printer on this list.
The MK3s+ is more of a maintenance upgrade than a full upgrade here, which is why the number hasn't changed. The biggest upgrade was the SuperPINDA replacing the PINDA V2 probe, this new temperature-independent probe should lead to a more consistent first layer, and the higher quality internal components should mean it lasts a lot longer. Redesigned Y carriage rod holders to no longer need zip ties and a slightly modified extruder to allow easier printing of flexibles and easier maintenance of the Bondtech gears.
The listing is for the kit version of the i3 Mk3s+ so you will be required to build it yourself. Prusa does supply a fully made one but it's $200 more when you add in the extra shipping. Which one you buy will depend on your preference, but we recommend getting the kit. Plus, it's actually a lot of fun learning to build one from scratch.
Best Value: Elegoo Neptune 2
Elegoo Neptune 2
Community favorite
Reasons to buy
+
Extremely cheap
+
Simple setup
+
Can create amazing prints
Reasons to avoid
-
Demand is far outstripping supply
The Elegoo Neptune 2 is the new kid on the block in the low-cost 3D printer world, coming in at just $160. The Neptune 2 takes what made the Creality Ender 3 great and then refined it. With a 220x220x250mm build volume, a 32bit controller board, silent stepper motors on X and Y, and a 3.2" touchscreen for interaction it's truly stunning how far we've come from the introduction of the Ender 3, The economies of scale are a wonderful thing.
Construction is simple, taking roughly 30 minutes. You assemble the vertical Z-Axis onto the base, then the horizontal X-Axis and Extruder setup, then the top crossbar gets installed. If the printed instructions aren't to your liking, on the included MicroSD card there is also a video detailing the construction, neat!.
With the included Elegoo Slicer (a mildly rebranded Cura) prints using the default PLA profile come off the Neptune 2 gorgeously clean, a long way from how the Ender 3 shipped to people. With rafts and supports sticking well to the print when needed and just peeling away once it is done.
Best For Your Desk: Prusa Mini+
Original Prusa Mini+ Kit
Reliable office Companion
Reasons to buy
+
Auto bed leveling
+
Fits on your desk
+
Ridiculously quiet
+
Prusa Slicer
Reasons to avoid
-
WiFi support still not here
-
Wait times for new machines
Prusa Researches Prusa Mini+ is the mid-cycle optimization of the highly popular Prusa research 3D printer. With the same SuperPINDA upgrade that the MK3s+ got and some neat recycled PETG Injection molded parts for the Y-carriage assembly the issues some people had with inconsistent first layers on the Original Prusa Mini should be eliminated.
Unlike the previous Prusa Mini, the Mini+ now comes available as a real kit, like the much more expensive MK3s+, this means you can save $50 and have the joy of building it yourself and eating the obligatory Haribo gummy bears in the process.
With Prusa staples like the spring steel magnetic flex plate with PEI, Auto bed leveling, custom 32Bit Buddy controller board with silent motor drivers and the feature-packed Prusa Slicer, the Mini also brings a 2.8" color screen, a geared Bowden extruder, and an ample 180x180x180mm build volume. Whilst the $350 price tag is not the cheapest, with Prusa you are paying for reliability and support which cannot be overlooked.
Best for Exotic Filaments: Matterhackers Pulse XE
Matterhackers Pulse XE
Exotic ready!
Reasons to buy
+
Solid as a rock
+
Great print quality
+
Highly upgradeable
+
Eats Nylons for breakfast
Reasons to avoid
-
Need a different bed for normal materials
-
Not the cheapest.
Exotic filaments like Carbon Fiber Nylon, Glass Fiber Nylon, glow in the dark, Polycarbonate, PEEK, or PEKK require a different set of parameters than printing PLA, PETG, and ABS. Matterhackers' custom Pulse line of printers includes the Pulse XE, outfitted with a Layerlock Garolite print surface for excellent print adhesion for Nylons, a genuine Bondtech extruder for ultimate pushing force into a genuine E3D V6 hotend and hardened steel nozzle, and all leveled with a genuine Antclabs BLTouch.
Matterhackers' Pulse XE can also be outfitted with several upgrades straight from the factory when you order it, be it swapping the hardened Steel for an Olsson Ruby nozzle, or adding the magnetic base for the layerlock system, or even an entirely different 32bit mainboard and Viki2 LCD screen, the amount of customizability is immense.
As our own James Bricknell can attest, print quality is superb and with reliability even when printing standard materials like PLA and PETG is up there with the others in this price class like the Prusa MK3s. Matterhackers' own MatterControl slicer and control software is the icing on the cake here, giving you full control over the printer as well as some lightweight primitive 3D modeling.
Best Value Resin: Anycubic Photon Mono
AnyCubic Photon Mono
Resin printing is amazing
Reasons to buy
+
Entry-level price
+
Almost invisible layer lines
+
Simple to use
+
Excellent slicing
Reasons to avoid
-
Resin is nasty
-
Photon Workshop can be buggy
Resin printing hasn't quite taken the community by storm the way FDM has, but with falling prices and better machines coming out, that is quickly changing. One of those new machines is the Anycubic Photon Mono a new printer with a larger build volume than it is predecessor, but also with a monochromatic screen, meaning longer life, shorter print times, and less heat produced.
Coming in at $269 the Photon Mono is also roughly half the price of its predecessor becoming closer to an impulse buy territory, and of course, you get the ludicrously smooth prints that come with resin printers. You can also pair the Photon Mono with the Wash and Cure 2.0 which we think is a must-buy when working with photopolymer resins and solvents like Isopropyl Alcohol.
Anycubic has also updated its first-party Photon Workshop slicer for the Photon Mono and has profiles for their own resins prefilled which makes getting up and starting a lot easier if you aren't quite sure of exposure settings or cure times when you start.
Bottom line
I've been playing with 3D printers for a long time now, sometimes professionally, sometimes as a hobby, but always on a budget. If I knew what I know now when I started this hobby I would have chosen the Prusa i3 MK3s+ as my first foray into 3D printing, but because I didn't I got to try some other fun printers too. Either way, if you can save money, you can then spend that extra budget on some must-have 3D printing accessories.
The Prusa MK3s+ is a powerhouse of variety, allowing you to print with almost any material possible, with multiple colors — this is an optional upgrade and costs about $300 so be sure that's what you want first — and with a speed and accuracy rivaled by none other at this price range on the market. I love this printer, I really do, it never fails to make a wonderful print for me time and again, largely due to the clever fail-safes built in.
Get the Windows Central Newsletter
All the latest news, reviews, and guides for Windows and Xbox diehards.