Prusa Mini 3D Printer Review: The 3D printer to buy on a budget
Prusa has a reputation for making excellent 3D printers, and the Prusa Mini is no exception. The only difference it's now it's cheap.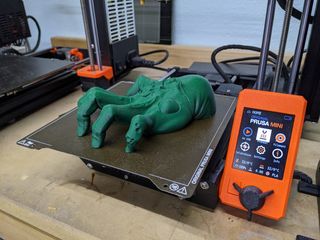 (Image credit: Windows Central)
When Prusa first told the world they were making a printer that wasn't a new version of the amazing MK3s, I was secretly hoping for something larger. At first, I was disappointed that they went for a miniature version of their most famous printer, but the moment I had the Prusa Mini set up and printing, any concerns I had melted away. This is the review of the Prusa Mini, and it is about to take the 3D printing world by storm if you can get hold of one that is.
For
Affordable
Print quality is astounding
Can be networked to create a print farm
Easy to setup
Against
It's a little small, I guess?
There really isn't anything bad
Oh, it might take a while to get to you
Prusa Mini 3D Printer What I like
Prusa Research has been a big name in 3D printing for a long time now, and the Mk3, Prusa's flagship device, is synonymous with quality and reliability. Still, it has always been at what hobbyists feel is at the high-end of their budget. $700 plus shipping for the kit version is a steep price to pay when you are just starting. The Prusa Mini, though halves that cost with very little in the way of trade-offs.
Swipe to scroll horizontally
| Category | Prusa Mini |
| --- | --- |
| Build volume | 180 x 180 x 180 mm |
| Maximum travel speed | 200+ mm/s |
| Max. bed temp. | 100 degrees celsius |
| Max. nozzle temp. | 280 degrees celsius |
| Layer height | 0.05mm |
| Materials | PLA, PETG, Flex, ASA, ABS, Flex |
| Connectivity | USB, Ethernet networking |
As the name suggests, the Mini is a smaller version of the Mk3, and you would be well within your rights to assume the cheaper version of a printer would suffer when it comes to print quality. I can tell you that I haven't seen that at all. You would be hard-pressed to see any difference between the quality of the Prusa Mini and its big brother. I did have a moment of concern that the Mini uses a Bowden setup, which I thought may limit the materials I could use. Still, I had no trouble printing PLA, ABS, or ASA. While I didn't get around to printing flexible materials, UncleJessy on YouTube managed to make an incredibly good print with TPU in his latest video.
Image 1 of 5
As you can see from the gallery above, the print quality on complex models like Batman and the zombie hand from Fotis Mint is excellent, but what impressed me most is the dimensional accuracy. When I printed the nut and bolt, I had little hope that the bolt would screw on correctly — I have had issues in the past — but it is as perfect a print as I have seen.
Setting up the Prusa Mini is extremely easy. Unlike the Mk3 kit, the Mini comes mostly together, with a few pieces that need screwing in place and plugging into the mainboard. Prusa Research has a great manual to help you get the set up correct, and within an hour, I had the first print ready to go. With the Prusa Mini, the development team has stepped away from SD cards as the memory input and replaced it with a USB thumb drive — a much need upgrade in my view — but they have also added networking to the Mini as well. Having the ability to network a group of Mini's together in a print farm is a massive advancement for a small business looking to make small and medium-sized parts rapidly.
Prusa Mini 3D Printer What needs work
There is very little work that needs doing to the Prusa Mini; it's already terrific. I think the biggest downside is perhaps the print bed. If you are buying a 3D printer with the word "Mini" in the title, you should expect a small bed, but others seem to disagree. The bed on the Mini is 180mm x 180mm, which is not that bad. The Prusa Mk3 has a larger bed, of course — 250mm x 210mm — but it certainly isn't double the size to make up for the cost. Even the Ender 3 — a much closer price range to the Mini — is only 40mm bigger each side, and the print quality on the Mini is much higher. While having a large print bed is great, you have to balance cost, bed size, and print quality when you're starting as a hobbyist. The Prusa Mini offers the best balance of the three.
The only real negative right now is the length of time you will have to wait for a new Mini from Prusa Research. Delivery times for the Minican vary from six to eight weeks — as opposed to the two to three weeks of the Mk3 — so if you are on a time crunch, you may need to look elsewhere.
Prusa Mini 3D Printer Should you buy?
There are a lot of reasons why the Prusa Mini might be a good pick for you. The machine's overall size is small enough to fit on your desk, for example, or the fact that it can be linked together to create an affordable print farm. The price is another huge selling point. At just $350 + shipping, it is an incredible bargain for the quality of prints that you get.
If you start out in 3D printing and want a low-cost 3D printer that doesn't compromise quality, then the Mini is your best choice. There will be people who will tell you that buying a cheaper printer and spending six months getting configured is part of the "joy of printing," but it isn't. The hobby has now progressed to the point where the joy can come from what you make, not how long it took you to make the machine work.
Bottom line: The Prusa Mini is now my go-to recommendation for anyone on a budget. The print quality is as good as printers twice the price, and it prints brilliantly out of the box. I have been amazed at the Prusa Mini performance, and you will be too. You'll need to order it soon, though, as they take a little while to arrive.
Get the Windows Central Newsletter
All the latest news, reviews, and guides for Windows and Xbox diehards.
James built his first PC when he was 13 and has never looked back. He can be found on Windows Central, usually in the corner where all the 3D printers are, or huddled around the Xbox playing the latest games.