Don't miss sneaker release dates with KicksOnFire for Windows Phone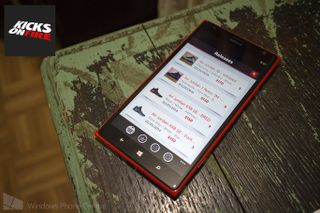 Are you a sneakerhead? Stay up to date with upcoming sneakers by using the KicksOnFire application for Windows Phone. Don't ever miss a release date again! The app is backed by KicksOnFire.com, which is an online destination for sneaker news, release dates, and history. Over 2 million sneaker fans check out the site every month.
Head past the break to watch our hands-on video and walkthrough.
The sneaker release dates are shown right away on the main page. There are thumbnails on the left side to give you a preview. The names of the sneakers, colors, release dates, and prices are also listed.
There's no search form if there's something specific that you're looking for, but you can refine the list. Click the gears on the upper right corner and filter the list by brands. You can also choose to show past releases to check which ones you've missed. The list includes Nike, Jordan Brand, Adidas, Reebok Converse, New Balance, Asics, and more.
Clicking on a sneaker shows a more detailed view. There are photos on top and a short description below. Tap on the photos to cycle through the different angles. If you need more info, the app sends you to their news section covering that specific shoe. If you see something you like, you can add it to favorites by clicking the star on the upper right corner.
Navigate through the app using the tab at the bottom of the screen. You can access your favorites and sneaker news from here. The news section is basically the KicksOnFire mobile website wrapped within the app.
While we think the KicksOnFire app is great for sneaker release reminders, it feels like an app designed for another platform and then rushed into Windows Phone. Adding reminders to the calendar doesn't seem to work. Sharing on Twitter, Instagram, or Facebook seems to be broken as well. We hope the developers have some time to polish it a bit.
KicksOnFire is a free download at the Windows Phone Store. Check it out if you're into sneakers and let us know what you think!
Thanks for the tip, Antonio S.!
Get the Windows Central Newsletter
All the latest news, reviews, and guides for Windows and Xbox diehards.
200 dollars for sneakers? Scuse me while I head over to Big 5's sale rack.

I don't think I've ever paid more than 40% of the MRSP for a pair of trainers... I often wonder if anyone does!

Of all the pointless applications in the world... Is anyone seriously that interested in trainers that they'd specifically use an app that doesn't even work properly?

Believe it or not, there are millions of people out there with a high interest in sneaker culture. Some people are as passionate about shoes, as we are about technology.

I am one of those Sneakerheads... Its a niche thing, acquired taste. I don't even try to justify it. Lol. My wife just shrugs her shoulders when I say something like, "I have to camp outside for these kicks!". However, slowly, but surely she is becoming a sneaker person. I just keep buying her nice ones and she'll ask about anything new. Plus, our childs shoe game is top notch. Lol. I just make it a family affair. Lol.

Lmao! Same here bro.. My son will be born may 12th and I already have a pair of lebron 2's and Jordan 12's waiting for him.

That's my birthday as well! Happy Belated Birthday to him xD

In the app.... One you click on a shoe, view it... And then back out... It takes you back to the beginning... Then you have to scroll all...the ...way down again O_o

People care about this? No wonder the rich are getting richer.

Yeaah...that's it. Sneaker apps have caused income disparity, I remember this from my macro econ course. Has nothing to do with policies. /s

Zappos on WP be nice. They have it on w8. Why not add WP?

HI ! Guys Pls help me to chose best Windows phone. Am very confused between lumia 925 & 1520. i'm waiting of ur rply...