Nokia Future runner up, Social Scene brings time-lapse photography to Windows Phone 8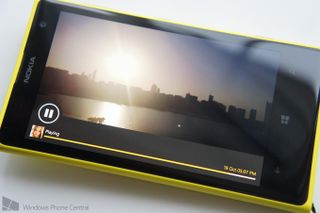 Time-lapse photography can create some interesting effects. The technique involves recording film at lower frame rates than that used for playback. The end result is what appears to be a sped up film - think the opposite of slow motion. Social Scene is an app that brings time-lapse photography to Windows Phone. But it's much more than just a simple camera app. Head on past the break to see why.
So what can you do with Social Scene and why should you bother downloading the app? Instead of recording an entire clip yourself, you're able to capture a scene (hence the name) and you're done. What, that's it? Not quite.
Now that your photo has been stored and saved to that location, when another Windows Phone owner uses the app to capture a photograph at that very same location, their image will be saved and loaded after yours in a slideshow. The app enters into the realm of social time-lapse photography.
Developed by Jason Podwojski (@geoLogUK), the app was the runner up in the Nokia Future/Capture competition earlier this year. Since Nokia has released the Lumia 1020 and continues to work on advancing its smartphone optics, it makes perfect sense for Podwojski to release such an app for Windows Phone. What's more is he's managed to pack some exciting features into the app.
With Social Scene you're able to browse featured, popular and nearby scenes in a gorgeous interface. Top scene creators and contributors are displayed for convenient access to check out what's been published by leading users. If you'd like to head to nearby scenes, you're able to receive driving directions to get there and join in the fun.
Taking a shot is rather straight forward. Simply wait for your GPS to kick in and then hold your device steady. Take the shot and you'll be able to edit and save the photo to the service.
For demonstration, we weren't attempting to time-lapse our website.
Here are some more highlights:
Watch scenes change over time with the scene player
Rate, like and comment on scenes
Create your own private or public scenes
Contribute to public scenes
Create and update your user profile and settings
Best of all, it's free. You can download Social Scene from the Windows Phone Store (Windows Phone 8 only, folks - GPS and network connectivity required).
via: MyNokiaBlog
Rich Edmonds is Senior Editor of PC hardware at Windows Central, covering everything related to PC components and NAS. He's been involved in technology for more than a decade and knows a thing or two about the magic inside a PC chassis. You can follow him over on Twitter at @RichEdmonds.
I really wish lens apps would be simple and do what they're supposed to only. I don't want a social app, or sign in requirement. The Timelapse Pro app is also terrible in the same way. I've been using Pro Cam for time lapse but I really want an app that will merge the photos into a video all on the phone.

Social Scene is focused on the social side with taking a single shot from each user who visits that same location. It's a rather neat take on time-lapse photography. But if you're not into the whole social thing and wish to take a whole recording yourself then this is probably not the app for you.

This lens app is simple and does exactly what it is supposed to do. It IS a SOCIAL app. Just because it doesn't do what *you* want it to, doesn't mean it's wrong. It's not a single user time lapse app.

We can always choose our favorite lenses but there should be interesting and cool options like these.

+1, also waiting for a great time lapse app that does everything on the phone; not interested at all in these social crap things.


Would love to see a app which can sound shot

Wasn't there another app in the works similar to this? Project Tripod I think?

My thoughts exactly. What's different?

Tripod is coming? I think?
Signed up for the beta, but no sign of it yet...

My thought, too. Signed up for the beta, but still waiting on it.

Can't wait to get down to that duck pond in Stockton-on-Tees..

Beautiful close shot picture taken by my Lumia 1020:How is it (see here) http://
bit.ly/1gW4QXv

Why only available log in through twitter, and the others options aren't available(MS, FB..)?

Agreed. App crashes right after it loads. Uninstalled...

Sorry for crash, it was a currupt record in database, not app.
Please try it again and re rate ;)

It throws tons of exceptions making the app really hard to use. A tutorial would be nice too. It took me a few minutes to figure out how the whole thing works.

Sorry for crash, it was a corrupt record in database, not app. Please try it again and re rate ;)

Tried this (in Toronto) and there was nothing around me..so uninstalled. Is it a WP exclusive app??

Go ahead and start something. This just came out and I'm sure will gain momentum. If you don't want to contribute just look up time lapses on YouTube.

Keeps crashing immediately on my 928. Uninstalled, reinstalled, and the problem was still there. I would guess, being in a very large college town, that I wouldn't see much on this. I did see a 521 today and I've seen other WP8s around, but usually days/weeks apart (outside of my wife's HTC 8X I see daily).

Sorry for crash, it was a corrupt record in database, not app.
Please try it again and re rate ;)

This app is one of most well designed apps for WP. Really beautiful. Great concept too. Hope it catches up.

Sorry for crash, it was a corrupt record in database, not app. Please try it again and re rate ;)

Crashes on 928, uninstalled.

Sorry for crash, it was a corrupt record in database, not app.
Please try it again and re rate ;)

Hi everyone.
At 15:30GMT the system started to exit on startup in some areas. This was due to a corrupt record in the database. This data has been fixed now, so all should be ok.
Please give the app another try and rate again, it's only 1 week old and it's my first WP8 app ;)
Over 300 people have signed in today alone, so the user and scene base is going to grow each day.


Hello Jason, good to see you posting on the comments. Just installed but like someone stated in the comments and in the app reviews - you can only sign in via twitter the other options are greyed out. Presume an update will enable these in future?

Your right! Sign in with Microsoft, Facebook and Google were just disabled for the Nokia World at Abu Dhadi. They will be reinstated in version 1.0.1.5. (Not in 1.0.1.4 which will pass certification any day now) ;).
Social networks are used in a two stage way, one to sign in with and two for deaper integration within the app, like posting etc.. and it's part two that I have not completed to date.
1.0.1.5 will be a great update with some awesome new features. Stay tuned @geoLogUK
Windows Central Newsletter
Thank you for signing up to Windows Central. You will receive a verification email shortly.
There was a problem. Please refresh the page and try again.