Adobe Firefly holds the key to fixing Bing Image Creator's biggest AI image limitations
You don't have to know specific art terms to get the look you want from Firefly.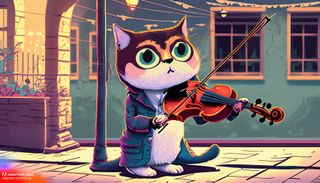 (Image credit: Windows Central)
Bing Image Creator has a lot going for it. It's an impressive AI image generator that quickly creates different visual styles based on the combination of prompts it receives. And, of course, one of its biggest attractions is that anyone with a Microsoft account can use it for free. However, Microsoft's AI image generator has some sizable limitations compared to other AI alternatives — initial prompt options are missing entirely, and there aren't any editing options either.
After spending some time with the Adobe Firefly beta, the in-house AI image generator from the creative software giant, I can't help but see several ways in which Adobe is implementing controls far better than Microsoft.
Half the battle of using an AI image generator effectively is knowing what descriptive words and design terms to use. Ironically, while Adobe Firefly targets creative types, its vast options panel makes it easier for non-artists to use. You don't have to know any industry-standard art terms; just click on the available options to make changes and learn what they mean as you see the results.
Using Bing Image Creator is straightforward on mobile and easily accessible. However, if it aims to be the best AI image generator out there, it needs to take these cues from Adobe Firefly and create a control interface that allows people to alter generated images.
What Bing Image Creator can learn from Adobe Firefly
Both Bing Chat's Image Creator and Adobe Firefly present straightforward and clean interfaces for prompts. In both cases, providing more details in the prompt makes it more likely for either AI generator to pump out images that align with what a user envisions. But it's after the initial prompt that Firefly really shines.
As is the common practice, Adobe Firefly generates four images based on a prompt, but then a bunch of extra options appear in a panel along with these images. From here, I can easily choose which aspect ratio I want these pictures to be in from a list, the art style I'm looking for, any color and tone specifics I want to see, plus lighting and composition details. I'm not stuck with the 1:1 aspect ratio so common to AI image generators and have far more control over tweaking what was initially generated. I can even start a brand new prompt and include specific options right from this window.
If Bing Image Creator added these specific style, coloring, composition, lighting, and tone tools, it would become a whole lot easier to use. Not to mention, it would teach people more design terms to make them better AI image generator users in the process.
Image 1 of 3
Another lovely Firefly aspect Bing Image Creator should learn from is style comparisons. For instance, I can jump between selecting Firefly's Watercolor or Pixel Art style options and see the same images (albeit with slight changes) displayed in these styles. It allows me to compare the effects on the same overall composition and determine what looks I like best. In comparison, Bing Image Creator currently generates wildly different images each time it receives the same prompt, so it's impossible to attempt to tweak a concept you like or even to get the same result twice.
It is worth noting that some of Firefly's options will change the images drastically and can replace an image composition you might have liked. It's especially true when changing the aspect ratio and composition, but it can also happen when making other changes. It's probably why some options require me to click the Refresh button on the prompt box before their effects apply to the images.
Now, Firefly would be better if it implemented the same Recent section that Bing Image Creator does or at least allowed users to save their favorite images to their account. For now, it's essential to download and save any images you really like as you come across them. Even Bing Image Creator only remembers 20 recent AI image prompts, so your older generations can get lost eventually. Microsoft could improve the experience significantly if it were to add some sort of favorites library to Bing Image Creator so users can keep their favorite generated images in one place.
Improvements for the future
Bing Image Creator and Adobe Firefly are still in somewhat early development and will likely see colossal changes within the next few years. During these critical early days, developers of AI image generators need to learn from each other and work to implement the best user experiences they can, or else they will be left behind.
Bing Image Creator is already an impressive tool that has attracted many peoples' attention with its subscription-less availability and simple interface for creating images on Edge. However, its lack of initial design options and editing controls really hamper it at the moment. It should take a page out of Adobe Firefly's book and add specific design controls to help both novice and expert users get the most out of the experience.
Get the Windows Central Newsletter
All the latest news, reviews, and guides for Windows and Xbox diehards.
Self-professed gaming geek, Rebecca Spear, is one of Windows Central's gaming editors with a focus on Xbox and PC gaming. When she isn't checking out the latest games on Xbox Game Pass, PC, or Steam Deck; she can be found digital drawing with a Wacom tablet. She's written thousands of game guides, previews, features, and hardware reviews over the last few years. If you need information about anything gaming related, her articles can help you out. She also loves testing game accessories and any new tech on the market.