Adobe Photoshop just got even easier to use with Generative Fill AI edits
Adobe Photoshop's new Generative Fill lets users make AI edits with word prompts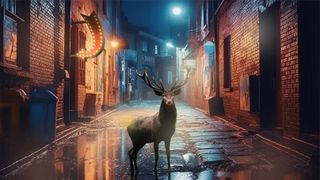 (Image credit: Adobe)
What you need to know
Adobe Firefly is the creative software company's AI generative program.
Today, Adobe announced that Firefly has been integrated into Photoshop allowing for Generative Fill, which lets users make edits, extend images, or remove objects using word prompts.
Firefly's generative AI abilities will continue to be integrated into Adobe's Creative Cloud programs going forward.
Today, Adobe announced that Adobe Firefly is now integrated into Photoshop, making it so that users can quickly make non-destructive AI-generated edits and text effects to their work via text prompts (much like Bing Image Creator but with far more control in a creative capacity).
This news comes six weeks after Adobe Firefly launched in a closed beta allowing those who were given access to check out the software company's brand-new AI generative program. Its purpose is to be a tool to help creators produce their work more conveniently rather than simply making everything for them.
Chief among Adobe Firefly's integrative abilities with Photoshop is Generative Fill, which quickly adds, extends, or removes imagery from an image after a user gives commands via text prompts. The results are believable as the program "automatically matches perspective, lighting and style of images to enable users to achieve astounding results while reducing tedious tasks."
For instance, widening an image of a family at a park beyond the scope of the original photo and then selecting that new area and typing "jungle gym" into the generative text prompt box should fill in that added space with a believable play area as well as trees and grass that match the original photo's surroundings. Bringing Firefly into Photoshop should make the photo editing software easier for home users, creatives, and businesses to use it.
"By integrating Firefly directly into workflows as a creative co-pilot, Adobe is accelerating ideation, exploration and production for all of our customers," said Ashley Still, senior vice president, Digital Media at Adobe. "Generative Fill combines the speed and ease of generative AI with the power and precision of Photoshop, empowering customers to bring their visions to life at the speed of their imaginations."
As stated in Adobe's official announcement, Generative Fill accomplishes these speedy creative workflows by utilizing several things:
Powered by Firefly: Firefly is designed to generate images that are safe for commercial use and is trained on Adobe Stock's hundreds of millions of professional-grade, licensed, high-resolution images, helping ensure Firefly won't generate content based on other peoples' or brands' intellectual property (IP).
Magically leap from idea to image, with simple text prompts: Add, extend or remove content from images to achieve astounding results.
Edit non-destructively: Create newly generated content in generative layers, enabling you to rapidly iterate through a myriad of creative possibilities and reverse the effects when you want, without impacting your original image.
Create at a transformative rate: Experiment with off-the-wall ideas, ideate different concepts and produce boundless variations of high-quality content as fast as you can type.
Available as a web tool: Generative Fill is also available as a new module in the Firefly beta for users interested in testing the new capabilities on the web.
The ethical nature of AI generative programs has been called into question a lot recently. The best AI image generators all rely on vast libraries of images in order to generate visuals, many of which have been added without artist's consent. Being aware of this and wanting to "ensure content and data transparency" Adobe explained that Generative Fill incorporates Content Credentials (developed by Adobe's Content Authenticity Initiative). This way, people always know if art made using Adobe software was created by a human, if it was completely created via AI generator, or if it incorporates AI edits of any kind.
This is all part of a plan to incorporate Adobe Firefly's AI generative abilities into other Creative Cloud programs going forward. Additional announcements regarding Firefly integration will undoubtedly come in the future.
Windows Central's take
With its renewed focus on AI generative abilities, Adobe is finding a way to not only maintain its position as a relevant creative software company but is also ensuring its place above its generative AI image competitors. The thing most AI image generators lack is editing abilities, but Adobe is coming at the AI generator industry with powerful editing options that it has been building upon for decades.
Additionally, this software company has long utilized AI technology by incorporating Adobe Sensei into Creative Cloud to allow for convenient, time-saving (and AI-assisted) edits. So really, adding generative AI to its repertoire isn't jumping on a trend but is really just the next obvious step for the company. However, Firefly takes things several steps further allowing for more complicated tasks like vector recoloring and Generative Fill to help make it easier for creators to alter their work while still keeping control over it. This is bound to make the software more appealing to beginners and will greatly enhance Photoshop's powerful editing options.
On another note, if you're already familiar with Photoshop, you might be wondering how Generative Fill differs from Content-Aware Fill. I'm happy to explain. Content-Aware Fill is somewhat like a superpowered healing tool that removes a selected area and then fills it back in by pulling visual data from the image. For instance, removing ugly telephone lines from the background of a photo and automatically patching the area up with sky samplings found around the selected area.
Generative Fill, on the other hand, gives users far more control over what replaces the removed section of the image. As an example, you could select that ugly telephone pole and then type "flying red dragon" into the generative prompt box and Photoshop (assisted by Firefly) would remove the pole and put a dragon in the same space that was selected. It opens up so many new possibilities and since Firefly generates visuals by pulling from Adobe stock images, you don't have to worry as much about where the image references are coming from.
Get the Windows Central Newsletter
All the latest news, reviews, and guides for Windows and Xbox diehards.
Self-professed gaming geek, Rebecca Spear, is one of Windows Central's gaming editors with a focus on Xbox and PC gaming. When she isn't checking out the latest games on Xbox Game Pass, PC, or Steam Deck; she can be found digital drawing with a Wacom tablet. She's written thousands of game guides, previews, features, and hardware reviews over the last few years. If you need information about anything gaming related, her articles can help you out. She also loves testing game accessories and any new tech on the market.