Some low-end Lumias are receiving an update to fix Wi-Fi, cellular and camera issues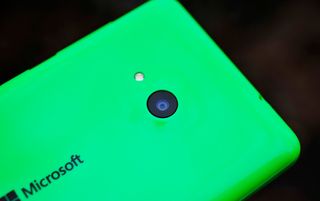 Microsoft is rolling out an update to low-end Lumias that bring a slew of fixes for common issues. The update, which is now available for to the Lumia 430, Lumia 435, Lumia 530, Lumia 532 and Lumia 535, brings stability improvements as well as better Wi-Fi connectivity, improved support for installing content on an SD card, and more.
The update takes the firmware version to 02074.00000.15234.280xx, with the version number at 8.10.14234.375 (Denim). Here's the breakdown of what's new for the Lumia 435, 530, 532 and 535:
Improved WiFi connectivity.
Improved support for installing apps to a SD memory card.
Additional improvements to stability, national roaming, and more.
The Lumia 430 nets enhancements to exposure and white balance as well:
Improved WiFi connectivity.
Improved support for installing apps to a SD memory card.
Improvements to camera exposure and white balance settings.
Additional improvements to stability, cellular connectivity, national roaming, and more.
How many of you have already received the update?
Windows Central Newsletter
Get the best of Windows Central in in your inbox, every day!
Harish Jonnalagadda is a Senior Editor overseeing Asia for Android Central, Windows Central's sister site. When not reviewing phones, he's testing PC hardware, including video cards, motherboards, gaming accessories, and keyboards.
Read the article...You'll get to know.

Not sure if serious. Futurama Fry.

Why? For the glo... oh, wrong site.

I will repeat... I have this real bad feeling that the first wave of windows 10 phones will be 450, 550, 750 with no flagship. I really hope I'm wrong.

And windows central never reported that an Indian OEM, XOLO updated their Win Q1000 with GDR2 last month, while most Lumias still do not have GDR2..

We need Denim Update 2, pls MS release it.

Wait for Windows 10 to come.
GDR2 doesn't bring anything special and you probably won't ever feel the difference except for the settings app.

It brings many small features like native .mkv support, redsigned settings app, ability to pin individual settings etc. & i like small changes. WP 10 still a long way to go before release.


I have GDR2. Yes, there's native mkv support for videos app however, it doesn't play subtitles and you can't change audio tracks either. Kinda useless to me (I watch many foreign movies for which mkv is a concern). Moliplayer Pro is still my favourite video player.
New settings app? It's really nice. The search button comes pretty handy.
I've never felt the need of pinning a setting to start. Maybe because the settings app itself is too easy to use now. Besides, action center is enough for me :)

Doesn't play subtitles, in what world?
I play mkv files with subtitles in the native xbox videos app.. It works perfectly on my Lumia 640

How did you get the update 2 in India? It's not available yet, is it?

He must be having 640XL or 640. They come with update 2 pre-installed.. Or he had participated in Insider program for WP10 TP. It first install update 2 & then WP10 TP on your device.

A quite the improvement of system speed on 512MB devices ... but who cares. BTW just use the Windows Insider program. It gives you Update 2 before the Win 10 update (at least it did before build 10136).

It's not about the new UI for settings, it brings many enhancement and improvements.
Ask Cortana!

Windows 10? Just next year for old phone ¬¬

Quite possible.. Till then i can enjoy with GDR2.

Still no solution for apps that are stuck between unable to uninstall & unable to update. Hard resetting the phone each time this happens is not a permanent solution...I have hard reset my phone 3 times just to get the apps to reinstall properly. But along the way when the apps gets updated, the same problem returns. Can happen to any apps at random.

Someone told me that "Advertising ID" may be the culprit. Try to mess with the setting of this option, restart the phone and try again with the download of the app.

I have this problem everytime candy crush tries updating. What sometimes works is forcing the download on mobile data and sometimes download on wifi.. Still no perfect solution. Though I rather not download than reset my phone everytime..

Hope microsoft have some solutions for lumia830 camera issue.

There's a lot of people that got a total camera failure on 830's WC forum (including me - got it replaced). But it can't be fixed via software updates, its a hardware problem.

I believe maybe more to software issue. I have sent for the fix at local microsoft dealer, they just wipe out clean the existing firmware and install new firmware. I got back my phone and the camera is working fine again until couple of days ago when that small update is rolling, i install that update and the camera went berzerk once again.

what issue?dont have any with mine or neighbours

Hoping for an L830 WiFi fix but not holding my breath though... Connectivity can be spotty whilst on WiFi with it being affected more when I'm out of WiFi range, turn it off when the problem occurs and it connects as should, very annoying because it comes and goes with no rhyme or obvious reason.

When is next build for Windows 10 mobile (10080). Can risk and go to wp 8.1

Build 10136 is already out.
If you are running Build 10080, revert to 8.1 and sign up for Windows Insider again and you'll get the latest build. If you don't want to revert, wait for around a month and a half for the new build.

Im not counting build 10136 as an existing build, coz already Im on 10080 and not willing to revert back to wp 8.1. Anyways if you dont have the answer...... You know what to do.

Nobody knows the answer... You know what to do...

With build 10080 Windows 10 doesn't exist..

make new windows 8.1 build

lol lol i want this too. :-)

Received this updates 3 days ago :)

You should have sent a tip to WC!

I tip WC all the time, but since the days that WindowsPhone Central became Windows Central, WC sings songs of XBOX & Windows only, they don't find it half interesting enough to update articles of Windows Phone & its hardware anymore..

I also have this problem with my Lumia 1520, along with random app crashes. Very annoying!

Lumia 520 is also got a critical update for reboot issue. Though I don't have such issues.

That update was covered by WC on last Friday!

When youre phone is in Gdr2 and update this new version. Is there possible not to get windows 10 preview? Because too much bug. I dont want to roll back again.

I know my Icon stopped auto connecting to wifi long ago.

Yeah its hit or miss. I wish they'd refine their fw for people who use it on gsm as I get the occasional drop out on lte & internet sharing doesn't work on lte setting

My Icon doesn't have the 5GHz band anymore

My Lumia 720 has horrible WiFi issues since black update. Hard reset doesn't help. Restart and try is the only option. Otherwise simply bear with the , your phone cannot connect to this network.

I am using NL720 too, and i am constantly on WiFi but I do not face any such issue. It must be with you WiFi network or it can be hardware related problem.

Why there is no official video about Lumia 430 ?

I have 720 and live in India and I got a 1 MB update for reboot fix!!

Yes, this was mentioned a few days ago and is separate to this update.

Yeah, according to Data Sense, that update was actually just 1MB!

I have received a couple of small updates over last 3 days on my Lumia 535.. No changelog display after installing those.. so i am assuming it was this update..

u received in Windows PHone 8.1 or windows 10 build ?

One of them was for sure the rebooting issue update. Got it too on my 535. Maybe one of the others was this.

At last but I want for my Lumia 525 too:'(

This has at least cleared up why my 435 has had 2 significant updates in 2 weeks.

I'm using Malaysian carrier Lumia 535, did not receive any update

I have a Lumia 535 with this update more unfortunately still having problems with wifi.

I have a Lumia 535 with this update more unfortunately still having problems with wifi.

did you get update in windows phone 8.1 or windows 10 build

i want to update my phone but my phone is in GDR update 2, im not sure what update i can get. the windows 10 preview or this update. can anyone help me?

I got gdr update 2 in India For lumia 735.

You have a 735 in India!! How?!

will i get the update in Windows 10 136 build regarding firmware ?

We want camera update for Lumia 640

Yes, this phone has just the Lumia Camera and not the Microsoft Camera. And the Lumia Camera 5 has poorer image processing and end results as compared to my 625. I mean, the image looks perfect while its still in the living image form, and the end result just goes pathetic then after..

My 520 needs this too. Wifi reception is really bad in this phone compared to other android phones.

My 1520 need Improved WiFi connectivity too, sometimes I have to power on/off for it to connect to wifi

I have to be doing the same when I can't get Wi-Fi or cellular connectivity on my 1520 as well

No, Lumia 535 (Portugal) didn't received the update yet.

Got this update a week ago, just after reverting to WP8.1 from W10TP. Was wondering what the changlog is, as there wasn't anything posted regarding the update on WPcentral and WMP.

I need this update for my 1520 also. It's so annoying that I can't receive Wi-Fi and cellular connection!

So low-end pretty much means all Windows Phones right? Lol.

I haven't even got the GDR2 update for my 830 in the UK. But I don't think I should be complaining lol cuz Windows 10 is what were all waiting for anyways. :)

still getting app sdcard move failure.

I did, but like three days ago (L535)

still getting app sdcard move failure.

just wondering which category Lumia 925 falls in... low end or high end? :€

High, of course. Unless you're trolling, in that case, low,,or whatever, "lol".

Got it since last weekend.,.

Limited not shown for wifi with very low connectivity on Lumia 520 since denim update.Is it common?

Is the Problem only with the Lumias mentioned in the article? I ask because my Lumia 925 is unable to connect to Wi-Fi for over a week now. Whenever I'm in Uni I connect to my Uni Wi-Fi but over the past couple of days I'm unable to do so. I've soft reset my phone and also deleted the Wi-Fi details and tried connecting it again but to no avail. I can use my cellular data though. Could someone help me with this?

After 1MB critical update,I am unable to download apps(>20MB) over cellular data.It was fine till 100MB before today.

I've got a Lumia 830 and I have Wi-Fi problems to
Can I get a update to??

I received an update yesterday. L920.

Tmobile released update for their 435

after i installed the update, i was now unable to install windows 10 in my lumia 530
Windows Central Newsletter
Thank you for signing up to Windows Central. You will receive a verification email shortly.
There was a problem. Please refresh the page and try again.