Some Outlook.com users cannot currently sign in, Microsoft working on fix [Update: It's back up]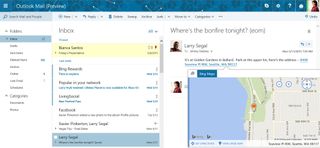 Update; Microsoft's status page now shows Outlook.com is back up and running
Some Outlook.com users are experiencing issues logging into their web email accounts. Microsoft is aware of the problem and has stated it is working on a fix.
The problems began earlier today and Microsoft's status page for Outlook.com (opens in new tab) (via MSPU) reflects those glitches:
There's no word on what exactly is causing these problems, but we will update this post when everything is back to normal at Outlook.com.
Windows Central Newsletter
Get the best of Windows Central in your inbox, every day!
Thought maybe I was getting the upgrade to the new version. Guess not.

My boss was having a hard time with his account today. Then again, we are about to get an arse beating in Orlando with hurricane Mathew...fun night incoming.

Stay safe, charge your phone.

Thank you. So far, so good. It has been mild here. Other parts are getting a thrashing, but then again, it's not supposed to really happen for me until about 3am through noon Friday. I took all the precautions I could - including charging my 950. Thanks again.

Thought same thing as I got an email earlier this week. But now same old interface is back.

You got an email you were to be upgraded? I haven't so I guess this was just a HW/SW blip. BTW, MR CATFISH you stay safe down there!

Make America great again.

I just got the update a week ago and it's amazing. It looks just like the office 365 business version. Amazing actually, Gmail is a joke compared to the new outlook.

Mail is a complete mess for days now. Sure, downvote me all you like but read the Microsoft Community first. Its raining complaints.

I hate the new outlook.com I cant select more than 14 emails to move to another folder. Big step back.

Skype on Twitter. Problems logging in. Go Microsoft, go......jeeeeeeessss

It's not really new, my sister hasn't been able to log into Outlook with that error since last week, it even says sometimes "cannot reach this page" on Edge...

I lost all my images in the people hub that I manually attached to contacts. The only ones that remain are those coming from the Facebook integration. Anyone having the same issue?

Had the same issue, I am waiting for a fix to restore the profile images. Frankly its bad Microsoft haven't been open and vocal about this issue.

Lost contact images last week

Me & my gf have lost them too. I "tipped" Windows Central hoping for an article or to dig into MS to find out why, when or if it might be corrected. It lost my custom ringtones too on my 950 XL.

I'm having the same issue, contacts images were lost about a week ago!

Mobile first, cloud first!

My inbox on my Outlook App on Windows 10 Mobile it's not updating, perhaps have something to do with this issue? I'm using my Outlook account on it.

Waiting for my account to be moved to Outlook Mail.... Is MS going to bring back the Facebook integration?

No. That was cancelled by Facebook. Microsoft didn't have a choice in the matter.

Yesterday, the Categories wasn't working properly. I wonder if this is related.

I just wish Microsoft would stop forcing automatic sign in on Skype through the Outlook Mail app! If I wanted Skype I would download it and create an account. I don't and I don't appreciate being automatically signed in to an app I do not want. Jesus Christ Microsoft whatever happened to choice on your ecosystem? Or are you so desperate to make Skype viable that you have to automatically sign in users to pad your users statistics?

Onedrive app on lumia 950xl doesnt work anymore just crashes back to start screen. Contact pictures are still gone, been a few days. keep getting the fix you account error to, sign back in, good for a bit but always come back.

Had problems last few days on my 640XL..... Hotmail and outlook

Mail on my 950XL is currently all over the place, with multiple inboxes coming & going. People is a mess, with all personalisation (images, ring tones etc.) gone. And then this morning I wake to weird messaging - a text conversation last night now has the latest reply all out on its own, presumably because of the People issue.

Couldn't find "download all attachments"... come on, bring it back... it was good while it lasted

I have not been able to use Outlook on Edge since Microsoft had their last update on it. I can use Firefox but it is slow. I also lost my pictures in the people hub on my Lumia 735. I hope I do not have to put all the pictures back.

OMG Finally i got the outlook upgrade :D

Does this work for anyone? People>Settings>Connect to social networks? I get a message that says "There was a problem loading your options. Please try again." I've tried on different browsers and machines and still get the same message. Is it not working for everyone?

The "something went wrong" error has been going on for over 2 weeks now. The forums here and all over the internet are full of people having this problem. Over 2 weeks is unacceptable to not be getting email. Also people (contacts) are missing and/or the pictures for contacts are missing. I had to create a brand new MS account to get access to email again.

I still have problems with mail. Keep getting error message, so mail can't be delivered. WTF! C'MON MS get your **** together!