Surface Pro 4 owners report raft of issues following July firmware update
Touchscreen problems and exceedingly long restarts are just some of the problems reported by Surface Pro 4 owners.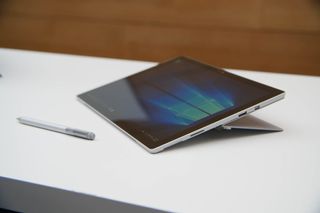 Surface firmware updates typically solve issues, but the latest appears to be causing headaches for at least some Surface Pro 4 owners. In a lengthy thread (opens in new tab) on the Microsoft Answers community forums, Surface Pro 4 users began reporting a number of issues plaguing their machines following the release of the device's last set of firmware updates on July 26.
The number one reported problem is that the screen stops responding to touch and pen input. Additionally, excessively long restart times and a noticeable increase in fan usage seem to have been caused by the firmware updates. The user who started the Microsoft Answers thread, going by the name of ElixirHunter, summed up the issues:
All of the keyboard/pad functions are working including zoom, scroll etc. but no screen-touch or pen response (pen button clicks still open pre-chosen programmes as they should) After being shut down will only start up with long hold on power switch.
It now takes ages to restart (used to start in a few dreamy seconds). Begins with completely black screen for about 20 seconds and no visible signs of turning on (lights on Fn key for instance) then the SURFACE screen, then the ring and eventually lock screen.
Seems to use the fan more often (it even continued after shut a few times).
In device manager the Firmware has an exclamation mark on Surface ME saying: This device cannot start. (Code 10) - An attempt was made to change the attributes on memory that has not been committed.
Trouble shooter detects this but can not solve it.
The pen/ink section of the Surface App says: the Surface app needs an updated component from Windows Update in order to enable this feature
For its part, a Microsoft representative has responded to the thread, noting that the company is "actively investigating" the issue, but there's no solution for now.
Surface Pro 4 owners aren't alone: a years-old thread about unresponsive Type Covers on the Surface Pro 3 has seen an uptick in activity (opens in new tab) recently as well. It's unclear just how widespread the issues are, but they present serious problems for those who rely on their Surface Pro devices to get work done every day.
Thanks to Stu H. for the tip!
Dan Thorp-Lancaster is the former Editor-in-Chief of Windows Central. He began working with Windows Central, Android Central, and iMore as a news writer in 2014 and is obsessed with tech of all sorts. You can follow Dan on Twitter @DthorpL and Instagram @heyitsdtl.
That second point... us SB2 owners have been experiencing it for ages. Sometimes it goes away, and admittedly it's better now than it used to be, but still, the power on feature for Surface is not great.
I used to get the same issue on my Surface Pro 4. My Mrs has that now, I'll check with her to see if she has the same problem.

My Surface Pro 4 doesn't seem to have any of these issues so I wonder if the Firmware was pulled after these issues were reported?

No, I got this firmware pretty recently. I'm having none of the above issues; instead, Type Cover woes. It will randomly stop working (no keys or touchpad). Sometimes restarting doesn't work, unplugging and plugging in doesn't. It's very random and I haven't been able to find a consistent fix. Only started happening recently and I thought it might be a hardware problem. Who knows?

Yes, I have started to have issues with the Type cover recently on my SP4. Randomly, will not work, particularly the CTRL key. And it's barely a year old.

Not good.. Perhaps Consumer Reports are not being too harsh in issuing a no buy recommendation? I have but noticed any issues on my SP4 M3 unit.

So a bad firmware is good enough to slam a SP4 to Consumer reports? OK.... For what it's worth, I've seen no issues with my unit.

Well it certainly doesn't help with an argument to be made that their no recommendation is unfounded... Obviously a frustrating scenario for anyone impacted by this issue.

My SP4 has been running the fan flat out since last update and I have only been use edge browser. Hopefully a quick fix is in the works.

No issues with my SP4. My S3 does have keyboard connection issues that require a restart for it to connect again.

Since this firmware, I have sometimes blue screens at startup... 6 months ago, I had it nearly each time and after forcing to reinstall the latest firmware, it partially solved the problem (blue screen between 1 to 6 times a month) until I had new firmware updates and until those of July.

What's all these problems when your Surface Pro4 can't even update lol. My SP4 doesn't even update. It constantly fails to do so. I have severe software issues from last year's July/Aug patch.

I always hard reset after a major OS update. So far, nothing to complain for 1803 on my SP4.

As expected..junk updates by Microcrap

Don't worry. Sony, Asus, Toshiba, Dell, Intel, Google and Apple all have junk updates for you as well.

I had that device manager firmware exlimation mark about a year ago, and along with it a few issues. Manually uninstalling and reinstalling the driver fixed all my issues and haven't had a problem since.

My 12 surface pro 4 are all running just fine without issues.

I'm also getting Bluetooth stuttering that makes mouse movement and listening to music impossible. I have to shut down completely and turn back on and ensure I'm only using one Bluetooth device at a time

That's why I nuke updates. They break more than they fix. F***ers can't leave well alone. I'm pretty much done with win 10 anyway. Hate it. I only use it to root my Androids. Latest tablet I have is the SP3 and that runs hot all the time. Brand new Yoga 710 and I'm afraid to use it.

Updates definitely fix more than they break. More importantly, they provide security updates. Like vaccinations, those help everyone not just the vaccinated party. Security updates stop malware from spreading and make more work for the bad guys. We should all apply updates promptly (waiting a few days to apply updates to a mission critical system can be reasonable to ensure there are not a problems being reported by others) unless there is a specific known reason not to on your specific device.

Yep! me too, but my issue isn't mentioned here. As I'm browsing with touch as tablet, when there is an article or website that I want to open in a new tab by pressing and holding the link with the finger, the sub menu will not open and instead it just highlights the link and takes me there on the same tab. It frustrates!!!

Yes, I have the same exact issues after the update. Most of the users are having the issue with the i5 cpu 8GB Ram configuration.
Windows Central Newsletter
Thank you for signing up to Windows Central. You will receive a verification email shortly.
There was a problem. Please refresh the page and try again.