Some Xbox One owners may have to delete and re-download Call of Duty: Advanced Warfare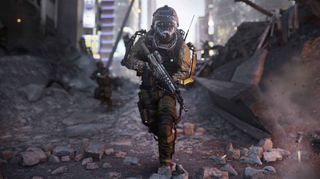 Microsoft has stated that some Xbox One owners who have pre-ordered the digital version of the new first person shooter Call of Duty: Advanced Warfare might have to delete and re-download the game for it to work on their console
According to an Xbox Live service alert message, Microsoft stated:
If you pre-ordered the game on your Xbox One, did you experience any problems with downloading and installing it?
Source: Xbox Live status (opens in new tab)
Windows Central Newsletter
Get the best of Windows Central in in your inbox, every day!
Yikes....sucks! Hey @WCentral @EastX can't wait for you guys to play AW. The game has finally brought the lost COD love to it's fans. Sledgehammer delivers again. Always gad high hopes for them after MW3.

Seriously? MW3 trails only Ghosts, and maybe CoD 3, as the worst ever. I played it for an hour and dumped it. Death Streaks, terrible maps, bad grenades...it had it all.

I doubt it Keith, maybe that's your opinion. Mine and what most fans say is the other. MW3 was the induction of Modern Warfare in COD games, how can something that just got introduced be very bad? It had nothing to compare with at the time.

Yeah, CoD 2 & 3 were and are really good games. Black Ops 2 is awesome too. The only game I didn't like very much was Black Ops 1.

Black ops 1 has better story than black ops 2

CoD 2 was great. CoD 3 was less so for multiplayer, but good for singleplayer. Though I think you meant CoD:MW2 and CoD:MW3, which is different than CoD 2 and CoD 3. :)

Lolz for me Bop 1 was better in story and gameplay than bop 2.

MW3 was one of my favorite. I loved those maps! It just needed a little more customization like Black Ops II.

Nothing beats the storyline of MW1 and the Gameplay of Black Ops 2.

Nothing beats the online of MW2. Chopper gunner, air strike, AC-130. All at the same time.

Agreed! 100% Best COD so far.

Don't have an Xbox, but just curious how big is the game that one have to re-download :)

Somewhere around 46GB....

Forty-six gigabytes bro..unlike 6gb on the 360

Lol that blows. How long does a download and install of that size take on average?

You can start playing before the download is finished. As for how fast, that's dependent on your internet connection.

For comparisons sake the initial download on ps3 note 3 not 4 was about 14gb. I wonder why so much smaller....maybe just the better gfx etc?

I haven't tried it yet. Wasn't going to stay up until midnight to do it and I am at work right now.

Thank you for your input.

I pre-ordered the game on Saturday and played the digital version this morning with no problems.

My Son and I had a rough time getting the game to install, as it kept going to 'Queued' status. After deleting installed games to make more space, we found out the update to the game was trying to download at the same time. To fix, when the 'Update Game Available' pops up on the screen, select 'install later' and the game installs. We thought we a broken game disc.

Thankfully. I own Playstation 4 :)
(ok many will be angry to my comment, sorry but true)

Lol...you serious? Well good for you. I had one then returned it got my money back.

You have PSN then... Good luck with that... :-)

In don't think many care that you own the PS 4. What they probably think is you are a sucker :P Love my vita, but I don't really see a need of bringing it up on this forum. :)

Nice for you, Xbox One owners all got to play Evolve Big Alpha over the weekend while it was delayed on PS4 because Sony broke the game with their latest OS update. Swings and roundabouts.

What about Evolve Alpha. Glad I have an Xbox One.

About 11 hours in and my reinstall is at like 92%. Fun times.

Cool, I've been trying to download Halo: Master Chief for about 3 weeks now.
It keeps stopping install and reverting back to 31% after resuming.

Oh thank goodness that's happening to someone else too! I was tearing my hair out as it had been downloading for a week. Deleted and started reinstalling last night... Only another 80% to go!

Yes it really sucks. I have been attempting to install it for the last 9 hours. I just deleted and started reinstalling again.

Been playing since midnight. Was still at 89% at 5am EST. Had no problem playing. Took 6-7 hours to get that much downloaded.

at 46 Go, I'm glad to have a unlimited internet acces... lol

Bought and forgot at earliest opportunity last week...it downloaded and when I checked last night was fully installed. Played it for an hour or so last night without incident. (except that I discovered just how out of practice I am with FPS - K/D ratio sucked) ;)

I was initially prompted to install it when I fired it up which was a little scary because I'd already installed it and wanted to start shooting things asap, but the screen just seemed to refresh and the "install" button magically turned into a "play" button.

I had a similar experience. I had already preordered and downloaded the game 2 weeks ago. When I tried to play it for the first time yesterday, I got the prompt to update the game. But it was just a 250-MB update and I was playing the game after a few minutes.

I forget that this franchise is still around. It doesn't even register anymore. What a joke.

I was the lucky that have to redownload

The disk version is having issues as well. However, I found a workaround.

Had sum problems with downloading the Pre-Ordered AC Unity. But I think the problems with DP-Update sick came on Nov. 1st

I'm glad that was not the case with Super Mario Bros on my NES

My download was stuck at 68 percent since last night. Fortunately it was installed enough for me to play it for about 10 minutes before work! Best 10 minutes of FPS gaming ever. Now....if I could only get used to playing FPS with a controller. If the game isn't 100% when I get home, I will just uninstall and reinstall at some point in the future.

Lol as long as your not on a metered internet connection no big deal. ..

Well I got my CODAW bundle pack today going to unbox and enjoy. Brain orgasam!

Mine worked perfect for once:D

I pre ordered the advanced warfare x360 game on Microsoft store on Oct. 11 and now I have to wait until next week. Damn UPS.

I want to know what was the issue? For those who pre-ordered the game, why didn't it work on launch day?

This concerns PS4 owners too by the way.

Happened to me, and deleted and re-installing the app was not much fun as getting the xbox to let go involved, delete, hard reboot (holding down the power for 5 seconds) and trying again. Third time lucky for me, but why it needed to download 1.5Gb before it started was beyond me! Game was worth it though, just hope the don't Ghost it!

Could somebody tell me why I can't find joy in any of the COD games after COD4? I think i wasted money again... :'(
Windows Central Newsletter
Thank you for signing up to Windows Central. You will receive a verification email shortly.
There was a problem. Please refresh the page and try again.