This simple but awesome mod brings Lego to the Surface Pro 3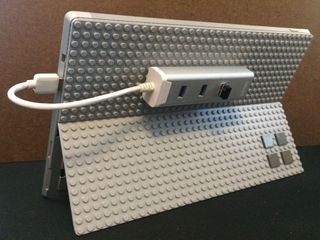 Microsoft's Surface Pro 3 may be running low on inventory, but a Reddit user with the handle "Splice1138" has come up with a brilliant, but simple, hardware mod for the tablet. It involves placing a grey Lego faceplate on the back of the Surface Pro 3 so it can be used to attach accessories.
Splice1138 posted up a series of photos on Imgur showing how the Lego faceplate was cut and sanded down so that it could be taped to the Surface Pro 3's back. The edges had to be sanded down to allow the tablet's built-in kickstand to keep working, although it doesn't have as much range.
This allows for accessories like a USB hub, a power cord, a PC mouse and more to attach to the back of the Lego faceplate, and thus eliminate a lot of awkwardness in carrying extra items for the Surface Pro 3. He even put in his version of a Windows logo on the faceplate. He states:
Even though this modification was made for the Surface Pro 3, the same Lego faceplate could also be cut down and taped onto any Surface tablet model. What kinds of things would you attach to a "Lego-ized" Surface tablet? Let us know in the comments!
Source: Imgur
Get the Windows Central Newsletter
All the latest news, reviews, and guides for Windows and Xbox diehards.