Sonca review: A gorgeous media player for Windows 10
Sonca is a gorgeous media player and the developers threw in everything but the kitchen sink when it comes to features.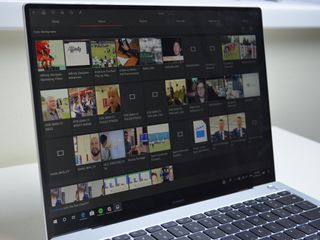 While streaming services such as Spotify and Hulu are popular, many people prefer to purchase their own media content. Sonca allows you to play local videos, songs, and other files and can stream files from cloud storage providers including OneDrive, Dropbox, and Google Drive.
The app has a gorgeous design, filled with Fluent Design elements that work with touch or mouse and keyboard.
It's available for Windows 10, Xbox One, HoloLens, and the Surface Hub. The standard price is $7.99, but it's on sale at the time of this review for $4.99. The app is made by Finebits, who also published Torrex (opens in new tab) and some other popular apps for Windows 10. The developer sells the Finebits AppPack (opens in new tab) which bundles together multiple apps. If you've purchased that pack in the past, you can pick up Sonca for free.
See in Microsoft Store (opens in new tab)
Sonca is bursting with features
As a media player, Sonca is versatile and impressive. You can add folders to the player to play local files back or you can connect it to Dropbox, OneDrive, Google Drive and other cloud storage providers to stream content. It works with video and audio and remembers where you stopped playing a file.
When I played local files through Sonca they were clear and smooth. Unfortunately, streaming files through OneDrive wasn't perfect. I can't say for sure if the persistent buffering is the fault of OneDrive or Sonca. OneDrive doesn't have the smoothest streaming of videos, even within its own apps, but playing videos through Sonca was especially laggy. Streaming videos from Google Drive was smooth so I'm tempted to think the issue is related to OneDrive.
I also ran into some access denied errors when trying to replay certain files.
Being able to add videos from several places in one library makes enjoying content a fluid experience. If your family movies are on Dropbox and your team's videos are on OneDrive, you don't have to jump around different apps to watch all of your content.
On the Windows 10 side of things the developers through in just about everything. Sonca is touch and mouse friendly. It has a picture-in-picture mode, TimeLine support and Continuum Support. It's clear that the developers love Windows 10 and gave Sonca every tool it needs to take advantage of it.
Brilliant design
In addition to being crammed with Windows 10 features, Sonca also meets the design esthetic of Windows 10 well. From its iconography to it's intelligent use of Fluent Design, Sonca feels right at home on PCs. For example, when you hover your mouse on the bottom of the screen and play controls show up, they're transparent.
I wish more apps followed Microsoft's design guidelines this well. If more developers built apps in this style the Windows 10 experience would feel more connected.
Overall thoughts on Sonca
Sonca is a beautiful media player for Windows 10. It works with local files and a number of cloud storage providers. The feature list is long and it all of the options stack up into a strong Windows 10 application.
There are some issues such as persistent buffering when streaming OneDrive files and some intermittent error messages. It's always worth pointing out that errors and issues can vary depending on a number of factors including hardware and internet speeds.
Despite the couple of issues I ran into, I'm impressed with Sonca overall and happy that Finebits has added another app to its library. If you're looking for a new media player, I'd recommend giving Sonca a try.
Pros
Gorgeous design.
Works with many cloud storage providers.
Support numerous Windows 10 features.
Cons
Heavy buffering when streaming from OneDrive.
Intermittent access denied errors.
See in Microsoft Store (opens in new tab)
Windows Central Newsletter
Get the best of Windows Central in in your inbox, every day!
News Writer and apps editor
Sean Endicott brings nearly a decade of experience covering Microsoft and Windows news to Windows Central. He joined our team in 2017 as an app reviewer and now heads up our day-to-day news coverage. If you have a news tip or an app to review, hit him up at sean.endicott@futurenet.com (opens in new tab).
Write us at sonca@finebits.com to join Sonca beta testing.
Here PR-codes for Windows Central readers:
74VHQ-JMTKW-2GF34-DPMV9-WMYMZ

What a lovely and unexpected surprise! Thank you very much. I'll be sure to take your app for a spin a leave a review. Gotta support the devs who take the time and effort to publish their apps to the store. =)

Thank you for that - I'll give the app a try for a few days and leave a review and feedback.

Gorgeous? It looks like every UWP app design. Dark squares on a dark background. Nothing attractive about it. That interface is part of the reason UWP failed. That design makes the apps terrible to use. They look like a first year engineering student used the default template. It looks unfinished.

Hah good try. The design is not why UWP isn't as prevalent right now. The design is fine, you just personally don't like it.

No, it is bad. It looks unfinished, like they haven't added the graphics or textures yet. It isn't inviting at all. Too many concessions were required to make them "universal", a function that is now dead since Microsoft is no longer pursuing mobile or even touch interfaces in Windows.

There still are many other benefits to UWP apps that archaic Win32 programs lack, without even counting the "universal" aspect: -- They are sandboxed software, so it's harder for viruses to attack the data files for these programs. This software works more like how Linux software is installed-- even the Administrator account physically cannot modify the data files for UWP software. -- UWP apps are much faster and more responsive than Win32 programs. They launch much quicker and just feel overall nicer in terms of UX. Windows Explorer is very clunky to use and the performance is awful-- it's a perfect honest example of how Win32 apps usually behave. -- Most software today is converting over to either XAML-based apps, java apps, or HTML5-based apps. Those are just more resource-efficient platforms because they're modern frameworks, whereas Win32 is 20+ years old and has been built ontop of itself and added onto over the years. -- Because UWP software is able to change sizes, you can resize these apps and position them any way you want on your desktop screen. An "uninviting" piece of software would be one that looks like it's designed for Windows 98, has a lot of cluttered UI elements, and is confusing to navigate. Software should be as straightforward and easy to use as possible, while also containing powerful/smart logic that assists the user on-the-fly, and is resource-efficient as possible. UWP not only does all of this for you, but in a nice-looking package with visual elements and transitions that are pleasing to the eyes.

I don't know. This unfinished look isn't inviting to me. You would think this application is from 1998 if you put it next to Winamp. Everything is black and squared off, like you are just seeing the framework and the textures and color haven't been added yet. Even the text is grey and lifeless, again, like it hasn't been completed. Everything just appears like it is still in process. Like the software engineers did their part and the designers haven't had their turn yet. All the other benefits you mention are moot since no one is putting any effort into creating UWP apps. Even Microsoft haven't been exactly dedicated to them!

Sounds like a nice app. I'll have to give it a try.

I gave it a go nothing special. I think there are even free ones that are better. Maybe this is an advert rather than review?

Quite nice. Trying out the free trial right now. I guess the only thing I have an issue with is the Mini-mode does not keep the shuffle mode. Worth the money though, I think. I have 8 Zip from the same developer and love it.

Does it support playlists mixing video and music together?

Review? Sounds more like promotional bla bla. Not any mention of a reason why this is better than the first party apps.

Lol, no mobile-support UWP app
Windows Central Newsletter
Thank you for signing up to Windows Central. You will receive a verification email shortly.
There was a problem. Please refresh the page and try again.