Songza music concierge service officially launches for Windows Phone 8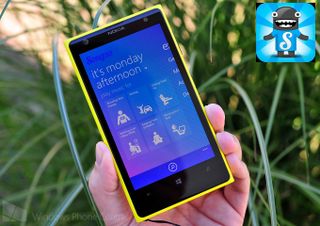 Music lovers rejoice. The official Songza app is now available for Windows Phone 8.
What's Songza? It's a really cool music streaming service that is beyond popular on other platforms. It creates playlists based around your mood and setting. We often wonder if we need any more music services when we have those like Xbox Music, Spotify, Nokia Music, etc. But Songza does something unique and makes a strong case for pinning to your Start screen. Let's check it out.
We heard last week that we should expect Songza sometime this week. Turns out that was very true, because here we are at the start of the week and Songza is now available for Windows Phone. Here's what you get with the first version of Songza:
Free, with no listening limit.
Let Songza's 'Music Concierge' find the right music for your moments.
Browse a curated playlist library organized by activity, genre, decade, & mood.
Stream thousands of original playlists handmade by music experts.
Save your favorite playlists & share them via Facebook, Twitter or email.
So why use Songza over other apps and services? First, it's free, which is something a lot of people really like and why Pandora is still very popular. But Songza is really special with its Music Concierge feature. What's what? Basically, Songza will create playlists for you based on time of day, mood, or activity. Here's how it works. Songza will pick a day and time frame, like Monday morning or Friday late night, from there it determines certain activities you might be doing. For example, on a Monday morning you'll get playlists like "waking up happy" or "feeling confident". Select one and then you'll further drill down the music you want to hear in categories like "bright & happy pop" or "feel-god rap and R&B".
That's basically how Songza works and why it's so popular. The music is selected by music experts to fit all those variables outlined above. Once you've selected a playlist you can skip forward, pause, and like or dislike tracks. You can also share what you're listening to through social media.
If you don't dig the Music Concierge feature you can also select playlists through genres, moods, activities, and decades. Songza will keep lists of your most recent playlists and sync across the various apps if you sign in with your Songza account. Don't forget to try out the Windows 8 version of Songza.
We've been playing around with the official Songza app for Windows Phone and are very impressed. Performance was solid and the stream sounded great. Design is pretty darn good too. Sound off below with your first impressions.
Want to try out Songza? It's free and ad-supported, but only available for Windows Phone 8. Grab it in the Windows Phone Store. You can also use the QR code below or swipe to the right in our app.
Thanks for the tip Francisco!
Get the Windows Central Newsletter
All the latest news, reviews, and guides for Windows and Xbox diehards.