Songza music concierge service officially launches for Windows Phone 8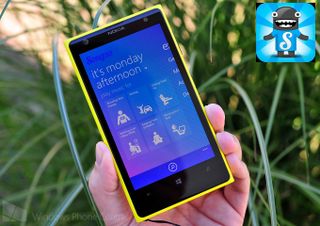 Music lovers rejoice. The official Songza app is now available for Windows Phone 8.
What's Songza? It's a really cool music streaming service that is beyond popular on other platforms. It creates playlists based around your mood and setting. We often wonder if we need any more music services when we have those like Xbox Music, Spotify, Nokia Music, etc. But Songza does something unique and makes a strong case for pinning to your Start screen. Let's check it out.
We heard last week that we should expect Songza sometime this week. Turns out that was very true, because here we are at the start of the week and Songza is now available for Windows Phone. Here's what you get with the first version of Songza:
Free, with no listening limit.
Let Songza's 'Music Concierge' find the right music for your moments.
Browse a curated playlist library organized by activity, genre, decade, & mood.
Stream thousands of original playlists handmade by music experts.
Save your favorite playlists & share them via Facebook, Twitter or email.
So why use Songza over other apps and services? First, it's free, which is something a lot of people really like and why Pandora is still very popular. But Songza is really special with its Music Concierge feature. What's what? Basically, Songza will create playlists for you based on time of day, mood, or activity. Here's how it works. Songza will pick a day and time frame, like Monday morning or Friday late night, from there it determines certain activities you might be doing. For example, on a Monday morning you'll get playlists like "waking up happy" or "feeling confident". Select one and then you'll further drill down the music you want to hear in categories like "bright & happy pop" or "feel-god rap and R&B".
That's basically how Songza works and why it's so popular. The music is selected by music experts to fit all those variables outlined above. Once you've selected a playlist you can skip forward, pause, and like or dislike tracks. You can also share what you're listening to through social media.
If you don't dig the Music Concierge feature you can also select playlists through genres, moods, activities, and decades. Songza will keep lists of your most recent playlists and sync across the various apps if you sign in with your Songza account. Don't forget to try out the Windows 8 version of Songza.
We've been playing around with the official Songza app for Windows Phone and are very impressed. Performance was solid and the stream sounded great. Design is pretty darn good too. Sound off below with your first impressions.
Want to try out Songza? It's free and ad-supported, but only available for Windows Phone 8. Grab it in the Windows Phone Store. You can also use the QR code below or swipe to the right in our app.
Thanks for the tip Francisco!
The 3rd Party app also called "Songza" is still in the store as well. I guess Songza is not so gun-ho about Their Trademark.

The official app has some issues... It stops streaming abruptly after about 15 minutes or so... but when i use the unofficial app i don't have this issue! Please fix it! Lumia 810

Is it that hard to make the icon square? I understand porting apps has the potential to be a lengthy process but Photoshopping a square isn't.

Eh, sure they'll fix it eventually like Doodle Jump did.

Ultimately it's small potatoes. Very minor irk, but I'm willing to bet they'll get to it.

Yeah, hopefully they just replace it with the Live tile they're using. Which is square and looks great. The app also has a double wide tile that shows your last played.

Agreed... it may seem like nitpicking, but it makes the app stock put like a sore thumb.

The actual tile is square.

Yeah, so is the icon in the app list. Of all the things to whine about.

What about offline listening? The reason I pay for Xbox music is to listen without having to burn through data on the go.
WiFi hotspots are in abundance, but not in my vehicle where I usually listen to downloaded music on my way to and from work. Sometimes as much as an hour each way on any given day.
I have stopped using Pandora, slacker, tunein and iheartradio for the same reasons while on my commute.

Awesome! Love Songza! Listening to it now.

So now wich are the official apps that were announced and still isnt available??
Flippboard, Mint, Waze, Path... Am I missing something?


And something that's being overlooked since it wasn't officially announced (by Microsoft or Nokia), if I'm not mistaken - Molome. It's been ages since we saw that preview or demo (whatever it was). I'm looking forward to Path and Molome. ;)

No more Waze since Google bought them.

Nuh uhh... Beta got a massive update last week !

Wow. Didn't know their beta was actually happening. I had signed up too; but never heard back from them. Good to know that it will be coming to WP8 very soon. BTW, that would be the 1st app from Google on WP store :)

They already have a Google search app in the store.

Hopefully Glympse will be coming to wp8 too...fingers crossed!

Any update on Path ? What take them so long to released it?!

Path is looking to move to a subscription based revenue model. that may be what's holding things up.

I've been waiting on this, too.

Or Flipboard... where's Flipboard?

Where is my Flipboard??! Haha

No, I was able to install it on my Swiss Lumia 920 and it Works well. I really like it!

I am not able to upgrade to Club Songza, though ( whatever that is). I get send to their website and am then told its not available in my country due to license issues. Weird.

So which is the best I have been using Xbox music pass....

Two of them are pretty similar actually. Xbox music lets you hear music that you want to hear and Songza let you 'explore' music

Just tried it, its a nice app and seems to work worldwide!

I'll try it out, but it probably won't last for me. One of the reasons I don't really use streaming services is that I have something of a picky taste, and most services generalize too much.

Yeah same here. Pandora works the best for me though.

Life has just gotten better.

Yay! Got it going right now!

I like Songza, and am glad they've come to WP8 - but is anyone else having a problem with this app? It seems to stop streaming abruptly, esp. if on a lock-screen or in another app (unlike XBox Music or Nokia Music)...

YESSS YESSS xD finally man! windows 8 back to windows phone 8 back to windows 8 hahaha My neighbors will hate me, but that's okay cause Songza is my buddy, my loud music buddy travelling with me from room to room to living room to kitchen from phone to laptop! muahahaha!!! ok done.

Fantastic app! Awesome music selection, well laid out for everyone's enjoyment. So please enjoy responsibly.

Finally! Love this app :) I used to use Deezer, but the storage issue prevents me from using it.

The app is pretty awesome..I like it better than the unofficial app, which is pretty awesome too. I noticed that I get wayyyyy more skips on the unofficial app. I'm not sure if its limitless, as at times I've skipped until I've got tired of testing the skip limit, while other times it just stops skipping and playing all together, but I can just restart the playlist again and Its good to go. Not sure if its a glitch, but that's the only reason I'll probably not delete the unofficial app.

This is something amazing❕❕❕❕❕

SOUNDCLOUD IS WHAT WE NEED!

Good news, as Songza is a pretty great music app.
They have great curated lists, some of my favorites being the Critics' Pick, Most Blogged About, and they also have some pretty epic soundtrack streaming.

Gosh, it is a power house. My 920 is dead in 1.5 hours with 32% juice with the app installed

The phone was idle there and died out of juice

UI is crap but service is AMAZING. Rivaling Nokia Music.

"Not available for your device" on my UK 8X, Nokia exclusive maybe?

Had to hard reset my 820, now getting 'not available for your device'. Weird as it was installed before.

Not available for my lumia 820 in Italy, but I used it some days ago :(
Windows Central Newsletter
Get the best of Windows Central in in your inbox, every day!
Thank you for signing up to Windows Central. You will receive a verification email shortly.
There was a problem. Please refresh the page and try again.