Official Songza app sneaks onto the Windows Store and wins our hearts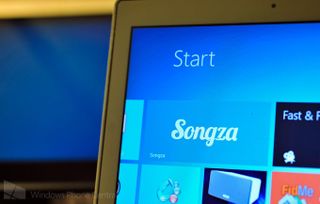 When it rains it pours. While we're in San Francisco enjoying that warm, California sunshine, official apps are raining down between Windows Phone 8 and Windows 8. Yesterday we saw the Discovery Networks and ABC News app release their official wares. But believe it or not, sometime within the past 5 days Songza came to the Windows Store and we all missed it. Songza is now available for Windows 8, details after the break.
Songza is a free music streaming and recommendation service. It launched way back in 2007, since then it's had a few different iterations and updates as it slowly found its own angle on the streaming music scene. Because you can't just build another Pandora, you need to do something different. And that's just what they did last March in 2012 when they launched their Music Concierge feature.
The Music Concierge service presents music playlists based on the time of day, with filters for different moods. For example, right now as we're writing this we see the following options because it's "late Wednesday night"
Attending Build 2013
Unwinding
Bedtime
Exploring Obscure Sounds
Brand New Music
Staying Up All Night
Since we're at //BUILD/ we had to click it. Once you do that your options narrow down to:
Coding to a beat
Discovering cool new music
Working to an epic soundtrack
Finally, you're presented with three different playlists to select from. From there you get your music. It's really cool. You can favorite playlists and see similar playlists from the section that plays music. The top app bar has all the app navigation if you get lost. You can go back to the home page (Concierge), see your now playing, recent plays, and favorites.
You can never go wrong with Hans Zimmer for your late night coding sessions.
Unfortunately, all you eager beavers running Windows 8.1 might have some problems playing music. It crashed on all our 8.1 devices, but works superbly on good ol' Windows 8. That's what we get for running beta software. Not Songza's fault at all, so be nice in those comments below.
Could this mean a Songza app for Windows Phone isn't too far away on the horizon? Would you use it?
You can grab Songza for free in the Windows Store right here.
Thanks for the tip Daniel P!
Yeah. I saw this app 4-5 days back. Sorry to not inform you.
By the way, official rhapsody app also came to Windows 8.
http://apps.microsoft.com/windows/en-us/app/2f1ed232-fef6-47d1-929e-a4c14dcfc264
Another popular and new app came to Windows 8 today: Its Rockmelt news aggregator app. Its very popular on iOS. Just last week its released on android. Now its on Windows 8.
http://apps.microsoft.com/windows/en-us/app/063fc78c-a965-4ac0-bb5c-387488439be5

I wish all these Windows 8 apps comes to WP also. Rhapsody already available on WP.

i would like to have that app but realy cant get it at the store .
when i follow the link its goin to the windows store but cant find the app ??

Kinda weird that Windows 8 seems ot be getting more apps than windows phone. I hope WP8.1 moves to converge the two stores

Its not weird at all when you consider the number of users on each platform. Windows 8 has a much larger installed base than WP8.

Could this mean a Songza app for Windows Phone isn't too far away on the horizon? Would you use it? Hell yeah :)

What about google maps? Downloaded it yesterday,is it a new app?

No one genuinely cares about Google

They've got good and accurate maps though, which you have to admit whether you like google or not. Nokia is pretty much unusable if you live in a rapidly growing area, because they take months to update, unlike google's days.

Depends on where you live. Haven't checked in a month or so, but where I used to live hadn't been updated in more than five years on Google maps.

Well, in comparing the speed of their respective "map creators" is what I'm talking about. Once you login and make the change, I've always seen it verified and published within a week or two, whereas on here.com the changes sit there for months at a time on their community maps and then published in bulk once every six months or so. And that's not even mentioning how on here.com the map creator only allows edits in certain, smaller-traffic countries for the time being.

Need this for windows phone 8

Funny seeing that last pic coz I was listening to Hans Zimmers' Terraforming trck for Superman while reading this article and when I read about the epic film soundtracks playlist, I thought this would fit right in!!

I can't wait to get this on my WP! Its one of my favorite apps on android.

Personally I think the best music streaming app that's out there is Jango. Currently to my knowledge its only available for apple products

I like Pandora and don't know much about this app. It has to be really good to compete with Pandora and Rhapsody for that matter. Its already got work to do since there isn't an app for Windows Phone 8 yet

Is this US only? can't see it in the uk store.

Looks pretty cool. I'll have to give it a spin.

Yay another US only app. *yawn*

Sounds awesome. I'll check it out when it arrives on WP8. I'm chomping at the bit for a W8 machine.

Songza is also in Canada. Downloaded it yesterday. I have 8.1 if that really matters

I hope this comes to WP8!

I am a huge songza fan and I can't wait for it to come to WP8

Dude I am always jamming to this on my Evo Lte! yessssss, I can now carry my playlist on to my windows 8 laptop :D wooot wooot! hopefully by the time I switch over wp8 has this bad boy in the store! very awesome and unique app, and each week all the playlists get bigger and more accurate.

Any ideas if this ap will ever be available for Xbox360? If it already is, how do I get it onto my Xbox?
Windows Central Newsletter
Get the best of Windows Central in in your inbox, every day!
Thank you for signing up to Windows Central. You will receive a verification email shortly.
There was a problem. Please refresh the page and try again.