Sound the alarm, Realarm is today's AdDuplex HERO App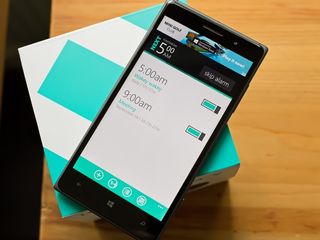 If you are in search of a Windows Phone alarm app that goes beyond what the native app has to offer, take a gander at Realarm.
If your alarm is set to the same time every day, the native alarm will likely serve you well. However, if you are looking for a little more meat on the bone or pep in your step as alarms go then Realarm is a Windows Phone app you need to try. It is a free app and is also one of this month's AdDuplex HERO Apps.
The HERO Apps program is a promotional campaign for Windows Phone and Windows developers on the AdDuplex Network and partners AdDuplex with myAppFree, AppDeals, PluralSight and Windows Central to deliver a host of benefits to the top apps and games each month. Our role in the HERO App campaign is to offer a little exposure to these titles by sharing them with you, our readers.
Today, we shine the spotlight on ReAlarm from Windows Phone developer Viktor Szekeress.
Realarm has a clean, simple and effective design. Your opening page greets you with a list of all upcoming alarms for that date with control buttons lining the bottom of the screen to create and view alarms. Up under the three-dot menu you will find another collection of menu items that include:
Muting all alarms
Access to Realarm's settings
Live Tile settings
A listing of voice commands
An option to backup or restore your alarms to your OneDrive account
An option to remove ad-support ($1.99)
You will also find options to rate the app in the Windows Phone Store and view the About Screen for Realarm. App settings for Realarm cover theme options, defining pre-select sounds and several display/layout options.
Realarm does have support for voice commands that include creating a quick alarm, skipping alarms, muting alarms and a few more options.
The process for setting an alarm is fairly straightforward. The control buttons at the bottom of the main screen include options to create an alarm, create a quick alarm, view your agenda and preview all your alarms in calendar fashion.
For a regular alarm, tap the "+" key to enter the set-up screen where you can add a title for the alarm, set the time, the date and the reoccurrence. You can also set a specific sound for each alarm. The reoccurrence can be set to once on a specific date, minutely, hourly, daily, by days of the week, monthly or a custom frequency. Sounds include not only your system sounds but also a collection of Realarm sounds. Unfortunately, due to OS restrictions, you cannot use songs as an alarm sound.
A quick alarm is designed for impromptu needs that come up during the day, such as taking a nap or to let you know when the cake is ready to come out of the oven. In a practical sense, a quick alarm is more akin to a countdown timer. Setting up a quick alarm takes fewer steps and by default, these alarms are deleted automatically one day after they expire.
Overall, Realarm comes across as an impressive alarm app alternative for your Windows Phone. You have the benefit of setting quick alarms with voice commands while on the go and even setting up a regular alarm is easy enough to set on the fly by touch. The backup feature is also a nice touch should you find yourself switching devices or having to hard reset your current Windows Phone.
Bottom line, the native alarm app on our Windows Phone does a nice job of covering the basics but if you want more Realarm is one option worth checking out. The Windows Phone app is free and ad-supported. You can opt out of the ad-support with a $1.99 in-app purchase. If you give Realarm a try, let us know what you think of the app in the comments below and remember to rate the app in the Windows Phone Store. It is an easy way to give the developer a little feedback.
Download Realarm for Windows Phone (Free)
AdDuplex HERO Promotion
AdDuplex is a fantastic resource for the cross-promotion of Windows Phone and Windows apps. AdDuplex has launched a new program designed to help developers promote their apps even further with free access to various tools and resources from AdDuplex.
The HERO Apps promotion partners AdDuplex with Windows Central, myAppFree, AppDeals and PluralSight (opens in new tab) to provide additional benefits to the top apps every month that include:
Vouchers to advertise on AdDuplex
One month subscription to Pluralsight Plus
A featured campaign with myAppFree
A featured campaign with AppDeals
A review here on Windows Central
If you are a Windows or Windows Phone developer, you can sign up for the HERO Apps program here at AdDuplex's website. To participate in the program, you will need to apply within thirty days after your app or game has launched on the AdDuplex network.
Windows Central is already partnered with the myAppFree campaign and is proud to be partnering up with AdDuplex with the HERO Apps program. It is another excellent opportunity to help promote both the Windows Phone and Windows platform.
Windows Central Newsletter
Get the best of Windows Central in in your inbox, every day!
George is the Reviews Editor at Windows Central, concentrating on Windows 10 PC and Mobile apps. He's been a supporter of the platform since the days of Windows CE and uses his current Windows 10 Mobile phone daily to keep up with life and enjoy a game during down time.
Nice link to the game Township :(

lol rickrolled Posted via the Windows Central App for Android on WM10

Windows Central App for android on WM10 this is interesting..:)

Wow $1.99 for an app that's the same as the built in one, or its for free to have an app that's same as the built in one but with ADS. Pass.

Exactly what I was thinking WTF?

This is leaps and bounds beyond. This *should* be the in-built app, IMO. It let's me schedule alarms weeks/months in advance, all for different times of day, among many other functions the standard alarms don't have.

Not correct. This has about 100x the functionality of the in-built app. I am genuinely blown away by it. Easily with $2. The free trial of Realarm has more functionality than the full OS alarm app.

Beat me too it lol. I use realarm loads with qonqr, it was free until just a few months ago

this app includes: -An option to remove ad-support ($1.99) lol

I happily paid the £1.50. This is good work, and we should be encouraging people like the creator rather than laughing at their reasonable hopes to get paid.

@DCTF. Exactly, indie devs need to rewarded for their work too. If they aren't seeing much benefit in supporting a platform / maintaining an app then why would they bother?

Please support Viktor Szekeress. I've worked with him on some beta testing for this app, he really is a great guy. We need more developers like this on the windows phone scene.

White background? I may be lost here but bright light and black mornings is not easy on the eyes?

You have the option to change the theme color of the app. By the way, the alarm works and appears just like the native alarm.

Yup, change the theme then restart the app.

Thnx, the both of you. Giving it a try.

Bad link. Greetings from Portugal

I love ReAlarm. Been using it since day one. I just wish you didn't lose all your repeating alarms if you have to hard reset your phone. Yes, it has an option to backup the alarms but it demands full access to your OneDrive to use that option. Since even thousands of alarms would take an infinitesimal amount of storage, it doesn't make any sense that this app needs such access when almost any other app can back up its data thru the standard WP mechanisms.

A smart, clean, inttuitive, gorgeous app...use it every day. echoing what otthes have said, we should be supporting developers like Viktor Szekeress.

Great app indeed! Worth paying to support developer and get rid of ads. Beautyful interface, lots of options and great looing tile that shows alarm time. Enough for me! Thanks Viktor!

Bummer that Windows Phone doesn't allow developers to use users rightones

Microsoft please add " vibrate only " to the alarm in windows 10 :3

This app is so gorgeous! I am really sorry I don't use it anymore... I mean, I've just set it once (reccuring every 4 days) and I don't need to touch it. I combine it with Wakie and Mi Band (via Bind Mi Band). There's no way I could oversleep. :D

Re-Alarm is great on windows phone 8.1 but I'm torn between this and the new Alarm app in windows phone 10, the features are comparable and free, currently i use both

Can you tell me Alarm "Vibrate Only" added? In W10M

I stopped using it because it couldn't access the wider variety of Lumia sounds. It could only use those that came with the app. Disappointing. But the included sounds were ok, just not as good of a variety as the Lumia sounds.

Nice. Even the logo is smart.

I can't believe that nobody has built a windows alarm that starts out quietly, and slowly gets louder. And before anybody jumps in and says Gentle Alarm does, it doesn't. I bought it, and it's junk. Somebody please write an alarm like the Android version of Gentle Alarm, and I'll pay $10.00 for it. Posted via the Windows Central App for Android

The native alarm does that already, the start up volume depends on the notifications volume and gets louder.

Mine starts out loud... Maybe it's because it's a 640 Posted via the Windows Central App for Android

It will not install anymore. Your advice made me try again, but no. Same problem with City lens
Windows Central Newsletter
Thank you for signing up to Windows Central. You will receive a verification email shortly.
There was a problem. Please refresh the page and try again.