South Africa: Windows 8 and Windows Phone 8 heading your way!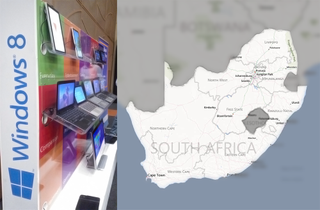 Much has been said about Microsoft getting ready to release a whole bunch of new products, but it's easy to forget that smaller markets often get left out, and don't get anything close to the US release dates. But here's some good news for you South African folk. You will be receiving Windows 8, and Windows Phone 8 devices in the very near future!
Windows 8
For the duration of today (25th) you can head over to Groupon and get Windows 8 Pro (full retail package) for R599. That's 70% off, making it cheaper than the usual upgrade, and includes delivery to your home. From the time of this post you have about 10 hours left. Around 500 people have taken advantage of this so far. Some people have noted that MS has not made an official statement about availability of retail box copies in South Africa which could mean that the Groupon description is misleading.
If waiting up to 4 weeks for a Groupon delivery isn't your thing, then you can head down to Incredible Connection tomorrow and pick up the Windows 8 Pro for R699 or pre-order it here. The pre-order makes no mention of it being an upgrade, but if you do purchase, make sure you ask what you are getting.
Makro is also stocking Windows 8, and if you head down to a branch today you can pre-order the Windows 8 Pro upgrade for R599 and receive a R100 gift-card.
Both Incredible Connection and Makro are stocking Windows 8 devices.
You can pick up the Asus VivoBook X202E touch-screen notebook for R4999 from Incredible Connection plus a wide range of Windows 8 notebooks here
Makro is stocking lower end devices starting at R3599. Check out the brochure here.
The distributer, Esquire, is also cashing in on the excitement by holding a midnight launch at their Midrand offices tonight. The first 5 people in line get 2 double tickets to the Cricket Semifinal at Supersport park.
Microsoft has sent out invitations to media for the unveiling of Windows Phone 8 on the 31'st October. That's in 5 days, and will lead the way for Nokia, Samsung, and HTC to launch their devices in the country.
Nokia will be releasing the Lumia 920 sometime in November on both Vodacom and MTN, with the Lumia 820 "following soon afterwards". Pricing has not been announced, but with contract pricing of the Lumia 900 starting at above R300 per month, it might not be pretty.
The Samsung Ativ S is also set to be released on Vodacom sometime in November, but no exact dates or pricing have been announced. It is also unclear whether MTN will be stocking the device, although it seems likely as MTN is getting other WP8 devices from HTC and Nokia.
Finally, the HTC 8X and 8S will be coming to both MTN and Vodacom "in early November". It's good to see HTC coming to the party once again – back when WP7 was in its infancy the HTC Trophy and Mozart were about the only devices available in South Africa.
Looks like Microsoft is stepping up their game in this part of the world. Now all we need is the Surface…
Get the Windows Central Newsletter
All the latest news, reviews, and guides for Windows and Xbox diehards.