Sozoom - show off the zoom power of Nokia Lumia 1020 and 1520 in this exclusive app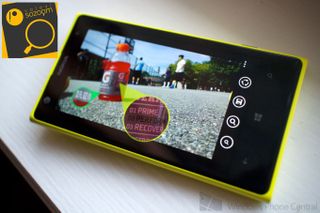 Sozoom by Volevi is an exclusive app for the Nokia Lumia 1020 and Lumia 1520 that lets you add "zoom balloons" to your photos. It shows off how much you can really zoom with the special Pureview cameras featured in these two devices. It's a very simple app, but it's not perfect.
Head past the break to watch our walkthrough video.
When you first open Sozoom, it shows you the gallery of photos taken with Nokia Camera. Select one of the photos to get started.
Tap anywhere on the photo show a "zoom balloon" for that area. Drag the balloon around the photo until you're happy with the placement. You can also change the color of the balloon. Click the three dots and then change color.
When you're happy with the photo, you can either save it to your phone, or share it online. Sozoom's share button uses Windows Phone's built-in sharing capability, so you can send the photo to Email, Facebook, Twitter, or other apps like Instagram.
While we love the idea behind Sozoom, there a few things it can improve on. The most important one is that saved or shared images are limited to 480 pixels width or height. That's not enough. If you're sharing the image to Instagram, it will be stretched to 640 pixels, making the image look pixelated. We hope Volevi, the developers of Sozoom, provides higher quality images in an update.
Another suggestion is to let users change the size of the balloon. There are currently two sizes available: small and large. We'd like to be able to pinch the balloon to change its size to whatever we like.
We also want to be able to change the zoom power. Currently, there's no way to zoom in or out within the balloon.
Sozoom is off to a great start, but it can definitely be better with some adjustments. This exclusive app for the Nokia Lumia 1020 and Nokia Lumia 1520 can be purchased for 99 cents at the Windows Phone Store. There's also a free trial available.
Give Sozoom a try and let us know what you think in the comments!
The pictures they show aren't pixelated at all ;)

Could it be, is this the technology behind CSI's non-pixelated 100x zooms?

Now if only I had a 1520 or 1020! These Nokia exclusives suck!


Even if you could get this app for other handsets it would be pointless.. Its showing off the power of those specific cameras..

Really ? It's like drag racing on a prius. Our 92x just can't handle such zoom.

Sending pics via wazap I've got the same results 920 times using fantasia painter cause wazup shrinks em down to very low res. Emailing too, BTW. So anyone with a camera >2mpix could use this app if he wants to send a shrinked pic with a highlighted object.

These Nokia exclusives are great! Good thing I decided to buy a Nokia phone over HTC or Samsung!

This is really cool ! Almost makes wanna get a Lumia 1020 .... Almost

Yeah same, at this stage though I think I wanna wait until v2 - if there will be a v2...

My 2 year contact ran out on my lumia 800 (great phone). So i went for the Lumia 1020 - Such an amazing phone with a great design

My 2 year contract on my cyan 800 (best phone I have had ever) is up for upgrade next month and its a good thing too as I cracked the screen and it doesnt turn on any more :( ... Rest in peice my old friend, And now I too am seriously considering the 1020... Thing is, it looks like my provider is only stocking the black variant and I hate black phones! I so badly want the white or yellow one :( oh what to do??? anyway what color do you have and is the camera really as awesome as all the hype makes it up to be? have you had any problems with it?

Having played with the 1020, I want one bad. Been showing friends samples I made in store. None have crossed over to WP yet, but they are amazed by the zoom.

The zoom capabilities of the 1020 after you have taken the shot are amazing. When I show off my 1020 to friends they are simply blown away by the cameras capabilities.

The image size ruins a great thing. The tag at the bottom is uncalled for too. http://i.imgur.com/Emev19O.jpg

made me want to go to popeye's tonight

I thought we already removed the tag in the paid version, we'll fix that in the next update! - The image size was a native Windows Phone canvas, as a platform limitation, we are currently working closely with Nokia to improve this. Thank you for purchasing Sozoom, improvements are definitely coming.

Do you plan to launch on other platforms as well?

Well, we are going all in to the Windows Phone ecosystem right now, but you never know what will happen in the future ;)

Well, stay exclusive till the third iteration to the 1020 comes. and do some tricks with the video too ;) You got a great app ******

so zoom
so awesome
so unmatched
so NOKIA
:D

Just downloaded this, its almost brilliant, the only flaws being: lack of Zoom controls........actually, that might be it :D

I think this is the first time I see an app which is literally only useful for showing off that you have the ~megapixels~.

downloaded the trial, cannot open app, it closed every time i open it, tried to reinstall and reboot phone still does not work on my lumia 1020. anyone experience the same?

exactly the same here on my german 1020 - seeing the black screen but the app doesn't load any photos and then just shuts down :(

Mine loads the pictures (very slowly) and when I choose one, it crashes! Bummer... I wanted to try this out. Not sure why the developer is using the camera roll in this way but it's not very good.

Oh dear, sorry for the crash. - We need more info to help locate the problem. Do you set your Nokia Camera to take a photo in both 5MP+34/38MP JPG Mode, or only 5MP JPG, or do you take a photo in RAW Mode (5MP JPG + 38MP DNG) And how many photos do you have in the camera roll (100+, 500+, 1000+), this might be a memory-per app limitations problem we are trying to locate. Thx U in advance. Thank you for trying Sozoom :)

Nokia Camera in 5mp JPG ONLY. no raw mode or DNG since it has no nokia black update yet. in my camera roll there are 15 photos.

Please try take 5+34 or 5+38MP JPG, Sozoom need a hires photo to zoom on.
Thank you.

I'm taking 5MP+34/38MP JPG Mode pictures (no lumia-black update yet) and I have around 15 pictures in my folder. The screen just says "Select Nokia Camera Photo..." but no photos are being loaded and then it just crashes

Sozoom should work with 5+34MP JPG and 5+38MP JPG, We'll find out what would cause the crash. Definitely an update coming. Thank you and sorry again for the crash.

Awesome app guys! keep up the brilliant work! this makes me want a 1020 even more and I absolutely cant wait to get mine within the next couple of weeks. Sozoom will be one of the first apps I get! Have a great day Sozoom team

Bought it.
Cool app, but why does it open only a few of my Nokia Camera photos???????
Lumia 1020

Hey Punataro, i am also having a problem with sozoom crashing when I try to select a photo. I am using the paid version of the app on a Lumia 1020, with all photos taken at JPG 5MP/34MP and have a few hundred photos. Prior to this, the trial version of the application was working fine. Could the problem be due to a code difference in the paid version? Putting this problem aside, I love the concept of this app and look forward to using it once this is sorted.

This is an awesome first effort. What a cool idea to blow people away with the power of the 1020! Hopefully the developers are hell-bent on improvement and take suggestions to heart.

Exactly what I wanted for my 1020. This app is fantastic, you could have multiple zoom balloons zooming on diff ppl in a playground. Just awesome. The power of the 1020 ooozes out..

It would be nice to adjust circled/ballooned image. Maybe soon!

Now they should do this with in videos :D then people will stop complaining that 41 million pixels is just niche when the developers use the imaging SDK to make apps like this one. I'm a student, so never thought I'd be buying any app soon, but this one___________ I GOTTA GET THA 1020 FIRST :'(

I wish I could just enter cryo sleep untill the day I pick up my 1020!!!

does not start after update! #1020 why? can help me? Thanks!

Why there are black "bars" on the top and bottom of the image? And the image result seems "compressed", as in people looks shorter, etc. Am I the only One experincing this issue?
Windows Central Newsletter
Thank you for signing up to Windows Central. You will receive a verification email shortly.
There was a problem. Please refresh the page and try again.