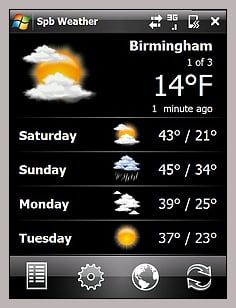 SPB Software is probably best know for it's Mobile Shell application but they also offer a wide range of Windows Mobile applications. One of which was recently updated, SPB Weather. It has a few more bells and whistles than previous versions and as promised, we have just finished putting SPB Weather 2.0 through the ringer. Check after the break to see what the forecast bears for the latest SPB application.
Through the various Windows Mobile devices I've used and the hard resets I've performed, there are a few applications that always land on my phones. One of which is a weather application. Not unlike other parts of the world, my home State of Alabama can have some rather active weather patterns and being able get a handle on the forecast while on the go is important. Weather 2.0 isn't compatible with Windows Mobile Standard and requires a touchscreen. Let me go ahead and say that SPB Weather 2.0($19.95) isn't a mobile weather station that will give you National Weather Service data to let you forecast/track the weather. It is a forecast/current conditions application that provides you with a good bit of forecast information that will give you a handle on what type weather to plan for. It's not perfect but it is a noticeable improvement over the previous version.
Upgraded
Weather 2.0 includes a noticeably larger city database that includes over 10,000 cities world wide. For my neck of the woods, more smaller towns are included to help make the forecast and data more accurate. On top of all that, you have custom city support that adds your city based on GPS location. You simply go to the add city screen and choose the GPS tab. Your on-board GPS will enter the Latitude/Longitude of you location and your data will be provided by the closest METAR Weather station.
Weather 2.0 will track weather forecasts and current conditions for up to ten cities. The updated version pulls weather information from Foreca, the weather provider for MSN.com, as well as supporting forecasts from the U.S. National Weather Service and Gismeteo, an international weather service. Current weather conditions are retrieved from METAR sites (again, fancy acronym for airport weather stations) which is sourced from Weather.gov. If you don't like these sources, you can also plug in your own.
The most noticeable addition to Weather 2.0 is a 3D Globe, which will be covered momentarily. All the improvements and changes in Weather 2.0 are well outlined in the basic owner's manual that can be downloaded from their website.
Performance
Navigation through SPB Weather is simple, straight-forward. SPB utilizes touch navigation which makes things a little easier to navigate when you're on the run. You simply have to swipe the screen to scroll through your selected cities or navigate around the globe. A menu bar is located at the bottom of each screen, keeping your options handy at all times.
When you enter SPB Weather, you will find your "Start Up" city's forecast which shows the current temp, how long it has been since the last update, and the forecast for the next four days. Tap on the current temperature or forecast day and you'll see more detailed information on both the current conditions and forecast. Current and forecast information include temperatures, wind speed and direction, humidity and barometric pressure. I would have liked to have seen dew point readings included but a good bit of information is provided.
3D Globe
As previously mentioned, the most noticeable addition to Weather 2.0 is the 3D Globe. The 3D Globe will pin-point your selected cities with the option to display a satellite, sky, temperature, and precipitation overlay. You can turn the overlays off and simply enjoy the view of the world as well as animate the globe to scan your selected city locations. In tapping the pinpoint for the city, you pull up the forecast high/low temperature for that city. You can zoom in to see more detail as well as zoom out to see the whole world as it spins on its axis.
The 3D Globe is a nice feature that brings a "coolness" factor to SPB Weather. The Temperature view is a little confusing in that the temperatures are displayed by color patterns with the warmer climates in shades of red, the cooler in shades of blue. The temperature view is easy to see what the general temperature is at a glance but I can't help but think that a numerical display would have been better. The colors do show temperature trends/patterns better though.
As far as I can tell the Satellite and Sky views are the same with the Sky view providing an animated satellite view. In comparing the two with another weather source, the Satellite view is what I would consider a typical satellite weather view. The Precipitation view shows what the forecast precipitation is for what appears to be a three day period. Just like the Sky View, the Precipitation and Temperature views of the Globe can be animated. The animation appears to include the current day and the next two days showing any forecast trends.
Two minor nits about the 3D Globe would be that you can't zoom in very close and you can't center the globe automatically to a city. While the ability to zoom in to street level might be asking too much, to be able to zoom in beyond one level would be nice. The globe has an animation feature that allows the globe to scan your selected cities but when the animation is turned off, the default view is always showing the African continent. Rotating the globe across the ocean to the United States isn't difficult but it would be nice if the default view would be to your "Start up" city.
Don't forget the plug-in
Any SPB application would be incomplete if it didn't support a SPB Mobile Shell plug in and Weather 2.0 isn't breaking ranks. For those who use Mobile Shell, the Weather 2.0 plug-in is capable of replacing the basic weather tab. The plug-in also works for those who use the traditional Windows Mobile Today Screen. The plug-in will display the three day forecast for your selected cities and in tapping the plug-in display you will launch the full application. The Weather 2.0 tab icon displayed in Mobile Shell reflects the current forecast. The only problem I encountered with the plug-in was that at times it was a little temperamental in launching the full application. A few times it took a couple of double taps to get the full application going.
Overall Impression
I liked SPB Weather 2.0($19.95) and see the update only adding to the functionality of the application. It's not perfect and lacks much needed weather radar support but it's making steps in the right direction. I don't know if there's a technical hurdle to overcome to add radar but you could always add something as simple as a link to a dependable radar site via your phone's browser. It's not the perfect solution but would help users easily navigate to a radar source.
The 3D Globe, while graphically "cool", also provides you with animated conditions and forecast trends which helps in your weather planning. As I am testing Weather 2.0, the deep south is experiencing arctic temperatures and in using the animated temperature view, I can have an idea when we should get out of this deep freeze. The globe gives you a visual aid to use for weather planning. Unfortunately, when you need more detailed information such as current radar imagery, you'll still need to access the internet.
The current conditions and forecasts includes detailed information (dew point readings would be a nice addition for Weather 2.5) and the ability to change/customize your weather source is a nice option to have. SPB puts a good bit of information at your disposal and while there's still room for improvement, it's definitely worth considering if you're looking for a weather application for your Windows Mobile device. A trial download is available just in case you'd like to try before you buy.
Swipe to scroll horizontally
| | |
| --- | --- |
| Ratings (out of 5)Ease of Use: 5/5Features: 4/5 (where's the radar?)Navigation: 5/5Functionality: 4/5Overall: 4.5/5 | ProsGraphically pleasingNoticeably more cities to select fromCustomizable forecast sources and city creationConsStill missing weather radarGlobe doesn't zoom in as much as you'de like |
Get the Windows Central Newsletter
All the latest news, reviews, and guides for Windows and Xbox diehards.