Spec fight: New iPhone 6 vs. the best new Windows Phones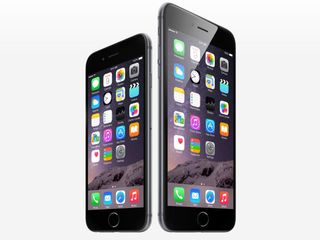 Hey guys, today Apple, announced two new smartphones – the iPhone 6 and iPhone 6 Plus. For the Apple faithful, this is the one time of year they get to fawn over new tech. Whether we like it or not, the iPhone has always been a benchmark to compare against other smartphones. So how do the two new iPhones stack up technologically against some of the best new Windows Phones? Let's do a quick spec comparison and find out!
Specs, specs and more specs!
We'll do a hands-on comparison with your Windows Phone of choice once we get a chance to fondle the iPhone 6.
What do you think of the new iPhone 6 and iPhone 6 Plus?
Windows Central Newsletter
Get the best of Windows Central in in your inbox, every day!
More of the same...was looking for something mind-blowing but hey its Apple; the status quo regime

Didn't you see?!?! They invented NFC!

They made it more useful and better, actually.

Apple never said it invented NFC...

No, they really didn't. What they DID do was negotiate a somewhat proprietary application of it that, because Apple's popularity, will likely get more vendors to finally wake up to wireless payment that both Android and Windows Phone have been trying to get going already. So, on the upside, Apple FINALLY getting on the stick may get wireless payment going fully mainstream, which benefits ALL of us. On the downside, lemmings will continue to believe Apple invented it.

Real downside - I get the feeling their solution contains proprietary crap that'll raise the barrier of entry for others.

Not to mention Privacy issues. I really don't trust them. Apple claim they don't collect anything, and that's what they said with the fingerprint button, a couple of months later I read that fingerprints are being collected by some agencies..

Beyond awesome comment. You sir deserve an applause! Brilliantly said.

Wireless payment? Wow! That'll be fantastic. Like what the Japanese had twenty years ago. Didn't Apple invent Japan?

Just beat that dead horse. Somebody might think that you're funny.

Re: ScubaDog,
Very nicely said.
Thank you.

I 100% agree with you, 100 PERCENT. You are right, and I'm with you on that.

Yes, because swiping a card or handing someone paper money has become SO difficult.

What most people here seem to forget is that this lovely "new" mobile payments system is exclusive to the USA... For the record, most of te world (myself included) don't live in the USA...

Uh, no it isn't. You think Canada is still in the Stone Age? We have had it for awhile. Bloody Americans think they are the end-all. No wonder everyone hates Americans. If they continue to say shit like that, what do they expect?

Well just like Apple losing peoples pictures to hacking, now they will lose people's financial information. So I say good for Apple users. Just like Android users they can have all their shit stolen. I am totally ok with that.

Nope! They held the technology back.

How? Kindly enlighten me? I use for all kinds of data trasfer, images and files. To pay bills? (NOPE)

I'm glad Apple 'invented' NFC because it will force the world to use this technology

NFC actually was invented by Philips NXP and Nokia by the way Apple have not invented the wheel

But do we see it actually used on a large scale, especially with mobile payments? Now that Apple introduced it in their phones, the technology should improve and expand. It's sad, but that's how it works.

NFC was not set in all phones for make differentiation from the higher class phones to the lower- half class ones, so logically nobody expanded NFC possibilities due a small range of products so just not market to do it the services based in nfc or contact less RFID system

I was joking. I know Apple didn't invent NFC but since the media is acting like they did, it's going to help all mobile users who have had NFC for years now

I got what you said, Mr. Serious was to busy hating Apple. LOL

Derek is being sarcastic hence the "" quotation marks.

They made it more useful, just like Microsoft did 2 years ago: http://www.youtube.com/watch?v=PPOQCjgNDFc

Like I said, my 920 has had the technology before, but is it actually being used? WHERE do you actually see stuff for mobile payments to use on our WPs? We have the feature, but we can't use it. So read my comment thoroughly next time before you post a video to what Microsoft added that hasn't ever been implemented for USE.

Yeah CNN actually said it was new and acted like 'pay with your phone' was new too.

In Japan people have been paying with phones for years. Tap and go through train wickets.

Over a decade now, actually.

People say "Oh, Apple copied this, people had this before Apple", but if it isn't for Apple's "coping", many things wouldn't be here today. Because of Apple, I am SURE mobile payments with NFC will become MUCH more popular and more used than now.

This may be true in the U.S., but in the rest of the world Apple doesn't hold enough of a market share to be as big of an influence.

Yeah, like the PC. Oh wait nobody wanted an Apple.

Well they're in America and since to them America is the world, they think it was just invented.

Amricans never did understand that they're a small backwater market just north of Mexico, They need to get out more. This has been the case ever since Columbus dicovered Ohio.

No he's just jealous he's not an American. Posted via Windows Phone Central App

Here we go. The 'you da racist bastid!' card used by Americans again. Need I remind you that 'American' is a NATIONALITY, not a race. *rubs my aching temples due to once again dealing with American stupidity and idiot liberalism*

I hate to bust your bubble (no I'm not), but we are the #1 market in the world, if that's backwater I'd hate to see yours.

Apple also invented Al Gore, who then invented the internet. Praise be to Apple!

In Santiago, Chile are in plans , the bus and subway currently are paid via an RFID card which you mrefill with money are just now proposing use the NFC enabled phones to use as an contacless card, just already was not deployed the project but would be soon

Haha. Good news though. More apps and adoption hopefully

What is this NFC you mention? Whatever it is, I'm so glad Apple invented it. I wish my almost two year old cheap-ass $50 used lumia 620 had NFC so I can be as cool. Once again, Apple saves the world.

If you bought the 2-year old cheap-ass lumia 720, than you had NFC and you were as cool.

I was being sarcastic. The 620 actually DOES have NFC. :)

LOL, according to Gordon Ung...if Apple doesn't do it, it doesn't exist! :)

Sounds to me like some guy named Gordon Ung needs to smacked upside the head with 920.

He (and I), were being sarcastic. If you didn't see the MPC livestream, go over to their site and see if they have it posted to YouTube yet...he was really mocking the hell out of Apple. lol

Dunno if it's still live or available yet, but here it is... http://www.maximumpc.com/maximum_pc_will_be_doing_live_streaming_reactions_apples_big_event

Did they even mention NFC? Or have we just implied NFC based on the Apple Pay demos?

Hey guy, I didn't see them claim to invent NFC.

Where's the basemark OS II test?

Getting the 6 next week, it will complement my Lumia 1520.3 perfectly.

Man, I hope you're being sarcastic. Otherwise, you're being a dick.

8mp camera enjoy that fail

ask all the 1020 folks feel about the latest phone and it's smaller camera I also not ruled out Apple again and I admit I love the look of the Watch and since I am off contract I am going to weigh all my options but to see the smaller megapixels on the newest Windows Phones isn't so great

I predict the watch will suck thelifeout of your iphone and data plan.

Are you kidding? That watch is worse than the phones!!

Really? The Apple watch is as fat and square as last year's smart watches. The fact that Apple failed to make a round face watch with a thin body shows just how far they have fallen. But I'm sure they will still sell in the millions. What a joke... I'm so disappointed with Apple this year (and last year, and the year before).

I think of all the smartwatches out there, the Apple Watch offers more functionality. It's better than what Android Wear can offer. Let's see what plans Microsoft has.

Hopefully MS holds out on the watches for a while. If you're not the first, be the best

Too late: The Microsoft Band - microsoft.com

8mp camera enjoy that fail

Shouldn't you at least wait to compare images first before declaring the camera a failure?

You are right but I think even the 830's camera will blow iPhone's camera out of the water!

Megapixels don't mean everything...

The simple issue is this...the New Iphone's will be issued Sept 19 with pre-orders starting Sept. 12. Lumia 830 was announced and we still don't know when it will be avaliable. I want to stay loyal but MS needs to get this together.

y that is a downside for ms but then again same goes for virtually all smartphone makers

Can't agree more. MS should learn a thing or two from apple when it comes to product launch. I may pickup the iphone. I have been out of contract for months and there are no windows phones available on AT&T except for the 1520 which is certainly not my taste. Bring at least the 930. I will gladly buy.

You would be better with the m8 both Android or wp version or any new Android like the Z2 or g3 than with the iphone

You would be better with the m8 both Android or wp version or any new Android like the Z2 or g3 than with the iphone

Why? Can you please back up that statement with at least some argument?

They currently have 3 models for att. 1520, 1020 and I think the 820 if I am not mistaken.

Same boat here re AT&T phones. Microsoft lost a sale yesterday when my wife's Sammy Focus finally broke and I switched her to an SGS5. Would have definitely upgraded her to the Icon/930 if it was available. By the end of year I'm going to be itching to upgrade from my 920, and unless Microsoft make Icon or another high end available on att I'm afraid I'm going to grab the latest Sammy or even the iPhone 6. Microsoft just never learn, and I'm tired of waiting for something Microsoft to be really proud of.

Why don't you just buy a sim-free Icon/930 and put your existing sim card in it? Simple. It always works out cheaper in the long run. Or is that not possible in the US? Or does US carriers not have sim-only packages? i.e. 1 month or 12 month contracts.

It is possible in the US but the problem is, for reasons unbeknownst to me, they use different LTE frequencies. The unlocked Nokia devices are using the European frequencies. I'm not aware of SIM-only plans in the US, either. I researched it, but if such plans exist, the carriers try and make the areas of their websites as hidden as possible. I was also unable to find any information on plans that involve monthly subscriptions, akin to my own plan. To the best of my understanding, sales people for US carriers don't get any commission for selling SIMs on their own and therefore the best I could find were 'prepaid phone' plans, where you effectively buy a disposable phone which comes with a pre-paid amount of minutes, data, etc, which I think is highly wasteful on the environment, but whatever. With that said, an existing SIM could probably be transferred to any unlocked device and still work, but features such as visual voicemail would probably not work as they are dependant on carrier-specific firmware as opposed to country-variant firmware.

You can absolutely take an unlocked phone and get a sim-only plan from most carriers, including AT&T. I've done it. It's essentially the same as buying a phone outright from the carrier and gettng an unsubsidized plan, except you bought the phone from someone else. You can even buy a "prepaid phone" (like AT&T's GoPhone 520) and convert it over to a regular SIM. They just don't call it a "sim only" plan. It's more like "I already have a phone, just give me a plan" plan. :)

And a strange note about visual voicemail. AT&T supports VVM on a prepaid Lumia 520, but not if you convert the same phone over to a postpaid regular plan, which supports VVM on my Lumia 920. Very odd.

Took the words right outta my mouth. The 930 is the only Lumia currently that I am interested in. Unfortunately it's not available for ATT. The slow 8.1 rollout & lack of interesting phones is making me want to switch back to Apple.

As above, buy a sim-free 930 and stick you existing sim in it.

So true, Nokia/microsoft always been the same. Great phones, but marketing and distribution awful. I once got through to and got a reply from Elop, when the 620 was released, and it wasn't easily available for so long, and I've still never seen a Lumia (any number) coloured shell available in a phone shop, online yes, but in a shop, no. Whatever we may think of Apple, they build up the hype and then deliver the item when expected, Nokia can build hype then it just fizzles out, and ppl lose interest, cause the phones aren't universally available. I live in the UK, not London, but not far, and I've still never seen a 1520, and I've looked believe me. No doubt plenty here will disagree, but in my opinion this situation needs to change.

You up near Hemel way? We've got some nokias in our local EE store but they're all budget models and they aren't switched on like some of the other devices. They just stuck a card on the screen that says 'ask a member of staff for more information'.

Announce and deliver within 10 days is #1 feature iPhone has over ANY Windows Phone. If Microsoft expects to climb above a distant thrid place with 3% this needs to change.

Couldn't agree with you more. That plus what others have said about no upgrade options on AT&T. Lumia 1020 and 920 have been out for 15 months and 18 months respectively, and no replacement for the 1020 has been hinted at, with the 930 not making it to AT&T anytime soon. MS still has a lot of work on their hands to compete. Posted via the Windows Phone Central App for Android

To add to your statement, the phone model experience accross carriers should also be the same, another thing that Apple has locked down. MS please stop exclusives.

And how about HTC One for Windows?

Even though I am a Lumia and Windows Phone person, I am happy the new iPhone has a whole gigabyte of RAM.

Even the 5, 5c and 5s had 1 GB of RAM, I believe.

Iphone 6 launch.....yawn i am going to bed...night all.

While I agree with the Apple assessment as a whole, at least they're making clear, proven steps forward. The Lumia 830 isn't even a proven improvement over the 920 from 2012, while only the camera and display resolution coming as true improvements over the 820. Apple redundantly takes steps forward, while Microsoft just likes to make the minor changes and spin its wheels, rather than getting traction in the mobile space. I sit here on the day of the new iPhones' announcement, wondering where the progress is from Microsoft. I'm on AT&T with nothing but a 6" 1520 to upgrade to, and it doesn't even come with wireless charging or 32 GB of storage, both of which are in my 920.

I have a 32 GB AT&T 1520.

if you don't use LTE you could risk the int'l version. I say risk because it'd have no warranty either. That comes with built-in Qi and 32gb storage.

Well, the os for a start has been a huge step up. 8 to 8.1 pretty good. Compare with the stale nature of ios. Doubt ios8 will be anything innovative.

You are correct, the continual improvement and OS stability are critical. MS has had time to get their act together but can deliver a product. They have announced but no product delivery date.

Yeah but the 1520 has mini-SD card storage as well so you can bung in an extra 64GB right there for music, pictures or apps.

They DID make smartphones without keyboards and with touchscreens become the standard...but after that one (what, 7 years ago now?) nothing really new.....

Does the iphone6 record in 4k? Can you say Hey Siri? Does it have HAAC microphones? Or able to record in 5.1 Dolby Surround? Does it support DNG? Does it have OIS? Does it have a 5 element Zeiss lens with 41MP? Glance? Parallax backgrounds under transparent live tiles? Didn't think so. Apple, take your bullshit home and try again.

they'll still be laughing all the way to the bank

They most certainly will. Is there no justice in this world? Apple is proof the USA is a nation of gullible suckers.

iOS 7 added bakground that kind of parallax scroll as you move the phone/tablet around, using the accelerometer. It's great for making yourself nauseous.

Well if you don't like "more of the same" then why are you with windows phone? The only thing wp/ms/nokia is focusing on is camera. I have a 930 so don't call me a apple fan boy ;)

I think it's funny people are excited for wireless payment on an iPhone 2 weeks after icloud had a massive hack. Hopefully they beef up their security cause someone can make this go very wrong.

I wanna see a benchmark test

I think 730 will also kill this... Nothing like high end -_-

Their processors are actually pretty powerful.

maybe not as powerfull as qualcomm 800 when it comes to cpu but gpu is probably on par if not better

http://www.gsmarena.com/compare.php3?idPhone1=4967&idPhone2=6378

Unfortunately for us, even the iPhone 5s processor destroys the snapdragon 800. Either way, you can't really take benchmarks too seriously since manufacturers can easily cheat the system. But I guess it's not really cheating if everyone is doing it?

Yea I just wanna see em for purely statistically reasons

Yet to see a comparison that shows the 5s processor beats SD800.

http://m.gsmarena.com/htc_one_m8-review-1062p5.php
As you can see, the iPhone 5s beats the HTC One M8 with snapdragon 801 on multiple tests. But like I said before, results vary by benchmark, and manufacturers can easily cheat to favor certain tests.

If you look up the test WPCentral did the overall M8 for Windows beat the overal for 5s by over 150 points.....

Also the M8 for windows while have practically identical insides has a few differences on Windows for example notably better battery life so perhaps there would also be differences in the tests themselves with the differing OS.

Yawn... That's sooo 2012...

I assume you mean the Lumia 830, since the Snapdragon 400 is about the same as the 2012 Snapdragon S4, and the resolution is a downgrade from the 2012 920.

How is the resolution a downgrade? The 400 bests the s4.

Not technically speaking. The msm8960 (S4) is much powerful than the msm8926 (snapdragon 400) However the msm8926 DOES have all the new bells and whistles that modern SoCs have. and it IS quad core after all so efficiency is where it beats the msm8960. But benchmarks for the GPU show that msm8960 running circles around the msm8926 and that's what many of us are complaining about.

920 is 1280 x 768, which is an odd resolution. I don't really consider 1280 x 720 a downgrade.

The 830 isn't the successor of the 920!! How many times will this shit be said? Posted via Windows Phone Central App for Android!

If the 1GB RAM is actually true on the new iPhones, Apple fanboys will continue to be harassed by me. Not to mention the pixel density on the 4.7 inch model. It's exactly the same as on the 5s. Even my 720p 4.5 in Lumia 925 has a higher ppi than that.

RAM does not really matter. It's about how effecient the OS is when it comes to managing memory. Android is really poor at this, so you find phones with 3 GB of RAM. Windows and iOS are better at this. They don't really need huge amounts of RAM. As far as iPhones are concerned, apps are tailored for them, so 1 GB of RAM does not matter at all.

Yes, that's the typical argument for Apple. What I criticize Apple for is being insanely overpriced. My point is, they charge you premium price for having "good enough" specs. Sure, you don't "need" more RAM, you don't "need" higher pixel density. But, for marketing reasons, they make it seem like it "needs" a 64 bit processor and improved CPU. They also talk about having 64-bit to be "future proof," but I don't really know how "future proof" 1GB RAM is, no matter how advanced the processor is. Then again, both WP and iOS don't have as advanced multitasking features as Android, so it makes sense that they don't need it. I'm sure both will add some sort of split screen app capabilities in the future, but I would assume that requires significant RAM usage, even if the apps themselves use less memory than those on Android.

There is no such thing as 'future proof'. That is a pipe dream, at the rate our technology is advancing. Anyone who believes their product is 'future proof' is a complete moron.

iPhone is the Porsche 911 of cell phones. -.-

Unlike Apple, Porsche crams a lot of cutting edge technology into their new cars. Apple just puts in old tech and then claims it's revolutionary.

Perhaps its just jargon but the screen and camera sensor did sound to have some new elemenents.

What new elements? OIS? Nokia had that first and they only implemented it in the larger 5.5" phone. Otherwise teh camera is the same as the 5S. The improvements were related to faster autofocus and face recognition which are probably just improvements to the software. Same with the screen. It's just larger. They mentioned something about ions being added to make the glass stronger. i will judge that by the amount of iphone I see with cracked screens. They also mention a better polarizing filter. I bet Nokia's is better. The one thing they seem to have an edge on is their processor is isn't always the fastests but has the fastest graphics and is usually near the top of any benchmark testing. They designed it themselves and it seems like the other ARM chips catch up just about the time the next iphone is due to be released.

I thought they mentioned somethinga about the sensor (not sure though and can't put myself through watching it again), extra thin backlight on the screen, and some dual-something-something-pixel-dada-of-the-LDC.. :) And I did not mean in comparison to others, more in terms of what changes they made compared to the 5S. Anyhoo, they are not dramatic changes.

Agree. In terms of technology, iPhone6 is boring. But it will still be a hit for Apple to sale Apple watch and promote Apple pay along side with this boring new giant buddy.

Please do not insult Porsche 911 - Every model year the list of improvements grows. Besides it has an orgasmic ride - dont think a smart phone can come close :)

I'd rather forget the 996 era...

Your mother is the Porsche of ladies of the night, off with you too!

Hey, Apple fanboy. I should like to know WHY you are here in a Windowsphone forum? Also, how is it you are stupid enough to pay so much money for an inferior product? Apple fanboys are also stupid enough to pay more than twice as much for Apple computers than they would for normal Windows PCs which sport identical components. Only retards do this.

They're the best... ... Until next year!

Camera tech is the area I'd like to see WP take some cues from apple. When I can take 3 pictures on my wife's iPhone 4 for every 1 I can can take on my 928, that's a problem. Lots of missed baby smiles

Buy normal camera. That's what they are made for.

Do you have a camera on you at all times? I sure don't. If you had kids you would realize how valuable this is. I love windows phone however it has its flaws. Be willing to admit there are some things other devices do better. Capture speed on iPhone is second to none :P

Stop taking pictures of your kids.

Even for a joke that's bad.

then we should all buy nokia 105s afterall phones are justfor calling and texting?

Really? Not helpful. Take the snark and go home. Normal cameras don't work for what us normal people do. We don't carry cameras in our pocket so that we can catch all the little moments. That's the benefit of a camera on a phone. Way to totally miss the point.

Lumia Denim (for Icon, 930, and 1520)... that's your answer...

That's another huge advantage of the iOS ecosystem. When Apple announces a new version of iOS it is unversally available within a couple of weeks, regardless of carrier. I have a Nokia Lumia Icon and almost two months after MS released WP 8.1/Lumia Cyan, I have yet to receive Cyan. If I want to upgrade from my Developers Preview version of WP 8.1.1, I have to downgrade then install the firmware updates (unless MS somehow fixes the Bitlocker issue for the Icon). And the Lumia 930, almost exactly the same %*$*ing phone comes with WP 8.1/Cyan installed! So I know there shouldn't be an issue with Verizon's network holding up the updates. Let's not even talk about WP 8.1.1/Lumia Denim. I'll be lucky to receive that by the middle of next year. MS allows the Developer's Preview Program which allows customers to get the software without waiting for Hell to freeze over, er I mean the carriers to release it but it does nothing for the firmware. iOS users don't have to worry about that crap.

iPay will not be successful. It's a service no one needs. They are trying to play on the EGO aspecct of iPhone ownership...just gives iPhone owners another reason to take their phone out and show it off. Recent research shows most mellenials don't even use credit cards, and you'd be a fool to hook your bank account to your cell phone. Even if people use it, it will bee mostly restricted to US consumers, since there is other technology used all around the world...so I guess for all you people who hang out at starbucks all day...maybe this is for you.

Apple must go through the exact same firmware testing that all the other manufacturers go through. It appears as though they don't because they have the power (due to sales) to force the carriers to work with them on a given time-table to get it done faster. Also, Apple only makes one phone type. To clarify, I mean that all of Apple's phones use the same antenna, same firmware, same OS, so they only need to test one device because they are all the same. This is why they can get their updates out sooner. Microsoft currently has 16 manufacturers creating phones for them and Microsoft Mobile OY (formerly Nokia) has several different phones with different processors, different antennas, difference screen types, etc. Therefore the firmware is different for each device. So Microsoft must work with the carriers to test each device, which take a lot of time. Frankly, given the recent Cyan update at AT&T and other carriers globally, I'm really impressed they got so many phones updated worldwide since July 15th. I think it very impressive. Especially given that Apple had been testing the iPhone 6 firmware/software for about the same amount of time, and as I stated before, they only have the one phone "type." I also have the Lumia Icon on Verizon, and I too have complained about the delay, however, given the recent announcement from Microsoft, I'm feeling quite sure that the reason we have not yet received the Cyan firmware update, is because we won't. We will get the Lumia Denim firmware update instead. As Microsoft stated in their recent webcast from Germany, the Icon is one of three devices that will be receiving the Lumia Denim firmware update "soon." The rest of the Lumia Devices will receive the Denim update sometime in Q4 of 2014. I take that to mean that we (Icon users) should be receiving the Denim update BEFORE Q4 of 2014, likely within the next two to three weeks. Let's hope I'm correct. As I've recently commented elsewhere, comparing the specifications of the NEW iPhone 6 Plus to the one year old Lumia Icon, I'm rather satisfied to stay with my Lumia Icon. Better screen resolution (441 ppi to 401 ppi), larger battery, wireless charging, FM radio, better camera (20MP f/2.4 w BSI &OIS vs 8MP f/2.2 w/only OIS), plug and play USB storage, Full file Management both through my PC AND on the phone itself (can move, delete, copy files to and from PC and throughout folders on the phone), and all this at a lower price tag all around. And before anyone starts jumping on the Apps bandwagon, that's old news and no longer applies. There are over 375,000 apps in the Windows Store and almost all of the major apps are there now. There are also new apps being created for Windows Phone that iOS and Android don't have. And as for the million plus apps that are in the App Store or Android Play Store, 70 to 80 percent of those apps are replications (300 versions of a calculator, really?) or dead weight, meaning, they have little to no download count.

If Denim does indeed address camera speed and get it up to par with iOS, that's great. Honestly that's my only gripe with WP right now.

The new "Lumia Camera" and Update 2 address camera speed, but until then, compare the quality of the two... its no comparison. For you to honestly say WP should take cues for your m the iPhone on camera tech is down right laughable.

TangledW, it's not laughable. When I can snap off pictures considerably faster on a 4 year old phone over my 1 year old WP, that's a problem. Yes, the quality is better on my WP, but quality does nothing for missed moments because it takes so long between shots.

A friend of mine in Germany attended the seminar and had a chance to play with the new 830 with Denim. He stated the camera is "super fast" now. Literally "miliseconds" from shot to shot! He compared the time to to take a picture from phone idle between the iPhone 5s and the 830's camera. The 830 was able to take several shots before he could even get his iPhone 5s camera open to take one (thanks, of course, to the dedicated camera button). A push on the dedicate camera button opens the camera in a blink of an eye now, no more waiting! And once the camera is open, pictures are taken literally miliseconds at a time. Holding down the camera button while in video mode will automatically start recording in 4K mode at 24 fps. 4K! I have the Icon (one of the first devices scheduled to receive this firmware update), and I can't wait. Once I get the update, I'll be better able to verify this information.

That's what the new denim update is for

Seems like that's exactly what the new Lumia Camera app will help with (as does the burst mode already - use it all the time with kids).

Manually focusing helps with speed, also the "all in focus/fixed focus" feature with Nokia Camera.

Hello? Just use the Blink app, or Nokia's SmartCam app. Snap once, then pick out your "Best Shot" (as it is being introduced on the iP6). No more missed smiles. It's better than tapping the f'ing screen like a madman on the iPhone.

@Witness, has a brain, see fools, I mean folks, quite bitching and learn how to use your phone

Thanks for more snark. Take your useless comments and go home. I swear, WPCentral has the largest number of arrogant pricks. Why don't you try and be helpful instead.

I absolutely 100% agree. I participate in just about all the Mobile Nations message boards from time to time and the level of juvenile pettiness is without a doubt the highest on WP Central than anywhere else.

I concur. Blink is awe-some. It's better than tapping the f'ing screen like a madman on WP too.

Witness, thanks. I'll look into the SmartCam today sometime. However, can I launch right into smart cam by pressing and holding camera button?

You can, but first you need to set up the defaults for it. Just go into camera settings, and you can specify which camera app you'd like to use. It's cool, but keep in mind that SmartCam is a heavier app than the built in one so it will take a tad longer to launch. I suggest just locating SmartCam as a Lens, or pin the tile for easy access.

New Lumia camera can take 24 pics per second

New Lumia camera can take 24 pics per second

That's called video - and nearly every phone can do the same.

But you forgot that with the correct processor, that video takes 8.3 megapixels pictures, 24 of them in a single second, and then you can choose a frame which will basically be a picture as large as an iphone's picture.

As Kaushik mentioned in talking about 4K/HD moments in the new Lumia camera app. You can take your 4K video and select a single frame to use as a high quality picture. Obviously every phone takes video.... And no not every phone can do the same, do some research next time so you know what you're taking about buddy.

Yeah, the speed of the iPhone camera has always been fantastic. That and the general "feel" of the phone is what they did really well.

Come on you cant compare the camera from the iPhone 4 to the Lumia 928. The iPhone camera may be a little faster but the Lumia camera is superior in almost every other aspect.

Agreed. Battled many iPhones on my last vacation. They were indeed faster, but guess who ended up texting the best shots from their Lumia 920... V this guy! V

Please stop comparing an iPhone to a 920. It's like comparing a $900 phone to a $400 phone.

You're right! Higher resolution,
better low light performance, and manual options , on the 920, plus it costs way less! Lumia 920 wins again, even two years later!

Missed the point. Speed and ease of use is the most important thing when taking baby pictures.

Yes. True, but like they said the app works for that. The quality picture is even more important. Nothing worse than a ton of photos that look mediocre because of quality. I made that error with my kids.

Burst mode. I have it on my 822 DP.

You have a point with the speed. I personally haven't had issues but I only have an 820. But many have complained about speed and that's why its being addressed in Lumia Denim update. But think of the quality, I don't think there is any smartphone that suprasses Lumias when it comes to quality. (It's the quality that matters not the quantity). At least for me :)

Twice Born, you using the Nokia/Lumia Camera app? That thing is slow, but takes great shots. Use the default camera app that comes with the phone; Microsoft Camera; if you want to take really quick shots.

WDavis4692, I'll try the default one. Thanks!

Have you not heard of camera improvements coming soon that do exactly that and much more.

Yet, the ONE photo taken by a Nokia would actually be usable due to superior quality. None too bright, are you? Enjoy the fuzzy baby smiles, kid.

Lol...looking at the iPhone 6's specs, the Lumia 830 looks alright.

Even the 735 seems better

"Affordable Flagship" makes a lot more sense all of a sudden, doesn't it? :)

It does, then again its not that hard considering apple. Did I just read 499 off contract? If this was a Lumia it would have a diamond coating on the glass

The iPhone 6 Plus with 128 GB of storage costs $499 ON CONTRACT. That is absolutely ludicrous.

Dang it, i ment ON contract not OFF, thanks. Maybe i got so shocked by the pricing that i couldn't think straight anymore

Precisely a point I made earlier. Apple fanboys are stupid enough to pay through the nose for an average product. Apple knows their customers are retards, so they take advantage of such stupidity by jacking up their prices.

That's my take-away. One of WP's upper mid-range phones competes with Apple's high-end on specs pretty well.

Point that out enough and the apple tribe/zealots/cult will claim it doesn't matter. It's all about the organic nature of the iphones aura.

They already are, I've seen a few saying "only people with androids are talking about specs".

apple tribe/zealots/cult will claim ...

Design is important. Very important. Personally, I think all high end phones are pretty much the same spec-wise. What differentiates them is the extras. For me, Touch ID and Apple Pay look really compelling.

You're joking, right? Other than the MP count in the 830's camera, the lack of microSD storage expansion, and the iPhone's pricing, the 830 is a total turd next to this. One of my biggest complaints with Apple has been their failure to put an HD-qualtiy display in an iPhone, but now even Apple can top the 720p sadness in the Lumia 830, and that's with a bigger display. Apple's SoC will put the Lumia 830 in a hole and bury it, without even hitting full load. That's how pitiful the chip in the 830 is, and it's why I'm so disappointed in Microsoft.

Well, if we ignore the lack of an SD and pricing, a 520 doesn't compare well, with a 6, either. Come on! The 830 is half the price. In reality, what should be said is that, for the price, the 830 holds up very well against the 6.

Then get a 9-Series phone or higher! Geez! The 820, is for Ballers On A Budget, not to destroy one of the highest end phones on the planet! You guys in the comments are amazing, sometimes! "Why can't I compete on every spec with the iPhone 6, with my Lumia 720??? Whaaaa!!!" Get a 930, or a 1520, or buy the damn competition, but stop with the incessant whining all the time. You all make the comment sections so pedantic, and hard to enjoy reading... Fcuk!

You all make the comment sections so pedantic, and hard to enjoy reading ... Fcuk!

Actually, it's comments like this that turn me off.

The new iPhone is nice. But when you take that super nice phone and give it only 16GB, you're not getting a full experince. As far as I'm concerned, 16GB basically kills however nice the phone is. Everyone was complaining that the L920 had only 32GB but then an iPhone comes out with 16GB in 2014 and people shrug saying "at least its an iPhone, look at how nice the processor is." Maybe you just loooove processors but putting features to dollars, the 830 has a lot to offer for it's price. I'm not paying $200 ON CONTRACT to have a 16GB phone. That's what 20 albums, 4 nice games, and now you can't take any pictures. Sorry you're disappoined with MS but they are at least trying to get a nice phone at a price that works for the general public.

I do have to agree about the RAM in iPhones. I wish Apple would quit trying to make money on the sale of extra RAM. Just build every single iPhone with 16 GB - to keep their costs lower, then add a MicroSD slot. Of course, that would cost them billions in lost RAM sales. Frustrating.

RAM - you keep using that word. I don't think it means what you think it means. Other than that I agree that all MFRs should make phones with 64 GB of storage. (or better)

I disagree. In 2014 space on the phone is becoming even less relivent. I have 1.07tb of data on onedrive. No need for any storage on my phone other than apps and games. My Lumia 928 has a lot of games and apps and i'm not even half full on my 32gb.

925 with just 16GB and surviving. Photos and few games. music only online. With OneDrive it's possible if you not obsessed to have all music and movies on your phone.

The iPhone 6 only has a 720p display; the 6 Plus is 1080p.

The Apple Soc will bury the 830 doing what? Let's face it. There will be maybe a dozen games that will fully utilize that second and offer great graphics. The majority of the other games will be the Kardashian, flappy bird, candy crush, etc garbage that is so popular on IOS and would tax the 530 much less the 830. That's why most specs don't matter too much. THere aren't many apps that can utilize them. People get them to future proof but then replace their phones within 2 years. Really, people are wasting a huge amount of money. The higher processors will make things a little snappier and more responsive. Maybe the camera will take pictures a little faster. That's about it.

I still like my Lumia 1520

+nexus 5 Posted via Windows Phone Central App

I still like my lumia 920.

Absolutely love my 1520. It rocks!

Indeed, our 1520 is still the king in every way.

Ummm...guys? There's an upvote button....

Yes. But not in the WPC App yet ...

Can't believe they actually had a press event for a phone that is just now up to par with my 920...

Couldn't agree with you more.

I have a 920, and that is SO not true. The only thing I can understand with your logic is the OIS on the 6+.

As far as I'm aware, Apple is not even promoting NFC on the new iPhone. I don't remember hearing them mention it. I think we only imply NFC by the Apple Pay demo.

They mentioned it in passing, from what i hear NFC in apple will be exclusively for Payments and nothing else, No Tag support, no tap and share, nothing. Apple loves to kill technology it does not like.

The only thing iphone 6 has different from the 920 is a better processor. They both have 720p screens, nfc, iPhone is still using the 8 mp camera from the iPhone 4s just with updated software and a better processor makes it just a better camera, no ois, so yeah I think he has a point.

But it's 50 times faster than the original iPhone! They actually said that. As if it matters.

I think the Lumia 620 I had was 50 times faster than my original iphone!

Yes, exactly the first iphone so basically its not that much improvement from the 5 series lol.

Well they can't say 50$ lumia 520 is faster than this, so they get some stupid facts, like new iphone 6 have many more pixels than iphone 5, and new iphone 6 have low resolution...

...50 times faster than original iPhone...

You gotta admit, that is funny right there.

Better take a life jacket.

Jump off a cliff, get out now!

Ships? So you are in more than one ship right now?

Well you shouldn't sink as your wallet will be way lighter

If Steve jobs were there... This would never happened!!! :'(

Yeah, he would have continued to ensist that 4" is enough since he knows best! :P

Yeah up intil 4 hours ago, 4" was the PERFECT size for a phone!

Watched Triumph of the Nerds earlier this year and wow...the similarities between Steve Jobs and Phil Hellmuth "the poker brat" when they are/were un-happy really cracked me up!

...continued to ensist that 4" is enough...

I think this is more marketing than anything else. A business decision was made to only build the single iPhone. They could have done the Samsung deal and build 1001 different variety of phone, but that drives up costs. There's a reason that Apple is the single most profitable company around. They've learned their lessons about getting caught with too much inventory. So keep costs low. Build a single iPhone. A single part (the screen). A part that is econically viable for the product and their projected sales price and profit margin. Then try to explain away the business decision with marketing speak. And yes, 4" is exellent for one handed operation. Note also that stating that 4" is best, is not the same thing as criticizing your competitors for making larger phones. All the comments to the contrary, I've personally never heard Apple criticize another phone for being too big. Only promoting their own phone with their own reasons.

Well, at least Jobs did a bit: http://www.engadget.com/2010/07/16/jobs-no-ones-going-to-buy-a-big-phone/

"There's an app for that!"

I think is a nice looking phone, although others like Samsung, LG and Sony have improved so much their design, and still I like Nokia/Microsoft better.
iOS is a good OS, not my preferred one, but it would be dumb not to recognize that is overall a very nice and optimized OS, and still I like Windows Phone way better.
They haven't introduced anything interesting (just the amazing slow motion) so I wouldn't pay that much money for that phone.

Thankyou for being balanced

A good enough move from Apple (as always). Should help them maintain sales and market share (which would otherwise continued at a much faster decline). Shows that Mr. Cook is more pragmatic than that turtleneck guy was. Hope/trust merger of WP and RT will bring dual pane/snapping of apps to the WP world as well soon!

Turtleneck guy made the iPhone what it is, and its cult following so I wouldn't discount that. If Tim Cook made the phone, it would have been a mess like Androids.

Sure, did not mean to dis The Jobbs, but wonder if he would have had the wits to also be flexible like Cook in the phase of the Droid onslaught?

No worries. Jobs was inflexible, but it was that total arrogance that made the iPhone what it is. This also explains some of the arrogance in their fan base.

Apple never intended to fight Android on market share. One company can only produce a finite number of phones at the quality that Apple does. This is why Apple targets the higher end of the market. Google does not care what the quality of the phones are as long as it has Android on it. Windows should market it's phones better and highlight its best features such as free MS Office (although this needs a lot if improvement on windows phone), free music downloads, free off line navigation, and great camera lenses. Microsoft also needs to get the carriers on board. It should have enough marketing resources to ensure that all carriers carry windows phones and try to sell them instead of pushing everybody towards Android or iOS.

How the eff do you know? You up Tim's ass?

You dummy, Tim is demonstrating it now with the 6. He has allowed stuff like NFC, large screen, two different versions of the phone, OIS to be on the phone. The iPhone 5 was the last Jobs designed phone which didn't react to the market. The 6 is reacting to the market.

Tim Cook is an Auburn graduate and fan. Big reason why I choose not to support Apple. Roll Tide!

Problem is that you get a cult following because people thing you are a leader. He keeps releasing me too products, Apple will lose the innovator image they have. They will still sell lots of products and make a lot of money. Microsoft also keeps making a lot of money despite their image of being behind the competition. Eventually you start losing the loyalty and that is hard to get back. Eventually, a competitor will get that killer feature the iphone lacks and Apple will start to slowly decline. You see this over and over with companies that were once innovators and now don't exist or are shells of their former selves.

Funny, the iPhone 6 is most comparable to the Lumia 830.

"Affordable Flagship"! :)

If its an iPhone, I don't care what the specs are....not at all interested. Have an iPhone for BYOD at work and friggin hate it. ITunes I despise even more.

"If its an iPhone, I don't care what the specs are..." funny that's what the iPhone fans say too! LOL

Yup, have you noticed apple never discloses what the battery is rate on their website. I have to deal with some of these fanatics as well, getting rather tiresome hence why i started insisting on doing drop tests lol. Always shuts them up because they know it will get literally smashed to a million pieces. Unlike their verbal arguments which can go on for eternity -.-.

The did disclose teh batter life for teh phone. THere is a graphic. They didn't disclose the battery life of the watch.

... and friggin hate it. ...

Could you please elaborate? Why do you hate it? And you despise iTunes? Geez, dude. It's just a phone and an online store. Why so vehement? You seem to be taking something personal. Did Apple turn you down for a job or something? Ex-girfriend an Apple fan?

iTunes is still light years ahead that piece of shit Xbox Music us WP users have to deal with it. And it's pretty closed-minded to ignore the iPhone 6 solely because it's an iPhone.

The king, Lumia 1020 smiles benignly at these pretenders. :)

I actually replaced my 1020 with 930 and could not be happier

Really?? You are not missing the camera? I feel so jaded by the 1020 that i am finiding it hard to use anything else. I am using a 1520 as my work device right now.

I can't understand why is the 1020 camera so important. Do you really need that much pixels ? And you can buy a better CAMERA (like a real one) for 200€ and you get better quality, a 21x optical zoom or more.

Just what I want--to carry around something heavier like a superzoom camera instead of a 1020.

If I had never used it, I don't think it would be a big deal. Once you use it and get used to it, it is hard to go back. It has completely changed the way that I take pictures now. Completely. Also, I always have my phone with me, same cannot be said about my slr. Honestly, I haven't even grabbed my slr in some time. I am not a professional (or any good) photographer.

Exactly. Since I smashed my 1020 on the pavement, I've been relegated to my backup, a Lumia 625 and I miss the 1020 so much.

Once they release the 1030, that will be the king. The major con for the 1020 is the slow rate between pictures. The new SOCs will fix that. No one will be able to touch that phone and camera.

It is amazing to me still today that iPhones cell so well. Thier Harware Spec, equal WP 6 months old and Mid range devices. I spent 30 minutes playing with an iPhone 5(abcxyz) this week, I really do not see the fascination. I have been super happy with my Nokia 920, for almost 2 years now. To me, the flow and presentation is way better. Maybe baisis, or maybe more open minded.

Its the promotion for it, they make it seem so magical

Sad thing is, it takes more than just Apple to build that hype. Advertising is advertising; but the blind belief so many people have, including media outlets, that the iPhone is going to be the best, just because, drives the hype to a fever pitch. It's like they've created the biggest cult in history (like a religion or something).

... the blind belief ...

Why do you think their belief is blind? They're probably pretty satisfied with their Apple products. The only religion I've seen in comments like these is the religion of bashing the manufactuers you don't favor. People can't just state that they prefer one phone over another, they seem to think they have to destroy the other phone and anybody that uses it.

It is one thing to be satisfied with a product, and another to assume it is the 'best'. It is fine that people prefer one phone to another, surely we all do; but that doesn't make it illegitimate for me to ask why. The thrust of what I was saying is that many Apple users are prone to assume that the iPhone is the best because, effectively, Apple makes it. That's a pretty thin argument if you ask me. Does it have the best camera, is it faster, how nice is the screen, in what ways does it excel over the competition? These are the types of questions I rarely see answered by alot of people. I have friends who haven't the slightest clue what is being offered by the competition, they blindly jump from iPhone to iPhone and assume they're getting the best phone - i.e. blind because they don't know what else is out there. Whether satisfied with their prior iPhone or not, that fact alone cannot not lead to the conclusion that the their next iPhone, therefore, is the best.

Blind ignorance makes some companies a metric fuck-ton of money.

... Blind ignorance ...

Again, what makes you conclude anybody is blind or ignorant? Simply because they don't agree with your preferences?

iPhones are marketed differently than Androids or Windows Phone. Apple is selling an experience, which is why they charge premium for a "mid-range" phone. It's the same thing with Macs, only it's worked out better with the iPhone. I don't know why people don't get that. Ignore specs for a second and look at sheer performance. iPhones are then more than capable of competing with the likes of Nokia, Samsung, HTC, LG, Google, etc; now more than ever with the larger displays of the iPhone 6 and 6 Plus. Specs don't mean everything, especially in smartphones and especially to the average consumer.

It is clear that innovation at Apple died with Steve Jobs. The hardware itself is nothing special, and iOS 8 is boring as ever.

"With him"? You give hi too much credit. Wasn't one of his last "key notes" (<--smug enough?) where he said "this is the year of copying", or something like that??

Innovation at Apple died after the first iPhone was released. Steve Jobs deserves credit for marketing - but I really don't think he was a revolutionary, or whatever it is that people call him.

Innovation at Apple died after the first iPhone was released.

At least you seem to acknowledge that the first iPhone was pretty innovative. Some won't even give Apple credit for anything. Somehow it's all marketing to them.

For what its worth, I don't think the iPhone is bad. I think Apple produces a relatively compelling package. That said, I do believe that the case for the iPhone is frequently overstated. I don't think that marketing, per se, is the only reason for that overstatement and the consequent success that leads to. I think that it has to do with brand perception, more generally. Brand perception, to my mind, is a product of more than just marketing. It is also a product of past successes. I think that at least some of Apple's currently strong brand perception is consequent of the first few iPhones; which were great. The fact that a lot of people still assume that they're the best is likely the product of marketing.

The hardware itself is nothing special and iOS 8 is boring as ever.

Yes. Ho hum. When are you going to hit me over the head with a two by four? I'm bored. Apple's new hardware has always been an iterative process. Every new iPhone is only a little bit better than the one that came before. But when you add up all the changes, the new iPhone is still a pretty nice device. What exactly are you expecting? As to iOS 8, it actually sounds pretty interesting to me. I think you're justing looking at its face and seeing that it looks a lot like iOS 7.

Looks like it borrows a little from the Lumia 925

hands down Apple why? it will not be exclusive.

Yeah, well only because they have had them as partners for quite awhile now, since its basically one or two devices...

I've been thinking that since the leaks. I like the look, don't like IOS, but do like applepay. Some good hits in there.

Apple pay is NFC with their own spin on it.... So far with Google and Microsoft, NFC for payments that I have seen is a total failure... Maybe this will open the door to a standard that all phones will use...

Agree 100% this is the real issue with WP. So when is the 830 avaliable...DK. We already know the IPhone will be in stores 9/19. So sad that the Lumia was announced with no avalibility date

Very beautiful looking device, but not much of a spec friendly phone.. I was expecting a lot more.. just speaking as smartphone fan :)

So the iPhone6 doesn't even have OIS? Unbelievable!

Only the 6 Plus does. Which is sad, because it's held back by last year's camera.

So the iPhone6 doesn't even have IOS?

Once again Apple decrees that form is more important than function. Gotta get that profile down to 6.9 mm even if everybody would have been happier with a 7.1 mm profile with OIS and a bigger battery.

Its a good phone, the new iPhone. But that's it. They took the Galaxy Note 4 approach and just refined it, nothing too radical. Well. Posted via Windows Phone Central App

Even my Nokia lumia 925 is better. XD

Even my Nokia Lumia 925 is better.

No, it's not.

DAMN IT! I want the 830 with the 800+ chip and 2gb ram... Is that too much to ask for?!?!

yes
if they use Snapdragon 800 and 2 GB RAM it'll sell on a higher price point and won't be called an "affordable flagship"

i hope the next flagship comes in Jan '15... at least 20Mp camera, SD card, SD 805, glance... with win 8.1 soon to be upgraded to win9 DP :))) COME ON MICROSOFT! start developing flagships faster.. icon/930 was a disaster.. it was outdated for a flagship when it came out!

"it was outdated for a flagship when it came out"
Pretty iPhone-ish, isn't it?

and as slim as the iPhone 6+ with a larger battery than the 1520....sign me up And the ICON was not outdated as the 800 WAS the current chip around the time when the phone was released. On the other hand, I will agree with the 930 thing but, as it was a ICON with GSM bands, it would of been delayed 6 months longer... Remember phones are designed months before they hit the stores....So it's normal for a phone to be back on one CPU...

No...i want an 830 with higher specs

again....no. I want the slimmer profile that the 830 has and I'll take the slimmer built 10mp pureview camera that goes along with it.

Slimmer 930, 830 with better specs - semantics.

It's quite nice looking, well they are. Bit more like an HTC product than an Apple one in some ways though. Some things about it look good, others seem like missed opportunities. i know it's the usual joke, but making the screen denser with another row of icons given how much bigger these are would have been useful. At least WP gives you that option with live tiles. The one handed mode should put something into the black space (notifications, a clock, something) to make it more useful. Otherwise it's the usual spec bump together with finally admitting they need to go big and be like everyone else. Great phones, but nothing revolutionary. Quite glad MS have not announced a 1030 or 1520 yet, now they know what the competition has they can hopefully come out with something that trumps them all. And the Apple Watch, meh.

My 1520 connects to my Comcast 2.4ghz and 5ghz...am I reading the specs incorrectly?

The wifi specs for the 1520 are incorrect. It does indeed use dual-band 11ac wifi, not 11n.

You're right, the Lumia 1520 have 11ac.

I have the green Lumia 1520, and it connects to ac 2.4Ghz whenever it can

A good enough move from Apple (as always). Should help them maintain sales and market share (which would otherwise continued at a much faster decline). Shows that Mr. Cook is more pragmatic than that turtleneck guy was. Hope/trust merger of WP and RT will bring dual pane/snapping of apps to the WP world as well soon!

Hey, no disrespect now... =[

Sure, did not mean to disrespect Mr. Jobs, but wonder if he would have had the wits to also be flexible like Cook in the face of the Droid onslaught?

He would've done the same, given that's Apple is a public company. Shareholders would eventually demand Apple to make a larger phone or else stock prices would go down. If Jobs wouldn't have listened to them, they would've removed him as they did the first time around.

the fanboys had a ball in my office, they are convinced that Windows is going nowhere with their phone, they think I should walk away from Windows and I will say it again I have been considering it but I will wait and see the 830 when it gets to AT&T before my final decision

The fanboys can say what they want, but the iPhone 6 is simply a larger iPhone 5S with a slightly faster processor and modem and NFC.

Yea, I really like Windows, but have been tempted to walk away lately too. I really hope they step up their game because as much as I want to stick around, I don't want to be that "fanboi" that clings to Windows Phone when it is obvious that Microsoft isn't going all in with it. They have been making good progress, but not enough, and lately I've felt they are second guessing it. If Microsoft won't stay commited, I sure as hell won't.

So what are you missing? I have everything I need on my WP....well that's not true I need need Comixology to come back.

So the iPhone BARELY gets a spec bump and windows needs to step up?really? I'm not saying its fantastic but its definitely better than ios. The only thing ios has over windows is the appstore(windows can't control that) and that's it

Yeah, that's one that I don't quite get either.

Don't give in to the peer pressure, be the Shepard not part of the flock of sheep :P.

It can be faster, it can be new, it can be even Apple, but it will be still outsold in my country by Nokia Asha.

No matter what people will still line up for this. At least they can pre-order unlike waiting for Lumia 830

Off contract price for 830 just over $60 dollars less than a 930? Is that right?

I think the dollar prices are not yet know. I think it will go for 399 and knowing nokia phones they will drop in price even further in the next 1-2 month after release.

U need to wait a month or two it will drop dramatically

I think the 830 price is a direct conversion from Euro. I doubt that it will cost $433 in the US if it ever even is sold here.

It should only ever be Apple and Microsoft =(

Now how come Apple can announce something and have it available for sale two weeks later while Microsoft makes us f*Ing wait for weeks or months and can't give a damn release date. I'm looking at you, Lumia 735 and 830!!!

that is what makes me upset I have the ability to purchase right now and I have to wait and see what the 830 will look like and what the Note 4 will actually be like yet I can go into Apple and pre-order already because we pretty much already saw it. Oh and on AT&T I could sign up for information about the Note which will arrive in my in box but there isn't even a picture of the 830

Probably because they release a device once a year or two thereby having enough preparation time to put everything together. While Microsoft release like up to 5 different devices in year, on top of the numerous amount of software updates that goes with these devices. Or it could just be that apple has been in this hardware business long enough to figure out their sh*t.

Or perhaps priority is given to apple by manufacturers, I imagine the people who conceived the lay off of all those factory workers was a good idea are now starting regret that decision now. As they could have purchased supplies in bulk thereby saving money and control the follow of products.

Someone needs a lesson or two in grid data. My eyes hurt from reading it. Add color to alternate rows Verically aligh top or center first column lables and right justify. Sort values like the sensors For the Lumia 930 should be Lumia 930/Icon

The bigger question for me.... Will the Lumia 930 ever make it to AT&T? :/

Yup, same here. Alas, I suspect it won't and I wonder if I will have the will power to wait another 6 months (or whatever it is) or just go with the 830.. :)

930 is not coming to the states, Nokia, stated that the Icon is to be sold in the US market only & not the 930.

I honestly don't even want it now. Glance is lost, there's no microSD slot, it wouldn't have Qi in it, and the Snapdragon 805 is replacing the 800 in the modern smartphone high-end. The thing just isn't all that compelling, given that it was announced 7 months ago not. I'd rather have a 935 launch on AT&T now. All they'd have to do is put an IPS display in (to keep Glance), while giving us that small bump to the Snapdragon 805, just to stay on-par with the competition. I don't even care about the microSD slot (32 GB is enoguh storage), and I know it'a AT&T's fault we wouldn't get QI, not Microsoft's. Without those improvements, I'd rather hold out for a 1030.

The only feature which beats Lumia 830 is the screen resolution? Wow, that sucks.

yep but you can get the 735 and that one will have +- the same ppi. That is for me the saddest part (for apple)

Pretty sure the A8 CPU is more in line with the Snapdragon 800 than 400 though.

Please don't compare the new iPhone to the 830. That's like comparing a $900 phone to a $400 phone.

That's not 'like' comparing a $900 phone to a $400 phone - it is doing just that. While I'm sure the iPhone will likely be more powerful than the 830, raw spec-wise they really aren't that far off.

i didnt get to watch the unvieling but the phone looks the same. i was hoping they come out with a whole new design, its the same design concept from its first iphone 3g, just thinner, and taller. was there anything different about this phone other than the updated OS?

Windows phones only needs more apps, and some features ( water proofs, 64 Bit CPU ) to be the best

Lumia 1520 is much better the iPhone 6, +

Yeah,it has a bigger screen,for blind people like you,haha!

I'm getting it. Going to leave WP. But I might come back to WP with WP9 next year. Not sure if I should get the 6 or 6+ O.O

I know y? It can't be the actual phone, must be ios8.

Check out the Lumia Icon or the HTC M8 before you go! 2.3ghz quad core 2GB DDR3 441ppi 1080p 100% gamut screen and $99 for a 32gb on Vz that's upgradable with expansion card. Dont let other people laugh at you.

I'm bored of Apple... I have an iPad that will get iOS 8 that I'll continue to use as a video screen and nothing else, but as a platform, it's mind numbingly boring.

Lol.. That is why I left 4 years ago..

IPhone 6 is shit , a flagship with 1 GB ram and dual core 1.4 GHz ?

Kinda makes you wonder why he iphone is considered a "flagship", yet a WP with higher/better 'specs' isn't.

The amout of cores and GHz sais nothing but on paper it is weak. 1gb of ram that is inaceptable a flagship, even the cheap prestigio duo 8500 has that amout of ram and +- the same ppi for the screen costing €149

Apple licenses Qualcomm ARM processor design for their A series processors. They customize the design somewhat, but it's not like they change the whole architecture. Therefore, the number of cores and GHz is most likely pretty comparable to a similar generation Qualcomm SOC.

Ow did not know that. in that case what a weak phone.

It is worrying how ugly the apple watch looks...

true i would never ever want to be seen with that watch on the street what an ugly cheap loocking device the only thing not cheap is the price.

I was actually very impressed with the new Iphone. While it will never lure me away from my beloved windows phone (Lumia Icon) I often found myself lusting after its thoughtful new features and overall build quality. I always hear people here talk about Nokia's build quality but with the exception of Apples propensity for shattered screens I can't help but think the overall build quality is higher. I had to go through 2 Icons to get one without a strange pink/yellow gradient across the screen and honestly I still notice an ever so slight one on my current Icon. I've also noticed the buttons with the exception of the camera button feel kinda mushy. Also the polycarbonate back creaks when depressed in certain locations. Long rant aside I just wish people would stop hating on other devices because apple does make some damn good products that help to hold the industry to higher standards and propel it forward.

I think you have a point about Apple hardware quality. But I also think the high-end Lumias are just as good if not better.

My wife got the iPhone 5 when it came out, She is the only Apple person in our house, she went through 2 battery issues as such replace twice, then went through 1 screen flicker issue and 1 dead connector issue. I thought she is just unlucky and we bought it off contract directly from Apple. Meanwhile the rest of the household are WP folks (myself, 3 kids and 2 grandpas), our son is the only one that is pissed off with what TMO did with his Lumia 810 which He is still using and going strong, non of us had a single issues with our windows phones. I never thought or said Apple product was bad quality as a whole because of our experience with my wife's phone because I know while I am not a big fan of Apple products, they make quality products as a whole. Same thing with Nokia brand and their name and that is what they are known for, good quality product. I do believe its just bad luch with your experience stated above and not a norm or general experience with Nokia Phones.

I have a family full of iPhone users. None of them have had problems except when my sister sat on the screen. I however am on my 4th 1520 and third 920. It will always vary, at the end of the day I will be just as happy with wp as I will with apple. They both make a good quality product, though neither can never be perfect.

The specs speak for themselves. I'll stick with Windows (Lumia) phones. It has all the apps I need and the hardware is better.

I find it amazing how Apple can continue to convince people that catching up is invention. If only Microsoft was as good at it. :/ Also wish Microsoft was able to say "and it'll be available for everyone next week"...

Wow I thought I would be tempted by a bigger iPhone but I'm surprisingly un-moved. Only the watch I was interested in. Nice execution there. I hope MS does better. Also MS needs a surface phone so they can update it fast and often like the Xbox One.

Define "Surface Phone". What would one of those have that the current WP devices not have- a kickstand?

Well just like how the Xbox One specs wont change much and thus making it easier to make updates and push them out to the console's, this also could be done with a surface phone. It would be easier/quicker to update.

I believe MS promised us that very thing- rapid updating. But as it's been shown time and time again, it's the CARRIERS that determine when we get them. Hardware-wise, the bones of all WPs are pretty much the same (minus things like the camera). Xbox consoles aren't controlled by any carrier, thus they have a direct line to MS, so for a "Surface Phone" to do what you (and frankly I), want, MS would have to be the cell carrier.

Don't forget Apple bypasses the carrier with their updates.

I didn't know that. I guess it's good to be king, lol.

I still like my 1520, but man... It sure would be nice to do some 240FPS recording for slow motion videos.

What is the best WP out right now ??

I hear Sept. 19 there will be a big announcement.

in therms of specs these ar the top htc one m8 (for windows) lumia 1520 and 930

HTC One M8. Icon/930 if you want a better camera. Seems to be the general consensus.

Underwhelmed. I'm mean Apple just invented retina HD - you know, normal HD, 1080p. But retina. The 1520 out specs the apples but their sales will dominate all. The ecosystem is there and with that watch - the top end market is their own. Reading the comments on other sites people are underwhelmed. But come launch day records are going to be broken. Good grief.

Apple uses jargon to sell and have the audacity to trademark the terms. I just threw the spec sheet into a whatsapp group full of apple fanatics. Have yet to receive a reply.

Benchmark for what? Mediocrity?

IPhone 6 plus looks promising

Apparently htc and 930 looks ahead to me. But thats apple,they will say innovative, one of a kind, future is them then people start to say...yeah true!

It is the same principle as calling someone dumb / smart constantly and they will start to believe it.

Specs matter for techies but for the vast majority of consumers they're meaningless.

Very true. It's why mediocrity (and ignorance) sells.

You better hope ppl use that same ignorance to buy the 830

LOL! 3 years ago specs
Apple is fooling People again Max

Whats new thn in iphone ?

A few hundred dollars it'll cost to buy one, I suppose!

The most innovative as what they say..nfc payment, rounded design, i heared they got widgets?

8MP and 720p... Are you kidding me

So only a while ago, Apple detested smartwatches, big screens, and any design that isn't their's? Hypocrisy alert!!!

I'm glad they released a 5.5" iPhablet. The optical image stabilization is nice but I'm not too sure about that bezel acreage though.

I'm trying my best to be objective here and I think I can safely say that even if I already used and iPhone, neither of these would make me want to upgrade; let alone switch from another platform. I do like that they are pushing NFC payments further ahead, but the tech just seems too dated. I understand that, much like WP, the OS doesn't need a lot to run, but 1G of RAM, dual-core, and 8MP just seems far too underpowered. I feel like they leave too much on the table in the name of making their phones thin.

Good looking Samsung lookalike. Start screen looks boring as usual.

There is no start screen; it's just an app list... :-)

Pretty sad specs. M8 and 930 pretty much kill it. And the 1520 is still bigger and the 1020 absolutely crushes in the camera arena. Hold your Windows Phone high people nothing to see here.

So, the iPhone getting NFC pretty much promised AT&T will start issuing secure SIM cards for mobile payment

The only thing IPhones have going for them is Carplay. Would love to have it on WP.

As a windows phone owner these comparisons are silly to me. The WP is no competition for the iPhone. None whatsoever. We have a phone that is just now becoming serious. And apple has produced a more serious phone for the last 4 years when it introduced the iPhone 4. Lets just enjoy our WP until it either dies on the vine or becomes 5% market share. Apple makes up 43% of the mobile market and they are the only manufacturer. No contest.

Than why you use windows, and not IOS? Market share doesn't mean that something is better

I am a windows phone guy....my point is that its a waste of time comparing and competing with Apple iPhone. Its a loss no matter what. Microsoft is even writing their apps for ios anyways so it is a moot point. Lets just enjoy what we got instead of trying to pull them down. Truth of the matter is that if we really had a better phone then we would own more market share.

That's really only true if apps are all you care about. Yeah, Windows Phone had a long way to go in that category; but there are several aspects of flagship Windows Phones that are superior if that's what you're looking for. Photo quality and battery life are two of my biggest concerns; and I think Nokia and Microsoft (now just Microsoft) have done a great job on both. The 930, 1020, and 1520 all take better photos, on the whole, than any other phone I've seen. Battery wise, my old 920 got a full day without fail (unless I played a lot of games), and the 1520 goes one day or more in all circumstances. Aesthetically, I prefer the WP UI and uniform app design, but I understand that is a more subjective area. Further, as far as apps are concerned, there are really only 2 that I wish Windows Phone had. I get that Apple makes a relatively compelling package with the iPhone, but I really don't think that its that easy to say that it's better.

"That's really only true if apps are all you care about. A smartphone without applications is..........not really a smartphone, no? It's the applications that make of the bulk of the capability of modern smartphones. Otherwise, they're all just glorified feature phones.

For the most part, I agree; but I'd only counter by saying that it isn't as though Windows Phone has no apps, it just has fewer. For myself, the app selection is fine, short of two, as I mentioned. Speaking of the OS itself there are other attributes I like, whether they make it more of a 'smartphone', per se, or not. I'd never argue that apps are irrelevant to any metric measuring smartphone 'worth'; but I do think that the amount weight you assign to them when evaluating the whole package is subject to personal needs and preferences.

What I would say is that WP lacks apps for so many of the devices that are out there. Every device and car it seems is designed from Day 1 to work in iOS and Android, hell, I've even seen apps for a device/service that was available for BB but not WP! I mean, WTF?!?! Even my car, a 2013 Pilot, is like this...sync the phone with WP and you get very basic functionality. Pair it with an iPhone and it practically gives you a blow job.

The comparisons are valid in terms of hardware. I wouldn't consider the first 3 generations of iPhone serious. The only reason iPhone is relevant today in the U.S. is because they came out of the gates early and realized Apps were key to sustainability. Fast forward today and iOS is sitting at #2 behind Android. I don't think WP will climb up the ladder in the U.S. anytime soon to be a threat unless Apps are made available by developers across the board for all mobile platforms. Outside the U.S. it has a much better chance to grow.

What will make WP successful is to stop rebooting the OS as if this is a desktop enterprise solution. And then putting us in a position to defend it. If Windows 9 comes out and you need new HW then that will be a huge problem. No matter how well it runs IOS8 will run on the 4S!!!! My gosh, that thing is 4 years old but apple understands consumers better. Go grab a WP from 3 years ago and install WP 8.1 on it. It wont happen, and the list of reasons will be everywhere but again no contest.

A great point. I see in the press that Microsoft is already positioning the merging of Windows Phone and RT, in Threshold, as another "re-do", but there's so many times you can do that before your userbase just gets burned out on that.

Its just their marketing words that makes iphone a serious phone. Other than that, its just a same specs as what others have.

Apple does not have to deliver something mindblowing because they are already on top. But Microsoft/WP has to if they want the system to survive. Even Amazon delivered interesting really new features with its Fire Phone. Where is a cool Microsoft phone with a unique amazing feature? Where is the Microsoft watch? The longer it lasts the less I believe in the future of windows phone and that makes me sad.

That's the problem though. Ever since I got my 928 and came to Windows Phone, its always been next year. People are getting sick of waiting until next year all the time. It always seems like a feature we want on windows phone is left out and then promised next year but it never actually happens.

Lol its been that way since I bought my HTC arrive on sprint like 4-5years ago. I love my 1520 though even after 3 replacements but that 6+ is calling my name hahaha

Well there I was watching the live stream and I dropped my 920 - all dented and scratched - took a light nail file and erased them all away - cant do that with an iPhone :-)

That green Lumia 830 looks better than this, just my opinion.

I think it is safe to say that none of the new iPhones will make me want it over my L1520.

I don't care what anyone says, the Apple Keynote today was a bore. I've seen many of them, just because I appreciate new tech and innovation....but I'm really sad that: 1) Apple didn't deliver ANYTHING new, (2) It still spends money on lawsuits and yet still takes ideas from others, and (3) Millions of unaware consumers STILL buy in to their perceived "high-quality" brand name. Apple is milking its customers for all that they're worth, and yet they still have $170B in the bank. It really makes me sad.... #RantOfADisgruntledWinPhan

At least someone's putting more space into their flagships... 128GB? Can anybody follow? Anybody at all? Like... nobody specific, but would be nice.

SD card, all wps support up to 128gb

You're going to pay $100 for a 32gb RAM upgrade? I'm dumbfounded.

$100 for 32gbs?! I think not. You can get 32gbs for$15 & 64gbs for$30 almost any day of the week, online, in the States. I'm talking name brand, class 10 cards. A $100 gets you 128gbs & I've seen them on sale for less.

I was reading when I saw "1 Gb Ram". No, thank you, Apple. I'm still on L930.

I love WP8.1 - the OS. I also really like the new HTC - but I am expecting so much more from Microsoft with the Lumia line. I had a 900 and now a 920. I like it but tell me how the new crop of Lumia phones is any more of an evolution then the IP5S to the IP6? I would argue the IP6 is more evolutionary. It is thinner, has NFC, a better battery, bigger screen, better camera, better processor, better video processing. Honestly - put the WP8.1.1 software on that and watch out! I like a thin, lightweight phone that takes great photos and great videos. How do you want to use your phone? I want to be able to take photos of high quality while I'm out and about, take slow motion video of my son's golf swing to help fix it, check in to my social media, use it for tracking exercise to help encourage me, keep me organized, etc. I have stuck with the Microsoft eco system because my primary concerns have always been business related - now I want the envelope pushed further. I want kick ass hardware that matches the kick ass software inside. I want the cool "nice to have" features. I want Microsoft to pull out all of the stops and announce something so great that they have the full marketing blitz behind it. When they are blown away and ultra proud of the hardware - then I think we should take notice.

The 1520 is much more of an evolution from the 920 than the iP6 is from the iP5S... Bigger and better display, thinner, micro sd, much better camera, twice the RAM...

It's an evolution in terms of hardware, but it's the software front that's lacking. And by software, we mean applications. A 'smart' plaftorm without a wide breadth of applications, isn't so 'smart'.

NAZI APPLE, have done it again,they went bigger but nothing NEW, MY WIFE IS NOT GONNA LIKE THIS HAHAHA she be like its too big!!! That's what she said!

Well Apple beat us to a watch, now the bar is set and Cortana watch needs to beat it in ALL aspects... Back to the drawing board?

I've said it for years and as a proud WP user defend it... Specs are soooo overrated. Not because of my dislike for Apple products that seizes to be true. Both Apple products and Windows Phone have shown that you can have a great experience without top end specs.

Specs are more than processors and display resolutions...

Here is what I think the price for the Iphone will be: Iphone 6 starting price- $700 Iphone 6 plus starting price- $900 I bet 10000000000000000000000000 dollars that it will be close to those prices even with those 2012 specs..

I think Apple have geniuses in their marketing department. They announced garbage and wrapped it up in a pretty package that millions and millions will buy.

I was hoping for a 5 inch screen. 5.5 is way to big and 4.7 is okay but leaves a little to be desired.

Specs don't matter, as long as it runs the stuff you wanna run, and does it smoothly. Much like WP is known to do. Apple, to me, is admirable in this regard. They don't chase specs, nor tout them (except maybe 64 bit). They don't really TRY to outspec the competition, they are all about the end-user experience. They don't care their processor probably has the lowest clock speed (because everything runs smooth anyhow), their screens have the lowest resolution (you TRULY don't need more than they give you), etc... just as long as it runs well and keeps the user happy. Which they do well.

Specs:
No wireless charging.
Inferior camera.
No micro sd expansion.
Only just now included NFC.
No Clearblack.
All of these are specs too; it's not just the processor and screen resolution...

Exactly what I was saying. They are NOT spec and feature chasing. They just do their own thing and don't care if the competition outspecs them. Just as long as the overall experience is still great. Look, I'm no apple fanboy, my favour changes like the wind to whoever is doing some REAL innovative stuff. I used to be anti-microsoft and now I'm on WPcentral. BTW, their polarization is probably just as good as clearblack, and they provide storage options (however expensive) that really negate the need for SD. And while I'd most likely agree that no camera can match the 1020, it's still pretty darn good, and definitely more than good enough for the general public.

I'm impressed with the new iPhones. I have to say that if Windows Phone ever disappeared, I'd go back to using an iPhone. I've tried Android, but eh. I definitely like Windows Phone the best, then iPhone (never tried BlackBerry and Symbian was great but it's now old tech).

Crazy... Same or worse specs as my 9 months old 1520, but at twice the price; I wish some i-fan could explain just what the fascination is...?!?

It's the wide breadth of applications, to even small localized niche apps, to applications that sync and connect to a universe of hardware from third party vendors, from DJ turntables, amps, medical equipment for home use, sports performance monitoring (see: the smart basketball and soccer ball that Apple sells in stores, that connects to your phone, counts your dribbles, etc.) *It's the niche apps*, for up and coming services or a cool new idea, that builds a loyal smartphone user base. You don't get brownie points for having Facebook, Twitter, Spotify and Instagram. The latter are base level *requirements* for most consumers at this point.

I'm really thinking of going back to iPhone. That 5.5" is sexy! Of course I'll keep my 1520 !

It's kind of weird they didn't include OIS in the regular iPhone 6. It's also weird they are still only rolling with 16GB on the base model. Seeing them get down to f2.2 is nice. I miss my f2.0 Lumia 920. If anything, it shows Microsoft that they can make a thin phone and just let the camera protrude. Hopefully this also lights a fire under Microsoft to finish their half hearted mobile payment system. It was almost two years ago when they launched WP 8 with "ISIS coming soon"

MSFT should just give it up now, There's no way they can catch Apple or make a serious dent in the market. Market share has dropped double digits for WP demonstrating that NOBODY wants them. My 635 went and hid under the covers during the keynote as she knows her days are numbered.


Market share has actually INCREASED from 3.3 to 3.6%. Bite your tongue.

Non-smart person thats for the United States only and just for 1 month. How about u do some research b4 u run ur mouth spouting crap. Year over year worldwide WP had double digit plunge in marketshare. I believe WP is 1.6% of the market down from 2.8% a year ago.

A 635 would run and hide from any flagship - it's a budget phone and doesn't pretend to be otherwise. That said, I don't think a 930, M8, or 1520 would be that scared, to keep the analogy going, of the iPhone 6.

Lol, WP last flagship was released in 2012. MSFT is now releaseing "budget flagships" theyre so out of touch .

... That's patently false. Re: Icon/930, 1520, One M8. The last two phones they announced are budget. All that said, I would take the point that they are beginning to focus less on flagships (the death of McLaren, etc.).

Wow, if this had been a WP release, the tech press would have had a field day about outdated specs. Hope there is some irage about just releasing a bigger phone .

$500 subsidized price for the plus with 128gb. $500 SUBSIDIZED!! Wow...

Yep, $500 w/contract for a phone with 1GB of RAM. That is quite spendy (to put it nicely).

What was messed-up is that you couldn't watch the live stream if you weren't rockin' a Mac or iPad. Thankfully MaximumPC had it on their site. Fortunately I didn't have to listen to the drivel of the Apple Cult leader and was listening to the MPC editorial staff comment on what was being presented. Gordon Ung was really leveling huge fanboi sarcasm at Apple and it was wonderful. That all being said. and as someone who missed almsot everything about the phone itself (I basically got to watch everything about the watch, which is fairly lame), I am still wondering what the hell's any excitement about? ip6 is just a larger version of ip5. That being said, I'll probably still make the switch from WP if the glass and camera are any good. I'm just tired of not getting apps and devices for WP and MS' inability to keep basic apps working.

I watched it on TWIT. Live Stream with comments from LEO and company.... BTW good job TWIT...

The 6 Plus is definitely better than the 6, but the Lumia 1520 is the way to go!!!!

I am sure my 1520 can beat the crap out of not only iPhone 6 but iphone7 as well :D
Apple should learn from Nokia how a smartphone should be made.
Come denim update and Google's ass will be on fire.
About the iwatch, all I can say is it sucks. Microsoft's rumored wearable will be a killer.

no mention of battery life, gee i wonder what that means lol. looking at you too apple watch haha.

This is the first iphone that I've thought the design of was a bit boring. It just looks like any other smart phone. But Apple do seem to be good at making their phones lighter than everyone else.

Unfortunately, it wont be. The press is going to fawn about how much better the (same) phone is, especially with the 6+. And the sheep will line up to buy the repackaged old tech and call it a godsend above all else.

Here's what I think: LOL!

The only thing I liked in this event was the slow-motion that's it!
I mean s800 is capable of doing that right so why not do that? I want them with GDR2 update so please Nokia do it
1080@60fps
720@120fps
720@240fps...!

Exactly and don't forget the AE-Lock !! Would like to see these features on my 1520 soon.

So what's the difference between the Proximity sensor and the Barometer?

i think iPhone is nice.. im sure its gonna be blazing fast.. dont even look at the specs.. A7 was very powerful but iPhone has the best GPU! games gonna look awesome.. its gonna take awesome pictuers too plus they get the best APPS! but i still think its WAY OVER PRICED! this is how they make billions of dollars in profit!

Subsidized 2-year-contract iPhone 6 Plus with 128GB storage and only 1GB RAM costs $500 compared to $100 (+ a little more for 128GB SD card) for an on-contract Nokia Lumia 1520. And iPhone 6 Plus has only an 8MP shooter. RIDICULOUS.

Is it me or the 1520 still the best ?

No one I know likes a big iPhone. Of course now that it's released those Apple fans will conveniently change their minds. My take is that you need to get the Plus version for any technological advances equivalent to the top Android or Windows Phone devices. Lastly, with Apple (and any new model device) I wait until the second iteration (in Apple's case the "s" version next year). Forget about that iWatch.

Since I am an iOS developer, I am thinking on getting one. Love my 1020 though :D might use it as just an amazing point and shoot .

Looking even gloomier for an update from Sprint for the Neo. Still on 8 GDR2.

IPhone 6 plus vs Lumia 1520 please

Cant live with out wireless charging or live tiles, till then Apple can kiss my 920s backside.. Lol... Im guessing in a couple years wireless charging will reach apple world and the world of sheep will stand still and bow down to the creator of all things technological and great.. Haha

I hate spec fights. Who cares?

you forgot to mention the front camera all we need to be the best is waterproof and wireless charging

Lumia and WP did nfc and ois before it was cool.

Microsoft did a lot of things before it was cool.

I wish Lumia Denim brought slo mo 120 fps shooting to the Icon, 930 and 1520!

Like most over here, as a tech enthusiast Im disappointed that apple brought nothing new, in fact the iPhone 6 its no better than a mid-range specked android device. I mean no full HD? No expandable storage? Less than 2,000mAh battery? And the best stunt that they mention their chip as a 64bit chip, but they only have 1GB of RAM.
Only a fan boy will pay $700 for this overpriced phone. The iPhone 6 Should be priced at $399.

I think they're too big. If Apple also announced a version of the 6 that was essentially the same as the 5S, but with the styling of the 6 and the newer, more advanced technology and features, then I'd be satisfied. But even if that happened, Windows Phone is still better than iOS.

One of the best keynotes I've seen.

I think the iPhone 6 looks awesome,but that said,I'm not so sure about the camera protruding on the back,too much like the iPod touch 5g & that is taking a step back in design for me. I'll have to wait until I can get one in my hand before I decide on that.

Как всегда просто кусок!! Г...а!!! WP рулит!!

They copied the design of my 925

Don't forget the 4K video on the 1520 and 930. It's as much vaporware as all of the Apple specs at this point.

Some good features, but lets be honest a bit late to the party. The rest is pulled from the previous iphone. Only one or two good new features not copied from android or WP in my opinion and those are OS based.

But they will be lined up on release day and Apple will take in a boatload of cash. The needle will jerk up for another fall and Christmas jump in share, and then we wait for the next revelation from Cupertino. Meanwhile, let's see what happens when this flood of new WP handsets arrive from all quarters.

To have a fair comparison, wait till the next WP flagship. The iphone is only once a year .

They were losing the size war. They saw it last time and thought a band aid would help. As for the spec list something Apple has always done is offer choice in storage. Why do I have to choose a high spec phone with limited storage or lower features and expandability. Apple has always offered 1-2 phones in 16, 32, 64 and now 128gb. Why can't I choose a 930 with either 32 or 64gb? Why would I have to move to the phablet or lower specs to get additional storage?

The number one feature the iPhone 6 has vs any of the Lumias: available within 10 days of the big announcement event.

MS/nokia seems to have a problem with that feature, reveal today and show up months later on one carrier.

Fuck em.. 1520 hulk for the win!

ill take wireless charging anyday.

I have had a Focus, 900, 920, 928 and currently the 1520.. I love my 1520 .. But seriously .. I would take the iPhones sub par specs for just a banking app and maybe clash of clans on this platform .. Its getting hard to keep fighting for this platform when nobody wants to write apps for it and also the other half that do don't even state it on their commercials. Not to mention it seems like MS has more focus on other platforms then their own .. I'm not jumping ship but I want a watch and apple now has set the bar high so what the hell Microsoft step up your damn game.

I prefer features over apps and WP 8.1 went backwards on some like the integrated fb chat and photo hub.

Is the facebook beta app broken in the last update also dunno if anyone noticed in their time lines it saying someone commented yet it doesn't show anything about .. Also why doesn't it show when people add pictures to posts nor can we add pictures to thread posts yet?

It's been broken since the birth of WP.

Now that the specs are out and this phone's official, the competitors can begin one uping iPhone 6's spec in other categories.

It is all about HOW you present it, not WHAT the specific specs are.

Na! It's the press that does that for Apple.

I'm getting an iPhone 6 Plus when it's released. Why? Because I'm in Canada and I can't get a 1520-5 in a store. There's been no mention of its successor or its availibity in Canada. No sense in wasting any more time on maybe. The 6 Plus looks good to me.

My Icon still beats it. Everything and wireless charging.

I just... I just don't know why Apple is sill a thing.

I am thinking of leaving also I was disappointed in the last 2 phones announced once I had the 41 megapixel camera, I didn't mind the apps I found the ones I needed but I did enjoy not having to lug my DSLR around if I didn't need it for a special occasion the phone did the job wonderfully. I have a contract that is up right now and even if they say more megapixels might be coming it is the MIGHT that makes me want to try something new. I was with Apple for 7 out of their 8 phones and never had issues with them except for size and now they have the size but I am also considering the Note 4 again due to size

IPhones dead cba with them

My 1520's screen just got broken though it is still functional (I'm actually typing my comment using it). However, I was already entertaining the idea of switching to iphone6 plus. Then again, when I saw the design... Damn... Im gonna stick with my 1520 until a new super high end lumia phone comes out next year.

Later this year I heard the other day... ;)

So when Lumia has camera bulge, it's lame and amateurish. When iPhone has the same thing, nobody mentions anything. I see how it is.

Because iPhone users are lame and amateurish... So when they say those things to me, I take it as a compliment lol :P

I like the thin iPhone 6. I wish Microsoft or whoever makes wps would make a beautifully made thin phone like apple.

HTC one. No camera bump means more thickness

So what you are asking for is no wireless charging and a shit camera?

7.2mm windows phone ring a bell? Not flagship phone but they are there.

Really good phones which iPhone users will enjoy immensely. It has to make owners of Windows Phone flagship devices smile and chuckle though. And if even higher resolution gets supported this fall its going to be even better devices.

congratulation to apple - and shame to MS. 64 and 128GB - wow Wake up Microsoft :( I´ve got the 930, amazing phone but he whole time i have to sort out my pictures and vids, and I have to take care not to collect too much music on the phone :( But, no reason to switch to Fruits and iOS :)

You have got to be fking kidding me?
128gb is useless to 90% of phone users... Gimmick.

Yeah, but its the other ten percent that need it. Ferraris are useless to 99% of the population, doesn't mean they shouldn't be built.

May be useless but people demanded it. Better have an option for multiple storage versions, rather than having only one option.

Go buy a 1520 and a micro SD...

Yeah really shame MS huh??
Lets see when your going to pay 500$ ON CONTRACT for that 128 GB your really liking.

Start rant...
IPhones are still shit.
End rant...

Yawn. Wake me up when the 1030 gets here...

I'm excited for the new iPhone tbh. New stuff is fun. PS... I love any Windows phone more :)

I am so frigging glad apple has finally gotten on the NFC bandwagon this should mean that we'll get a plethora of NFC enabled accessories finally.

IPhones has all the apps you'll ever need and so a larger screen is all they really needed. WP can't even get a glide app

Say what you want about Apple but a least know the price, release date, and which carriers it's going to be on. Right now I have no idea when the 830 is going to come out or if it's going to be on T-Mobile. Sure if it isn't I can buy it unlocked but $433 is WAY too much for that phone considering I can get a 930 on Expansys for $550 right now.

I liked the watches (to the point that I wished MS would release one or partner with someone to do it for them), but nothing about the phones made me think once about getting one.

I think its safe to say the iPhone 6 unveiling was pretty bad. Its safe to say the top tier of the Windows Phone heap is better. I have the Icon and the base specs alone are superior.

The specs are, sure, but to repeat myself, it's the platform and the numerous applications, and those that sync with third party hardware, that people love. It's the small, localized, niche apps that builds a fan base, not the fact that you *just* got a recent version of Instagram, that's still technically a beta app.

Tbh, the specs aren't actually that great are they? But what I do like, as mentioned by others above, is that Apple has announced, Apple says available from and it is whereas WP announces, we wait and wait, US gets it first depending on network and we, everywhere else still waits.....

Exactly, better marketing and branding.

Guys we can debate this all day but come on. Apple is getting cars hard coding their computers to it. Now that's market share. Ford is dropping Microsoft for sync which will hurt its prospects in vehicles....not saying I will go Iphone but comparing them is a waste of time.

My new L930 it's perfect :))))) I'm really surprised with this phone, and the gorgeous display. Go to hell AppleSame :P

The fanboyism in these comments is appalling. Anyone who thinks that the 6xx class of Windows Phones can touch the iPhone 5S (let alone the 6 or 6 Plus) needs to see himself out, because that's utterly ignorant. Oh, and the 730/735 and the 830 run the same SoC as the 630, so those would get blown out of the water by the iPhone 6 as well. I don't own a single Apple product. I've never had one, and I almsot certainly never will. However, I have enough of a brain to acknowledge that Microsoft put a total turd of a SoC in the Lumia 830, while Apple's boasting a modern smartphone SoC to put up against the 630/730/830 SoC that runs like something from 2012.

I hate to say it but I think I'm going iPhone, not that anyone cares or want to hear it. I have been MS 100% since the Zune but I'm tired of waiting. There has been no new WP devices in Canada since the 1020 (have 920 now). I know I'd miss WP, I love being able to drill down into apps and pin things. And Cortana is awesome, but I want something lighter and has more of the apps I actually need. Don't care about social apps or games, I need a phone that helps me with my job. Cisco VPN support is a big one for me. It's really frustrating because WP is really very good, but so far there isn't the right device for me, I'd get a 930 if I could, but it doesn't look like it or the HTC M8 will make it to Canada.

I'm seriously tired of waiting after Microsoft, for FLAGSHIP Windows Phone, I'm buying the iPhone 6 Plus this fall. I'll still keep my Lumia 630 though.

My 1520 smokes that thing. Nice. :)

Camera seems the same to me if you remove their marketing bullshit. Same spec for double the price of a Windows Phone. Plus you need to have everything from Apple which means you cannot even use the feature that comes with your smart TV such as Bluetooth to listen music or miracast to share video or your smartphone screen. You also need all your friends on Apple device if you want to share pictures using Bluetooth without jailbreaking your iPhone. So yes iPhone is definitely not for me Posted via Windows Phone Central App

Apple is just joking.. 128GB iP6+ for only 999€ in Europe.. that's just $1299.... 16GB version of iP6+ is/will be totally useless.. every apps with higher resolution is bigger... maybe iP6 is usable with that memory... 32GB should be minimum....

Suddenly Lumia 830 seems so flagshippy. :-)

They have a 32GB version of the 1520. I'm using one right now. I bought it from ATT. They just have to order it. They don't keep it in stock in stores. Plus, you can add 128GB with an SD card.

Disappointed, would keep my WP any day

Well, the looks though are amazing guys! Whish we had such a sexy Lumia. A new 925 would do the trick.

But the OS is still...meh I want news and social in my face with out having to click an icon or pull down a notification window. I see no inovation here and it's not worth (IMOP) the no contract price of almost $500 over the 1520.3 to buy the 124GB version. I'd rather buy an Ipad mini.

As I type this on my Surface Pro, staring down, sadly, at my Lumia 900 forever frozen in its moribund 7.8 OS, I can only wonder what might have been had I switched platforms. The new iPhones are quite nice -- and I definitely want that watch. About time Apple used a larger screen. But please MS for the love of Gd, tell me why, after +6 months in the US market I still I cant buy a f*cking unlocked Lumia Icon for AT&T/GSM, (only a greymarket Euro 930 instead)? -- Why has Nokia/MS introduced no other new flagship phones in what seems an eternity at this point? The new iPhone6/Watch release only makes the sting that much worse. We WP hold-outs are cut out of most new phone apps (Not even Grindr....LOL) and hardware (Square for WP? Noooooo...) and now, worse, all we seem to be treated to are lower and mid-grade WP releases. Cheapo Lumia 530s etc may drive more WP sales, but they're nothing to crow about when compared to the iPhone. Can MS even conceive of releasing a Lumia Smartwatch? Perhaps in three more years we can expect one to be released... Sad, sad day. :(

This, pretty much, except for the Grindr thing.....

Wow for $66 more you get SD800, 20MP Pureview camera, 16GB more internal storage, better quality screen and a proper FF 720p camera to boot. 830 needs a price drop big time!

Lumia 1520 uses 802.11ac as well. http://www.nokia.com/global/products/phone/lumia1520/specifications/

Spec sheet has a mistake, Lumia 1520 has 802.11 AC, not just limited to N. Nice read, thanks.

one thing i like is that they have different models with different hard drive sizes available to consumer since they don't have micro sd

Well I don't believe compare specs are good idea when we are talking about iPhone and Windows phone, because we already know how wonderful is a iPhone and Windows phone in all models. I guess compare usability is better for these phones, so we have to wait this phone launch and compare them usability like battery duration, speeds to run the same app and etc

Lumia 1520 is still #TheBoss eventhough it was released nearly a year ago

The only phone I am waiting to see is the m9. Posted via Windows Phone Central App

So... basically a Nokia Lumia 925 is a hipsters iphone6, right? :D

Lol with all the sapphire exaggeration..

Millions of Apple fans will now be standing in line for days waiting to spend huge amounts of money so they can all have the exact same device as 200 million Chinese peasants. Dontcha just love it?

Watched most of the Apple thing today....Yea, iPhones are just copying everythign everyone else is doing but, putting their own spin on it, of course they re-invented the wheel but, as most android and WP users know, that is BS... iPhone 6/6+ looks slim and slick, a lot thinner than anything Nokia makes...(prove me wrong). iOS is iOS the same old icons, just a sea of icons...it never impressed me when it was released and still to this day, does not. About the only innovative thing was the watch, some of the features on that DID(note:very hard to do) impress me (and if you know me, you know I HATE apple), Something of the sort I have been dreaming of for Windows Phone (a seemless watch, like it's part of WP, not just a 3rd party interface made to be compatable) but, we still dont have a smartwatch that fully works with WP yet....and if there is one its very buggy....and not seamless. I really hope MS does something in the Smartwatch thing...

They all die when submerged in water, just like us.

i do not watch anything new or any innovation, if now with the iphone 7 they add FM radio how the press would treat that? as the latest innovation that have an FM radio tuner?

To all those people saying there's no upgrade to the 920 yet worth upgrading too, as I've been already saying, yes there is, the 930! The 930 has better display, more RAM and better camera than the 920 and even the iPhone6+!Everyone who thinks MS haven't released anything decent hasn't tried the awesome 930.

So Iphone 6+ $300 Applewatch $350, what else? I mean $700+ (after taxes) for what? for what? Thanks I wait till Christmas for the ATT M8 or something else wp8 with a better camera and more powerful specs than a bigger IPhone with moderate upgrades, NFC, and Camera stabilization. Not a Fan of the New Stuff

Although I am using WP, I have to admit that only Apple have the power to change the industry by creating new flow to do what others are doing. NFC is old but only Apple can make it to mainstream as 'default' for all phone. Many Android phone still lack of NFC.

240fps at 720p is nice. Not enough to justify buying one but I'd slap someone if the successor to the 1020 had 41mp and high speed video. :D

Specs wise, I'm not impressed. Of course, I never really have been with the iphone upgrades. This is only bringing bigger screens to the table, everything else is either on par with or still lagging behind WP8 and Android but I can almost guarantee that this will be the "best selling iphone of all time." Sad but true.

For stats and price, definitely the L930 for me. I thought Apple was going to come out with something a little more but I guess not. I guess the larger screen and change of screen is their big thing (NFC isn't a big deal to me but I'm sure it is for some people and/or businesses). I know the Apple app store has more than the windows phone still does, but the windows app store actually has all of the apps that I personally use with the exception of WatchESPN. Finally got a Sunday Ticket app. As of right now I am still loving my L920 with Cyan/Win8.1wU1 and I am holding out for the next big windows phone made by Microsoft that will be on AT&T. I'm assuming I'll have to wait until next year as I have only heard of the L930 and L830 this year.

Lumia 720 or 625, it's an iPhone ;)

I give the credit to apple. The know how to put the ios and hardware play together. Don't get me wrong I'm Microsoft 100% but this darn "resuming" in the middle of the screen is making me look the other way. Any way everything looks more complicated you have like 100 "cool features" and you only use 3 the others are to complicated to handle on the phone.

No matter how the specific comparison IOS and WP is.Think about all applications for WP are still falling behind deal to the version update.MS is developing WP 8.1.2 and WP 9.But applications are slowly update.Do you agree the most of IOS and Android applications are always up to date and left WP apps behind.How long does it takes for WP to reach them?

My body is ready for the iPhone 6! Goodbye Lumia 1020

If i were to summarize, I would say Apple 6 and 6s has better processors (A8 - 64bit). Even though this is an apple (the fruit) to orange comparison, but still Snapdragon 800 with its 32bit architecture is on the slower side. Also it has much more apps and unfortunatley, there can be no arguments here. Not to mention that Apple service is head and shoulders above any other player, even if their paid service is far more expensive. Lumia advantage is the price, camera and battery life. Apple may claim of its bigger pixels etc. (HTC too has it by the way), but for a non-geek like me, the difference in picture quality of iPhone 5 vs. Lumia flagships is recognizable. In terms of price or battery life, there can be no argument whatsoever. Finally it comes to the little things which cannoe be neglected. Those are options for memory cards, customization, file downloads and transfers etc. I think this is where windows does a better job than iOS which way too restrictive for me. P.S. Anyone has any clue about the new apple screen - the ion strengthened glass?

Looking forward for 1020 successor

I going with the iPhone 6 too. Like the convenience of unlocked phone and the iPhone has all the radio frequencies for the U.S. and international inside the phone. Plus, you have the apps and the Apple retail store and tons of accessories to choice from. I missed my iPhone 5S when I sold it and went with the 521. I like the experience; but now it back to the high end phones again. I going with the 4.7" iPhone 6 since it is the right size for me to carry around in my pocket and my hand is smaller then average size. I going have to buy it at the end of November for the "unlocked model". I had that model and sold it for a little more then I purchase it! Very nice indeed!

wow. outdated before it's even out..

Why is the 830 on there? It isn't close to being a flagship!

Surprisingly weak specs on iPhone6/6+. Love their cam speed and display is always top notch, but total quality of camera capture is lacking... and yes, 20mp on my Icon (929) makes a difference. Was expecting bigger news from Apple. Can't compare to my Icon for camera, and mics on Icon blew iPhone away for audio recording, and apparently will continue to blow them away.
One complaint, I *joked* a couple of months ago saying, "Just watch, there'll be a new iPhone before I get (non preview) 8.1/Cyan. It was a joke...yet here I am. Meh.
BTW, anybody else amazed at how little Apple tried to smooth the UI? Are they really that unaware of how that is where they fall behind the most? Overall, I'm underwhelmed... and was actually expecting to be impressed. They have bigger phones and somehow managed to not fit much more in them.

Can't Windows phones with NFC pay with NFC?

In official site of Windows phone. They mentioned that it is available for $199 that is ₹12000 is it correct?

Each has its own Pros and Cons. Everybody looks better on their own way. Over all I see Lumia 1520 & 930 takes down everything hands down.

if i just look at the specs lumia 1520 is the best :D

M8 kills all of them.I am a Nokia fan but currently M8 is my favourite.

Wow really impressed! Apple really overcame themselves! They made this year's iPhone with minor improvements and new stuff, with just a higher price to squeeze off those Idiots! Well done Apple!(?)

The iPhone health app look similar to the Bing health.

YOU KNOW WHAT? I DONT FUCKING CARE ABOUT CORTANA OR SIRI.I DONT OFTEN USE VOICE. THE ONLY THING I CARE ABOUT IS APP. I NEED APPS,MORE APPS,FRESH APPS,NICE APPS. IPHONE 6 IS UGLY AS A SHIT, BUT PEOPLE DONT FUCKING CARE, COZ IT HAS ALL THE APPS THAT PEOPLE NEED. EVEN I WRITE A BLOG NEED THE FUCKING APP. WP DONT HAS THAT APP, BUT IOS HAS. EVEN WP IS FASTER, BUT IT HAS NO APP TO RUN. LOL. I GONNA SWITCH MY LUMIA 920 TO IPHONE 6 ANYWAY, NO MATTE THE 6 LOOKS LIKE A SHIT.

Fantastic Apple,always one step ahead,!

Apple flagship-phone with 1 GB ram, no thanx.
I'll stick with my Lumia.
WP Store has all the apps I need, so another reason not to change.
In Belgium we buy phones without contrat so a Iphone for €700-€800 or a Lumia 830 for €399 or a Lumia 930 for €460, another easy choice.
Me first phone was a Nokia 5110, almost 20 years ago, they (Nokia Phones) never let me down during the past 20 years, very good build quality, great support,...
So I stick with Lumia :)


iPhone always looks the same in its line of generation, boring attire.

Apple didn't need to blow anyone's mind... they just needed to give them peace of mind. The Iphone 6 and 6+ are both fantastic looking and honestly blows away anything Nokia is putting out. I mean... thank God for HTC. I owned the HTC M7 One for over a year and being a windows phone guy... this was the best phone I've ever had... period, point blank. Better than the HTC Titan, Lumia 900, and Lumia 920. Recently I gave it up for the 1520 and Oh My Georgeous Screen is it awesome. Microsoft does Bluetooth Voice Response like no other. The Reminders are fantastic. It's just a really good device... but it's so damn big. So I'm probably going to go with the HTC One for Windows on AT&T when it finally gets ported over... But I'll be honest and say that I'll be taking a nice long look at the Iphone 6. I've never hated Apple products... I did hate it's reliance on Itunes... but my only gripe with apple has always been the size of the screen. The 4.7" is a great size. Again... thank god for HTC but with a slew of friends getting Iphones... I'll have my hands on and then make my decision.

I don't think of iPhone 6 nor iPhone 6 Plus at all ;)

Soooo... is the camera on those new iPhones Ari Partinen's creation/idea? :D

Dear iPhone 6 users, welcome to 2012! :)
http://m.9gag.com/gag/a2Pd4bw?ref=fb.s

There watch looks amazing. Best looking smart watch out there

Same old. And my Bluetooth with Cortana kicks a gimmicky watch to the curb. One press and it will read/send texts, make and receive calls, open apps, play music etc etc. So, £216 for sad watch or £16 for a Bluetooth headset? But forgot, iSheep like to overpay lol

Let's not forget Apple doesn't wait on carriers when they release updates.

All phone developers need to start doing this. I love that Apple lets everyone upgrade the OS once it is readt....Still waiting for my Cyan update for my T-Mobile 925. Not holding my breath since I didn't get the Black update until February.

You know you could pay whit lumia 920...but it doesnt work anywhere...Not sure if it will start supporting the new Nfc payment devices here in Finland

The normal iphone 6 is very nice, even better than 930 (would run wp8 great). Im not sold from squared apple watch, ill wait for windows watch instead..

Apple has nothing without Steve jobs.

From what I can see SPEC wise, Apple's new iPhone 6 Plus doesn't have anything about it that would take me away from my Lumia Icon. The Icon is the twin to the 930 so specs for the Icon are identical to the 930. In fact, the Icon (and 930) has a higher ppi (441 to 401), more RAM (2GB vs 1GB), higher megapixel camera (20MP vs 8MP) with better f-stop (f/2.4 vs. f/2.2), wireless charging capabilities, a larger battery and costs $200 less on contract. Try borrowing a friend's charger because you left your proprietary lightning port charging cord at home, oops! iPhone can't use mini-USB charger. This is true for a lot of accessories to the iPhone; they are expensive and too proprietary. Outside of the physical factors, iOS8 operating system is still way too proprietary! Try hooking your iPhone 6 Plus up to a computer and manipulating your pictures, music, or videos, you can't without iTunes, and we all know how ridiculous that process is. Want to listen to your local FM radio station to pick up the local football game? Better hope your buddy has a Lumia Icon handy, because the iPhone 6 Plus doesn't have an FM antenna. Now let's get to that new NFC payment thing. There is a potentially real problem I see with Apple's NFC payment, at least here in the United States. AT&T, T-Mobile and Verizon have all been working together on their own payment plan software (formerly called ISIS, but changed due to the terrorist thing). I think Apple might run into a bit of a conflict with the carriers in the US over their version of the software in that the U.S. Carriers may team up and not allow Apple to use their software on their network. They may force everyone on their network, regardless of what type phone you have to use their software instead. If that is the case, then what good does Apple's proprietary software do for anyone in the U.S.? You won't be able to use it here.

iPhone 6 Plus for Windows, it wasn't announced.;)

From a design point of view its nothing to be so excited about. Feels like ïts been done before". There nothing much to wow about. What I do like about it is the landscape home screen and the ability to use landscape mode and have apps adjust accordingly and use all that screen space wisely. Kudos for all those apps. Yes apple has a large app store with a lot of apps but that not a biggie. NFC after so many years. I'm sure the guys and gals at apple figured out they had to add NFC or else customers would find no reason to buy an apple product.

The amusing thing is that you could probably buy a 32GB 1520 off-contract with a 128GB SD card for the same price as an iPwn 6 Plus 128GB...you'd own the phone, not have additional monthly subsidy charges and not be limited to your phone's internal memory... Cue Mr. T: I pity the fool that buys the 16GB iPwn...

IPhone 6 plus looks really good. I like that it has landscape support.

I really really really want the iwatch so I think that I will switch my Lumia 920 for an iPhone. I got a mac and an iPad so all of the synchronize thing really matters to me. Also, I wanted a Windows phone because of the nice system and the camera. Now the iPhone has more features than what my 920 can get and the system is just boring.

It's not about spec... OS, ecosystem, exclusive apps, 4 years support , the best mobile UI/UX, clear & sharp images.. Blablabla...

Bottom line: Compare iPhone 6 to Lumia 1520, Lumia wins by ALOT. No fanboys here, look and compare the specs yourself.

yay! on more row of icons!!!!

I love my windows phone, but Nokia sucks as far as device availability. Nokia and others need to learn something from Apple. Announce the new device, then within days make it available on all US carriers. That means NO exclusives, and no waiting months for the device to finally be released. I see you put availability, but you are missing so data. iPhone 6 & 6+ carriers: ALL US CARRIERS :) Lumia 830 Carriers: Only AT&T announced so far :( HTC M8 Carriers Verizon ONLY now & maybe AT&T in the future :( Lumia 930 Carriers: Verizon EXCLUSIVE :( Lumia 1520 Carriers: AT&T EXCLUSIVE :(

Its going to sell like crazy.....

Real proud I can held my beautiful yellow Lumia 1520 against any iPhone 6 user and say "Beat you!"

last year or a few year ago ( idon't remember when is ) apple say that "who's use NFC?" and suggest to their user that use apple Airdrop(i don't remember too :D) !! and yesteday apple used NFC ! it's a great poltics that when you haven't some thing so destroyed anyone that have it !

Still waiting on the surface Phone to knock iPhone out of the water

10 years+ and you will have a better notification center with a better weather apps, photo editing apps, lockscreen apps... if you know what I mean..

Definitly looking forward to a 830!! Then my entire family will have winpho!

Yeah, watching the Apple keyote last night with an Apple fan friend was weird. You see, I switched from iOS in Dec of 2013 for a Lumia 1520. And the iPhone 6 plus was clearly the future (odd name IMO). Yet, in my hand was essentially what they were all clamoring for. A bigger phone! With NFC! Longer battery life! Better camera! My friend kept asking me if the 1520 was this, or that, and had this or that. Answers were yes 99% of the time since he didn't trust the payment thing. Too funny! At the end he admitted that Apple was seriously behind Nokia and Samsung in some very key areas. He'll still buy one though. He wants the bigger one, but can't admit it (to himself) just yet. Hilarious!

actually the iPhone 6 is better than others interm of the Screen Technology. IPS LED saves more battery life than IPS LCD.

oh wp simply suck if u guys simply compare phone by spec. that what happened to me when i compare spec ... i ended with my stupid lumia 920. seriously guys...the hardware mean nothing actually if the very basic requirement that needed for a phone cant be delivered. what is the use of super RAM or 20mp camera??? if the apps it self suck when was the last time u guys scrool and look at the pictures that u guys took??? most of the apps inside WP suck and it doesnt perform well as much as android or ios... i mean the very basic apps. like whatapps, and even facebook u can brag about how ur 1520 or any or ur phone spec. but reallity is that how strong ur phone might perform if i cant even open facebook app (i been experiencing no data since last week) so what is the purpose having good spec but yet the phone failed to deliver the basic quality of an apps.

If you look closer before iPhone 6 is out, NFC pubic parking has been out for ages in San Francisco, CA. Have you try it with Lumia? One thing is iPhone is still outdated with Bluetooth file transfer and Miracast(Wi-Fi)

On the top of this, Iphone's price keeps on... haha soaring high, as usual.

It's not just a matter of speeds and feeds, it's how well they are designed, integrated, how they feel and how productive you can be. For instance, iPhone pictures are arguably the best amongst all phones, including Lumia's with 41 megapixel cameras compared to the iPhone's 8 megapixel camera. http://blog.laptopmag.com/iphone-5s-vs-lumia-1020-camera It's things such as this that caused Apple's and some of the carrier's websites to go off-line under an overwhelming demand for the iPhone 6.

There is an incorrect spec for the Lumia 1520 , it doesn't have Qi wireless charging. At least not built in.

The iPhone 6 series suck. This really shows how Apple is desperate and with lack of innovation their new phones are BS. I still like the 5S.

I was using Burst mode to take pics of my kids at the grand canyon. I was using my old 625. A crowd gathered around me asking if I was using the new iPhone... I said its WindowsPhone and they all moved away. Sometimes it does not matter how good something is, if its not hip they don't get it. Unless you are an isheep then its actually hip to be different.

They are very thin :o I'd like to see a thinner version of the 930 to "fight" these, perhaps a 935 similar to the 920/925. With a Glance screen ofc!

I want to win! plsssssssss

Let me win this thing aaaargghhh!

Iphone 6 Remain in the queue....

I read the article this morning where Apple clarifies that NFC will only be used for Apple Pay, and thought, "of course they would". This is Apples style. Now I hope all articles written with little charts comparing devices to the iPhone 6 will remove NFC from the iPhone 6, like the above one.

Just to clarify something, Apple should not be able to claim that they are NFC enabled. They have an NFC chip that is ONLY for their Apple Pay. Since you (or really developers) don't actually have access to the full NFC capabilities, then they should just so no to the NFC in Apple phones.
Windows Central Newsletter
Thank you for signing up to Windows Central. You will receive a verification email shortly.
There was a problem. Please refresh the page and try again.