A quick video tour of Lumia Camera 5.0 and the Lumia 640 XL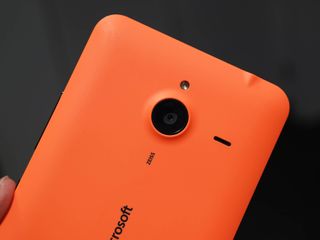 Long time Lumia users remember the Lumia Camera app as the Nokia Camera App. Branding changes and a multitude of camera apps could get confusing for anyone, right?
In the following video, let's take at the Lumia camera apps, and what all it has to offer after the Windows Phone 8.1 Denim update. The latest camera app is the Lumia Camera 5.0, and it brings the next generation of image processing algorithms to capture sharper pictures with more detail both day and night.
Unlike before, you can now toggle between the front camera and the rear camera right from the camera screen. Switching between the video or photo mode, the settings, and all the controls should be all a familiar territory though. One of the neat additions is the ability to modify the controls while shooting a video, and even change focus while it's being recorded.
Rich Capture
Then there's Rich Capture. With Rich Capture, you can avoid the hassle of adjusting camera settings to shoot first, and edit and select the perfect shot later. Rich Capture adapts to any scene and captures and merges multiple images together simultaneously, and applies Auto HDR with dynamic exposure steps and flash settings. The new Dynamic Flash setting captures images automatically with and without flash, and lets you decide how to remember the scene by choosing the amount of flash used in the shot after it has been taken.
Lumia Moments
One of my favourite features is Lumia Moments. It's pretty handy when you are clicking moving objects or pets, or when you are attempting an action shot. All you need to do is click a moving picture, if I may call a video that, by long pressing the camera button, and then choose the best frame for it or create an action shot.
Mind you, most of these features are not available on budget devices, but yes, they are not limited to the flagships as well. A mid-range device - like the Lumia 640 XL I use in the video - packs all of these nifty features and the suite of apps.
Finally, we should note that many of the innovations in Lumia Camera will be added to the default camera app in Windows 10 for all Windows Phones later this year.
Did you guys make this video intentionally to piss off at&t Lumia 830 owners??

LOL, it's terrible I bought the 830 launch day I can not believe it hasn't been updated yet. I guess they will update it to gdr2 soon after the 640XL is available, lucky for me I won the 930 in a contest it's awesome, my only grille is no glance.

At this point I'll be very happy if the update comes SOON and includes GDR2. If not I'm going to be very disappointed with AT&T. I haven't had a reason to be unhappy with this carrier until now.

I don't blame you, that's why I'm buying unlocked phones from now on. No more carrier interference in my phone.

The unlocked US version still doesn't have Denim. Unlocked international versions do, but without LTE bands on ATT. Can't win!

I don't have LTE on my 930 and it's not a problem for me. HSPA+ is fine if you have 3 bars or more.

I bought the unlocked 830 from the Microsoft Store and although it has Lumia camera 5, it crashed and days I need denim When I have it already. Reviews in the store for it say the sand thing. People are pissed. Microsoft isn't don't as good as a job as Nokia was with their phone support.

Yup, pre-Microsoft acquisition, I don't remember Symbian or Lumia phones having this many bugs.

Yeah only wifi bugs, restart bugs, screen bugs, camera bugs, Bluetooth bugs, system bricks, and that's only on Nokia Lumia 8.0.

Of, I don't have these bugs.......

My brother just got our parents the 640XL - Cyan and Orange :D
Now we're a Lumia Family ;)

Cute!
Can he get me a cyan one, please? :3

Damn it I saw Lumia Camera 5.0 and was hoping for the Lumia 830 DENIM update on AT&T! Does AT&T not like Denim or Lumia Camera 5.0 for some reason? Hardware issue perhaps? No one has an answer. And they still have not announced the 640 XL on AT&T. What an epic FAIL!!!!

According to this they announced both 640 and 640XL are coming. No date yet though. http://about.att.com/story/microsoft_lumia_640_xl_and_lumia_640_to_join_leading_device_portfolio.html There's also a placeholder website http://www.att.com/lumia640XL

Yeah we knew AT&T would carry these phones back in March but I also thought they'd have them for a release by early May. Guess they are too busy dicking around with months of Denim testing or pushing Galaxy S6 spam on Twitter to bother with anything else?

It's sad to see that AT&T is just as slow with WP as they are with BlackBerry. I always feel for the people who have them as a carrier. :(

The real sad part is that ATT is probably the best carrier in the US for Windows Phone.

I love my Lumia 640 XL White Matte version <3

how bout a quick video tour of how slow t-mobile is from releasing L640.

I still don't get this - "many of the innovations in Lumia Camera will be added to the default camera app in Windows 10 for all Windows Phones later this year" But these Lumia Camera innovations currently need carrier approved firmware like DENIM or whatever comes with Windows 10 (Emerald?), and newer processors (Lumia 830, Lumia 930, Icon and Lumia 1520). So how is Windows 10 going to allow these camera innovations for all (older) Windows Phones if Lumia Camera 5 is currently limited to only a few phones?

The magic of not having to wait for Nokia carrier firmware updates would be nice for a change!

The day when windows 10 for phones is released all your questions will be answered my friend

I have a L830 and I have lumia5 and denim update 2

Unlocked global variant and not the U.S. variant.

Manual focus during video is everything!

Can we get a video of when this phone will be available in the U.S. ???

I like the last part in the article

Did not know about the dynamic flash feature. Will be using that a lot more

Hahajajaja is so hilarious to read every ones comment Mann I got Lumia 830 and att please wtf I want denim updated

Wow that phone is very responsive.

Watch. When it comes out on ATT it won't have LC5.

Why Lumia 730 doesn't have Lumia camera 5 although it has ziess lens?

How to update my Lumia 830 to gdr2

This heading was confusing. I was expecting to also see a quick video review of the 640 XL.

Takes too long to process an image captured using Rich Capture...

Why Microsoft not enabling in Lumia camera recording-pause-recording feature.
In current versions we are unable to pause while recording video.I hav many times written to Microsoft about this problem.
Kindly correct this bug

Windows 10 will not be available for all Lumia phones friends....

Does Lumia camera 5 allows to pause the video being recored during the recording process??

No but Lumia 5 video does allow WB, focus and exposure compensation adjustments WHILE recording. No phone that I know allows you to pause recording, then resume like a stand alone video camera does. BTW I have an unlocked CANADIAN variant and Canadian carriers who sell the 830 sent the Denim update OTA mid March.

Heard there were some complaints about the margins (sides) they say it makes it feel bigger and worse design likewise... Do you feel that way?
Windows Central Newsletter
Thank you for signing up to Windows Central. You will receive a verification email shortly.
There was a problem. Please refresh the page and try again.