Spider-Man 2 swings onto Windows Phone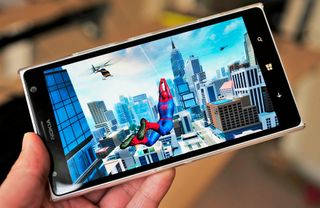 In mid-March Gameloft promised that we'd get the Spider-Man 2 in April. Well it's not exactly April anymore, but we finally do have the game available for Windows Phone! The movie counterpart has been out for nearly two weeks here in the United States. Do you feel that? It's just our Spider-sense tingling that we can now play the game on Windows Phone. Details after the break.
Spider-Man 2 for Windows Phone expands on the story from the film. You'll get new characters like Black Cat and Screwball in this game. Here are all the features you'll be able to enjoy listed by Gameloft:
Web-sling, wall-climb and web-shoot as the fast and quick-witted Spider-Man!
An original story expands on the highly anticipated blockbuster film!
Go beyond the film with new characters like Black Cat and Screwball.
Unlock Spider-Man suits like Symbiote Spider-Man and Iron Spider!
Face off against famous villains like Venom, the Green Goblin, Electro, and Kraven the Hunter!
High quality voice acting and cinematic cutscenes brings the movie experience to life
The game also promises high quality and fluid animations as you swing through the city. You get ground and aerial combat with this game. It looks and sounds fun, we'll let you know how it turns out once the game finishes downloading...
Spider-Man 2 for Windows Phone will set you back $4.99 and does not include a trial. You'll also need to get ready for a long download and install time. You have a 794MB download and there's no support for devices with 512MB of RAM. You also won't find any Xbox Live integration here, something we've been seeing Gameloft do more and more. Though it's probably a necessity in order to launch the game as close as possible to the Android and iOS versions.
Any Spidey fans thinking of picking this up? We'll have a review up shortly!
Download Spider-Man 2 from the Windows Phone Store.
Via: @WPScoops
Get the Windows Central Newsletter
All the latest news, reviews, and guides for Windows and Xbox diehards.