Spider-Man: Ultimate Power swings onto Windows Phone to save Mary Jane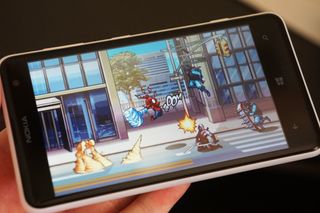 Gameloft has released Spider-Man: Ultimate Power on the Windows Phone Store. The title is an arcade runner, tasking the player with saving Mary Jane, who has been kidnapped by The Green Goblin, Sandman, and Venom.
The goal is to collect coin and battle enemies while traversing rooftops and streets in both Manhattan and New York. The shop is available for Spider-Man to spend collected money and upgrade his abilities, as well as purchasing other helpful items.
The app is available for free and works on mobile devices with only 512MB of RAM.
Download Spider-Man: Ultimate Power for Windows Phone (Free)
Windows Central Newsletter
Get the best of Windows Central in in your inbox, every day!
Rich Edmonds was formerly a Senior Editor of PC hardware at Windows Central, covering everything related to PC components and NAS. He's been involved in technology for more than a decade and knows a thing or two about the magic inside a PC chassis. You can follow him on Twitter at @RichEdmonds.
Bah Gameloft wants all your money for every second u play.

Gameloft is one of the best game developers Windows Mobile has, besides Game Troopers, period. If it wasn't for Gameloft, people would complain that there wasn't any console quality games on the platform. Before Gameloft started truly supporting Windows, Paul wrote an editorial about the lack of good games on WP. We may still not have full support, but we get way more games on a weekly basis than 2 years ago.

I've played one gameloft game and played all the available levels. The same game has been updated with new levels on ios and android months ago but no new levels for windows phone. So thats been my experience with gameloft. They introduce new games regularly but don't support existing games. So why would I bother with another gameloft game? So I have to stop playing it cause its no longer supported. No thanks.

Its a goddamned demo...bah

Look closer. It's Spider-Ham.

Look closer. It's Spider-Thor.

No, its Spider-Ham. https://en.wikipedia.org/wiki/Spider-Ham

I want to save Gwen Stacy :'(

Just crashes on my 635. Gameloft garbage.

Can not play because app crash everytime at loading screen. (Lumia 520)

It's already removed from the store.

So Manhattan and New York are separate cities not?

LOL!! I didn't even catch that.

There's the island of Manhattan and then there is the rest of NYC

Manhattan is one of the 5 boroughs in New York city, often referred to as NY, NY. But, "New York" refers to the State. Locals mostly refer to Manhattan as "The City" as in "let's go into the City tonite"
Hope that helps.

Lol is that Peter Porker Aka Spider-Ham in the pic?

Spider-Pig, Spider-Pig,
Does whatever a Spider-Pig does.
Can he swing from a web?
No, he can't, he's a pig,
Look out, he is a Spider-Pig! :P.

Good timing, Gameloft, just as we all forgot that you refused to update your last Spider-Man game, ostensibly robbing your customers!

So when or how do they charge?

Same question here. Which game are you refering to? Unlimited or Amazing? And how did Gameloft rob us? I played Unlimited, never feel like being robbed so far, but yes lack of update.

I'm pretty sure Gameloft's whole mobile strategy is release a game then immediately forget about it and move on to the next one. You can't lose money like Rovio and Zynga if you actually pay staff to support existing games!

Give this man a gold star!!! I was so happy when they released Unlimited and the first update came and then BAMMMM!!!!! NUT SHOT.... no more updates when iOS and Android version have been refined and made better with the amount of content that was released for them...

The photos app on windows 10 has a pivot

Soo he literally got big headed after prolonged exposure to the symbiote lol.

Whats is wrong with Gameloft? Why they are charging games all the time?

This is a free game, dude.

Ohh, they charge you to buy the full game... Not to mention the IAPs. Disgraceful mercenaries!

We don't want this game Gameloft... rather update Spiderman Unlimited...

Played this game on java 3 years back. Java has better graphic than this. And physical button on phone makes it lot better

What is that "carrier" thing after splash Screen??? When i select one of those in app it crashes....

No idea but it keeps showing on more and more Gameloft games. Which is really annoying specially because it doesn't even recognize when a phone doesn't even have a SIM in it like mine.

I hope Gameloft will improve their games like Game Troopers do :)

The demo is free, to play all the levels you need to fork over 4.99 >.> well done Gameloft.

Game crashes on the load screen with my Lumia 630. What is it with these Spiderman games. They all buggy

Gameloft sucks everything is freemium nobody wants to keep paying to play. Most of gameloft games have money making gimmicks. Too many payments just to play and complete a game lol

LoL its not free at all. Demo is but not the full game, Gameloft should leave the game making and poke each others nose very deep and intensively, u know, rethink the whole thing and come back, and start making QUALITY games for a change. OAC2 is bound to be dropped in support ill bet very quik.

Yeah, I've learned my lesson with Gameloft with Spider Man Unlimited. The only game I play from the is Asphalt 8. Rest be damned, with all their crap or absent support.

PREACH! Dirty business practices.

Wish there were two or three images from the game in the article (maybe acompanied by an animated gif?). I know I can search for them on bing/google, but that kills the whole point of opening an article to acquire info on the article's topic. I mention this because youtube is blocked at the office :P

Another endless game?! Tired of it!!!!

I'm going to play this game, but I hope Gameloft supports this Windows phone game better than their last Spider-man game. It was an endless runner with a decent story that is still being updated on iOS and Android, but they decided to stop Windows support for some reasson.

You are a shambles Gameloft! Update your other Spiderman game before trying to rip us off more. Disgusting!

Demo version and so boring

This is Gameloft's 10th non-Xbox game since returning to Xbox game development on Windows Phone. #SaveXboxWP, details here.

Is the game even opening? Click the game > shows Gameloft > shows Marvel logo > shows game's home screen > closes.

Ultimate Crash... not ultimate power... Lol

This game is a bit bollocks.

This app sucks. It constantly crashes while loading. It never even starts to play. I've tried installing to my SD card as well as to my phone and neither install works. Don't bother with this app.

it is temporarily removed from the store.

The game is no longer available in the store

And you can't make purchases
Windows Central Newsletter
Thank you for signing up to Windows Central. You will receive a verification email shortly.
There was a problem. Please refresh the page and try again.