Spitzer Space Telescope for Windows Phone is this week's myAppFree Deal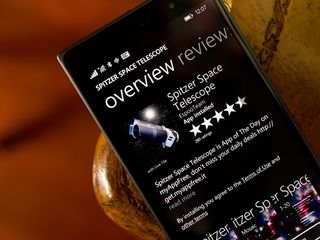 Spitzer Space Telescope is a Windows Phone app dedicated to the final mission in NASA's Great Observatories Program. The program is a collection of four space-based observatories that explore the depths of space based on a variety of light pattern with the Spitzer telescope designed to detect infrared light.
The Spitzer Space Telescope Windows Phone app is a collection of these images plus a little background on what the telescope captures. It is an interesting collection and the app normally runs $.99 in the Windows Phone Store. However, being the myAppFree Deal of the Week for the next twenty-four hours you can pick the Windows Phone app up for free.
Spitzer Space Telescope is from the developers of another space exploration app featured as a myAppFree deal, the Hubble Space Telescope app. Spitzer shares a similar layout as we saw with the Hubble app with pages detailing the Spitzer telescopes information, a mosaic of the images captured by Spitzer and several pages of individual images along with details on the who, what, when and where of the image.
Key features of the app include:
100 coolest images taken by Spitzer Space Telescope
Detailed information includes image descriptions, distance from Earth, type of object and more
Wikipedia links for more details for each image
Live Tile support
Images are touch zoomable and you will have to take a screenshot so save the image should the need arise (some could make for cool looking wallpapers).
The app normally runs $.99 but through the myAppFree campaign, for the next twenty-four hours you can pick the Spitzer Space Telescope app up for free.
After almost 300 reviews, Spitzer Space Telescope is currently rated at 4.5 stars in the Windows Phone Store. If you try Spitzer Space Telescope, let us know in the comments below what you think of it and don't forget to rate the app in the Windows Phone Store.
Please Note: The deal is already reflected in the Spitzer Space Telescope's Store listing but it may take a little while for the deal to show up in the myAppFree app.
myAppFree
Windows Central is proud to be partnering up with myAppFree to bring you savings on Windows Phone apps and games. myAppFree is a free Windows Phone app and service that highlights special deals for software on the Windows Phone Store. Make sure you download their app to keep track of all the specials they run weekly, as you'll never know what you may find.
Windows Central will continue to highlight select apps and games, such as the Spitzer Space Telescope app, from myAppFree on a weekly basis as a benefit to the Windows Central community.
George is the Reviews Editor at Windows Central, concentrating on Windows 10 PC and Mobile apps. He's been a supporter of the platform since the days of Windows CE and uses his current Windows 10 Mobile phone daily to keep up with life and enjoy a game during down time.
I'll try and make an...
OO)
OO)/oo
00)/
Astronomical background. YEEEEAAAA!

That joke was.... Out of this world!

It seems like we lose the app from these deals when the dev changes it's name.

Hu Kurd, What are you talking about?

When mytube came out with 2.0 and added an ! To the name, I still owned the app but someone else who got it free had to purchase. Same thing happened with alltube.

Four NASA spy telescopes! I will skip for now.

Means he's a paranoid weirdo

He probably already has four space telescope apps. Aka nasa nut

I always install these myAppFree :)

And they all work GREAT right up until the dev pushes an update and then BOOM... no update because you didn't "Purchase" the app. Talk about bait and switch.

Shut up dude. I always purchases app that I think it's USEFUL for me, or sometimes even to help some dev friends. In a regular situation, I would never buy a app like this one. If the dev is setting the app for free, that it's the exactly point, to install for free. Please don't talk about someone you don't know about it. Thanks.

"Shut up dude."

Wow - such manners... you'll go far in life I'm sure.

Hi ddartman7, please note that the myTube bug is getting resolved and investigated by Microsoft. Normally when you download an app as free you will have it free forever (update or not). Thank you

Hi Mr. Massimo
How are you sir?
BTW, This guy is noob in WP World ;p

N00b? Me? LOL Nice try. I've been here for years, I just don't feel the need to spout off about everything and anything. Freaking out... uh, no, just making the observation that there is a trend with MyAppFree apps not updating because as far as the WIndowsPhone store is concerned, it wasn't "purchased". Latest case in point is Phototag. I would love to have both updated apps (Phototag and MyTube) but you're clearly of superior intellect so tell me where I am wrong here. Oh, and by the way it's "n00b" not "noob"... pfft.

Yes, you Mr. n00b
And WHAT? SAY WHAT? YEARS? SAY IT AGAIN? YEARS? HOW MANY?
It's a MS Store issue, NOT the developer you Mr. n00b
You would get an answer if you do a little search by your phone Mr. n00b
Read here:
https://www.facebook.com/phototagwp

Such a courteous lot in here. "There is currently an issue with the Store licensing that needs to be sorted out with Microsoft support." Um, did I not say "as far as the WIndows Phone store is concerned the app was not purchased"? WIndows Mobile 6.1 came out when? 2008ish as I recall. Yeah, that's how many years. Proud owner of the HTC Trophy on the day it was released right up to my current L1520. Yeah, you're a real tough guy hiding behind your keyboard shooting off your mouth but no worries. Thanks for the "education". Pfft

Guys calm down! The issue about myTube and Phototag is caused by the WP store, not by the developer and neither by myAppFree. If you "purchase" (or download as free) an app you will always have it in your account and you can download it without any fee, no matter what's the price. Regards

If the apps that having STORE issues can't update because they were acquired through MyAppFree, how is that NOT a trend with regard to MyAppFree? I'm not trying to be snarky about it, but MyAppFree is the common denominator where this problem is concerned.

With all these years, Still n00b, Mr. n00b
And its Windows
NOT Wlndows!
Mr. Massimo is explaining to you again and again, but you still n00b, Mr. n00b

It's not a trend with myAppFree apps, just to be clear. It's a store issue. I'm in contact with both myTube and PhotoTag developer.

I'll take you at your word. I also want to say THANK YOU for the grown up response rather than some of the rude and childish things that have been said. FWIW, it's not just these two apps... I discovered the same problem with "Zoom" which was offered through MyAppFree back in May and I am quite certain there are others I have yet to discover.

Are you still talking? lol

Yeah, I don't know what this guy is freaking out about. I don't install every free app, but I've done enough of them and never had an issue.

Why they have all that Modern Clock app?

Access to owner identity, no thanks

Why, are u an alien and need to hide the truth?

I like to make them work to get my info to sell it.

So will my phone turn into a telescope now?

Installed on my phone as well as on my Win10 tablet... Can you feel the Geek Love?

Did the same, what tab you got?

I want an app that I can point my phone to the stars and have an image translated ( for lack of better words) to my screen. That allows me to zoom in on what I'm looking at. Even if it has to use pictures from NASA data base. But that's probably way to much for an app. ( that is if i explained my self right. )

Actually you explained it right. I'll have to agree with you.

Try SkyMap. Search it in the store.

Check out 'Star Walk', 'SkyMap', and 'StarChart' apps. I believe each has that functionality. Point it to the sky and it lines up the stars (with the compass and accelerometer) and it names stars, constellations, and even satellites plus you can zoom in.

Thank you. I'll definitely check those out.

Astronomy Hub is a great app as well for all things related to space and space imagery.

I wish I could make one of it my wallpapers...

Can't you take a screen of the picture and put as wallpaper?
Windows Central Newsletter
Get the best of Windows Central in in your inbox, every day!
Thank you for signing up to Windows Central. You will receive a verification email shortly.
There was a problem. Please refresh the page and try again.