Sports Tracker for Windows Phone adds heart rate monitoring in latest update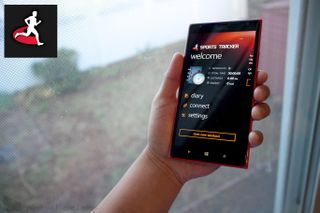 The award-winning Sports Tracker app has just received an update. Version 1.0.1.4 has been optimized for Windows Phone 8 and now supports heart rate monitoring. You'll need a heart rate belt to train with the heart rate functions. Need a belt? You can get one from the Sports Tracker shop.
Sports Tracker tracks and analyzes your performance while engaging in a sports activity such as running, jogging, or cycling. You can monitor your distance, duration, speed, pace, and energy spent. The training diary syncs with the sports-tracker.com service for further analysis. In addition to sharing your performance with the growing Sports Tracker community, you can also share your workouts to Twitter and Facebook.
Because the Sports Tracker team wanted to get the app out as soon as possible, there are some known bugs in this release:
Heart rate monitors with the Nokia Lumia 1520 are not guaranteed to work.
The app doesn't work with Polar Wearlink with Bluetooth.
Average speed is not shown.
Some users have been experiencing sync issues.
GPS is enabled in indoor mode.
The team has also faced major unexpected issues when updating from older Sports Tracker versions, so this will install as a separate app. They promise to fix the issues after Christmas and release a new version as soon as possible. They also plan to add heart rate alarms in an update.
Sports Tracker was originally a piece of software for Symbian Series 60 phones. It has continued to add support for iOS, Android, Windows Phone, and MeeGo. They have users worldwide in more than 200 countries.
You can download the latest Sports Tracker app from the Windows Phone Store for free. Are you a Sports Tracker user? Let us know what you think of the update in the comments!
Source: Sports Tracker blog; Thanks for the tip, guyjkh!
Windows Central Newsletter
Get the best of Windows Central in in your inbox, every day!
Here's hoping this prompts Endomondo into finally getting their WP app up to date!!

Woohoo!! Finally an update from them. Long overdue update.

Do we really need the heart rate belt ?? Can we just hold the phone near the heart??

Actually no, but you can just put it underneath your left foot as you run and it will calculate it that way. I just tape it and it works great.

Thanks . Will try it. :-p

Would defo invest in this and belt

I don't need support for heart rate belt, but one thing that has annoyed me is that Sports Tracker doesn't work in the background.
First i start my tracking, then i start to play music. Bit when i got home and finish my walk or bicycle ride, the result is that nothing has been logged.
And that is annoying....
Anyone know if that is fixed?

When you first start music it will work...

Yup, just remember to open ST after choosing your music. Changing track etc still works from your headphones.

Try Adidas micoach once...

Did they add ability to work in background? Because that was a dealbreaker for me...

Adidas micoach is farr better !! Left sportstracker cause it crashes in background and all your workouts wont record..

I used this app once and it said I did 536 miles in 10 mins

It's not the app's issue. It's just that your GPS signal has not lock in properly. Need to give the GPS some time to lock in the location properly.

Um no. The shit bonkered out half way in the run. I've used track runners enough to know how to get GPS started.

I've been waiting for This since I started using Windows Phone one and half years ago

I've ended up switching to Cyclometer.

Dont these things require BT 4.0 for connection?

Nokia fitness tracker on the 1520 is quite good with a simple but effective interface and very accurate data from the chipset. Do any fellow 1520 users know if the always on aspect affects battery performance significantly? Have not noticed yet as only got 1520 yesterday.

Maybe I'll try this out when I get a phone with a sensorcore
Windows Central Newsletter
Thank you for signing up to Windows Central. You will receive a verification email shortly.
There was a problem. Please refresh the page and try again.