Sports Tracker coming to Lumias tomorrow [Updated with link]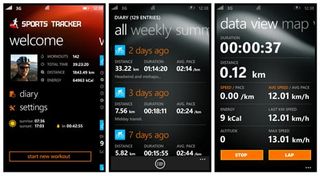 One of the most popular apps on Nokia's previous mobile operating systems is making its way to the Lumia 710 and 800 tomorrow all devices, now. Sports Tracker is an application designed to help users log their physical activity, as well as share it via social networks. The development team who originally designed it has decided to bring it to Nokia's newest platform of choice, Windows Phone. Ykä Huhtala, one of the developers of Sports Tracker, said of the decision:
In order to celebrate the launch of Sports Tracker for WP7, the makers will be giving away a Nokia Lumia 800 on their Facebook page.
The application will be available for free in the Marketplace. You can also keep an eye out for details on their website.
Update: And here's the link for it. We hear it's already available in some areas. Thanks, Clinton J., for the tip!
Updated 2: And it looks like it's available everywhere, US included and for all devices!
Source: Nokia (Thanks for the tip, @TheWeeBear!)
Windows Central Newsletter
Get the best of Windows Central in your inbox, every day!
Sucks that it's a Nokia-only app.
Edit: I was able to download it. It's not Nokia-specific!

Is this for Nokia only? I was able to download from the Marketplace to my Radar.

Works just fine on my Titan. :-)

This app is available for all WP users,, I think. I live in the US and just got it on my Focus!

Works on the Samsung Focus!

It's a very decieving name.

Works on my HTC Trophy :)

Finally I can ditch Endomondo. This has been the one app I've been missing on my WP7 ever since I made the switch last year. Thanks, Sports Tracker team!

Sports tracker is great, but only on Nokia 808 pureview running Symbian. As we no the 808 comes with a 1250ma battery. Nothing special. I sent and bought a mugen 3000ma battery for the 808( replaceable battery). I have the sports tracker hrm and with that battery i can run sports tracker while out on 5hour bike rides with phone fully functional and still have lots of juice.50 to 60 % still left after. Also on sybiam it will run in foreground or background. On sybiam, sports tracker also has an always on light option, so the screen wont go black on you. Symbian version also has better heart graphs and more overall data. I do have Nokia 1020, as well, and this version of sports tracker is disappointing. Also battery life of the 1020, limits this version of sports tracker to shorter workouts, i have not tried yet but i am sure a 5hour bike ride with take the battery all the way down.