Spoticast for Spotify now lets you bounce between different audio and video formats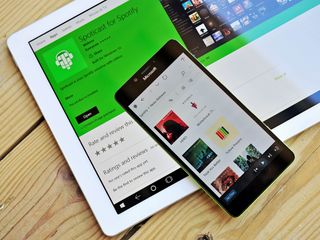 Spoticast, the universal Spotify app for Windows 10 and Windows 10 Mobile that comes from the makers of Tubecast, has received its first update. Coming along in the latest version is a new option to select video and audio formats, along with a couple of bug fixes.
Here's a full look at the changelong from Spoticast version 1.0.4.0:
Video and Audio formats can be selected (720p, 360p, 240p) and it's combined with filters
Audio format is played automatically in the background
Background Audio volume bug fixed
We'll implement the offline mode asap, just be patient ;)
If you like our app, please buy it, it REALLY helps us to maintain and evolve it, thank you ;)!
If you haven't yet had a chance to check out Spoticast, it's definitely worth a shot. We recently took a quick look at the app, so be sure to give that a read if you haven't yet. Otherwise, you can grab Spoticast from the Windows Store at the link below.
See Spoticast for Spotify in the Windows Store (opens in new tab)
Windows Central Newsletter
Get the best of Windows Central in your inbox, every day!
Dan Thorp-Lancaster is the former Editor-in-Chief of Windows Central. He began working with Windows Central, Android Central, and iMore as a news writer in 2014 and is obsessed with tech of all sorts. You can follow Dan on Twitter @DthorpL and Instagram @heyitsdtl.
Great app #sweepstakes #saveTheDVR

I downloaded the free version. Waiting for offline playback to purchase it. Love the UI! The guys at Spotify are lazy AF!!! Posted via the Windows Central App for Android

I agree with the Spotify app being lazy work, but the UI isn't much better here.

So... What happened to the screen shots for the apps in windows store. Ok scared of downloading apps now because I doing know how the UI looks.

It's coming back real soon, trust me. Lots of Store improvements are right around the corner.

I think it would still be nice to be able to stream the music from spotify.. Simply be able to choose if it should "just" be a spotify app, or a youtube music video app..
Would love to have spotify uwp, and this is as close as it gets.. Right now im using the docked continuum and groove uwp for sound quality to my stereo.

Last.fm scrobbling coming any time soon? Instabuy from me as soon as it's there.

I would buy this app if I could cast to my AppleTV. When I try this the AppleTV states that it requiers a higher version of iOS.

I have to say they get cred for the effort , but the layout and the overall feeling is gimped. I would just love to have a native UWP Spotify app! That is the one singel app/program that I truly use on all my devices.

Don't know why there is still no a good third party client for Spotify, spotify team is paying so little effort to this platform.

No third party because Spotify doesn't allow streaming on their API. Sent from Narnia

No. There is no way to use their API for streaming. You can use their SDK's (of which there are none for Windows), but not the API.

@lbodnano Errr, talk about massively delayed/necro post... >.> There's now at least 1 "okay" 3rd-party client by the way.

It's a good app, but 5 bucks for a YouTube client that plays Spotify lists is much...

And it very often get it wrong! Played it at a party on a tv and friends added tracks on my phones playlist. I would say 30% of the time wrong artist played though the app said correct one.

Specially with GEMA protect staff

"Specially with GEMA protect staff" What are you trying to say?

That if a video is locked by GEMA it won't work. It will skip the song or it will try to find a karaoke version or something like that. In case you don't know about GEMA you can google about that.

You mean if a song's video clip is blocked by GEMA, the accompanying clip won't come up? Doesn't sound like a big issue, as most content wouldn't come under the auspices of GEMA; Would only affect those who ONLY listen to content under their control (which won't be too many people).

I'm living in Germany the last 3 years of my life and here they have big issues with GEMA protect songs. Many many videos won't work (many of em is on my music genre) and this is a big issue. But the point of my comment is that 5 bucks for a YouTube client that play Spotify lists are much. I know the developer did a hard work but let's be honest this doesn't worth 5 Euro/dollars. Cause there is a Spotify at least for phones and its free even if it doesn't have support anymore, when you are home you can listen from your personal music or from youtube, and you can make YouTube lists and listen, and you don't need another youtube client that makes also mistakes on its lists. (the other guy mention that on other comment) it is funny if happen one or two times but all the time is much... That's what I wanna say.

K I gotcha now, I don't suppose you can address this post of mine? http://www.windowscentral.com/spoticast-spotify-now-lets-you-switch-betw... Thanks & BR!

So, "purely" as a Spotify client, you'd say it's not much better than the official one?

As a fan of Windows devices it's just common sense to stick to Groove Music.

I thought spotify didnt allow third party apps...?