Spoticast for Spotify is the only Windows 10 UWP app you need for streaming music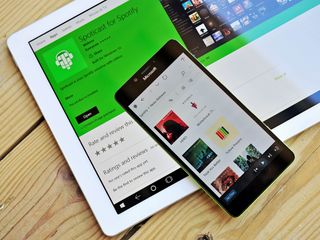 Spotify is one of the most popular streaming services around, and there is a new app for Windows 10 and Windows 10 Mobile that is a must-have if you are serious about music.
Webrox makes Spoticast for Spotify aka the minds behind Tubecast, Video 360, Playcast, and more. Now, they have taken their coding and media abilities to new heights with Spoticast for Spotify. In fact, this app is a merge of Tubecast and Playcast (with a bridge to Video 360 for VR video clips).
What makes this app unique is not only can you access your Spotify account in full to stream music, but you can also play videos directly on your phone, PC, or tablet and yes, even cast them to other devices using Miracast, DLNA, Chromecast, and AirPlay (to name a few).
Additionally, Webrox has taken their 360-video knowledge from their other app and built it into Spoticast so that you can view and control 360-degree videos found on YouTube and elsewhere.
Spoticast boasts these features, which makes it a worthy app to have in your collection:
A Spotify client Universal app (Desktop-Tablet-Smartphone)
No need Premium Spotify account
Cast on TV: Chromecast, DLNA, AirPlay (AppleTV), Miracast, Smart TV, Internet Box, etc.
Create and manage your Spotify playlists
Customize the Search Filter (live, acoustic, remix, covers...)
360° videos handled with our application "Video 360."
No subscription: buy it once and enjoy it forever on all your devices!
I've been running Spoticast for Spotify all weekend, and the app is a blast to use and I consider it a must-have for music fans. It even features single login support to your Spotify account so that once logged in the app will install on other devices already to go with your playlists and account info out the gate.
Whether you just want to listen to your favorite playlists or check out videos by your top artists Spoticast for Spotify can do it all. With support for Windows 10 Mobile and Windows you also get a great app built on the Universal Windows Platform (UWP) that shows off the power of Microsoft's vision.
Image 1 of 6
There's a 24-hour free TRIAL of the app. After that period, tracks are limited to the 30 first seconds. Otherwise, the app is unlockable forever for $4.99 (no subscription or whatever). Is it worth it? Absolutely.
Grab it now or see the promo video above to see it in action!
See Spoticast for Spotify in the Windows Store (opens in new tab)
Windows Central Newsletter
Get the best of Windows Central in your inbox, every day!
Daniel Rubino is the Editor-in-chief of Windows Central, head reviewer, podcast co-host, and analyst. He has been covering Microsoft since 2007 when this site was called WMExperts (and later Windows Phone Central). His interests include Windows, laptops, next-gen computing, and for some reason, watches. Before all this tech stuff, he worked on a Ph.D. in linguistics, watched people sleep (for medical purposes!), and ran the projectors at movie theaters because it was fun.
Does it have offline downloading for playlists?

I will add it in the next weeks, for the moment I will collect the feedbacks ;)

So far this app is great in terms of performance. Some of the YouTube videos selected though have long intros and that's frustrating for listeners. It also doesn't support background listening so if you leave the app the music stops. Posted via my $30 Lumia 640

In this case use the Cast button and select "Audio" only so it will use the background audio

Could you implement background audio no matter what

Nice! Will purchase after trying out the offline function.

Is there a danger from official Spotify? You know, app remove or something from them cause it's a third party app

Shouldn't be the case. Spotify has a public API, so as long as the app plays by their rules it should be good.

Not true. Google Spotlite.

Is there a danger this great app, will make Spotify even less interested in making a solid official app for W10/W10M. Primarily because, the already small no's using it will shrink to even less, as more folks shift to Spoticast/Other? I know you personally can't do anything about that, just curious to hear your thoughts. Also, I'm not usually a fan of "Jack of all" apps, I prefer my 3rd-party YT client to be the best it can be at "YouTubing". Same for my 3rd-party Spotify, Twitter etc, etc. Will the primary focus of this app be Spotify/Audio_Streaming, such that the other Stuff will always take a backseat?

Hi Poppyto, I don't suppose you could spare a minute to address the 2 points/paragraphs in my post here: http://www.windowscentral.com/spoticast-spotify-only-windows-10-uwp#comm... Only when you next have some time of course... All the best!

@Poppyto Okay, so maybe you don't want to or don't now how to appropriately address paragraph/point 1. But please could you try to address paragraph/point 2? http://www.windowscentral.com/spoticast-spotify-only-windows-10-uwp#comm... Thank-you very much in advance!

No need for a premium account.. But what about ads?

I can live with ads, there are ads on the radio anyway, ads is what keeps companies like CocaCola funding and investing on Spotify datacenters. Thanks to Spotify, music piracy has been reduced a lot in the last years.

And artists are paid almost nothing compared to actually buying music...nonetheless it's a good way to see if you like new music before buying it.

And that's an issue with the RIAA and not Spotify. RIAA dictates the minimum an artist must be paid. Blame the archaic industry for trying to hold onto an outdated source of revenue (traditional music sales).

They dictate the minimum? So wouldn't that mean Spotify could pay more?

Yes, Spotify could pay more. Spotify could pay $20 per play if they wanted. Why would they? They're a business, and a business is there to make money. Same is true for any industry. Walmart has to pay the minimum wage set by the federal/state governments. They could pay more. They could pay every employee $20/hour if they wanted. But again, they're a business.

Ok, so then the problem lies with Spotify and the people that use it as their only source of music, not the RIAA (as much as I hate the RIAA).

No, it doesn't. Spotify is following what they need to in order to be licensed to offer you that music. Laws need to catch up to the modern age, and therefore it lies on the government and any governing bodies to do this (so, RIAA). Feel free to read this if you're looking for an interesting article on Spotify and how it gets its music. http://www.digitalmusicnews.com/2015/12/30/why-exactly-is-spotify-being-...

Costco is also a business and pays their employees well above minimum wage. Same for Trader Joes. Soooo, there are different ways to run a business.

Blame music company who take out most of the money... not spotify Posted via the Windows Central App for Android

Why don't any of these apps implement the design guidelines Microsoft made for UWP? It's a shame that every developer needs to make its own design...

I don't want every app to look exactly like every other app. They don't on android or iOS so why on windows? Posted via my $30 Lumia 640

Sadly even Microsoft is having problem with following its own standards, with variation of design on its own apps: Translator with options bar at bottom; Alarms & Clock with options bar at bottom and sections separated with top icons bar instead of hamburger menu; MSN apps with options bar at top; Groove with music search inside the left sidebar. Not to mention the variation of icons and their sizes (not even the burger menu icon remains the same). If even they do not follow their own guidelines, how a developer would feel motivated to also do it?

Webrox never disappoints, checking this out asap.

Plex UWP Beta app available now

This is interesting, can someone confirm the Universal app on the smartphone can follow the same behavior as the desktop app so you can listen album songs in order and not random? If that is true, this is awesome, congrats to the devs, and is indeed a very good reason to get a Windows smartphone.

I'll stay with Deezer :P :D They have a good first party UWP app. And yeah, Webrox should better rewrite Tubecast to be a UWP app. I switched to Awesome Tube on all of my devices, because Tubecast is old, doesn't support livestreams, and has issues with an issue with the navigation bar. Other than that, they only take feedback from premium users, and that's not a good move. I kept Tubecast on my phone for some time, because Awesome Tube doesn't support background playback on mobile (otherwise it's perfect), but some time ago, I installed mytube instead to listen to videos in the background as long as Awesome Tube doesn't get this feature. So bye bye webrox, it was a good time together :P :D

Waaaa all these lines about Tubecast and it's not the subject. bye bye :)

I said it should be fixed first :D And since both are webrox apps, they're related to each other :D And if they don't need my feedback, I don't need the bugs and annoyances of their app in my life :D Posted with the Windows Central app for Windows 10 on HP 250 G1 notebook. It is a scary old monster, I think :D

Do you actually know who is talking to you? It's the developer of these apps... So he does listen to your feedback, else he wouldn't be reading and reacting here in the comments.

Yeah, I know he is the developer. But does it change anything? I'm just honest, as always, and say what's on my mind. Yeah, he is here, but if you click on the feedback button in tubecast, it literally says "We only take feedback from our premium users. You found a bug? Great. Our community is big enough, so someone surely found it already, and sent it to us. So don't send us e-mails about it". Isn't it a bit arrogant bro? I work closely with several developers as a translator, for free, and just for fun. And you know what? None of them would ever say or write down something like this :D Posted with the Windows Central app for Windows 10 on HP 250 G1 notebook. It is a scary old monster, I think :D

What I found more disturbing, was the way he chose to react to your orginal post -very odd. But maybe it was a misunderstanding...

One of the most streaming

Nice alternative to the Spotify private streaming API and simply use YouTube. I noticed already that it won't find videos for certain songs and takes some time. I would assume it would be hard matching Spotify API data with the YouTube video playing function. Good application in general

I'm still faithful to my Pandora subscription and all the stations I have had for years and years.

I have a feeling this app will cause Spotify to revise its API (or at least the terms of using their API)...

why do you think that? because they were maybe upstaged on delivering a UWP app?

Upstaged? That's cute. Considering the userbase of people who use UWP apps, Spotify would only be throwing their time and money away. They've already dropped support for Windows Phone, why support yet another platform that's not going to go anywhere? UWP is far too limited to be taken seriously.

No need to. The vast library of the Windows Store speaks enough. If you want malware riddled garbage with stolen assets that Microsoft doesn't check before being made available, then by all means, UWP is for you!

Spotify didn't drop the support for WP. Check your sources the next time before you comment here :D
And about UWP, it's the future, whatever you say :P Posted with the Windows Central app for Windows 10 on HP 250 G1 notebook. It is a scary old monster, I think :D

Spotify didn't drop support for Windows Phone? So this article, posted here on Windows Central two months ago, which says Spotify confirms it's no longer supporting Windows Phone, is not a valid source? http://windowscentral.com/spotify-confirms-it-has-ended-support-its-wind... So tell me again to check my sources since I'm so clearly wrong. Don't confuse removing an app from the store with ending support for it, you wouldn't want to appear too dumb, now.

Yeah, they were wrong. They wrote an article like two days or a week later, that the report was incorrect, and they're sorry for misinforming people :D Look it up ;) :D Posted with the Windows Central app for Windows 10 on HP 250 G1 notebook. It is a scary old monster, I think :D

After this article Spotify has updated their app twice. So no, they did not drop support and you are misinformed. Posted via my $30 Lumia 640

Well...yeah...you're wrong: https://community.spotify.com/t5/Help-Other-Partners-Windows/Spotify-for...

"The page you are trying to access was not found. Please check your URL for typos and try again." With a picture of an angry looking woman. Thanks for proving me wrong with a 404 error. How mighty accurate of you. As for me being wrong, apparently so. Most websites update their existing articles with a big UPDATE tag when something is corrected, but apparently I put too much faith into the gradeschoolers that write for Windows Central.

No, because this app appears to circumvent their paid-premium business model by giving access full playlist functionality and the like to the free/add supported users who aren't supposed to have it. If I were Spotify, it would make perfect business sense to me (from a revenue perspective) to ban/disable such use of the API.

Had Spotify for about a year without the subscription and other than the ads everything else was the same.

I saw Audioslave, Soundgarden, Massive Attack, RHCP, and Rage in that video...good taste.

This app Awesome on Windows 10 Desktop, I will try it on mobile soon, but I'm going to go ahead and buy it

Is this app kind of illegal? It uses the spotify user data, and creates lists, but it is not using streaming music from spotify, so it is kind of weird it needs a spotify account... or even spotify name. I don't know it's weird from various point of views...

"but it is not using streaming music from spotify," So, I'm curious, but is your inability to read due to bad schooling, or did you choose to ignore the following line of the third paragraph? "What makes this app unique is not only can you access your Spotify account in full to stream music," In order to listen to Spotify music, you need to login with your Spotify account. How is it weird that it's asking for a Spotify login in order to do that? I think what's weird is you.

I know all that. But think outside the box, if they are able to do all of that, why use the name spotify. They could even create a youtube music/video player and hosts the lists in their actual servers, not like a parasite in spotify. Spotify is kind of being used just to store music lists and as a curated music list. At least it shows spotify how to do something different and more useful that the current non uwp solutions.

Some people are overly rude for no reason...

Windows Central is a hub of rude folk. From the Editor in Chief to the lowliest troll. Posted from my Lumia 950XL

Search for Spoticast in Windows Store and get no results...

Interesting... But it can't find my apple tv, unfortunately.

It seems it plays YouTube versions of the spotify playlists, some songs are not the same version I have on my Spotify account.

It is still a great app and a great achievement, I will try the audio only mode to see if it can replace the spotify app.

The audio only mode still doesn't use the Spotify version of the songs, still a great app, congratz!

Does it scrobble/last.fm?

This! I need this too and it is one of the reasons I use Spotify.

Old comment, but just for others like me who might pass by this article - yes it does!

Is it available only on the US store?...I can't buy it on the currency of my store (MX) Edit: Nevermid...it's there

says its 5$ for life but wont you have to pay spotify's monthly subscription anyway?

Can you adjust the stream quality? Posted via the Windows Central App for Android

Does this work with chromecast audio adapters? Posted via the Windows Central App for Android

So for those of you who haven't figured it out, this app uses Spotify for playlists and YouTube for content. Which is a nice work around, but also means you won't always get the same versions on it. I'm also not sure if you would use more data even in audio only mode. (Not sure how that works)

You can use the Audio mode (Cast button > Audio) it will only streams the Audio (not the Video)

I wish it had smooth transition between songs. Also, it takes a while for the track itself to load when selecting or moving to the next song

I'll use this today instead of Spotify which I listen to at work pretty much all day. If the devs could add it other streaming service support (SoundCloud!) this would be a dream app!

How to turn off the video though? I only want to stream music, not waste my data on videos.

Change source to audio Posted via my $30 Lumia 640

But WHY? What's wrong with official spotify app?

There is no UWP Spotify App. Thats why. How do you play Spotify on a ~8" Tablet? With the x86 Exe, okay. But it sucks with touch. This App is needed. On the other hand, the offical Spotify App is slow as hell! Ever tried Spotify on a highend Android? No loading screen, everything JUST works. The official app is a shame on WP.

The app don't working in background.

OneDrive streaming support?

Are there any plans to implement Last.fm scrobbling?

Free trial won't download

I really do like this UI and the feel of it. And the speed compared to the official app. But the lack of background play back is gonna keep me from buying.

Use the "Cast" button > Audio and it will use the background audio

"Serious about music" and "check out videos by your top artists" are pretty incongruent phrases.

It is a YouTube Streaming Service for the spotify catalog and your playlist, or am I wrong? There a notable differences between the official app and this one.

I paid for Spotlite and got screwed when Spotify shut them down. Careful on the purchase.

This app has huge potential, here are what I'd need to see fixed before buying (I'm talking Mobile version primarly)
I need offline downloading. (need to be able to select location for downloads, i.e. SD card)
Playlists don't always properly refresh even when refresh button is hit.
When I play some tracks I weirdly get a different (usually related) track instead - that's strange!
Buttons are a little small.
It stops playing when you come out of the app or lock the screen.
It's got to be faster than the official spotify app (which is not a bad app, but is excruciatingly slow, even on a 950xl!)
Searching within play lists/filtering is something missing from the official app.
I'd definitely be willing to pay for an app that really beat the official app.

You raise some good points, thanks for the insights.

Holy crap how does it have Apple TV support??

Okay this is annoying, I mean I have been using the official spotify app in my Lumia 950 XL for some time now(one year plus) and never knew about this awesome app that is so much better than the offical app. Many of the really good apps simply do not see enough public light...