Spotify rumored to enter the video business, holding press event on May 20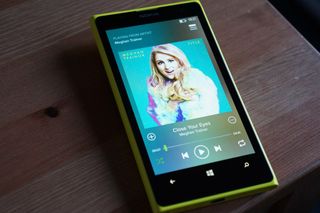 The popular music streaming service Spotify could be planning an expansion into original video content, as the company announces a press event on May 20. The report comes from the Wall Street Journal, claiming that Spotify's video service will be available to subscribers and non-subscribers.
The story adds that Spotify is taking a look at people who make content for Google's YouTube for their service. It states:
Spotify sent invites to many media outlets today for a press event to be held May 20 in New York City, but details about what would be discussed were not revealed.
Source: Wall Street Journal
Hmm... Well they took away all of the 3rd party apps built into their desktop software, and made ads bigger and more in the way. I might see whats up

Yes!!! It's about time someone gives Google some compeition. Maybe Microsoft should look into partnering with Spotify on this endeaver to ensure it comes to Windows 10 devices and they can shut Google out of any app development. Then we can see how they like it. :-)

That would be awesome! Xbox One app would be great.

Spotify has grown a lot in North America, Europe and South America, the user base of Spotify is still growing and despite not being popular in Asia, I believe Spotify is the only company that can be a true competitor for youtube.

I hope they'll be doing music videos too.. God I miss the Zune days!

If they think of going against Youtube, they'll waste time and money. People are not going to switch from Youtube.

Who says they have to switch. If I produce a video or stream, who says I can't use BOTH services? Double my audience. Depending on how the system is set up and what they are able to do with it, people may actually prefer the new system and might just leave YouTube. Too soon to call.

I would switch and I'm a people.

Err you can use both, for example Linus & Co upload archived videos of their WAN show which they stream live on Twitch. Soooo, you gotta think outside the box :P.

Some people are stuck in the today=forever mentality. Nobody was going to leave MySpace or KiK . People will go where the content is. If they have the contacts and resources to attract great content or maybe even lure some YouTube stars, the viewers will follow.

If Spotify now allows videos like youtube it is going to be epic, finally a popular competitor for youtube! Let's say the truth, dailymotion and other video services are not as popular as youtube. Youtube is the 3rd most visited website according to Alexa, so this could be a big opportunity for big investors to bet on Spotify for video streaming services. BTW if this succeeds, it won't be a youtube clone, it will be much better since subscribers will get videos without ads.

It's about time they added connect for WP!!

YouTube will never be dethroned. Like it or not, the word alone is engraved into human history. Even animals know what YouTube is. What I want from Spotify is a universal Windows 10 app.

Neither will IBM, or Palm, or GM, or MySpace, or...oh wait, giants do fall

lol. Is it just me, or does WC's choice of the article's picture...make it seem like their trolling?

Maybe... Or maybe Rich Edmonds, who took the picture, really likes Meaghan Trainor?!

She's in every music ad of Windowscentral..

She's not bad to look at. Just horrible to listen to.

Syfy will sue. Too similar.

I hope they've got something good in mind. I can't stand YouTube ads on the desktop and luckily we have MetroTube on the phone with no ads. I'd LOVE for music videos to be included in my Spotify subscription AND get rid of video ads. Hopefully they get reviews, live performances, artists interviews, and such come with it.

On the desktop you can get round those with adbloc + noscript + betterprivacy (for flash cookies) :P. Ads on the xbox app is soo annoying and there has been a spate of adverts that cannot be skipped - which last longer than 2 minutes - The recent talktalk advert is one example.

I have the ad-block stuff necessary on the Desktop but I do always fear that Google/YouTube is going to pull the plug on it as they continue trying to monetize on YouTube content. We're lucky to have an ad-free option on WP currently but again, don't be surprised if changes too...

I doubt they will pull the plug on the desktop, they would be ridiculed by everyone in the world lol. Also if they bar an entire ecosystem of users they would be in legal hot water.

Maybe I wasn't clear enough. I meant pull the plug on people using the AdBlock plugins. Sites like Hulu and some others won't let you view their content if those type of plugins are present, so I think it's only a matter of time before Google follows suit.

Ah my bad, yes it wasn't too clear :).
I see, that is pretty interesting. They (Google) most likely will... As adverts are their bread and butter.
We don't have Hulu or HBO in the UK and Netflix's library in the UK is just utter crap. Amazon's instant video library is way worse than Netflix soo yeah, only use the ps4 / x1 to watch Netflix.

The nice thing about YouTube is it's a one stop shop. You can usually find a video of anything there. Someone else thought of it first and uploaded a video. The available apps are the perfect platform to find whatever you choose. It's nice to not require multiple video search apps each for a different video service.

And yet it's advertising is over powering.... Makes me not want to use it....

Agreed. They're getting to be worse than Broadcast TV.

Ps4 has Spotify. I love it

Did they not learn from rdio's failure to get into the market

Awwwww Suki Suki now! Is this a youtube competitor? I already subscribe to their music service. I can't wait to see the details of this move.

That'svery interesting. I like that Spotify is growing and I sure hope it's gonna give YouTube run for its money. When you think of it, YT has no competition really, and that's never good.

The best YouTube app for Windows Phone is here. Check out Teewe - http://bit.ly/1GVCNWu
Windows Central Newsletter
Thank you for signing up to Windows Central. You will receive a verification email shortly.
There was a problem. Please refresh the page and try again.