Sprint Announcing a WiMax Capable Windows Phone at CES?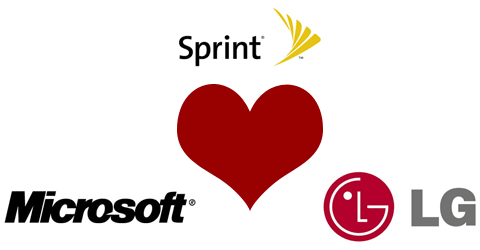 Now let's try to wrap our minds around this one ... Sprint is going to be announcing a Windows Phone that makes use of WiMax, which is the technology behind Sprint's 4G network. The logic behind this theory is that Sprint has an event scheduled for January 6 with announcements by Dan Hesse (Sprint's CEO) and Steve Ballmer (Microsoft's CEO). Also, Sprint and LG have been sending out invitations to an event scheduled for the following evening; giving possible insight into the identity of the device manufacturer. InformationWeek points out that the January 7 event is being hosted by Brooke Shields, and states that a celebrity of that magnitude isn't brought in for a small announcement.
To this point, we haven't seen ANY WiMax-capable smartphones hit the market. We've seen rumors every now and again, but nothing solid. If Microsoft could be the first to market with this technology, even over Palm and its current exclusivity with Sprint, this could be a major coup for Microsoft.
[InformationWeek via Boy Genius Report]
Windows Central Newsletter
Get the best of Windows Central in your inbox, every day!
this is exactly what Sprint and WinMo could use. Maybe they will showcase a new Windows 7 phone??

That's not very likely, but how cool would it be if they announced a WiMax capable HD2?!?!?

Truly nice to hear that... hope it keeps up with the android based phones :)

2010 will mark a decade for me at CES, and all I can say about Microsoft is it is very consistent with announcements where reality rarely matches the hype. First of all, any Wimax related announcement will not be a coup for Microsoft, but instead is intended to bolster the case for the struggling technology. For the foreseeable future, even if Microsoft owned 100% of the Wimax handset market, it wouldn't put a dent in the OS makers market share slide, anticipated to decline 30% this year (as reported by GigaOM) and which has already fallen behind Apple's iPhone (as reported by MaximumPC). What Steve Balmer needs to do at CES is repeat what he did at his keynote this year when he announced the immediate available for download of the Windows 7 beta. If he did the same at next year's CES for Windows Mobile, I'd give the product some chance. However, the longer Microsoft delays, the better the odds WM7 will be Microsoft's next Vista. About the oxymoron-ic statement "... Brooke Shields, and states that a celebrity of that magnitude ..."; e'nuf said.

Any one think that they might come out with an HTC HD 4g? Remember when HTC had just came out with an HTC HD and then came out with a very similar device called,.........HTC 4G MAX? I hope its something similar lol. Fingers crossed.

Well it looks like it's going to be LG not HTC. I hope it's better than an aging HTC HD though...

Sprint and LG have sent invitations to the event includes the following evening, when the vision of its identity by the device manufacturer.