Sprint HTC 8XT finally available for purchase, as Windows Phone returns to the carrier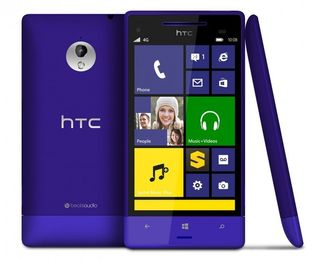 Way back at the beginning of 2013, Sprint announced that they were returning to the Windows Phone fold with two new devices slated for release at a later time. Those devices, one from HTC and one from Samsung, were not revealed until months later, prolonging what has to be an endurance run for those on Sprint and who enjoy Microsoft.
Today, July 19th, the company has finally put on sale the HTC 8XT (previously known as the Tiara), an interesting new release from the OEM that seemingly combines the best aspects of the 8X, 8S (bottom half) and One, into a fairly solid looking mid-range Windows Phone.
The device features a 4.3" 720P WVGA display (480x800), 1GB RAM, 8GB internal storage, microSD expansion and an 8MP rear camera, which should satisfy most casual users. The biggest selling point is the focus on audio though, as the 8XT features "built-in amp, Beats Audio™ and HTC BoomSound™" with the latter meaning it sports to front-facing speakers.
That phone can now be purchased presumably by walking into a Sprint store or ordering online via this link. The phone's final cost is $99 but that's only after a $50 mail-in-rebate. Off-contract, the phone goes for a reasonable $399.
So who in our audience is running down to get one? Sound off in comments and let us know your experience.
Thanks, EAA575, for the tip
Windows Central Newsletter
Get the best of Windows Central in in your inbox, every day!
Daniel Rubino is the Editor-in-chief of Windows Central, head reviewer, podcast co-host, and analyst. He has been covering Microsoft since 2007 when this site was called WMExperts (and later Windows Phone Central). His interests include Windows, laptops, next-gen computing, and for some reason, watches. Before all this tech stuff, he worked on a Ph.D. in linguistics, watched people sleep (for medical purposes!), and ran the projectors at movie theaters because it was fun.
Better 5 :P, one is for me.

Same price as the 920 (ahh, you need a mail in rebate for the $99, wow). (And better service with AT&T).

Ah Sprint you are a joke and that's the reason I left after 11 years.

For some Sprint works and we should be happy they are offering WP. It can only help the market share grow.

No it isn't its $373 on Ting, and $399 on Sprint. The Lumia 920 (Red at least) is almost $500USD

Lets hope that sprint and HTC properly support this phone. Doubtful considering.

Definitely good news. I hope this is promoted aggressive.

According to what I've been told, they won't. Sprint will simply take stock of these phones, but no advertising campaign. I'd love to be wrong on this, but if you don't see any TV ads, etc. then you'll know I was right :/

They've never been a big proponent. It's really too bad.

And then they'll blame Microsoft for not doing the job of advertising for them when they dont sell well.

Well, Microsoft gave zero marketing support to the CDMA carriers for WP7. Ask every CDMA carrier and they will tell you the same exact thing Sprint (and Verizon) said.

Don't forget Daniel, not only won't they support the 8XT (and their upcoming Samsung), they'll then turn around and blame poor sales on the platform.
Glad it's there though, for those not fortunate enough to bail that dung heap of a network.

Just went next door to the Sprint store he is still setting it up and said I would love the iPhone and don't waste my time looking at it.

8x here. This is what the 8x should have been, jealous of the 8s look of it which I loved from the moment I saw it. Expandable SD!, boomsound, meh, speaker is loud already. I would get this phone in a heartbeat.

Agreed! The 8s looks so much better than the 8x, i bought the 8s and was dissapointed in the 4GB space, i wanted to love it. In my opinion this phone in blue would be the sexiest phone of all time! Perfect for me if it was in the UK!

If they had just used a 720p screen on the 8xt that would have killed the 8x

If it had a 720p display, I would have gotten it. Instead, I just completed my order for a Lumia 1020 and to hop over to AT&T. It really pained me to do it. I would have loved the high-quality, front-facing speakers on the 8XT. The (comparatively) horrible display is a dealbreaker, though. I could have sworn the HTC product page said it had a 720p until this past week, but maybe I'm misremembering.

I really want to but I feel if I buy this one a week later the neo will come out......

I know how you feel. I'm in the same boat. Do I or dont I?

Ativ S Neo rumored for mid August launch.

I'm going to hold out for now, my att 8x is still doing its job and I was able to get att to cut $20 a month off my bill when I inquired to my termination fee. So I'll wait for the neo.

The Neo will be a stronger device. Perhaps wait around for it? Depends on your needs, though.

Facepalm for 1800mAh battery.. My Ativ S's 2300mAh isn't enough..

You're comparing an apple to an orange. The ATIV is considered top-end and has a bigger screen requiring more power. This is mid-range, just like the 8X. I think it's somewhere between a low-end 8S and a mid-range 8X due to the 8GB onboard (8X had 16), but it's slightly better just on the microSD that the 8X was bizarrely lacking.

Hopefully this picks up new customers, I think most old winphans left after many many years there. Since 2001 for me, I left in Nov for the 920.

How long until the next android and then Sprint says, trade in your old 8XT for better phone?

And they make it a trade in Poster Child!! I hope not! I left Sprint after having the HTC Arrive which was a great phone. Their refusal to get another windows Phone drove me away after spending 10 years with them. Sure my bill is slighty higher on AT&T but the service has been impressive and my Lumia 920 IS the best phone I've ever owned. It's my first 4"+ screen phone and I'm still impressed by it.

you don't have to pay high rates on ATT's network. There are PLENTY of competitive MVNOs. Only rubes get into contracts with AT&Fee

MVNOs dont give you access to LTE data though, as far as I know. If you don't mind being limited to HSPA then, yeah. Also we've got five lines on our account so, yeah, even if we went with MVNOs we would end up paying more.

After how they handled the HTC Arrive I have no faith that Sprint will support this phone.

I've never been one to be first to get anything. I've waited this long, I think I can wait the second phone and to see how these new phones are being received. Who knows in the next year when my contract is up Sprint might actually add another phone or two to the mix.

Interesting... So Sprint is subsidizing the cost by $250 instead of $350 and charging about the same as ATT/Verizon for their lowest level plan while Sprint gives you "unlimited" data. Compared to TMo, a top of the line device (I hardly think the HTC 8XT qualifies) would be $10 cheaper a month at TMo and probably comparable upfront. All this, plus supposedly terrible coverage with mostly 3G speeds, or so I hear... haven't had Sprint since 2003 when they were the only national option in my area.

No wonder this company is broke. Between that and being stupid with their iPhone committment...they deserve it with those decisions.

On a side note- isn't it funny how US mobile carriers- known for their terrible contracts- all entered into a terrible one with Apple? By my count, Verizon is supposedly on the hook for hundreds of millions, Sprint was just bought out, and ATT can't shake the image of being "the" iPhone carrier as a result of trying to keep up with the demands of their deal. By the looks of it, TMo got the best deal of all, but they were also getting in while eliminating subsidies which would suggest Apple has lost a bit of clout. I'd love to be a fly on the wall when Verizon and Apple negotiate their next deal.

Lumia 925 on T-Mobile FTW. It really is the best deal, imo, assuming you have good reception where you need it.

I own an HTC Titan and I just can't say enough about HTC's commitment to selling a phone with built in firmware problems and then ignoring the phone, and their customers for the life of my 2 year contract. It's why I'll never buy HTC again. But, don't take my word for it. Experience it for yourself!

Hahaha completely agree with the entire comment. Sarcasm and all LOL

Sane here, I'm going all Lumia, and ditching my 8x next year

The device is not 720p, it's wvga. Here are the official specs: http://newsroom.sprint.com/news-releases/fact-sheet-htc-8xt.htm?question...

I was confused reading that too - 720p WVGA display? :)

If you look on sprint's website, this phone is not on their front page and it's listed 14 rows down! Where's the support, Sprint!? Go Windows Phone! Proud Lumia 822 owner!

I've been saying for awhile now Sprint won't promote these devices. We'll see where they go with it though, still early.

Can I ask you a simple question all the supporters of Sprint want to know. What did Sprint do to you to show so much hate to them? Inquiring minds want to know...

They....don't.....support....windows.....phone.............

Speaking just for me, I was a Sprint customer for 13yrs. Their prices were reasonable (among the best) but my reception/data cnxn with them was terrible. They also were mainly an Android shop when I had a Palm Pre and I had no interest in either Android or iPwn when they sold their soul to get Apple's lil toy. When the HTC Titan was released on ATT, I jumped ship on Black Friday and took three lines with me. I definitely pay more but at least I'm receiving service for my money. If Sprint had usable service (in my area) and a phone I wanted I would consider switching back.

Of course it's still early but even you'd have to admit that the initial location of the 8XT on Sprint's webpage suggests a rather flacid attempt at marketing Windows Phone. You can't blame Nokia for that......Hopefullt they'll give some effort to the NEO.

I had sprint since 2001 and switch to At&t when the sprint announced that the HTC Arrive was going to be their only device.
I had 10 lines with them and left 6 waiting for them to pick up new phones. Then they said that people hated the HTC arrive (however the reviews were great on it) so they would not support any windows 7 devices. I bought refurbished arrives and when over to jcts.ting.com and moved the rest of the lines.

Now I have ting at&t and I am about to get tmobile to try out their service. Sprint lost a good customer here im a small buisness owner and the devices I need are windows phones.

To keep me all they would had had to do is promised me that they woulf get a Nokia 900 820 510 that was a world phone.

I have had the Arrive since Christmas last year and its been giving me problems for the longest. I'm getting this as soon as moneys right, because I absolutely love WP and Windows.

Feel ya. Now the GF can finally upgrade her Arrive.

YAY MORE WINDOWS PHONES ON CARRIERS but bad news to all sprint customers T-Mobile is gonna put them out of business

How do you figure? Sprint is now the THIRD largest carrier in the World. They are putting 16 BILLION into network upgrades to be at least as good as Verizon(Press Realease), T-Mobile has a merger to deal with.

Never liked Sprint, however, this is great news for WP

shoot.. if there was an UNLOCK version of this, i wouldn't mind snaggin' one as it looks pretty solid!

I am not the least bit excited for this phone, and I've been waiting a long time for a WP8 on Sprint.....

Do what I did. Sprint out the door. Have 2 920's and an 8X (and an unlocked 521) on AT&T and couldn't be happier.

Unless you're stuck on a contract with Sprint. The price is pretty tempting but the specs are unacceptable. I might be going to Android until Sprint gets a better Windows Phone from HTC (or even Nokia). I can't switch out because I'm in a family plan and with a corp. discount this is the cheapest plan for us.

If this came with the beats headset, I might be enticed. Glad to see more WP devices on more carriers

Just got mine! Definetly not the best deal but my Arrive was falling apart. I desperatley needed the upgrade. I was also happy to see that the device does support NFC. Sprint's website isn't clear on that.

Why is this not a world phone I would have purchased it right now!

Kills me that it's not 720p. I recently had to use my original HTC EVO 4G(not the LTE) and reverting to a 4.3" sceen wasn't a problem really, but the resolution? Awful. I'm not buying a phoen with 800x480 again.

If this had a 720p display and at least 16GB of storage with a bigger battery I would definitely get this.

Anybody have an issue buying one today? I went to the corporate store, they told me they would have it later today, came back later, told they don't know when they will get it. Tried one last time, told they had it but couldn't sell it due to it "not being tested on their network" complained to a Sprint phone rep, they called that store and the store manager said they didn't have any in stock.. Got a $15 statement credit by the Rep, but this is ridiculous... And I can't buy it anywhere else like best buy or RadioShack. Any suggestions?

Waiting for the announcement on the NEO... if it does not have 16gb of internal storage THIS will be my new device.

It's sad that the 8XT doesn't have a 720p screen. It should have made a great refresh for the 8X with the BoomSound (I have a One and the speakers are awesome!), Micro SD and the two-tone design. The screen is the only thing lacking from the 8X. The 8GB are easily overcome with the card slot.

Initially, I was going to wait for the Neo, due to the larger screen with higher resolution. However, I went into my Sprint store today and played with the 8XT. Absolutely outstanding! BoomSound is a dream. Now, I just need to convince the wife that we need to upgrade TODAY!

Unfortunately, I do see more of the same happening: Sprint continuing to push the iPhone and steering customers away from the 8XT. Much of this is because of how much they paid Apple for the rights to sell the iPhone. If they don't sell enough iPhones, they'll have to pay Apple more money (similar to Verizon...I think an article was published a few weeks ago saying as much...).

Love it. Picked it up today, it's so nice finally upgrading from the HTC Arrive. Luckily I got to sprint just in time to get the last one in the store.

I don't imagine that most Sprint stores had large numbers of the 8XT, but to hear that you got the last one means that they are selling in some places which is great.

Bought it last night. Ours was the only one sold at the store that day. The sales rep asked me why we would want a Windows phone. I had to educate her. She had an iPhone. The funny part - it had been on display all day and we had been looking at it for about an hour (will be a phone for my mother n law), but it wasn't until she took it out of the box that she really looked at it and thought it was cool. She then said she had just bought a laptop with Windows 8 and was trying to figure it out. I trained her a little on Win 8 as well. A shame that Sprint doesn't educate their sales reps.

As I write this on my HTC Arrive, I have only this to say: "Too little, too late!". I have waited this long and am just waiting for to 1020 variant on Verizon or yet another unannounced phone to pop up then I'm gone. Leaving on principle if nothing else.
Windows Central Newsletter
Thank you for signing up to Windows Central. You will receive a verification email shortly.
There was a problem. Please refresh the page and try again.