Sprint Touch Pro 2 also has 3.5mm jack!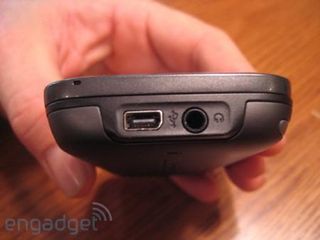 No sooner do Malatesta and yours truly mull over whether the Sprint Touch Pro 2 will have a 3.5mm headphone jack in the upcoming podcast (look for it Monday) does Engadget give us the answer (as well as the best pics we've seen so far).
So, to recap, the Sprint, Verizon and Telus versions have it. T-Mobile doesn't. And while we're early into the leak cycle of the AT&T Tilt 2, we're gonna go out on a limb here and say odds are looking pretty good.
Phil is the father of two beautiful girls and is the Dad behind Modern Dad. Before that he spent seven years at the helm of Android Central. Before that he spent a decade in a newsroom of a two-time Pulitzer Prize-finalist newspaper. Before that — well, we don't talk much about those days. Subscribe to the Modern Dad newsletter!
THAT is good news. after 2 weeks with a BB Tour on Sprint (after longtime Treo 755p and 800w), I'm planning to return my Tour this week before my 30 days is up and wait for the TouchPro2. the keyboard looks wonderful, but it's a slide out -- how hard of an adjustment will that be from a long time Treo and short term BB user?? does anyone know if TouchPro2 supports threaded texting like Treos (including Treo 800w and Treo Pro which were made by HTC, no?)?

threaded txting is standard post wm 6.1
besides, tf3d2 has a great contact management incl. a nicer looking threaded messaging the problem is with the keyboard itself. the keyboard is likely to be the best on a mobile phone, but it will never be as efficient as a front facing one. you will always miss that quick-access-to-everything thing. i've used a treo 750 for one summer, and even after nearly a year of using a fuze, the efficiency is nowhere near that of treo 750 i still like a slide out keyboard because i use mobile office quite frequently. and for that (and long email msgs), landscape keyboard is hard to beat so if you can get over the fact that you'll have to spend a few more sec each time you are trying to do something, go ahead and enjoy that touch pro 2

Yes it supports threaded text messages..

The 800w was not made by HTC. The Treo Pro was. And the threaded messaging is a function of WM 6.1. The 6.0 threaded app was a PALM app. I can't wait for this phone. I have a Diamond now, and I am heading to the Touch Pro 2, I miss the physical keyboard.

thanks for the clarification. I knew at least one of the late Treo's was an HTC product...I only wish they'd have kept the 800w keyboard design on the Treo Pro, or better yet on the Pre. the keyboard on the Pre is the primary reason I'm not using that right now. if you're switching from the Diamond to the TP2, do you think the tilt keyboard design will hold up to a lot of wear and tear? any concern about it getting "loose" like people have complained about the Pre "Oreo" effect? also, how was your Diamond over all as a reliable phone? call dropping and signal reception ok? thx.

My diamond was just fine. I just miss the physical keyboard. I messed around with a buddies Touch Pro and loved it. I don't mind the extra seconds it takes to pull it out. As far as getting lose, that will be with any phone, so I am not overly concerned. I just want my nice keyboard.

i had a palm treo650 for a while until i heard of all the programs i can get for FREE on WM devices. so i got a mogul, it was nice. soo "dtreo" i got used to the keyboard slide just fine. my contract ended and to stay out of contract because i knew ONE DAY sprint would release a iphone competitor, so i got a touch pro. NOW i cant wait to get this touch pro2! i'm going to have to re-new the contract but it'll be worth it. btw bigchio68 on sprintusers forum confirmed the 3.5nn jack MONTHS AGO. but in all the excitement he forgot to take a picture of the bottom of the phone. ANY sept 3 i hope is the day, my tp is acting up.

*dances wildly in place* Sept 3rd is this a telasale date or in-store?

Are HTC devices with a 3.5mm Headset Jack use HTC's extUSB as well?

I think we will see more and more manufacturers go with a more universal port. I thought I read a movement in Europe asking manufacturers to do so to help reduce accessory wastes. Landfills are filling up because people are forced to switch between micro usb to mini usb (for example) and throwing away unused accessories. And a few major manufacturers have agreed.

BABE BABE! haha! I like the idea of having the headphone jack seperate from the universal charger/headphone jack because it just becomes an extra accessory to carry around which is a huge reason why I've never used it (with my Mogul or treo). Apparently, as of 2009, Sprint likes to listen to their customers because making money is a good thing for them all of a sudden. CANT FREAKIN WAIT FOR THE TP2!!!!!

Malatesta where is WMExperts Podcast Episode 63? u know the weekly touch pro2 podcast.lol

I feel like a lil girl screaming at some singer... really, I love that they finally put a 3.5mm jack.

I have the 755P. What a waste of technology! I can be working from the 755 and it will reset itself without warning. The bluetooth is a joke. Sometimes it picks up my blue ant and not. I can be on a conference call and there you have it.........it resets itself in the middle of a disscussion. Talk about frustration! I will throw a party when the TP2 comes out! I have been a palm user since the Treo 600 but its over Palm! You have cheated me for the last time. The Palm Pre is a pretty SMALL phone. I have huge fingers and it lacks some of the good stuff like IM from all major networks. I almost bought it but after having the training from the Palm rep; I decided against it. Looks like I will be moving over to the Iphone competitor. Sorry Palm but the huge screen and conferencing looks pretty convincing. BTW I will have a 755P for sale on Sept. 3rd......LOL

When WinMo 6.5 comes out, will 6.5 be factory-installed on Touch Pros being sold after that point or will they continue to be sold even then with WinMo 6.1 and have to be upgraded by the user?

Never mind, wrong post :)

I give HTC, Sprint, Verizon, and Telus a 6 out of 10. This was obviously a last minute design change, so they did the easy thing and located the jack on the bottom of the phone, piggybacking off the existing mini-USB leads. Unfortunately, moving the USB port off-center either makes the phone incompatible with the existing HTC universal dock or will require an adapter that puts the phone off-center in the dock. 10 out of 10 only if HTC had located the 3.5mm jack on the top of the phone.

I can't wait till this is released. It looks so much better looking than the european version.

I'd trade in the 3.5 mm jack to get a D-pad back any day.

Yes,great.I love the article, I have the same belief with you,so let me introduce the area to you.Now vivienne westwood Jewellery become more and more popular within all kind of people. Juicy couture is a kind of juicy jewelry . It won a good reputation. Vivienne westwood often held its regular discount activities,such as vivienne westwood Jewellery ,juicy jewelry and fashion vivienne westwood jewellery earrings so on.In these activities vivienne westwood sale got great success. juicy couture consists of four main aspects, vivienne westwood necklace and vivienne westwood bracelet,vivienne westwood earrings ,vivienne westwood rings,vivienne westwood pins,vivienne westwood keyrings,vivienne westwood sale,vivienne westwood online ,vivienne westwood uk.
vivienne westwood series are worthwhile than other juicy charms coutures. They have a lot of vivienne westwood jewellery,for example vivienne westwood necklaces, vivienne westwood earrings, vivienne westwood bracelet , vivienne westwood rings ,vivienne westwood earrings and vivienne westwood sale. Vivienne jewellery is a new jewellery brand,it include all vivienne westwood keyrings ,such as vivienne westwood online , vivienne westwood necklaces, vivienne westwood jewellery ,vivienne westwood and vivienne westwood pins and vivienne westwood sale and vivienne westwood uk so on .We assure you of our best services at all times.sas
Windows Central Newsletter
Get the best of Windows Central in in your inbox, every day!
Thank you for signing up to Windows Central. You will receive a verification email shortly.
There was a problem. Please refresh the page and try again.