Sprint Touch Pro 2 Windows Mobile 6.5 update is now available!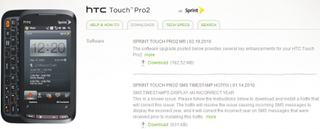 For those of you on Sprint with a Touch Pro 2 who haven't gone the custom ROM route, the Windows Mobile 6.5 update -- at long last! -- is finally here.
The official rundown of features is:
Upgraded OS to Windows Mobile 6.5
Added HTC Sense UI enhancements
Improved Social Networking integration
Includes a variety of minor bug fixes
Our big question: Are we talking Sense 2.5 (as in the HD2 ROM) or what?
As usual when flashing ROMs, be sure to have a battery charge of over 50 percent, and be sure to read all of the instructions. Then report back what you find! [HTC (opens in new tab) | Download link ] Thanks, Joe!
Phil is the father of two beautiful girls and is the Dad behind Modern Dad. Before that he spent seven years at the helm of Android Central. Before that he spent a decade in a newsroom of a two-time Pulitzer Prize-finalist newspaper. Before that — well, we don't talk much about those days. Subscribe to the Modern Dad newsletter!
And it's going to take all day to download.

Mirror with 3-5 minute download http://leetfx.com/HTC20PRO2%20MR1.exe

Thanks for that mirror! That was a fast download! woo hoo!

Holy crap that was fast!!! I was hoping to find a mirror - thank you soooo much!

thank you very, very much for the mirror! i was 4 hours in before i found it!

Thanks a lot for this! Download was VERY fast.

Thanks for the mirror! Why can't the sprint stores carry this upgrade!

thanks man, there download link keeps on taking me to their damn support page instead of the download and i was getting really pissed, I've been looking forward to this for awhile and then i couldnt download it you saved me,
thanks

Thanks alot for this mirror! I had given up on Sprint and wasnt going to upgrade to 6.5 as I've been hating my touch pro 2. Wow I know I'm like 4 months to late but since then I've had to do a hard reset two or three times loosing all my because in between my last backup and the next one (which was only two weeks) my phone decides to freeze and not work till the point where even if i tried synching it wouldnt connect due to its forzen state. Therefore loosing all new pics etc obtained from the last backup! I hate this stupid HTC touch pro 2. Its been more of a nightmare than it has done any good. Hopefully the 6.5 version of windows will be a lot better and wont freeze as much but I wont depend on it! Thanks ya'll!

Does not work for me. When I click on it, the page refreshes and the link is no longer there. Is anyone else having a problem. Is there another link?

FYI: Does not work in Chrome, works fine in IE8. https://www.windowscentral.com/e?link=https2F2Fcli...

Slow as heinz ketchup. 189 megs - 4 hours.... on a T3. Tested my connection and I am able to download from microsoft 4 gigs in 5 minutes, so its not me. Oh well, what's another 4 hours compared to the wait of this rom upgrade.

Seems to have some issues in FF also. IE8 worked best.

Is there any way someone can mirror this file so we can download in a resonable amount of time? Thanks!

Looks like they took the rom off the site for now. The download link now directs to a general support page.

go to google and dowload , dowload accelerator the free version , it will cut in half the download time .

Make sure you are trying to download with either IE or Firefox. Google Chrome does not display the page properly.

looks like both links have taken the update down...grr.

Evidently HTC has ratcheted down how fast we can download this. Probably to avoid bringing their systems to a crawl. I'm getting around 10 KBS, which is horrible since on most sites I'll run around 700-800 KBS. Oh well, by the end of the day, hopefully I'll be running this new OS. Reports on Sprint's buzzaboutwireless thread indicate this is a very sweet update.

i got the rom at 2am this morning.
guys this is sweet

God Damn, this is a slow download!!!!

Doesn't work with Firefox. Works with IE, but sloooooow...some fast mirror sites listed on PPCGeeks.

I downloaded it from my work computer it took a lil over an hour but I cant flash it yet because I dont have adminstrative password so I gotta wait til I get off at 5 :'(

Does anyone know what version of HTC Sense is in this rom?

This site says it is Sense 2.5 http://news.softpedia.com/news/WM-6-5-for-Sprint-s-Touch-Pro2-Now-Availa... Still waiting on my download!!

Did it occur to anyone that the download is slow due to server overload. Every TP2 user has been waiting for quite some time for this update, and we are all very excited for it. So it follows that most TP2 users are all downloading it at exactly the same time, overloading the server, and bogging down your download speed.

It's taking forever for this download on my end. And I have 18mps bandwith from AT&T U-Verse. I should @ least have 2MB downlink per second if this was on a dedicated server. So if anyone out there is having trouble w/ slow download speeds, it looks like we're all on the "bananna boat" together.

it's 1130am i'm getting 7kb/sec

lol I downloaded it directly to my hone when it went live and went to bed then copied it to my hard drive and thier we go lol

I am downloading the update since 9am this morning. it's 11:58am, 39% total, still 4 hours and 59 mins left @ 7kbs on a T1. HTC knew this would happen that's why the limited the download speed. We waited 6 months already, so let's wait 6 more hours..

It only took me 20 minutes to download this morning using Firefox and Quest DSL. I'm actually impressed with this ROM. Sense 2.5, MMS working out of the box and it's fast compared to other Sprint attempts at tweaking WinMo. After playing on the phone for two hours with the new ROM it was sitting at roughly 70MBs of free memory. I'm excited for it because I hope the chefs out there can use this ROM and tweak it a little removing the typical Sprint bloatware and make this badboy really fly. All in all, I'm impressed with it and think it was worth the wait even though I've been flashing all sorts of custom 6.5 ROMs since the HSPL was released.

This is the best update ever!!!!!!! It only took less than ten minutes to add the new ROM to my Touch Pro 2!!!! I LOVE IT!!!!!

Did they remove the task manager from the upper left of the screen? That is pretty annoying. Any way to add it again? I hate gaving to go into programs every time.

Yes is a cab away, you can download HTC taskmanager from PPC Geeks.

Did mine at 6am today. About a half hour to do. Works great!!

Sweet Sweet ROM way to go Sprint for once you have surprised me. A hand for HTC and Sprint for keeping this under raps till launch day that has never happened before.

did any one down load the mirror exe and did it work

I just got my TP2 yesterday and updated it to 6.5. It's beautiful. I HIGHLY recommend the update. You wont regret it.

Is there a cab or something for this? It keeps saying that the file cannot be opened."Either it is not signed with a trusted certificate, or one of its components cannot be found. If the problem persists, try reinstalling or restoring this file" I've waisted several several countless hours with his issue... any help?

no cab, you must use your pc.

downloading the miror file now seems to work so far. About 40 percent done. Will update

Update is done. lynned63 thanks for the mirror file. Took about 10 min to download. Works great love 6.5 awesome!!!!!!

Downloaded from the mirror - about 10 minutes to download. Beautiful new Today screen, nice Sense integration, but SO busy. I miss just having the time, calls and calendar events on the Today screen. I don't need a Quick List or a hot button or whatever it's called. Plus, I preferred the old Program list - having everything thrown into the list seems messier to me - but I also need to figure out how to "clean up" the list (really, I don't need Nascar or NFL Mobile in my Programs). Also - how do I turn the GPS off? I fear that after I tweaked 6.1 so much for low battery and RAM consumption, I don't know my way around. I miss the Task Manager...I think this UI is going to take a lot of learning for me! Overall though, looks good and seems like it's running faster.

Outstanding update for the Sprint Touch Pro 2! I was annoyed with the long wait for this, I think its worth it now. Also thanks to commenters here for the download mirror (HTC took far too long) and the HTC taskmanager.

Anyone having issues with not having separate Answer/Ignore Keys and also no global address lookup?

So far I dig the new OS upgrade. The only problem I am having is with facebook. I can no longer see the comments left on other people's wall posts. It is rather annoying since the last FB update gave that option back, and now it's gone again.

I am compiling a list of working tweaks check out what I have so far and make some suggestions for more: http://forums.wmexperts.com/showthread.php?p=1532157#post1532157

Yeah, I'm probably rolling back as well. The new start menu is terrible, and they completely removed the HTC Task Manager. I hope they fix that

will this erase all of my information on my phone?

what is mirror an how do i get it??????????

i sense this update stinks. after downloading i switched back to 6.1. windows 6.5 eats up to much ram doing nothing. not point in downloading it at all

The download took me 6-7min from the mirror link someone posted at the top. I hate the fb app that came with the new upgrade its confusing. But besides that everything is worth the download.. A Must!!!

Thanks for the mirror, 4 minute download :)

This upgrade realy sucks!! I loved my phone before, but now it has gotten so SLOW. I have to reboot it every day :-( Does anybody else have the same problem - or any suggestions? Is there a new update comming?

Seriously this has to be the worse program update EVER!! I keep getting critical component missing and so forth. I am very uspet I want WMO6.1 BACK!!!!!

As updates become available, add links here to guide the installation instructions on the website of mobile operator or manufacturer.

I just upgraded,
I noticed that the Favorites Inerface for the TF3D had changed, I liked the old one. The Animated Wallpaper and the Old Winmo Interface faded out a bit... I use Windows Live Messenger alot... But in this Update, I CANNOT CHANGE THE SOUND when an incoming 'Instant Message' Arrived. On the Old one you could do it using the Old Interface. Does Anyone know how to personalize/change the sound when Incoming an Instant Message on this new Winmo 6.5? Thanks!

I'm fairly new to the world of updating ROMs. I'm just requesting a simple step by step list of how to install this file...
Do I want to download this file on my tp2 using Internet Explorer/Opera or download to my laptop & connect my tp2 via USB?... Also, I'm just assuming Windows Mobile 6.5 is better than 6.1, I'm not fully aware of all of the upgrades. If someone could include a basic rundown I'd appreciate. Thanks a lot! :) PS: Upgrading will not void my warranty will it? If so, can I then downgrade back to 6.1 in the event of a warranty issue, without "them" knowing? Thanks again!
Windows Central Newsletter
Thank you for signing up to Windows Central. You will receive a verification email shortly.
There was a problem. Please refresh the page and try again.