Sprint & Verizon Touch Pro 2 to launch with WM6.1; US Cellular goes WM6.5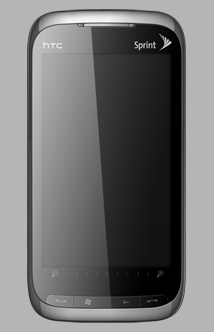 Okay folks we have some good news/bad news:
Bad news first is that Sprint and Verizon are launching the hotly anticipated Touch Pro 2 with the same build of Windows Mobile 6.1 as the recently launched Telus version (review).
Interestingly, US Cellular will be launching out the gate with Windows Mobile 6.5 on its Rhodium device, though we have no firm date on that release yet.
Now some goods news: Sprint and Verizon both have working test-ROMs with Windows Mobile 6.5 already, meaning an official update won't be too far off after launch (8-12 weeks?). Seems both companies are racing to get it out the door ASAP, so no one is waiting for a stable Windows Mobile 6.5.
Finally, Verizon is not only keeping the GPS unlocked, but it looks to be shipping with Bing/Live Search in the actual ROM. This is odd for them since Verizon usually includes its own Nav program and not Bing/Google Maps (like on the Ozone). Definitely a change in practice there!
Phil is the father of two beautiful girls and is the Dad behind Modern Dad. Before that he spent seven years at the helm of Android Central. Before that he spent a decade in a newsroom of a two-time Pulitzer Prize-finalist newspaper. Before that — well, we don't talk much about those days. Subscribe to the Modern Dad newsletter!
Hopefully whenever the Diamond2 comes out it'll have 6.5 from the start.

Verizon may have the GPS unlocked but Verizon is still king of crippled handsets. The Touch Pro 2 on Sprint will have GSM unlocked for use outside the states, but verizon will lock the sim.

Will Sprint even be carrying the Diamond 2?

Yes, but not till after Verizon launches Whitestone first ;-)

I don't believe we've seen any concrete leaks yet (other than a great bit of detective work showing a model number with a code that in the past meant it was Sprint-bound) but it seems only logical that Sprint will be getting it, even if it's not the first carrier to do so. They had the first gen and it seemed to be a big seller for them. If they didn't have it they otherwise will have no high-end, non-QWERTY WM slab phones in their line-up (the Hero would be the only option.) Meanwhile VZW will have two for WM (Omnia II and Diamond 2) as well as the next gen BB Storm and possibly an android-based device depending upon what rumors you believe.

How is the inclusion of Bing odd? It was reported some time ago that MS inked a deal with VZW to have (then Live Search) Bing as the default search engine on the carriers WinMo phones. This isn't odd at all, it's ABOUT TIME we see VZW leaving some stuff unlocked and the realization of that contract with MS.

That was primarily for their dumbphones. The Ozone, a fairly recent device, had no Live Search/Bing or Google Maps on board--just Verizon Nav. This device is the opposite: no Nav app in ROM, but it will have Bing.

Just like the Palm Sprint usually get it first. You can just download bing google etc.. on any windows mobile for free.
They should start including something like TOMTOM and not free stuff that you can download anytime.
SPRINT where is the HTC WiMax????

why can't att just do this??????????????? ????????? ????????? :(

I got mine from T-Mobile, and I love there service. had Verizon but their service was bad. mostly 2G instead of 3G. what i love also is the phone can connect through my wireless router to call out if i have weak signal. Verizon and AT&T have the same feature but you have to buy a device to hook up to your router (that will suck up the bandwidth) to get stronger signal in your home. but people outside can use it too because its not secured. so you pay about $200 for this device to bust up Verizon or AT&T signal in your neighborhood, now that

How bout a flippin release date for VZW?????

I've been waiting and waiting for this to be released for Sprint and finally it's almost a reality. I'm really looking forward to using the gps on this phone in my car since I haven't purchased a gps unit for that purpose. Does anyone have an opinion on how well visibility will be on this phone if it's sitting on or close to my dashboard? It looks like the screen should be big enough. Also does anyone have experience using a phone's gps for directions instead of one made of a car? Is it comparable?

I can tell you from using my Mogul for... a while now... that it's tricky in bright daylight. In-car GPS units typically have brighter displays to try and combat this. It was also small enough that it was hard to get good info at a glance if the display was too far away. All of that can be managed easily for occasional use. But really, if you're going to need GPS everyday, you may find it's better to get a dedicated unit.

yeah those are the actaul pics for both carriers. t-mo has the ugliest version of the phone (in my opinion)

is that the actual picture of how the phone for sprint will look because that looks alot better then the tmobile one which i am about to get but now rethinking if thats how the phone is going to look when it comes out

TP2 release date for Verizon? COME ON ALREADY!

@Magina I've used the GPS on my Instinct & on my Pre and it works just as good as my GPS unit that I purchased from Circuit City. Only issue that I have is my phone sliding around my dash board while I'm in the car.

Ok, jealous pangs here. I haven't heard a peep about a 6.5 test ROM for the Telus TP2... so I'm going to assume the usual timetable of Q2 2017 for their update, or shortly after Windows Mobile 9.5 hits. :) Seriously though, the device is quite usable with 6.1, and that's coming from someone who ran WM6.5 on my Touch for a good 5 months before upgrading to the TP2.

Will the GPS be unlocked on the Sprint Touch Pro 2?

Won't know till it's out, but I've never seen Sprint lock down an HTC device since I got on the bandwagon three or four devices ago.

Highly doubtful, Sprint never locks devices the way Verizon does.

Meh, doesn't matter to me. When VZW dropped the price of the Touch Pro down to $99 with a two year contract I went ahead and upgraded me and my wife. I decided the cost of the TP2 just wasn't worth it to me (especially since my wife would have wanted one too). I flashed to 6.5 that night, TouchFlo is pretty but just uses too much ram. Plus the having to see 6.1 at all was unacceptable. Once you've gotten use to 6.5, 6.1 looks like a real dog.

It's not that Touch Flo uses that much ram, it's just that the Verizon version was crippled because VZW severely reduced the ram. Anyway though, how does WM 6.5 run on your TP? Does it lag much?

I have used GPS on my Sprint Mogul for awhile now and I have been very pleased. I purchased a car bracket for the phone. I have had no problem seeing the screen even in daylight. I can't wait to use GPS with the TP2!

Word that i am hearing for Verizon is Sept 15, has a soft date, I can not confirm that, but it lines up about right. So look for it around Sept 15-30. Sprint Sept 3-10

interesting...that would be perfect timing for my trip. keep us posted.

My advice: wait the extra 2 or 3 months when the TP2 ships from Sprint with WM6.5. That way you're getting the WMOS you really want along with any engineering revs/adjustments HTC will make in the first few months. Keep in mind that this is the first HTC phone with so many radios in it including a GSM radio, so the first shipments are bound to have freaky problems. And to those wondering about feature lockout, Sprint has NEVER done that, it's only been evil Red that's pissed off their customer base with such corporate arrogance.

As far as third party GPS is concerned be careful about which version you "acquire". you need to run one with patch to reduce screen resolution/ indicated size or you will see serious stutter on that 400x800

Yes,great.I love the article, I have the same belief with you,so let me introduce the area to you.Now vivienne westwood Jewellery become more and more popular within all kind of people. Juicy couture is a kind of juicy jewelry . It won a good reputation. Vivienne westwood often held its regular discount activities,such as vivienne westwood Jewellery ,juicy jewelry and fashion vivienne westwood jewellery earrings so on.In these activities vivienne westwood sale got great success. juicy couture consists of four main aspects, vivienne westwood necklace and vivienne westwood bracelet,vivienne westwood earrings ,vivienne westwood rings,vivienne westwood pins,vivienne westwood cufflinks,vivienne westwood sale,vivienne westwood online ,vivienne westwood uk.
vivienne westwood series are worthwhile than other juicy couture charms coutures. They have a lot of vivienne westwood jewellery,for example vivienne westwood necklaces, vivienne westwood earrings, vivienne westwood bracelet , vivienne westwood rings ,vivienne westwood earrings and vivienne westwood sale. Vivienne jewellery is a new jewellery brand,it include all vivienne westwood cufflinks ,such as vivienne westwood online , vivienne westwood necklaces, vivienne westwood jewellery ,vivienne westwood and vivienne westwood pins and vivienne westwood sale and vivienne westwood uk so on .We assure you of our best services at all times.have fun
Windows Central Newsletter
Get the best of Windows Central in in your inbox, every day!
Thank you for signing up to Windows Central. You will receive a verification email shortly.
There was a problem. Please refresh the page and try again.