SquareHome 2 is a Windows phone-like Android launcher you'll love
There's a range of interesting Windows phone-like launchers for Android available. Today, we're taking a look at SquareHome 2.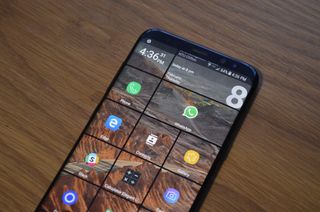 Previously, we took at a look at Launcher 10, which does its best to emulate Windows 10 Mobile's Live tiles and app drawer, mimicking animations and styles while bringing in some of Android's rich customization features. Thanks to recommendations from you guys, I picked up SquareHome 2, which seems to be popular with other Windows phone refugees.
Here's a quick look at what you can expect from the app, which comes with a range of free features, and a 14-day trial for the premium ones.
See at Google Play (opens in new tab)
Chime in: What is your favorite Android launcher?
What you'll love about SquareHome 2 for Android
The best aspects of SquareHome 2 pertain to its customizability, which goes far beyond those offered by Windows 10 Mobile.
While the obvious limitations of Android prevent all apps from enjoying a rich Live tile-like experience, you can create your own "tiles" from Android widgets, matching their dimensions to that of the column widths set by other tiles. In this way, you can create those interactive tiles Microsoft was experimenting with that never materialized.
Additionally, you can create Windows 10 PC-like 3D cubes comprised of multiple apps, into a single tile. This is a novel take on the folder functionality, and it looks quite nice, giving your home screen that animated-look that made the Windows Phone OS so fun.
SquareHome 2 comes with a few system-level "Live tiles" that allow you to experience some of Windows Phone's uniqueness. For example, the Calendar tile provides a rich view of your system calendar events. Sadly, because the BlackBerry KEYone system calendar is terrible, I couldn't get it working. Either way, you can set the calendar tile to open Outlook Calendar instead of the default one on Android, thankfully.
It also comes with a special photos tile that you can set up with a dedicated folder of pictures, which more closely matches its functionality on Windows 10. It's also a 3D-style cube tile, which brings it more closely in line with PC than Windows 10 Mobile. It's a nice touch.
Speaking of which, you can customize any tile vigorously, changing icons, tap and long-tap events, tile sizes, colors, and much more. You can set up multiple start screens, too, customizing styles and backgrounds at will.
If you unlock the capabilities to do so, tiles will also show recent notification numbers and notification text, providing a Live tile-like experience across the board.
What you won't love about SquareHome 2 for Android
While SquareHome 2 has more features than Launcher 10, the overall execution feels less polished generally, with overlapping settings, some janky positioning oddities, and an app drawer that looks like it was designed as an afterthought. The app drawer for SquareHome 2 has this huge ugly "Applications" text that looks like a placeholder. Launcher 10 much more closely emulates Windows 10 Mobile, both in style and functionality.
There's also the annoyance of not being able to set a default calendar, which is possibly an Android limitation. Since the BlackBerry KEYone doesn't seem to play nice with Outlook at a system-level, I wasn't able to pull my events into SquareHome 2's calendar tile. It would be nice if it simply used the Microsoft APIs for signing in to achieve this functionality.
Also, I've found that these types of apps seem to impact battery life more aggressively than some less "animated" launchers. That's to be expected, given the extra work the launcher does in setting up notification text and producing more visually intense effects. But if you're concerned about battery life, you might want to stick with the Microsoft Launcher or Evie.
Overall thoughts on SquareHome 2 for Android
Overall, SquareHome 2 is a tremendous launcher with a rich feature set that fans of customization will enjoy. It beats some competing apps at creating a "true" Windows phone-like Android experience, thanks to its customizable photo slideshow tile, its rich calendar tile, and the way it intuitively incorporates Android widgets.
Limitations of Android itself hold it back, like any launcher of this type, and while I didn't enjoy the app drawer experience, it gets the job done.
SquareHome 2 is available for free with a 14-day trial of its premium features, which cost around $5 to buy.
See at Google Play (opens in new tab)
Jez Corden is a Senior Editor for Windows Central, focusing primarily on all things Xbox and gaming. Jez is known for breaking exclusive news and analysis as relates to the Microsoft ecosystem while being powered by caffeine. Follow on Twitter @JezCorden and listen to his Xbox Two podcast, all about, you guessed it, Xbox!
You can customize the app drawer to be a list and look just like windows 10 mobile.

Yup, I don't even remember seeing it looking like in the article. Mine looks like w10m. Only thing is i wish when you clicked on a letter it would give the alphabet listing like w10m, or launcher 10, rather than the had to see(android-like) listing in the middle. Also wish it would rotate.

100% agree on the app drawer, wish it would look like W10M or Launcher 10. The tiny alphabet listing is too small.

I looked around for that but couldn't figure out how to do it, I changed it to a list, but it still has that stupid header text.

If you make a "pinch in" gesture (as if zooming out) on the home screen, you'll see a page manager. There you can add a layout, contact or app drawer page, which you can set up as a list like on Windows Phone, without the "Applications" header. Is not as nice as Launcher 10's app list though...

I found this launcher to be a mess in terms of UI. fonts and spacing are terrible, and i ended up back at the microsoft launcher (even after getting the pro). In the end went back to my 950xl and sold the galaxy s7 i had gotten for free.

I wish I could, the app situation on W10M has just become untenable. UWP is dead as an app platform.

Nope. The part where you mention 'UWP'.

You can take the time to change spacing and fonts to match Windows if you want. It's not impossible.

Give up the nostalgia already and just use the Microsoft Launcher! It's what will integrate Windows 10 with Android from this moment on. No thirth party wannabe Android Launcher could ever be what Windows Phone/Mobile was to us fans. So we better get with the program and move on!

I don't like Microsoft Launcher, it's bland and boring.

I agree. The Microsoft Launcher could easily have been what Launcher 10 is. As it is I've switched to Launcher 10 and haven't looked back.

Can we get a comparison article/review between this and Launcher 10 that goes into the specifics of what each can and can't do?

Been using SquareHome2 launcher for over a year. I wouldn't use an Android phone without it. One thing not mentioned in the article is that the developer is constantly improving the app.

Sounds great, apart from the many less polished aspects. Would be great to see it integrated with microsoft Launcher with all the issues polished.

I like the native interface of platform. I didn't really like the font size, interface of this app on Android.

Whicons seems to make it look nicer.

This has been my go-to since migrating to Android

Man. Back in 2015, If we knew this is what we were going to be coming to Windows Central to see it would've been a bad day.
............
I can't wait till we have our own again.

If you didn't see the writing on the wall by 2015, you weren't paying much attention. It was obvious by 2013 that Windows phone wasn't going anywhere. If you still think Microsoft is going to do something meaningful, your problem isn't with paying attention, you are just being naive.

Someday Microsoft will care about mobile again. They're building up their cash reserves. A Surface phone will be the next major thing they do.

What's the big deal with Android ? Horrible OS ...

Fast, cheap and powerful. It outsells everything Windows 4:1 for a reason. It ticks all the boxes.

It's either Android or iOs. Pick your poison. Hint: iOs can not be customized this way....

I'll stay with W10M . I don't have to pick another one Yes , IOS is good but the phones are too expensive . And i don't need 1 zillion apps .

I used an android for one month (latest version) as a second phone and i got a virus. That says much for me for not change my 950

"While the obvious limitations of Android prevent all apps from enjoying a rich Live tile-like experience..." The previous statement is mostly true. However, Launcher10 has a less cluttered UI and has decent live tiles for all the apps. Letting the launcher have permission to access notifications allows it to display them on its live tiles. In spite of being a limited form of live tiles, the launcher is the closest feeling to a true Windows Phone start screen you can get on Android.

Switched over to Square Home 2 a few months after moving to Android. My family said it was the first time they saw me smile using my phone since the move. Recently took a look back at the stock launcher (Moto Z2 Force) and switched right back to Square.

I've been using this since I've switched. I also installed the Whicons icon pack, which gives you literally thousands and thousands of flat style icons that integrate well with that windows kind of look

I have Launcher 10 and used it for a bit, when I first switched to Android. On my Galaxy Note 8 the Live tiles looked great. I even purchased the Pro version to unlock all features. I can say that I was not disappointed and it has some customization features I would have loved to see Windows 10 Mobile eventually have. With all of that said, it would be nice if MS added Live Tile features to MS Launcher, at least with their native apps. Anyway, I've been using MS Launcher as my main launcher now, because I'm enjoying seeing the continued improvement and can't wait to see how it continue to evolve. I don't expect it to bring a Windows 10 Mobile features to the launcher. As long as they can bring as many features as the OS will allow, I think I can be happy with running MS Launcher. Of course, I love the Cortana integration and would love to see it more deeply rooted to be able to use Hey Cortana. That, just seems to be a limitation of the OS and not MS. Samsung is able to do this with Bixby, because they are allowed to integrate software into the Google OS on their device. Maybe, MS should consider this route, at this point. If they made their own Android device, MS Launcher, along with Cortana, could be deeply integrated and allow richer features.

Let the past die, kill it...

Nope. As many negative things that have come from MS past, there are some things that can be learned and used.

Microsoft is the one Android and iOS should thank for shaping the UI and UX of the future. Flat design was copied, then translucent design, and now Continuum has been copied by Samsung. Windows Hello was copied by both as well. Don't kid yourself. If we let innovation die, who will innovate? Don't forget Nokia for pushing better and better cameras. They won the megapixel race and then started post-image processing and image stabilization. Now dual cameras is the big thing. I don't think Nokia can claim that though. It was just a workaround from licensing Nokia's tech. A duopoly certainly isn't innovation. It is actually stagnation. Only thing that's really changed is the hardware (edge to edge screens / materials / cameras / speed / storage / gpu). That's about it.

Tried both Launcher 10 and Square Home 2 for my backup Android phone. Whilst Launcher 10 is more polished and the app drawer is very much like W10M, I found the set-up and customisation settings very confusing. Installed Square Home 2 and it was incredibly easy to customise, just wish the app drawer listing was more like Launcher 10 (which even has recently added apps at the top of the listing). It has the 'alphabet' key in the listing like on W10M to quickly get to the app section you want (not like the screenshot in the review where it is missing), but the alpha list is very small down the side of the page. SQ2 also doesn't list the recently added apps at the top of the page like L10 does. Also, searching on the SH2 app listing is time-consuming. Would be great to just input the search query in the white open space at the bottom of the page instead of having to click on the magnifying glass first. Apart from the app drawer listing, it's perfect. Use it with the Whicons pack. I bought the full version of SQ2 when it was on a half-price sale a few months ago. :-)

Go in to the home options on SH2, select "List Type" and "Grouped items" you'll find it more like w10m.

Exactly how I had it, but thanks anyway.

There are options for text size. As is the launcher will seem a mess unless you dig into ALL aspects of the options it offers. For example, I changed the text size to my liking, and cutomized thr launcher swipe gestures so that I can swipe left to access my app drawer like on Windows mibile....and much more. I use icon packages as well for the look I want overall as well as with the app drawer. You can even backup your homepage customization. So many options, so muc to like. Very little to dislike other than a couple limitations posed by android itself.

I did that for the screenshots, had to resize everything, but the fact it doesn't do that out of the box is kinda annoying. Launcher 10 is far more intuitive in this way.

I bought both and tried them both out for a while. L10 out of the box is better, but I found SH2 is overall better once you learn how to tweak it.

This was that I found as well.

Poor men's Metro UI...grid of icons to the 2nd power. Same waste of space, different geometry. The real Windows Phone does not deserve to be mimicked this poorly. Better stick with Android's own if I had to.

Square2Home made it bearable for me to switch. Otherwise I would've gone with an iPhone.

I bought this when I first moved to android phone but it was too painful to customize and change tiles. Maybe things have improved now.

Pretty simple once you get the hang of it. Spend the time to customize it once and be sure you make a backup. (<= very important)

I mean I did figure it out, it just felt like too many unnecessary steps. Obviously I know it's not going to be the same as windows mobile but it annoyed me everyone I wanted to change something. And yes sunbelt back up is very important!

I too have been using this ever since I migrated and find that it gives you the best of both worlds. Quasi live tiles with interactive widgets. They just need to polish up the app drawer and add the ability for the Photos tile to show random pictures.

I would say Launcher 10 does a better job porting and implementing everything over. The animations, app list, and home page all seem pretty much like WM10. However, it started to lag for me after adding more tiles to the homescreen, rearranging and resizing the tiles became quite painful. Otherwise I was quite impressed with the app, much cleaner than SquareHome 2 imo

The windows 10 launcher isn't too bad as long as you don't sit it next to as WM10 phone. I switched to a windows phone 10 years ago because of the live tiles experience. It's the one thing that MSFT is still heavily invested in for the platform, and I would assume Andromeda will have some rendition of live tile feature. I'll wait.

O tried it but decided to just go with stock. It was comparable to buying a fake Rolex and expecting it to perform the same.

Using this and has made it bearable to switch. Had its little tweak annoyances but works well, has lots of options, the dev updates it and adds/fixes features; as with anything, it has a learning curve. Go in with a little patience (which I don't normally have), and come out of it with a nice UI. For the price and dev effort, highly recommend it (put it on my wife's phone too :)).

I tried both launchers on my GS8 and both of them drain the battery so much I had to not use it although I preferred Launcher 10's look. Android is not optimized for live tiles so the battery life is pathetic...and ultimately had to go back to Nova launcher

Man this thing is damn near Lumia!!! I love it. I knew Microsoft wasn't going to bring live tiles over... Idk why they hate themselves so much

App is great but my battery drains quicker so have gone back to Microsoft Launcher... :-(

For me: The SH2, Whicon, Nine (for email and calendar) and OneDrive (set it up for photos to be saved here by default) make for the best Microsoft eco-system experience. When my wife's Lumia 830 died, this made the switch painless.
Windows Central Newsletter
Get the best of Windows Central in in your inbox, every day!
Thank you for signing up to Windows Central. You will receive a verification email shortly.
There was a problem. Please refresh the page and try again.