Interactive Live Tiles still coming in future update to Windows 10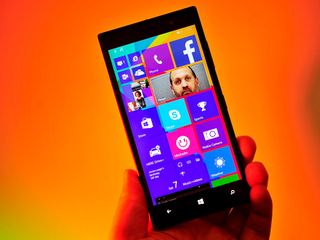 Last week, Microsoft held their annual Ignite conference, which his mostly aimed at enterprise and developers. It follows up on the previous week's Build conference in San Francisco.
One of the talks named 'Tiles, Notifications, and Action Center' with Christine Matheney and Jerry Nixon went into detail about what is coming in Windows 10 for those familiar tools. Some of these changes users are already experiencing in the Technical Previews for phone and PC. However, there are a few other alterations, including a delineation of new Notifications and even the promise of interactive Live Tiles.
Interactive Live Tiles Are Still in Development
Currently in Windows and Windows Phone, users have Live Tiles that can flip to reveal more information such as alerts or news feeds. In thinking how this model can be pushed further, Microsoft Research in the past has demonstrated so-called Interactive Live Tiles.
The concept of interaction implies that tiles themselves become mini-apps. For instance, the calculator tile could be used as a calculator without launching the app. Another example would be an email tile that lets you scroll your inbox without opening the app.
Such examples were demonstrated just over a year ago by Microsoft Research in a video that we posted and that you can see embedded up above in this article.
Last week at Ignite during the 'Tiles, Notifications, and Action Center' session at the 15-minute mark, you can hear Jerry Nixon talk about these advanced tiles. Evidently they are still being developed, and they are coming to Windows 10 "in one of its future updates". This timeframe is likely in reference to 'Redstone', which according to Mary Jo Foley is in two updates, one in spring 2016, and another in fall 2016.
The good news here is that Microsoft is still working on this advanced feature, which seemingly merges Live Tiles with the 'widget' concept in Android for an enhanced user experience.
Adaptive Tiles
Another interesting change, which is more for developers, is instead of more templates for Live Tiles, Microsoft is introducing an 'adaptive model' that lets devs have a blank canvas for design.
New Toasts
Another area the talk focused on was Toast Notifications, how they have merged in Windows 10 (phone and PC), and how the new options for developers will improve the user experience.
One addition is the use of full-screen Toast notifications, which is used for incoming calls, alarms, or reminders, at least on the phone (not for PC, obviously).
The other new option that many of you have already experience is interactive Toasts aka 'Act' ones where you chase the notification to open the app directly in response to a notification.
Finally, at the 1:12 mark it is stated that the Action Center does not synchronize across devices. Although this is "more work" for the developer, Microsoft made this decision for the user experience as they cite that this is "confusing" to the user.
Takeaway
After using Android and iOS, I think it is easy to say that Microsoft has the easiest and most manageable notification and alert system of all the operating systems. This model extends in all the right ways for Windows 10 both for developers and consumers. The promise of interactive Live Tiles on top of active Toast notifications is looking to create a very powerful, but intuitive system for users.
Windows 10 may be the 'last' version of Windows, but it looks to bring some of the most exciting features yet.
Watch the full hour of the Ignite talk above or head to Channel 9 for more information.
Source: Channel 9; via Windows Blog Italia
Daniel Rubino is the Editor-in-chief of Windows Central, head reviewer, podcast co-host, and analyst. He has been here covering Microsoft since 2007 when this site was called WMExperts (and later Windows Phone Central). His interests include Windows, Microsoft Surface, laptops, next-gen computing, and for some reason, watches. Before all this tech stuff, he worked on a Ph.D. in linguistics and ran the projectors at movie theaters, which has done absolutely nothing for his career.
Actionable notification for app launching from a different app!

Well wht about having translucent action center with accent coloured tint like aero theme for win 7 in win 10 for desktops on lumias also .??

Would love yo have that idea implemented more like the iPhone

I prefer to have function over form meaning I hope they're not dwelving on how to achieve that as much as how to achieve nteractive live tiles, also this was a talk for developers and they won't be able to change the OS level features so it's not important to talk about personalization of the action center even if it might on the future feature list.

Well on the interactive live tiles .! Lets just leave it for a while until it comes out .! Eveytime rumours pops up certain unneccesary ideas come up .! (live example is working of android apps on WP) wht it was wht actually thought off . So lets keep it aside for a while (function over form is good) but having some form enhances its functionallity too

Can we just drop this already? You've posted this on every single post with poor spelling and grammar. It's very unlikely as it's too iPhone-esque and would clutter up the text shown on a busy background.

Hey man.!!! Win7 was having the aero theme long ago ! Did win7 copy iOS "NO"!!!!!! and why is it if I say translucent its only iOS ! Has it got glass tint accent coloured .! Its scrolls up and down like a hard glass whereas action center doesn't . Many ppl liked the idea and I post in different articles again and again to know ppl's response (everything doesn't lie in forums and uservoice votes) when what is trend of ppl it becomes easy to have an idea .! In past I posted this comment many ppl loved the idea .! Some like u dont (dats okay :) bec every1 has different opinion but having a transparent adjustment option wont cost too much to satisfy different ppl demands .!

great now wait for redstone in 2016, we will always play the waiting game.

I actually don't like that idea. On IOS, it becomes harder on my eyes to see and read everything with a blurred background behind it and having it change depending on what's behind. I like that it is a solid black background.

Man.!! If its so problem then why dont u vote for like having a transparency adjustment slider for action center too .! Many ppl liked this idea and supported it :) well I dont criticise any1 every1 has a different opinion well its all about ur wish :)

I don't really like this idea as an app developer... If interactive tiles come in place, there will be no reason for anyone to even open an app really. Interactive notifications, though, those would be niiiice!

In a music app the interactive thing iwill be just go foward and back, play/pause, if you want to choose an specific music you need to open the app.
Live tiles is a reason to not open apps since the beginning. I don't open my news app if the news are not interesting. If it's interesting, I open and than I read the other that are not in the tile. Nobody opens the Weather app, just if it's not synchronized.

Agree on the news but not the weather app, I think more people open the weather app because they want to know what the forecast is, not the current weather

Simple tasks, No. Multiple tasks, yes.

That depends on the app. As a user, I would prefer an app that allows basic, even limited functionality, on an actionable tile to an almost identical app that requires the app to be fully opened on screen.

That's completely fine, that's what id plan to do with mine.

If you don't like it, don't use it. Butn interactive tiles aren't full featured. As you can clearly see in the video from last year, you can see your most recent emails, but to read them or reply it opens the app. I think it's genius and useful for users, and I see no disadvantage for developers.

Agree. Last thing MS wants to do is further alienate devs. Adds unnecessary complexity as well.

Interactive tiles won't be able to replace the point of opening an app. You will just be able to perform simple tasks on it, I think.

Then it's up to you to encourage your user to open the app, just like it is already.

Not necessarily. The only thing that would most likely be interactive is simple functions like media controls, like/dislike buttons, simple calculator buttons, etc. But for instance if I was listening to music and wanted to select a certain song I would have to go into the full app to select it. It all really depends on the type of app being created and how the interactive live tile is implemented. Odds are most of the interactive functions are just going to be there for convenience

Really? The functionality is going to be limited, so of course people will still open the apps.

I think you may be a little shortsighted on this... as others have said, this is for simple interactions... music playback controls or other quick actions, not for full functionality. Think tiny. Think, ahem, Apple Watch... I mean, Band sized screens of options. We have had quick controls on keyboards and Taskbar thumbnails/jump lists since Windows 7, but we still open our apps for heavy lifting. This is no different. :)

If there are three apps in the store that are similar and yours has the most robust live tile, your app is the one I'm keeping and possibly paying for. The point of apps it to bring value to the user. If you can save me time, I'll buy your app.

well you could you that tech to design you "own" tiles I see uses for both

If developers would stop covering the entire app with ads and just charge for the app then you wouldn't care if they opened - just that it was valuable to the user enough to pay for it. Free apps with ads suck.

I have a couple apps with trials that have ads, but full version contains no ads or limitations. That's fair

They dont suck!! they re a way to be able to try the app while the developer gets paid for their work and if you decide the app i worthy then pay directly to te developer

That's true, but if its a free app with no buyable version or in app purchase to remove ads, it isn't that great.

exactly. I have no problem with having a Try with ads but I'd much rather spend $1-$5 on am app I'd use than deal with crappy ads or in-app purchases to do anything inside the "free" app.

I have a suggestion then. Try out one of my apps and if you like it, spend the $.99. In the full version, there's no limitations, ads, or IAP. What do ya say? Here's a link: http://bit.ly/1AAhEyK I hope it is of use to you my friend :). Also, trial or not, I would really appreciate a review as well.

Depends deeply on the app. And who says that you cant push ads to the tile now? Since you can use a URL can you not still push an ad to the tile?

I think in the future, eventually apps as we know it will be done away with. Developers will be able to add functionality/features to the OS itself, and make them available through a unified/uniform interface, but this archaic way of doing things today (find app, click on it, swap between apps, back and forth) has to change. Things haven't really changed much since the Windows Mobile era.. or maybe the Palm era before that. I mean do we really need 5 different apps that effectively all do the same thing, just with a different visual twist on them? Hell no. Games, however.. I don't see things changing much with those.

wen in india windows phone 8.1 tech reviw?

Hahaha, I am not, I am just making fun of them! LOL

Mr. Quasar90 From your comment you look like from India's neighbour country who does not like to see india going ahead in any way. FYI I am from India using Windows insider app & using Windows 10 for phone long before you thought it exists

API_Rock FYI, I owned Windows Phone 7 since my HD2, and FYI, I am from Canada. Wen yoou stoB rong bridiction?

So dont comment on something where you dont have correct information buddy!!

What correct information? What the hell are you talking about?

Oh wow. I have been waiting for them to be interactive. I mean in Xbox music alone. But yes I can't wait for the upgrade.:)

Windows is love. Windows is life.

https://onedrive.live.com/redir?resid=4C8E853551142545!154865&authkey=!A...

Give me a WP build with this and I am the proudest smartphone owner!

That's not reasonable enough for them to do that. Give a better lead up maybe

They will do that. The only problem is that you will keep bitching about that build not being available yet.

Is it just a demo or there is a new facebook app coming? Take a look at the tile near "facebook app was updated" in notification center.

I noticed it too...may be a new Windows 10 facebook app is in the making!

Will become laggy as Android?

No, what evidence in the past has ever supported the idea that MS can't engineer new features without using considerably more amounts of resources❓
..........
Will QHD displays kill your battery❓
Will 8 cores kill your battery❓
Will full PC multitasking kill your battery❓
Why should we think so❓ As long as MS keeps up it's terrific track record of optimization, and attention to detail, I don't see why any of you would ever think that performance will be hindered in any way...

haha, dripping with sarcasm. XBM is almost unusable for me now due to lag, and i dont have that many songs, dont have removable storage, and use a 928. if XBM in W10 isnt perfect from day one, I'm prob off to Android.

"Will become laggy as Android?"

I'm using an Samsung Galaxy S6 Edge. This "laggy" thing is a very old canard that really does not apply to modern phones with updated Android OS. This is about equivalent as people using 'M$' or talking bluescreens in Windows 8.1. Time to move on, there are plenty of OTHER criticisms about Android that are still valid.

Danny supports Andy .!! XD

lol, more I support 'rationale discussions and level-headedness' ;)

Dismissing Android's sluggish performance because you're using one of the most high-end phones on the market and it doesn't lag on your flagship with Godzilla specs under the hood isn't evidence that Android is suddenly an exemplar of performance. It's always been the case that Android has been adequate on high-end phones and frustrating to intolerable on mid- and low-range phones.

Try running Windows 10 on a Lumia 520 or similar low spec'd device and let's talk about lag. All operating systems, even Windows Phone 8.1 have performance issues on the low-end.

But is it really fair to compare a technical preview to latest public release of Android OS? I've used lollypop on Moto G 2nd gen and it is STILL laggy. Probably the handset at my place is flawed but I would ANYDAY prefer performance of 8.1 on my mother's Lumia 435 compared to Moto G2 running lollipop.

My wife's L521 is laggy as hell and it's on 8.1.

WP8.0 was better than WP8.1. That said, no one is saying that the Lumia 520/521 runs Windows Phone OS buttery smooth. We're saying that it runs it smoother than it could run Android.

When Windows 10 for phones is actually finished then I will try it on a low-range phone. In the meantime, I can tell you that while WP8.1 doesn't run as well on a Lumia 520 as it does a Lumia 1520 (obviously), it does run better than any version of Android I've tried on a similarly spec'd device. That said, WP8.0 ran better than WP8.1, which gets back to the original poster's concern of new versions of Windows for phones becoming laggy, which is a valid concern for those of us who limped over to WP after years of fighting with Android's performance.

It really hurt my feeling and love for this site.

Apparently, Galaxy S6 Edge made daniel rubino fall in love with android

...Or that I'm not an ideological fanboy who clings to brands like religion.

Agreed!. What the hell, even MS is open. Why shouldn't we be.

In your line of work I am sure that you see how people turn technology enthusiasm into something much like crazy political fanaticism. All of the modern platforms are great, the ones people like are simply personal preferences.

Think he was more in love with the hardware than Android... can't blame him, that phone Is sexy.

Blue Screen of Death is still a problem which occurs at times with Windows 8.1.

"Still a problem" for you. Pointing out that an OS can crash is not a problem. All operating systems do that. The point was that Windows 8.1 is a very stable operating system, especially when compared to Vista, or anything pre-Windows 7.

Well still long how much have u been doing with galaxy s6 edge .??

I've had it for 10 days as my main line, so a lot.

And and and .... Wht about apps running on it ,camera how u like , features that give it an "edge" on ur WP .!! Hahaha XD would like to know the expert advice

Waem1q. Stop using defective/shitty hardware. Kthxbye.

Dan, how long will the snappiness last? New android phones are always fast, what happens after prolonged use? Since you use Android, maybe you could answer if its still true. That and battery hog were biggest complaints

Battery was a huge issue with the Edge. Then someone told me to disable the Enhanced LTE services and now things are on par with iPhone 6, Lumia 930, etc. Not amazing (like a 1520) but not terrible either. Luckily this has quick-charge built and Qi wireless.

For what it's worth, I've been using a Moto x for 7 months and haven't noticed any decrease in performance. Good to see Daniel is the voice of reason on other platforms as well.

I have had multiple high end Android phones and they stay snappy as long as any other high end phone. It has more to do with the applications that you choose to run and how many background tasks you have running as anything else.

Agreed, it,s really time to stop gagging about laggy Androids. My son's Nexus 5 is as snappy as the day he bought it a year ago.

Agreed about Nexus 5. My friend has got one, over a year old. Never saw it lagging.

Friend has got xperia z2, 8 months old. Laggy.

and you are prolly right, but notice something about the two comments above. Those phones are Nexus phones, built to work with the purest form of Android. Those phones don't lag down the road, the issue comes when OEMs put their own skin on top of Android and add the extra 'features' aka extra background processes. That will always be the case for Android just like it will be the case that PC's that people buy with trialware and crapware installed will eventually make the PC slow to a crawl. Luckily Microsoft is looking to change that, if anyone asks me what PC to buy the first thing I tell them is doesn't matter, just make sure you get it at a Microsoft store or at their store online.

The obvious counter argument is what about low-end phones, but the obvious rebuttal being Microsoft has already said they will intelligently offer or disable features as is suitable to a device's performance and capabilities rather than be a free for all with a bad experience.

Just bought a cheap (sub $150) Android phone for my little sister. I broke my Nexus 4 a week ago and bought a Lumia 535. There's no term of comparison - The 535 moves much smoother than my Nexus 4, and I think it's no use talking about the cheap Android - it only has KitKat but it moves slower than Windows Vista on a Pentium III.

Daniel, I have to disagree with you. Most of my shifts at Tmobile involve tech support, and I still often have to help people with recent Android devices just not running well due to out-of-control apps and what appears to be poor memory management. I don't have the expertise to explain exactly what I'm seeing, but they are definitely newer Androids and they are definitely lagging.

He's right. I'm a long time wp supporter who bought the Sony z3v.. With 3 gigs of ram, there is no lag. I think wp users should try the latest ios and android, just to see for yourself the latest features. I was shocked to admit Microsoft's apps on android are more integrated than on wp. Same with ios and android users, they should try wp before condemning the platform. I'm hoping for a great flagship wp this winter!

"Action center does not synchronize across devices" This means that unless the developer does the extra work, I will be clearing notifications in more than one place for universal apps? Me no likey.

Yeah, and I don't see how having it synced is "confusing."

Yeah, I agree I found that part vague. It's more or less "take our word, we have done the research" kind of thing. It is probably accurate, but a detailed explanation would have been nice.