Squids for Windows Phone 8, an underwater adventure of tentacle proportions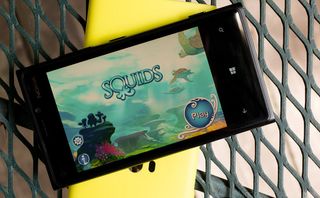 Squids is a relatively new Windows Phone 8 game that has you playing the role of various squids in an under sea action adventure.
The story line has your team of squids in danger of an infectious black ooze that is corrupting the sea. Naturally, it's your job to build a team of squids to defeat the enemies and save the day.
Squids is a fun game that does grow on you and is a nice addition to the Windows Phone gaming library.
The main menu for Squids has options to jump into the game, access the game's settings and view the About Page. Settings cover sound and music levels plus a help section that will replay the tutorials that are offered up throughout the game.
While Squids is an adventure game, it is played one level at a time. Each level is scored the number of secrets discovered, how many squids survive, the number of turns it takes to complete a level and how many pearls you collect. Each level can be replayed to improve your score.
Game play is fairly simple. You have a number of squids to your team that varies from level to level. To move your squid just tap on the squid and slide your finger to extend their tentacles. Pivot your screen hold in the direction you want the squid to travel and release your finger when everything is lined up just right. The further you extend the tentacles the further the squid travels.
A circle of bubbles surrounds your squid to represent that squid's stamina per turn. When playing a level with multiple squids, when your stamina is depleted you shift to the next squid for movement.
Gaming levels have goals ranging from defeating enemies to finding treasure or both. Battles are conducted by simply ramming your enemy with your squids. Some squids have special attacks that can be used in battle and some enemies also have the special attacks. There's also a bit of strategy involved in that you need to stay away from ledges on your final move (enemies can knock you into the abyss) and sometimes it's best to use your last bit of stamina to move out of the enemies reach.
Along the way you can slam into closed clams to collect pearls and fallen enemies dump pearls to collect as well. Just tap on the items to collect them. You also have various dangers to avoid like the puffer fish that can ruin your day if you make contact.
Strong currents are also present that can be tricky to navigate through. While some can just be over powered by a good solid fling of the squid, others have sunken anchors along the current that squids can use... well... as anchor points.
In between levels you can visit the game's base camp where you can level up your squids, adjust your team for the next level and/or visit the store to buy upgrades with the pearls you collect.
Squids is a decent game that does grow on you. There are a lot of transition screens with bits of the story line and tutorials that does give the game a little cumbersome feel. Luckily, you can tap the screen to scroll through them and get into the action quicker.
Animations and graphics are nice, game play challenging and overall Squids isn't a bad choice for your Windows Phone 8 gaming library. The biggest hurdle the game has to overcome is the lack of a trial version. It only takes one or two levels to decide if Squids is for you and it would have been nice to see a trial version along those lines.
As is, Squids is currently running $1.49 and you can find it here (opens in new tab) in the Windows Phone Store.
George is the Reviews Editor at Windows Central, concentrating on Windows 10 PC and Mobile apps. He's been a supporter of the platform since the days of Windows CE and uses his current Windows 10 Mobile phone daily to keep up with life and enjoy a game during down time.
Thanks for letting us know.


Reminds me of Tentacles that never made it to WP8 :(

For these articles, could you include indication of whether the game properly supports HD and in particular 16:9? Especially important when there's no trial. Based on store reviews, this game looks bad on even the 920, which probably means its assets aren't HD and I can't imagine it would be optimised for 16:9 either.

I'm getting frustrated at this. I keep on seeing these games for WP8 only. It makes me feel that my Lumia 900 is dead and WP7 is on it's death bed.
Ohhh Microsoft...
The latest and best apps aren't even available for WP7 (Facebook Beta, the new YouTube app, the new Foursquare and a few awesome games and apps) *Sigh*
I wish I should've bought that iPhone rather than my Lumia 900

Oh God.
The features on WP8 that WP7 doesn't have.. Screenshot, high contrast, better multitasking and others...
Huhhhhh...... ...if I only knew about this, I shouldn't have bought my Lumia 900 in the first place.
Windows Phone 7 is looking like it's about to die.
I thought with the 7.8 update I would've gotten the screenshot or high contrast feature, but no. It seems like my Lumia 900 was a waste after all.
Plus I can't buy a WP8 device since I wasted my money on my 900 that can't even fricking run WP8

You are right. But you should have known that in the first place

Like he could see into the future...

So since you didnt know about WP8's features why did you buy a WP7 device if it didnt meet your needs?

This is what I do not get about the people complaining about WP7.

It was pretty clear and self evident that with the release of WP8 the flow of apps for WP7 would slowly start to run dry. It was also clear that WP7 devices would not be updateable to WP8.

If the Lumia 900 did not fit your needs, why did you buy it? You should never buy technology based on wether or not it might fit your needs in the future (with "ifs" and "but(t)s" attached) but always on wether it works NOW. I have two friends that asked me if they should get a Lumia 800 and 900 respectively. I told them the exact same thing. I told them to be prepared that it might not have future updates and apps.

They understood that and are happy with their Lumias (800 and 900) now.

To be fair the WP8 compatibility wasn't announced even after the 900 was released. Which I believe was spring, and WP8 compatibility was announced a few months later, then released in Fall. So 900 users did get screwed. 800 users still had a extra year of use so it wasn't that bad. But yea 900 users had it rough.

Exactly!
I never even heard of WP8 since the Lumia 900 was released! (Maybe one or two rumors about it) But we didn't even know that we weren't upgradeable to WP8. Now there's rumors of WP9 and that WP8 CAN upgrade to WP9 whilst WP7 is stuck forever in the soon-to-be-dead items of technology (Vista, Symbian, Meego, Maemo 5, Palm OS and Windows Mobile 6)

Neh. It met with my needs. And more. I'm just jealous that this new and shiny brand of Windows Phone is getting all the attention. What about WP7?

you have to understand a lot of people bought their Lumia 900 or wp7 device just before the WP8 announcement or around that time. Unfortunately for these guys, it was bad timing and now they are left without features they really deserve as a user. In due time it may come, things are taking a while on WP8 as is so it may just need further patience for WP7 to be updated further.

↑ this. Ppl bashing the 900 complainers don't even know what happened. Stop it.

I'm not bashing about the 900.
It's really a great phone to use. It's BETTER than ant iPhone that I've ever come across. Better than any phone that I've ever used. WP7 is a great OS as well.
No lags, hangs and problems I encountered so far.
The OS is responsive and beautiful But it lacks alot of features....that WP8 has..
Screenshots, high contrast, font size and whatnot
Don't even get me started on the IE for WP8 and Store for WP8. It's just sad that Microsoft seems like it's leaving it's first Windows Phone users alone with WP7.
There are a ton of apps for WP8 that are currently not available for WP7 (updated YouTube app. Facebook beta and others..) It's just sad that this is what I get for sticking to Microsoft

I've been wanting to buy this game for my WP since I've seen its trailer for iPhone and Android. I've been a fan of its artwork and music, and the gameplay seems pretty unique too.. But now I have doubts since I've seen the reviews that it's not HD. I wonder if it's still worth it... :(
Windows Central Newsletter
Get the best of Windows Central in in your inbox, every day!
Thank you for signing up to Windows Central. You will receive a verification email shortly.
There was a problem. Please refresh the page and try again.