StaffHub app for Android, iOS connects workers' smartphones to Microsoft's cloud
By Jason Ward published
Microsoft's cloud strategy reaches millions of low-wage consumers through their smartphones and an app called StaffHub.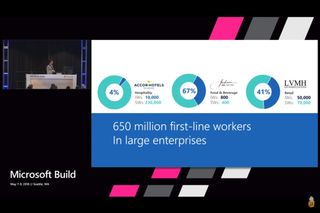 Microsoft's General Manager of Design, Research and Product Incubation, Jon Friedman, realized 650 million smartphone-carrying frontline workers weren't connected to Microsoft's cloud. So he did something about it.
Friedman, in an amusing yet informative and self-deprecating talk at Microsoft's Build 2018 developer conference, shared his many failures and few successes since joining Microsoft.
Through his struggles, Friedman realized many thriving businesses using Microsoft 365, the company's AI-connected cloud-based products and services, had wholly excluded low-wage frontline workers from the benefits of Microsoft 365.
This exclusion was also a missed opportunity to bring these workers, who are also smartphone consumers, or dual users (a resource in their own right), into Microsoft's ever-expanding intelligent cloud. Friedman saw an opportunity where Microsoft, "frontline" workers and the company's business partners could all benefit by leveraging the one tool even low-wage workers have: smartphones.
Microsoft 365 misses millions of frontline workers
Many companies using Microsoft 365 and other Microsoft tools reported to Friedman that their "deskless" employees had no use for the products Microsoft was designing for businesses. (See the above video.)
These workers include waiters, hospitality, construction, airline workers and more. A staggering 650 million employees belong to this class of workers within large enterprises, Friedman said. In fact, they make up a larger portion of the workforce than employees that work at desks. Friedman admitted Microsoft had ignored this demographic.
This oversight was reflected in the reality that many companies using Microsoft's cutting-edge AI-driven Microsoft 365 to manage operations were also using bulletin boards littered with push pins and papers to manage schedules, learn and complete tasks, and communicate with frontline workers. These were three areas Microsoft and frontline workers, who are also smartphone consumers, had the resources to address.
Friedman found that many frontline workers making around $10 an hour, or less, also owned $600 smartphones. He saw the pervasive nature of this tool as an opportunity. For instance, Microsoft had previously supplied Microsoft 365 enterprise customers, like Starbucks, with an Office 365 that could be used in a kiosk where employees could check email.
Additionally, managers of various companies used Excel to compose schedules which were ultimately printed and pinned to a board that employees copied or photographed so they would know their schedules. Friedman realized a smartphone app could perform all of the scheduling, task completion, and communication functions that frontline workers had relied on those archaic tools to perform.
So he and his team created StaffHub.
StaffHub brings consumer's phones to the cloud
StaffHub is available on iOS and Android and connects frontline workers to the benefits Microsoft 365 affords the company's enterprise customers. From Microsoft:
One manager reported that StaffHub saves her about a week's worth of time each month and said messaging is the most used function among workers.
StaffHub is yet another bridge between Microsoft's cloud and the average smartphone consumer. And it is available to customers that have an Office 365 Enterprise F1, E1, E3, E5, or Education subscription plan, according to Microsoft.
Jason L Ward is a columnist at Windows Central. He provides unique big picture analysis of the complex world of Microsoft. Jason takes the small clues and gives you an insightful big picture perspective through storytelling that you won't find *anywhere* else. Seriously, this dude thinks outside the box. Follow him on Twitter at @JLTechWord. He's doing the "write" thing!
This is actually a REALLY good idea. There are millions of these kinds of workers. Kudos to MS on this. Thanks for the article and video links. The guy was humble and sounded like he really cared about what customers actually need when building this app. That's refreshing.

You're welcome, and yes his transparency and humility was very refreshing. I enjoyed his presentation.

Don't get a Galaxy Note 9 Jason...hold out for Surface Andromeda, coming this year!

😃👍🏿 Thanks Mark. I think I can hold out. Lol

I'm not too confident about it coming this year... It's almost the 3rd quarter, and it still hasn't been announced. This is MS we're talking about.. They need 10 years to announce a product, and another 20 years to get it to market. If MS even announces this thing in September, or October, do we really expect to have it in our hands by even December?... Please. They would be having to tool up some assembly lines, and once that happens the leaks would start. If this device is in it's final stages of development, and testing, in June 2018..... Please. Better look to 2019 with MicroMarketing.

Of course, even if the hardware is great, it's better to wait, and take the time to get the software right.

I could really use something like this on my L640 XL :-(

We use staffhub at my work. My biggest gripe with the software is that I have to use the app to request time off and you are unable to use the web interface. You can view your schedule on the web but no requests can be made. It made it tough for me as a Windows Mobile user and was one of the reasons I finally put down my 950 and got a Note 8.

I have used Staff hub at work, this is Microsofts next ticket! It is the answer. They are still updating it to have all the functions on pc as on phone. I hope this doesn't turn into a discontinued project as their are legal stuff they have to account for as far as communications, being able to delete, monitor that stuff.. idk . Kinda on the same topic, Microsoft never advertises as much as they should. I see some surface stuff, xbox stuff, Microsoft software isn't really shown. these ipad, google ppl don't know what they are missing.

Of course, it is a good tool. However, it does casualise work more than ever. it recognises that shifts can be changed via an app rather than human interaction with a manager. It treats people as work units and automated entities. You can't reverse this stuff but there is an element of inhumanity and moving to a part-time, low wage economy with technology facilitating that move.
Windows Central Newsletter
Get the best of Windows Central in in your inbox, every day!
Thank you for signing up to Windows Central. You will receive a verification email shortly.
There was a problem. Please refresh the page and try again.